Grilled Chicken Caprese with Balsamic Sauce - so easy to make and so fresh and flavorful! The charred smoky flavor from grilling the chicken takes this classic flavor combo to a whole natha' level!
PS: I've teamed up with some of my favorite food bloggers to bring you 15 different delicious summer cookout recipes. Be sure to check out my social media and the #MemorialDayGrillFest hashtag this week for all the recipes.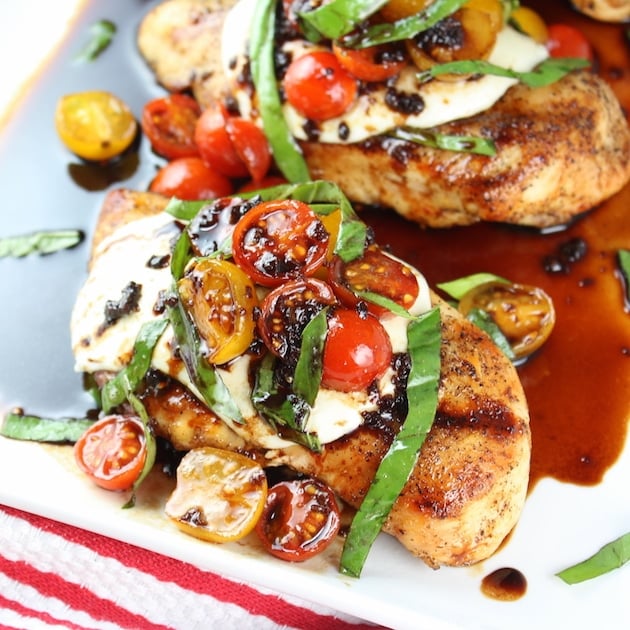 (This post contains affiliate links... read more here.)
Grilled Chicken Caprese with Balsamic Sauce is one of those meals that just screams "summah time livin'!" It's fresh and easy and quick to make. Which is perfect so we all can spend less time cooking and more time playing in the sunshine.☀️
Speaking of sunshine – how are you celebrating Memorial Day? Maybe you're heading to the beach? Catching up on yard work? Or possibly grilling with some friends? All of those options sound like good decisions to me since they all involve being outside. I just love warm weather, green grass, the sunshine and being able to enjoy it. Oh, summer I heart you.❤️
However you're spending the holiday I hope it's relaxing and completely rejuvenating. I mean, we're all way more pleasant and productive when we've taken time to stop and smell the tulips – right!??🌷
I'm pretty confident today's recipe will help you with operation relaxation since it requires very little time, ingredients and effort. It's the perfect healthy meal for any day of the week or say for your Memorial Day grill-fest!♨️ Yes – so perfect!👌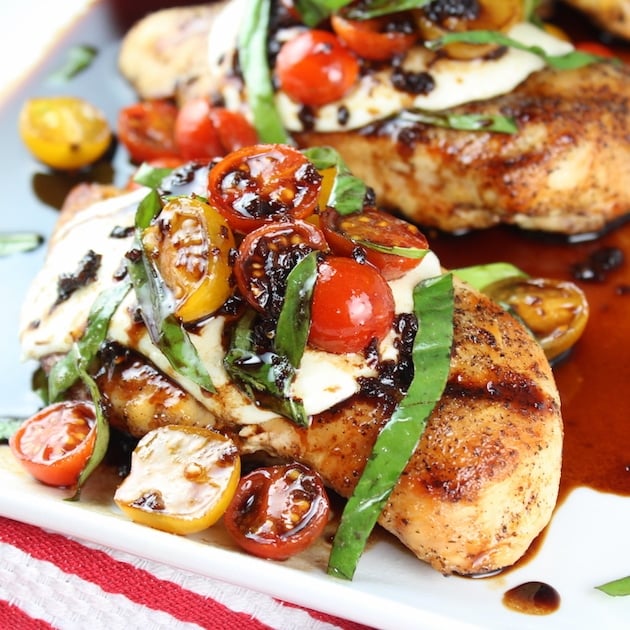 AND since I'm always looking out for you and your consumption of deliciousness, I'm teaming up with 15 other awesome food bloggers to bring you all the best Memorial Day cookout recipes! It's one big #MemorialDayGrillFest extravaganza!🎉👏
We're all creating awesome recipes for the holiday like Grilled Chicken Skewers with Sweet Pepper Relish, Mojo Carne Asada Tacos, and Grilled Lamb & Fig Skewers with Mint Pepper Glaze (HELLO – droolfest2017!). Then we'll be sharing them on social media all next week. Be sure to keep an eye out for the #MemorialDayGrillFest hashtag on Instagram and follow me on Facebook and Twitter for the latest and greatest!✨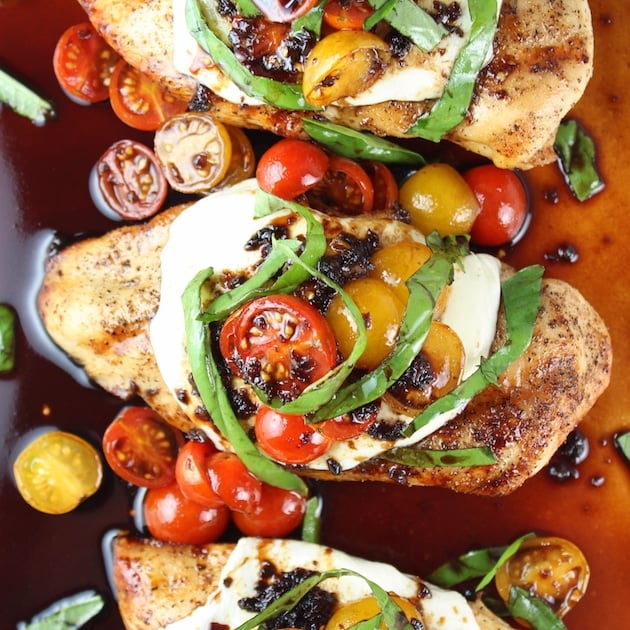 How to make Grilled chicken caprese:
I have several versions of Chicken Caprese that I make depending on the time of year. I love today's version since it involves grilling the chicken, which gives it that charred smoky flavor. So good!😋
First, you get your balsamic sauce simmering on the stove. This will take about 10-12 minutes to reduce and get all thick and yummy. Be sure to take it off the heat when it's finished.
Now salt and pepper your chicken, coat with some grill spray, and heat up that grill. Slice up your fresh mozzarella cheese and halve your tomatoes. Fold the tomatoes in with the balsamic sauce.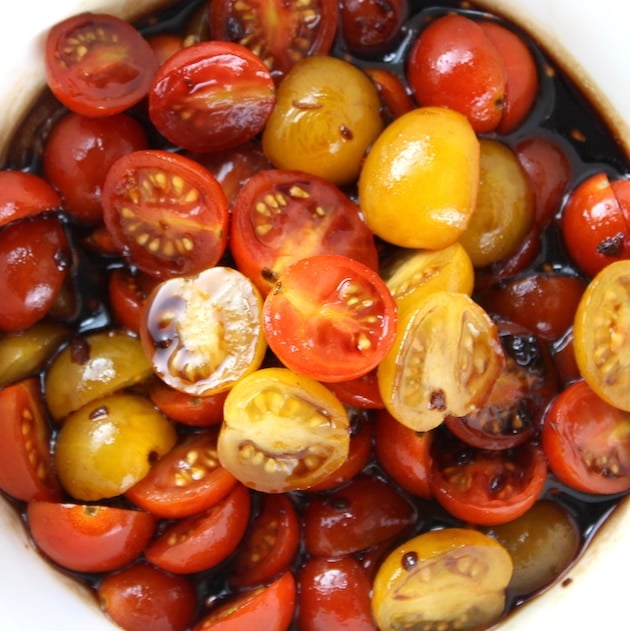 Grill the chicken on medium-high heat for 5-6 minutes a side (with the grill closed) or until they reach an internal temperature of 165 degrees on your trusty digital thermometer
(<-- affiliate link to my fave!).
Since there's a big variation in cooking temps when grilling I always recommend using a thermometer. That way your meat is cooked to the proper temperature and always tender and juicy. Trust me - your meat will never be dry or over-cooked again if you use a digital thermometer.
Ok, coming down off my soapbox.😁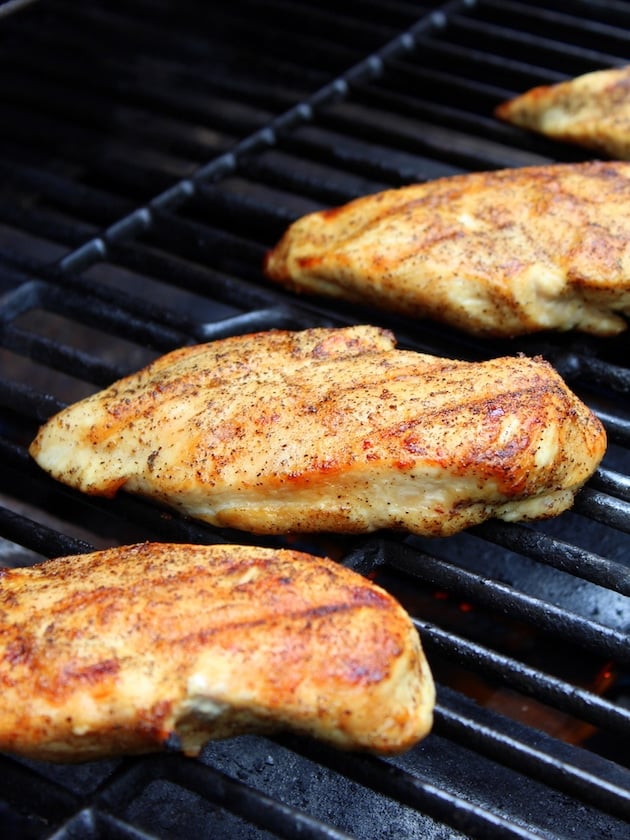 During the last two minutes of grill time, add one slice of cheese to each chicken breast, then close the grill again. The cheese should melt enough to cover the chicken but should not ooze off the sides.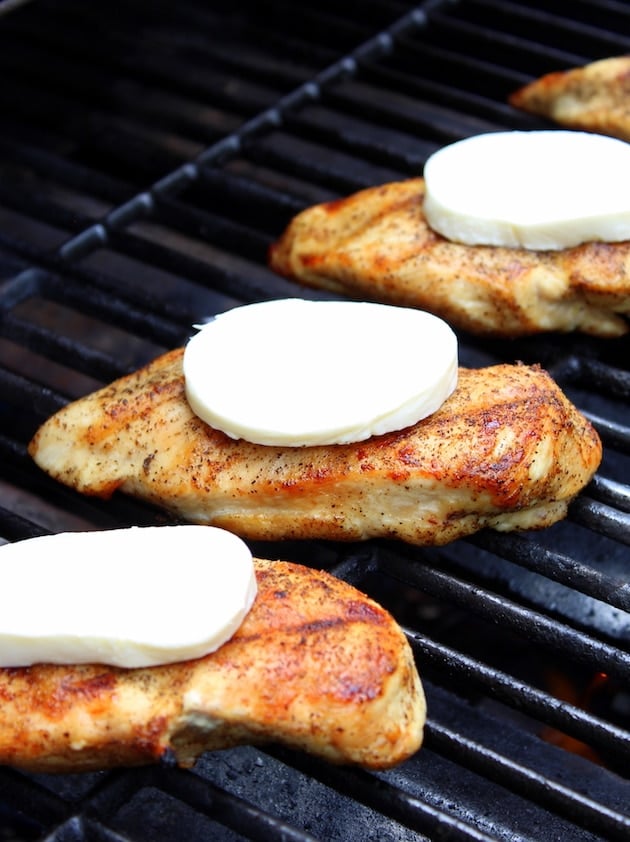 Let your chicken rest for about 5 minutes and then assemble this yummy masterpiece. Place one chicken breast on each plate, top with the tomato balsamic sauce and sprinkle with lots of sliced basil leaves.👇
Then enjoy this super yummy Grilled Chicken Caprese with Balsamic Sauce!🌟 Truly summer eating at its best!🙌
Happy grilling and Bon Appétit!
I would love to connect with you! Leave a comment and follow me on Instagram, Twitter, Facebook, & Pinterest!
Yield: 4 servings
Grilled Chicken Caprese Recipe with Balsamic Sauce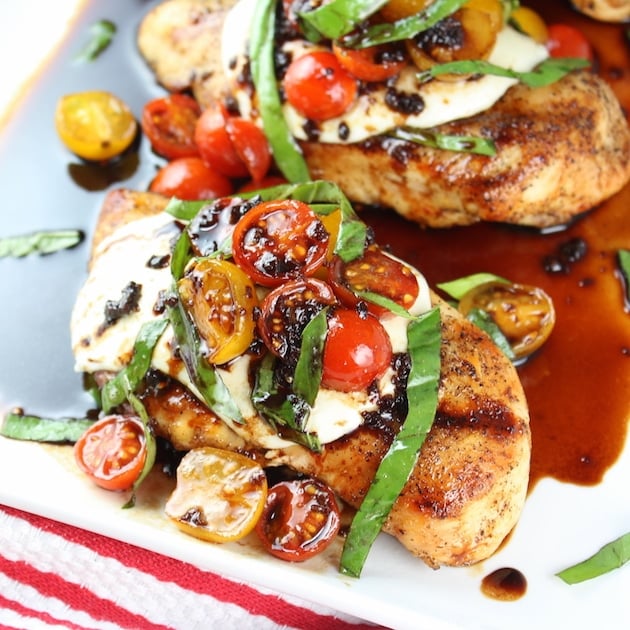 Grilled Chicken Caprese Recipe -  so easy to make and so fresh and flavorful!  
Ingredients
For The Balsamic Reduction:
1 teaspoon olive oil
1 clove garlic, minced
½ cup balsamic vinegar
¼ cup red wine
1 tablespoon pure maple syrup (or honey)
pinch of salt
For The Chicken:
4 small boneless skinless chicken breasts, trimmed of fat
1 teaspoon salt
½ teaspoon pepper
grilling spray
4 oz mozzarella ball, cut into ½ inch slices
10.5 ounces cherry tomatoes halved
Fresh basil leaves, sliced thin or torn
Instructions
Add olive oil and minced garlic to a saucepan over medium heat and cook for one minute.
Pour vinegar, red wine, and maple syrup into a saucepan then bring to a boil. Reduce heat to medium then simmer until it has thickened- about 10-12 minutes. Set aside.
Heat your grill up to high heat. Season chicken breasts on both sides with salt and pepper, and spray with grilling/cooking spray. Turn the grill down to medium-high heat and cook with lid closed for 6 minutes on the first side and 4 minutes on the second side.
Add one slice of fresh Mozzarella to each piece of chicken and continue to grill with the lid closed for 2 more minutes or until temperature of the chicken reads 165 degrees. (The cheese should melt and cover the chicken, but watch closely to make sure it doesn't melt too much and slide off.) Remove chicken from the grill and allow to rest 5 minutes.
Add the halved cherry tomatoes to the balsamic sauce and fold together.
Place chicken on each plate, top with the tomato and balsamic sauce, and sprinkle with lots of torn or sliced basil leaves.
Nutrition Information
Yield
4
Serving Size
1 chicken breast
Amount Per Serving
Calories

420
Total Fat

13g
Saturated Fat

5g
Unsaturated Fat

0g
Cholesterol

167mg
Sodium

1038mg
Carbohydrates

13g
Sugar

10g
Protein

55g
Looking For More Delicious Grilling Recipes?