This Baked Brie in Puff Pastry is may all time favorite way to eat Brie!  It's salty and sweet and creamy and crunchy – it's got it all.  It's truly a mouthwatering appetizer perfect for sharing at your next event or say Super Bowl party!?  PS:  Be sure to continue reading for a chance to win a $700 Amazon Gift Card!!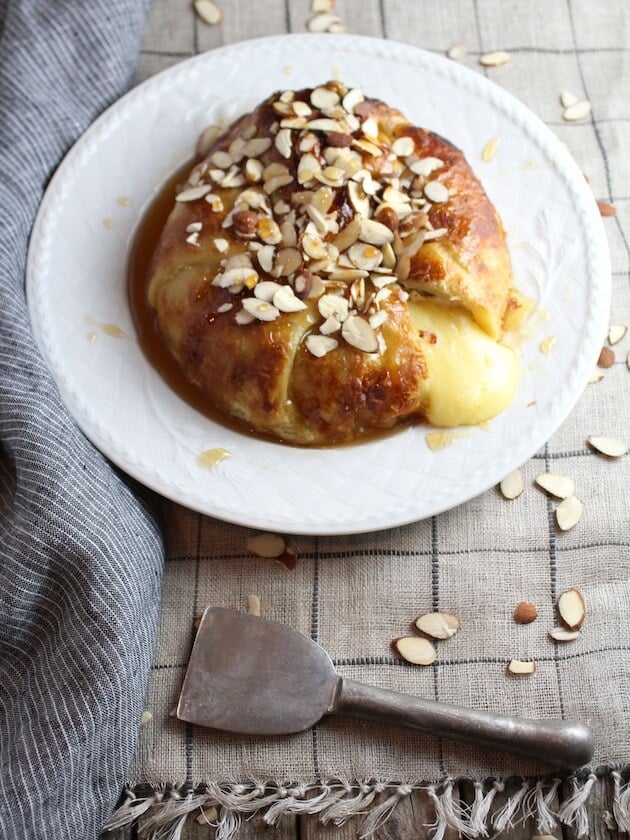 I'm really on this sweet and salty kick lately.  There's the Brie with caramelized onions and bacon, then the persimmons wrapped in prosciutto and now Baked Brie in Puff Pastry with Honey and Almonds.  Can you say swoonfest 2016!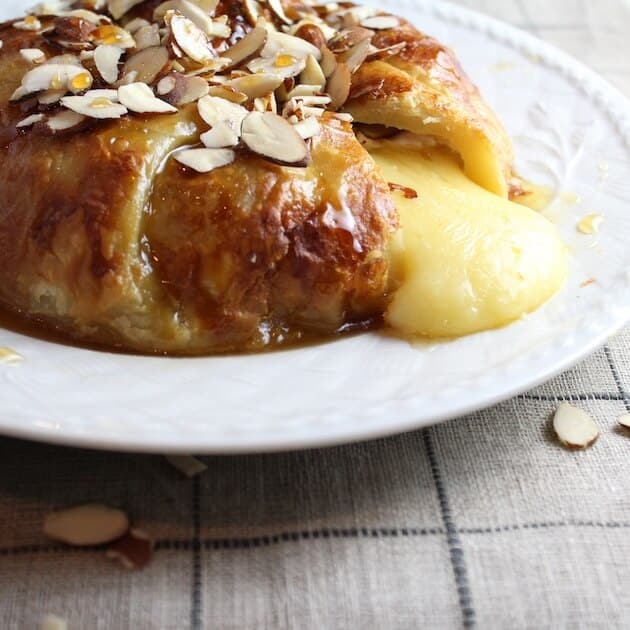 There's just something about that salty/sweet combination that I love, love, love!  Maybe it's because that balance keeps me from tiring of either one.  Like if I eat a chocolate chip cookie I'm kind of one and done.  I know, I'm a tad strange.  But give me some Brie with honey and almonds wrapped in puff pastry and I can clear the whole plate in one setting!  Not that I'm recommending anyone do that, 'cause your gall bladder might explode if that were to happen.
This appetizer is really best shared with others. I've probably made this every year for our Christmas party for at least a decade.  Well at least a very similar version of it.   I usually wrap it in phyllo dough, but that is much more time consuming and labor intensive so I came up with this alternative.  (Don't tell Holly but I think I might like it even better.)  Again, I'm just looking out for you – trying to make your life more simple and delicious!  Yayyy!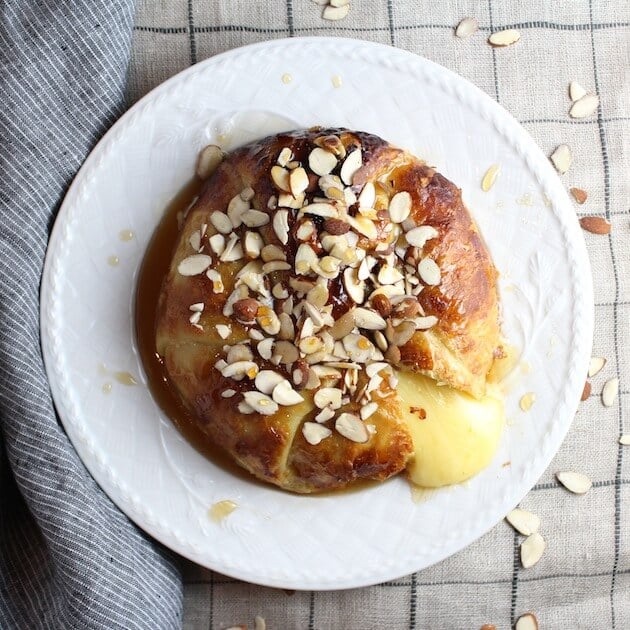 If you're looking for a delicious and easy appetizer – your search is over.  Baked Brie swaddled in Puff Pastry with sliced Almonds and Honey drizzle is really to live for!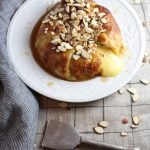 Baked Brie in Puff Pastry with Honey and Almonds.
Salty and sweet and creamy and crunchy - the perfect appetizer!
Ingredients
12

ounce

wheel of brie

3

tablespoons

honey

1/3

cup

sliced almonds

1

sheet puff pastry

- defrosted, rolled out to 12 x 12

1

egg

1

tablespoon

water
Instructions
Roll the puff pastry into 12-inch square. Place brie in center and top with 2 tablespoons of honey and half the almonds.

Fold up the corners of puff pastry one at a time, brushing all the dough with the egg wash as you go, using it like glue to hold the pastry together. Continue to brush the egg wash over the top and sides of the dough after formed.

Bake the brie at 400 degrees for 10 minutes, then carefully pull the oven rack out without removing the brie from the oven. Quickly drizzle with a tablespoon of honey and sprinkle with the remaining almond slices. Slide the Brie back in the oven and continue baking for another 10 minutes.

Be careful to not let the almonds burn.
Recipe Notes
The almonds and honey on top of the puff pastry will burn if you bake them too long. That's why I recommend you add them after the brie is half baked.
Here's the final update and winner announcement, as of 11:30PM ET on January 30th: 
Congratulations to Sheralle who is the official winner of this $700 Amazon Gift Card!  Thanks to everyone for participating in this giveaway and stay on the lookout for another EVEN BIGGER giveaway coming in February!
============================================================
Here's a status update on the giveaway as of 12 noon ET on January 30th:
The giveaway below officially closed on Tuesday at midnight, and Wednesday we processed all the entries (almost 100,000 entries!) to randomly select and verify the winner. Believe it or not, we gave the winner a 48 hour window to respond… and they missed it!!!! So our coordinator is re-selecting a new winner and then giving them 48 hours to respond. We hope to be able to announce the winner on Facebook, Twitter, and here on Taste And See by Monday Feb 1st so stay tuned!!
============================================================
We're excited to announce our first giveaway of the year – the prize is a $700 Amazon Gift Card – enter below!  We've teamed up with 34 other food bloggers to bring you this big prize.  The more times you like, follow, or subscribe to each of us, the more entries you will get in this contest!
The giveaway only lasts 2 weeks so be sure to enter now.  Also, there are a few entries that can be submitted more than once so be sure to stop back and enter again!  If you are already following us on any of our social media channels, those are 'free' entries. You'll just have to let us know about it in the entry form below.
Here is the entry form:
(This form may take a few seconds to load.  And if you need help filling out the form, check the video at the bottom of this post)
How to Enter a Rafflecopter Giveaway from Rafflecopter on Vimeo.