Thanks to our friends at Gorton's for sponsoring these Bang Bang Fish Tacos – they're a delicious and well-balanced meal wrapped in a corn tortilla! With lightly toasted corn tortillas, citrusy cabbage slaw, Gorton's Classic Fish Sticks, and yummy homemade Bang Bang sauce!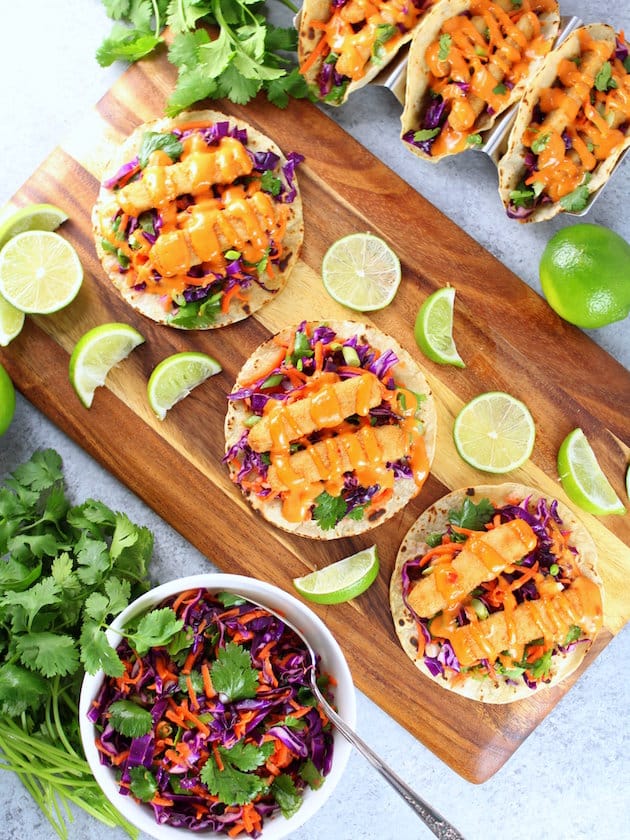 I'm sure you've heard of bang bang shrimp or bang bang sauce before – right? It's a creamy, sweet sauce with a spicy kick.💥 Basically, the best sauce ever created and extremely addicting!👍
It had been a while since I had it - until recently. The B man and I were on a trip to North Carolina and decided to try a tapas restaurant in downtown Charlotte. You should know I absolutely love eating a bunch of small plates and calling it a meal. Appetizers for dinner is my fave!💕
There is one small problem… I get all excited to try a bunch of new dishes and then I always order way too much food.
But no worries, the B man to the rescue… he plays clean-up like no one I've ever seen. Seriously, the guy's got skills, and he's got the metabolism of a gerbil. #gratefulbutjealous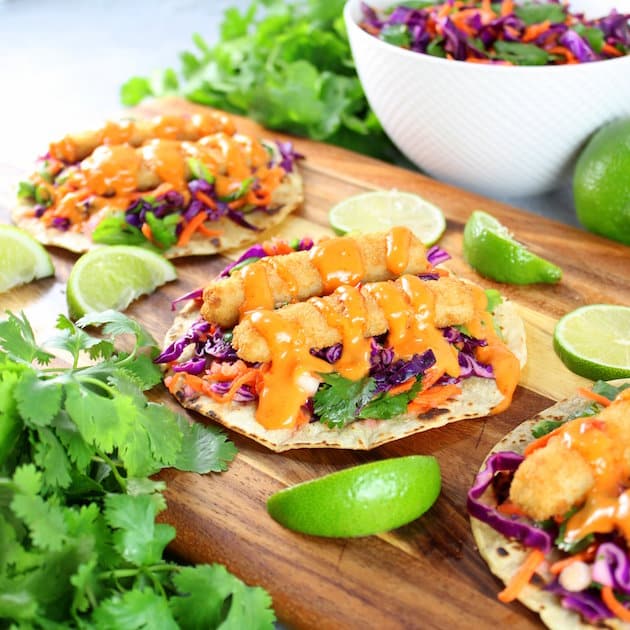 One of the menu items that caught my eye was the Bang Bang Grouper. Hmm… now I've had Bang Bang Shrimp before, but not bang bang fish. I was intrigued. And for the sake of ahem, "research," I had to order it.😊
It was fabulous! A lightly golden crispy flash-fried piece of white fish with the most creamy, sweet and spicy sauce. It was soo good. I loved the flaky texture of the fish with the slightly crunchy batter, smothered in that heavenly topping!💛
Why had I not thought of this delectable combination before??🤔 Seriously, a life changing discovery taking place.
Well, it turned out that that small plate ended up being research after all, 'cause I borrowed the concept and switched it up a bit to create these amazing Bang Bang Fish Tacos!✨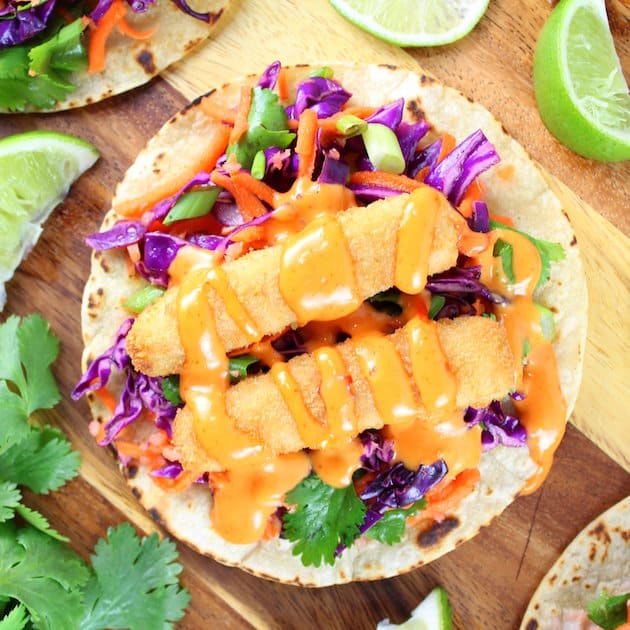 Genius – right!?🙌👌
Think about it… perfectly toasted corn tortillas, heaven's elixir aka bang bang sauce, fresh, citrusy cabbage slaw, and delicate white fish that has been slightly breaded and baked to perfection. Can you even stand it!??😁
This is going to blow your mind: it gets even better. Whaa?😳
Yep - thanks to Gorton's Fish Sticks this nutritious and simple meal is on the table in 30 minutes.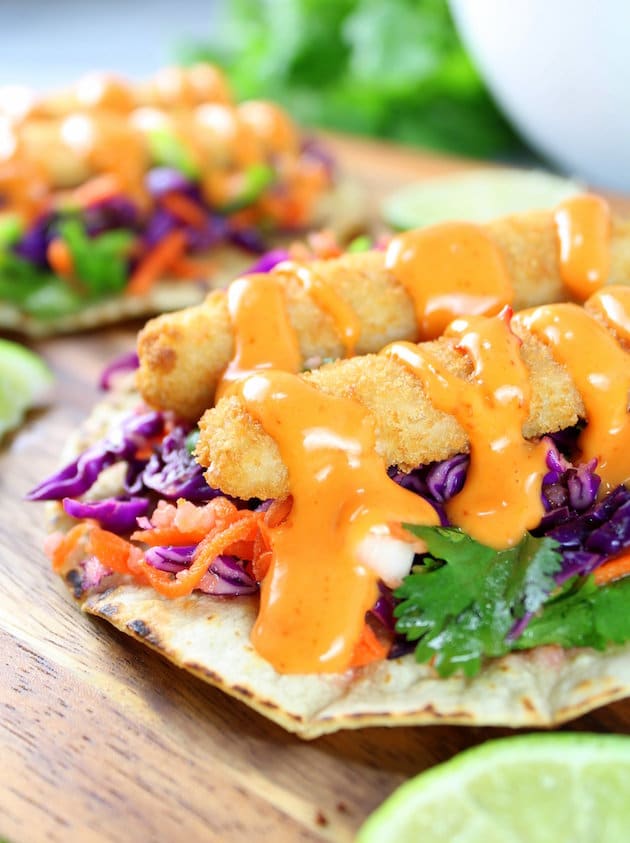 Doesn't it feel like you just won the lottery?? Ok, so maybe not the Mega Millions but possibly Words With Friends or at least Candy Crush.🍭
Less about gambling and more about these yummy fish sticks... Plain and simple Gorton's is killing it in the seafood department.💪 They've been catching and producing the best seafood products since way back in 1849.🎣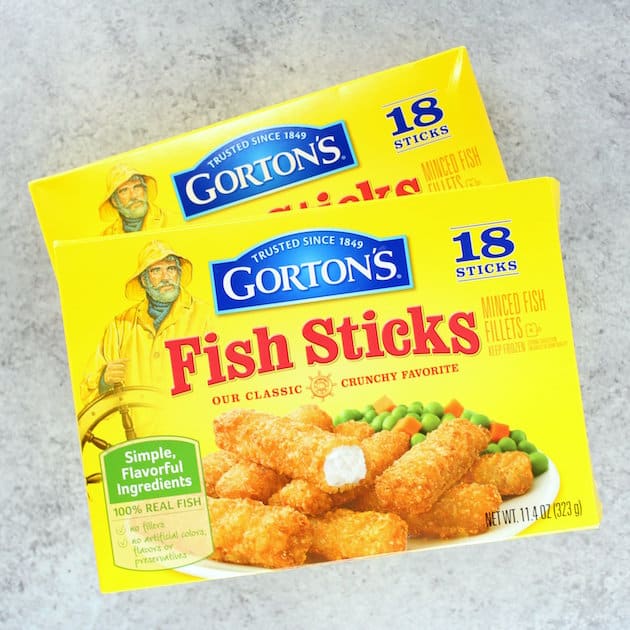 And as they say "practice makes perfect…" case in point, their classic Fish Sticks. Here's just a few fun facts you need to know about them:
They are filled with 100% wild-caught Alaska Pollock.
They have absolutely no fillers.
They have zero artificial colors, preservatives or MSG.
They are tested mercury safe.
They contain natural Omega-3.
Their cook time is only 12-14 minutes.
And they taste better than chicken (says me)!😋
Please don't take my word for it... taste and see for yourself! You can find these classic fish sticks along with many other delicious Gorton's products in the freezer department of your local grocer.
Like these tasty Popcorn Shrimp. The perfect centerpiece for my Sweet And Sour Shrimp recipe – yum! What can I say I'm all about offering new inspiration for serving classic favorites!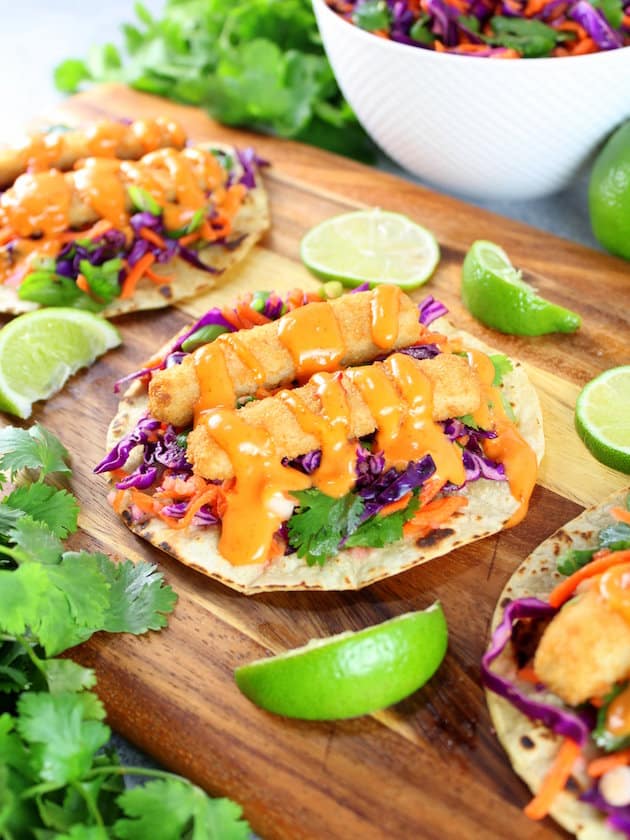 These fish tacos are truly a well-balanced meal wrapped up in a corn tortilla.🌮
The process is simple… you shred some cabbage and carrots, chop some green onions, mince some garlic and ginger, add some cilantro leaves, mix it all together with the juice from a lime, extra virgin olive oil and a little honey. Then set it aside and mix up your sweet chili sauce.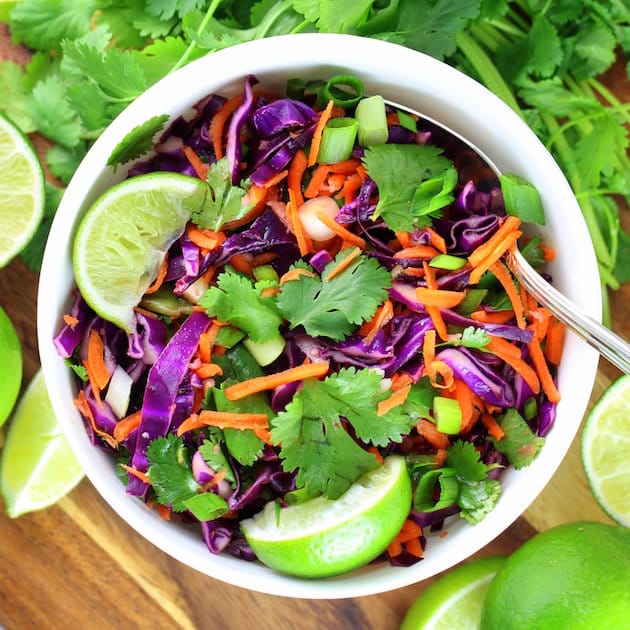 Use your favorite version of mayo… light, olive oil, homemade - whatever works for you. Add some sweet chili sauce, Sriracha and mix well.
Meanwhile, bake your fish sticks on a parchment-lined baking sheet for 12-14 minutes at 425 degrees. Heat up a cast iron skillet or non-stick pan over high heat, hit both sides of a tortilla with a quick spritz of cooking spray and toast them individually in the hot pan for 20-30 seconds per side. Each side should have some nice color but still be flexible.
When your fish sticks are baked, it's time to assemble.
Top each tortilla with a spoon of tangy cabbage slaw, two warm fish sticks, cilantro leaves and some of that amazing sauce.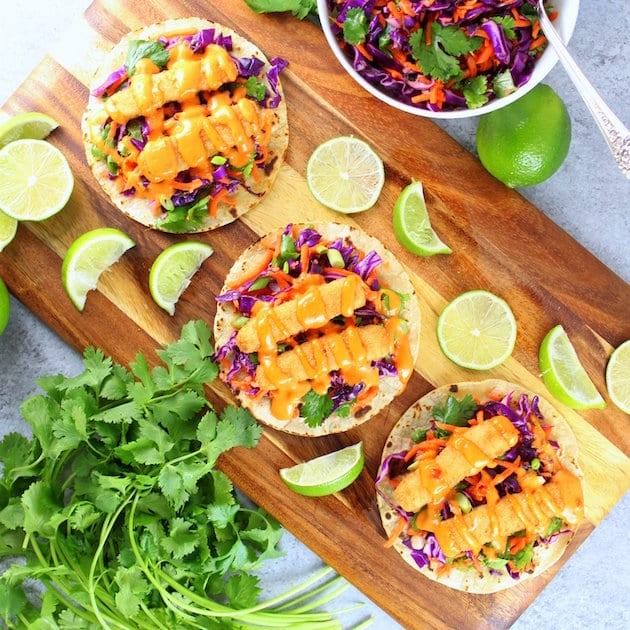 Now enjoy the most delicious semi-homemade meal you've had all week.
Bang Bang Fish Tacos - ridiculously delicious, yet simple and nutritious!🌟
I would love to connect with you! Leave a comment and follow me on Instagram,Twitter, Facebook, & Pinterest!
Yield: 8 tacos
Bang Bang Fish Tacos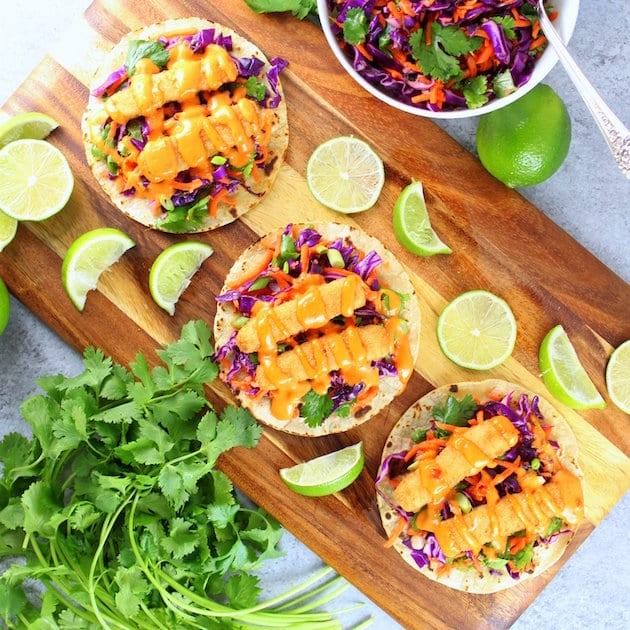 Super easy recipe for how to make fish tacos... with citrus slaw & yummy homemade bang bang sauce!
Ingredients
For The Cabbage Slaw:
½ head purple cabbage, shredded
2 carrots, shredded
½ cup cilantro leaves
4 green onions, chopped
3 garlic cloves, minced
1 tablespoon fresh ginger, minced (or ¼ teaspoon ground ginger)
1 lime, juiced
1 tablespoon honey
1 tablespoon extra virgin olive oil
½ tablespoon salt
For The Bang Bang Sauce:
⅓ cup mayo
2 tablespoons sweet chili sauce
1 tablespoon Sriracha, or other hot sauce (I used 2 tablespoons for more kick!)
For The Tacos:
16 Gorton's Alaskan Pollock Fish Sticks
8 corn tortillas
½ cup Cilantro leaves for garnish
additional lime wedges for garnish
Instructions
Preheat oven to 425 F
To make the cabbage slaw, combine cabbage, cilantro, green onions, garlic, ginger, fresh lime juice, honey, olive oil and salt in a large bowl. Toss and set aside.
To make the Bang Bang sauce, whisk together mayonnaise, sweet chili sauce, and Sriracha / hot sauce in a small bowl. Then set aside.
Bake 16 Gorton's Alaskan Pollock fish sticks for 12-14 minutes on a parchment-lined baking sheet. Flip once at 8 minutes.
Meanwhile, heat a sauté pan over high heat. When the pan is hot, spray a little cooking spray on both sides of a corn tortilla and toast for 20-30 seconds per side. Repeat with 7 more tortillas.
Assemble tacos with tortillas, slaw, and fish sticks. Drizzle with Bang Bang sauce, then garnish with cilantro and lime juice.
Nutrition Information
Yield
8
Serving Size
1 taco with slaw & sauce
Amount Per Serving
Calories

302
Total Fat

22g
Saturated Fat

4g
Trans Fat

0g
Unsaturated Fat

13g
Cholesterol

53mg
Sodium

1066mg
Carbohydrates

26g
Fiber

4g
Sugar

8g
Protein

18g
This nutrition card uses an estimate provided by an online nutrition calculator. This estimate is not a substitute for a professional nutritionist's advice!
PS - if for some reason you've got haddock fish on the brain, they try out this amazing haddock fish piccata!
Looking for more amazing Asian flavors?