Chicken Sausage Lasagna Soup - sponsored by our friends at al fresco all natural! We're thrilled to partner with al fresco in honor of National Breast Cancer Awareness month.
You're going to love this Chicken Lasagna Soup… This one-pot lasagna tastes just like the traditional version, without all the work! A delicious Italian classic made in a fraction of the time!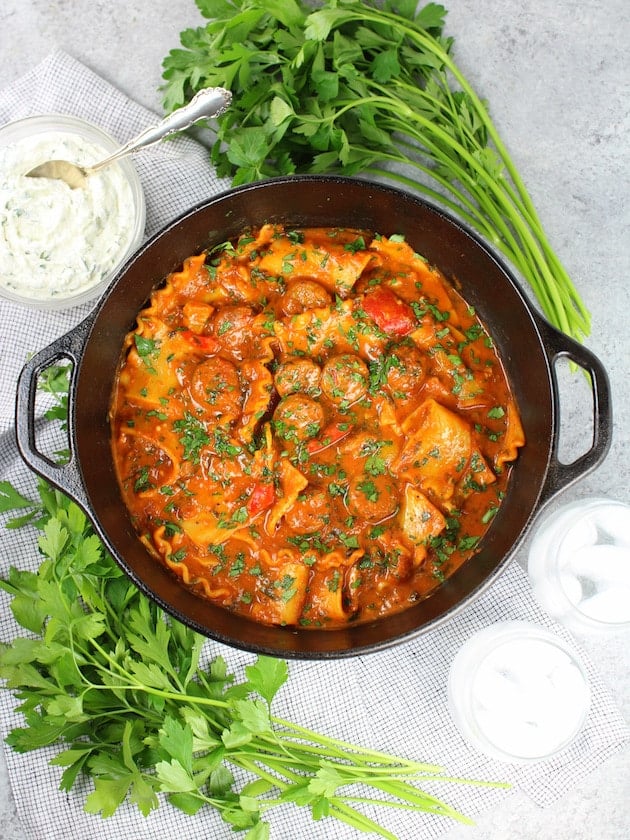 I'm so proud to be a brand ambassador for al fresco all natural… and it's not just because they have amazing, healthy, easy-to-use products that I adored long before I became a food blogger. As a company, al fresco is also a big supporter of the fight against cancer, which is a cause that I care deeply about – you can read more of my family's story here.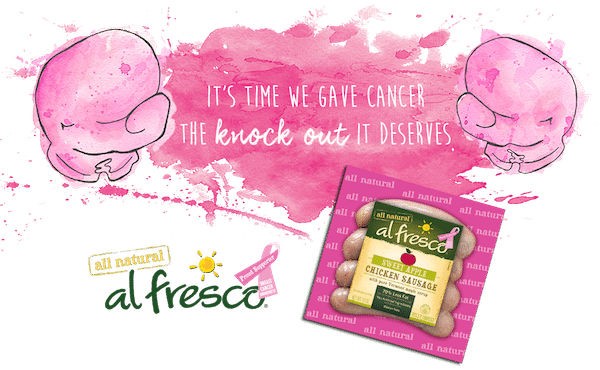 In honor of sharing comfort foods with a loved one who needs it during Breast Cancer Awareness Month, I'm presenting this oh-so-delizioso Lasagna Soup recipe!!! It's like a hearty warm hug and it's ready in half the time of traditional lasagna. #crushedit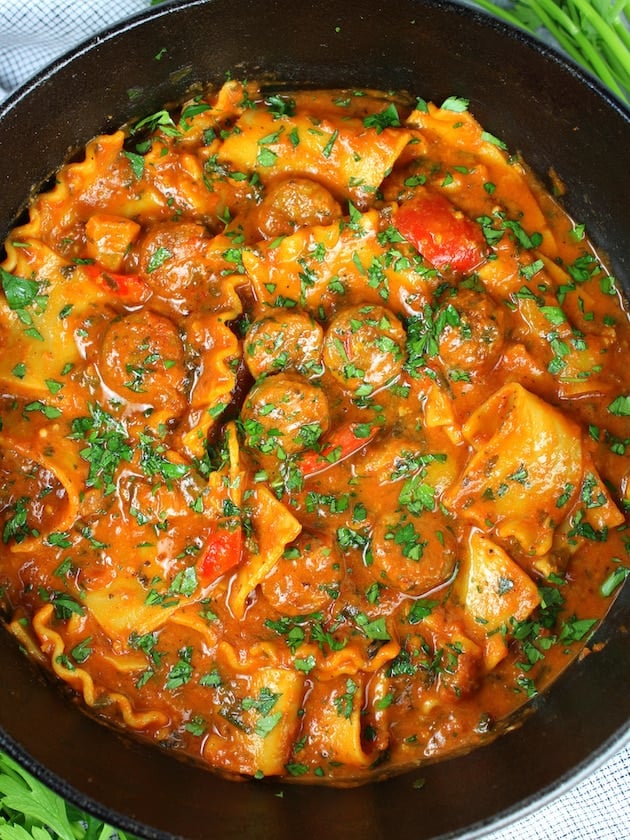 As you know al fresco is all about getting a well-balanced meal on the table as quickly as possible – that's why they offer THE most delicious precooked chicken sausage on the planet - the perfect swap for chicken in any recipe.
If you love lasagna, but not all the work that goes into it, this Lasagna Soup is for you.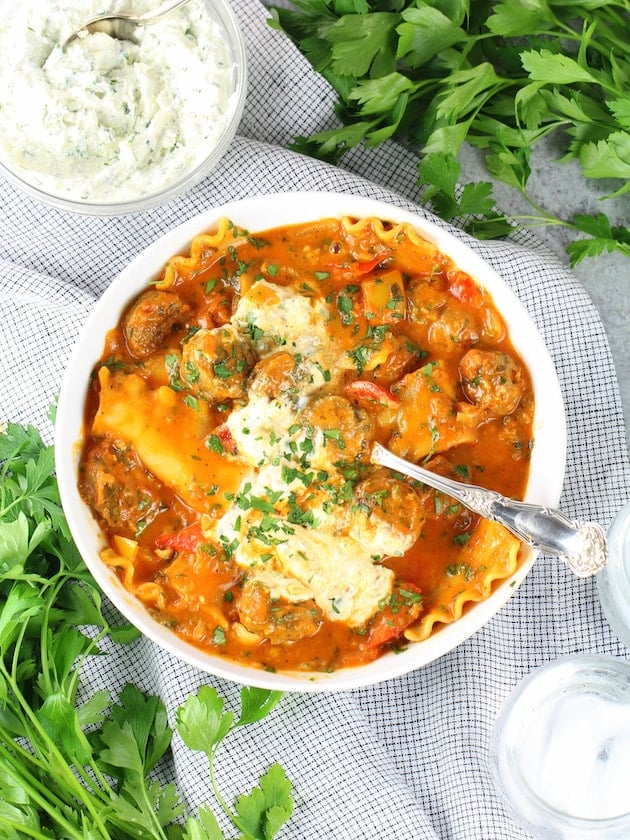 Plus, we made it even easier and boosted the health factor by swapping out the ground beef for al fresco's Sweet Italian Chicken Sausage. Their sausage is loaded with red and green peppers, Italian herbs and spices, it's lower in fat and calories, it's gluten free, and has the most delicious flavor!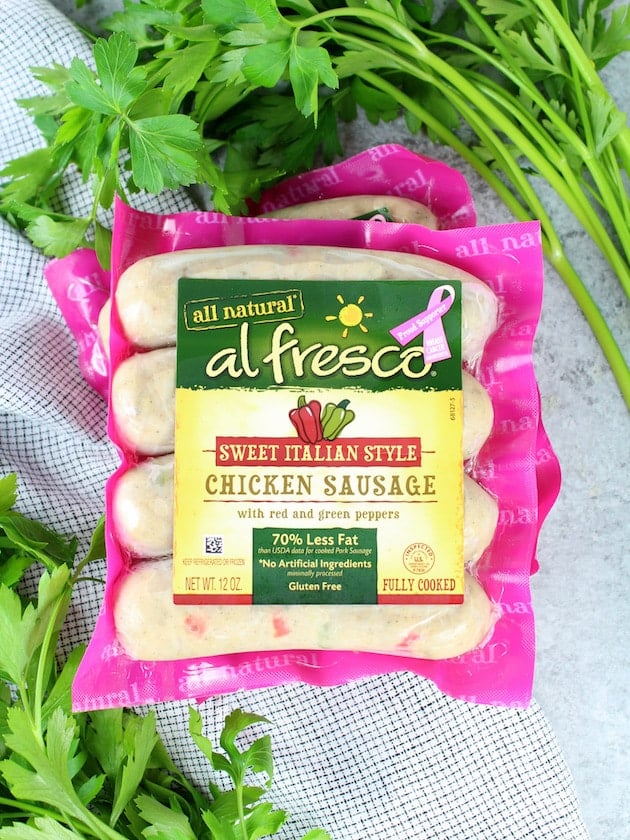 It's one primo meal my friend! Allow me to break it down for you…
How to Make Lasagna Soup:
First, slice then sauté the al fresco chicken sausage in olive oil in a large Dutch oven (or soup pot) for 2-3 minutes a side. Once the sausage is slightly browned, remove it from the pot and set aside.
Next, sauté your onions for 4 minutes then stir in your garlic, herbs, spices and fresh peppers, and cook one more minute.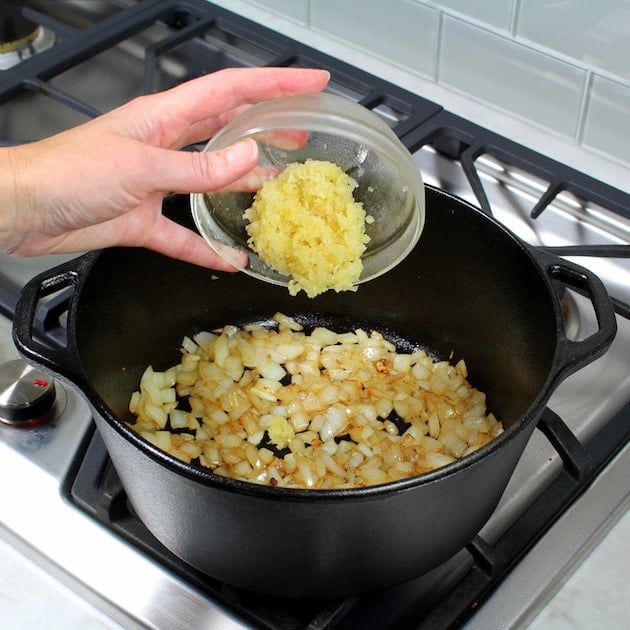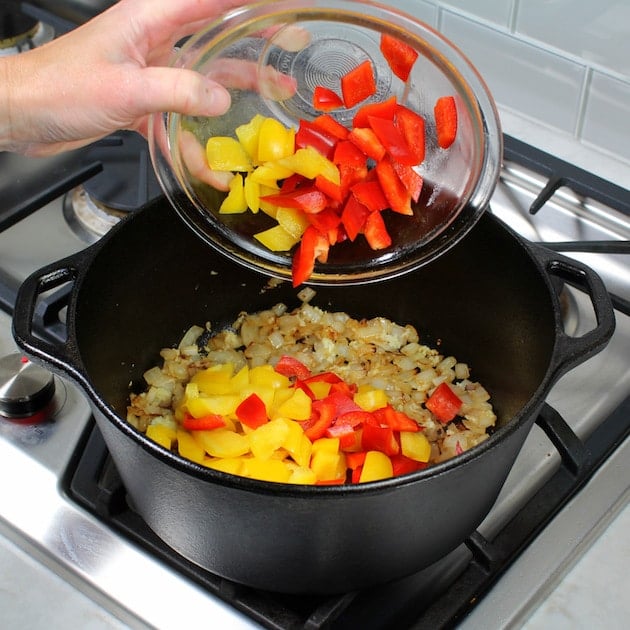 Pour in your marinara and chicken stock and bring to a boil.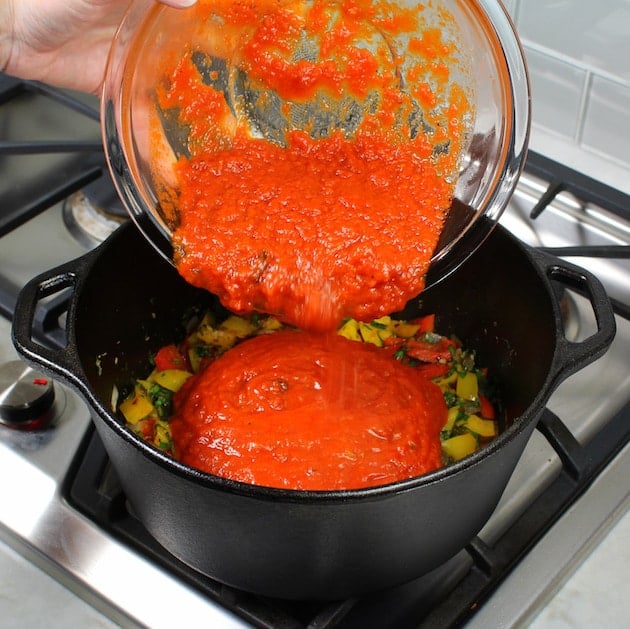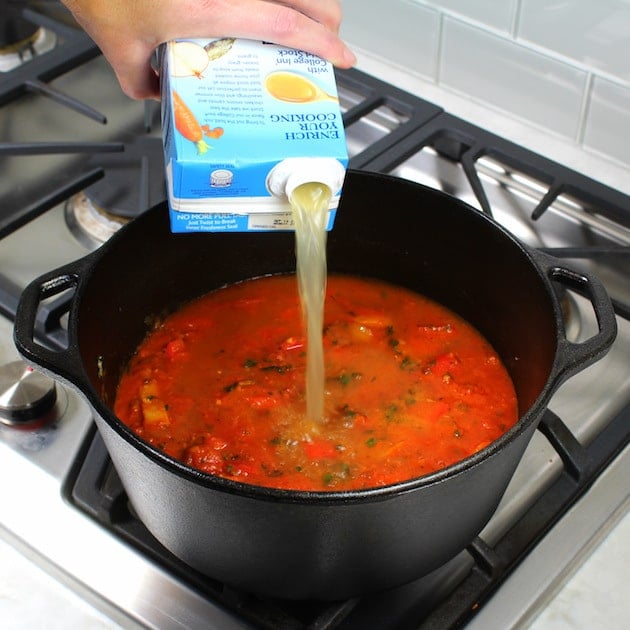 Now add in your broken lasagna noodles, turn down to a simmer, and cook for 10 minutes.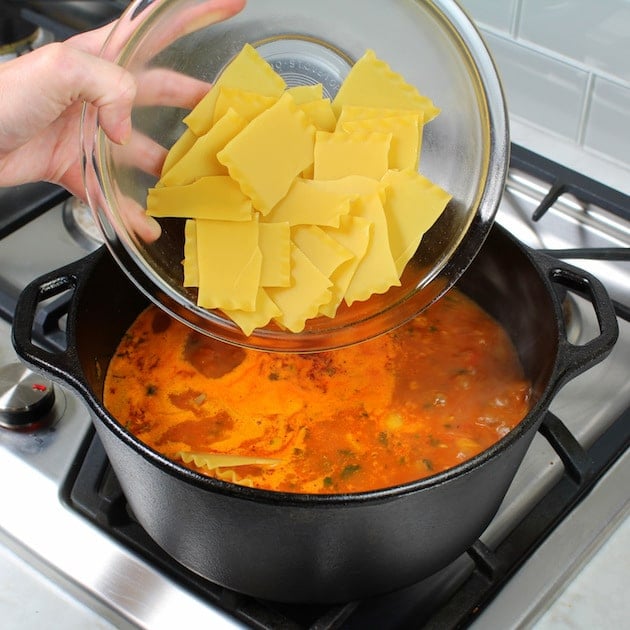 Next, stir in your browned chicken sausage,
¼ cup of Parmesan cheese, half and half, and continue to cook the pasta for another 4-6 minutes or until cooked to your preferred doneness.
This will add a creamy cheesy element to the dish… just the way Lasagna should be – right!?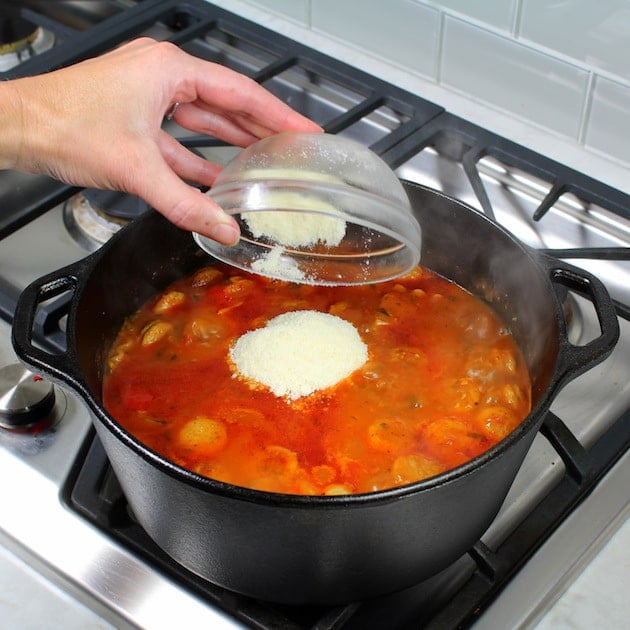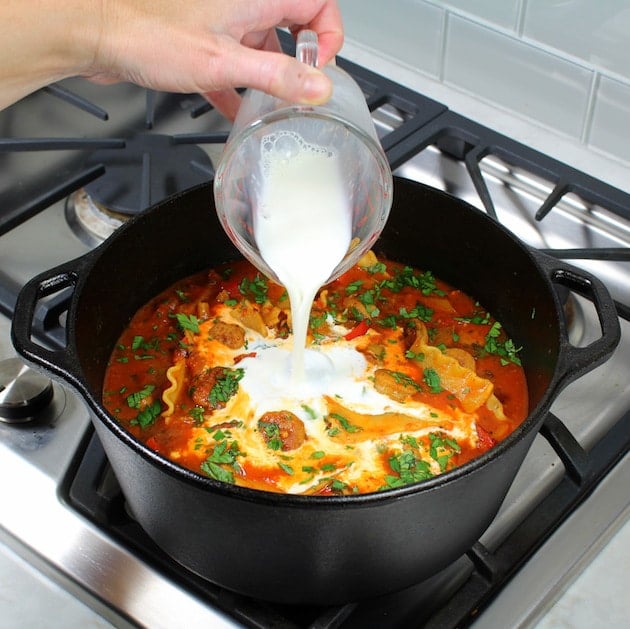 To make this Italian feast even more "lasagna-esque," I like to mix up a cheesy herbaceous ricotta topping. Basically, stir together 1 cup of ricotta cheese, 2 tablespoons grated Parmesan and 2 tablespoons fresh chopped parsley and basil. It's soo good I could literally eat it by the spoonful, and ummm, not gonna lie - I probably did.
Seriously, this yummy goodness totally takes this recipe up like 5 notches.
Now it's ready to serve…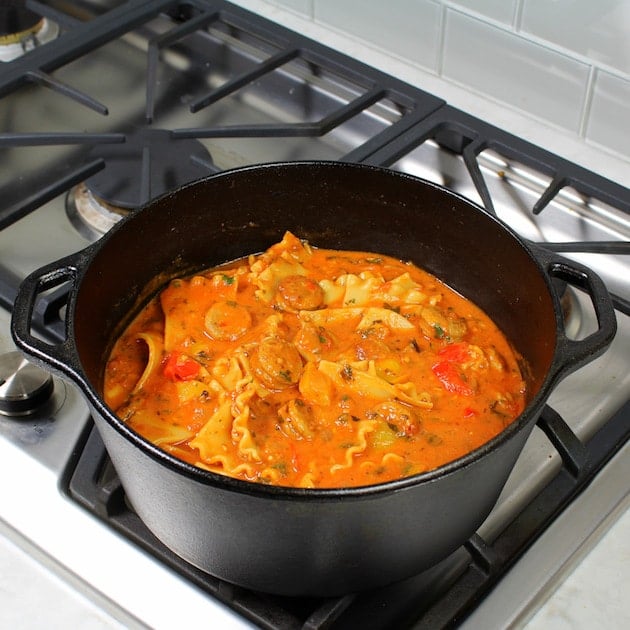 Spoon your soup into bowls, sprinkle with some mozzarella cheese, add a dollop of the ricotta yumminess, and devour!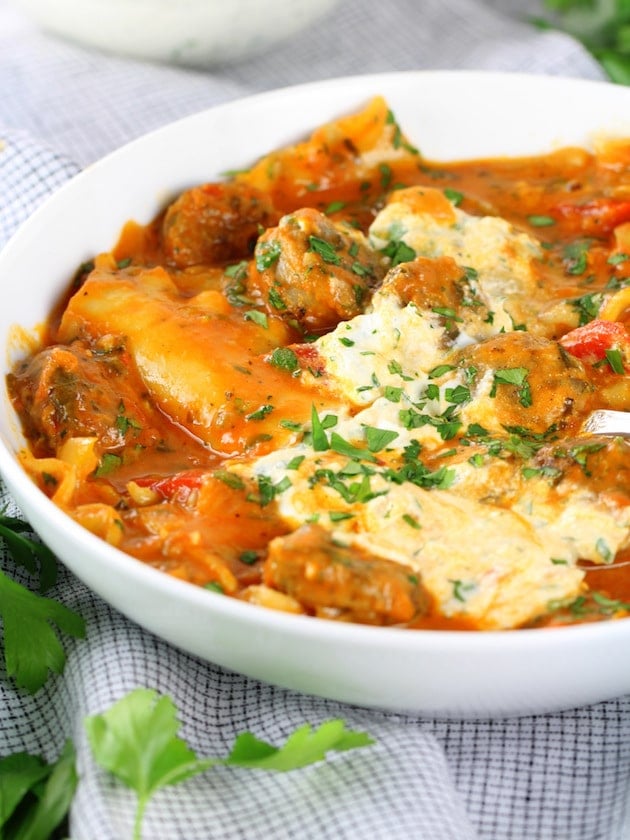 Chicken Sausage and Pepper Lasagna Soup – the most delicious comfort food you'll be making all season long!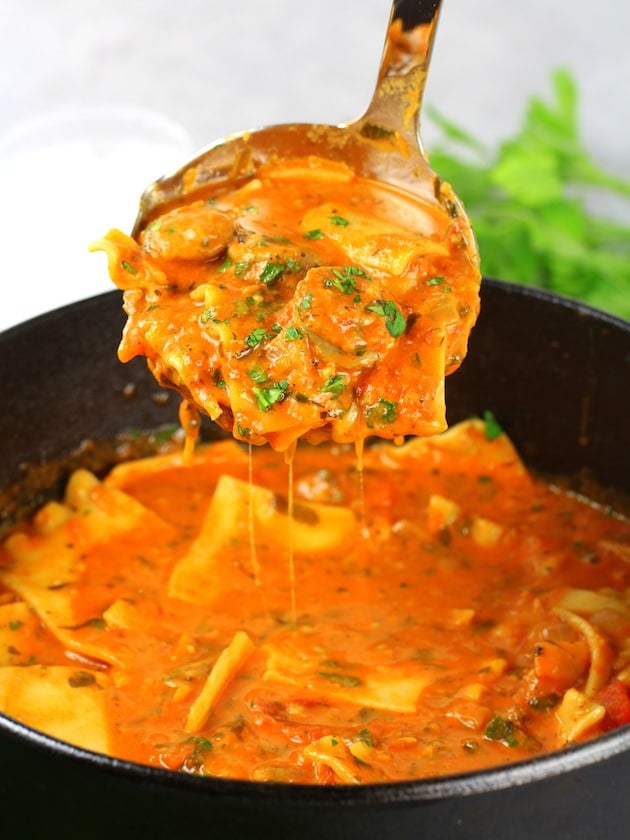 And if you like your lasagna a different way, check out these lasagna stuffed peppers!
I would love to connect with you! Leave a comment and follow me on Instagram, Twitter, Facebook, & Pinterest!
Yield: 6 Servings
Chicken Sausage Lasagna Soup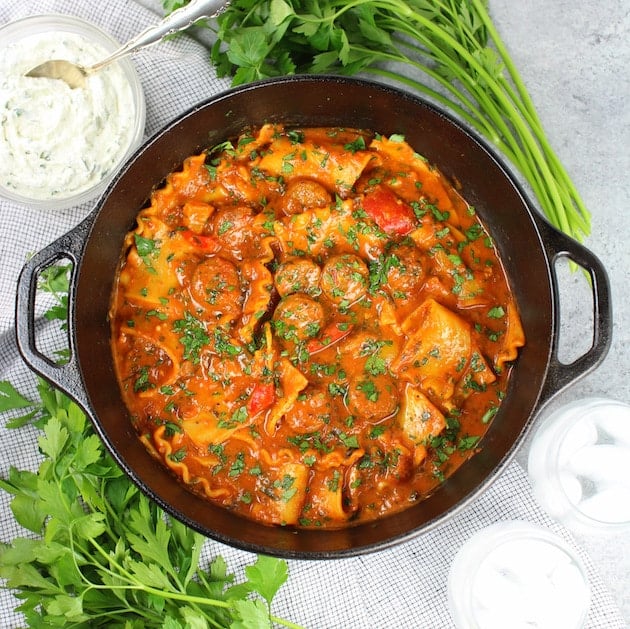 This one-pot lasagna tastes just like the traditional version, without all the work! A delicious Italian classic made in a fraction of the time!
Ingredients
For The Soup:
2 tablespoons olive oil
1 package al fresco Sweet Italian Chicken Sausage, sliced (or use two for even more protein)
1 large onion, chopped
5 garlic cloves, minced
2 bay leaves
¼ cup fresh parsley chopped, (more for garnish)
½ cup fresh basil chopped, (more for garnish)
1 tablespoon dried oregano
¼ teaspoon Crushed pepper flakes, (more if you like a kick)
1 teaspoon salt
½ teaspoon pepper
2 colored peppers, chopped , (I used red and yellow)
4 cups of chicken stock *see note
24 ounces marinara sauce
8 ounces dried lasagna noodles, (about 8 noodles broken into 1-2 inch pieces (gluten free, whole wheat or regular noodles)
¼ cup half and half
4 tablespoons grated Parmesan cheese
Shredded mozzarella for topping
Ricotta Cheese Topping:
⅛ teaspoon nutmeg, optional
1 cup Ricotta cheese
2 tablespoons grated Parmesan cheese
2 tablespoons fresh parsley, chopped
2 tablespoons fresh basil, chopped
Instructions
Add olive oil and sausage to a large soup pot and cook/brown 2-3 minutes a side on medium high heat. Then remove from the pan and set aside.
Add onions (and a little more olive oil if needed) to the pan and saute 4 minutes.
Stir in the garlic, bay leaves, parsley, basil, oregano, crushed red pepper flakes, salt & pepper, and red and yellow peppers. Cook for another minute.
Stir in the chicken stock and marinara and bring to a boil.
Now stir in pieces of lasagna and cook for 10 minutes, stirring occasionally.
Add chicken sausage, half and half, and Parmesan cheese. Cook for 4-6 more minutes or until pasta is al dente (It will keep cooking in the pan as it sits there waiting to be served.)
While the pasta cooks mix together ricotta cheese, Parmesan cheese, nutmeg, parsley and basil.
To serve, ladle soup into bowls and top each one with a bit of shredded mozzarella and a good dollop of the cheesy ricotta mixture. Finish with some fresh chopped basil and or parsley.
Notes
The noodles will soak up the liquid in this soup while in the fridge. If needed to reheat add more chicken stock.
This recipe will probably make more than 6 servings, depending on the size of each portion!  In our house this recipe produced 8-10 servings!
Nutrition Information
Yield
6
Serving Size
10 ounces
Amount Per Serving
Calories

416
Total Fat

17g
Saturated Fat

6g
Unsaturated Fat

0g
Cholesterol

43mg
Sodium

1476mg
Carbohydrates

46g
Fiber

3g
Sugar

9g
Protein

20g
Other Delicious Chicken Sausage Dinner Recipes: