Greek Chicken Sheet Pan Dinner with Green Beans and Feta!  This Mediterranean-inspired dish will have your mouth watering… with garlic, green beans, diced tomatoes, baby yellow potatoes, lemon juice and feta cheese.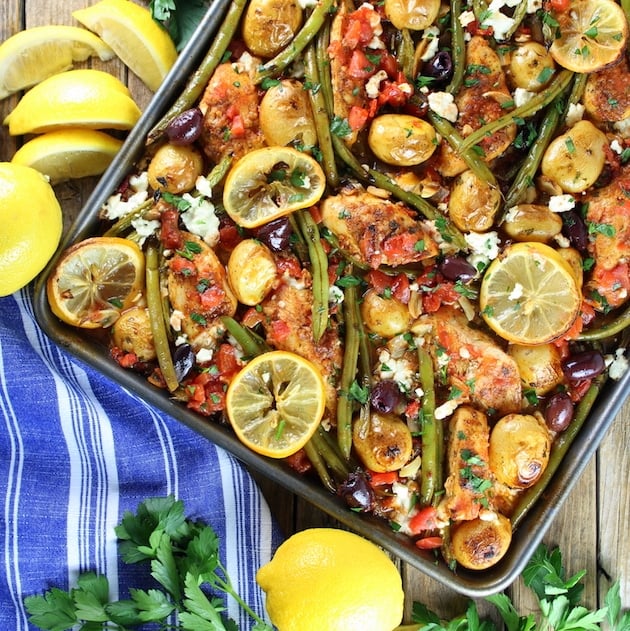 (This post may contain affiliate links; read our disclosure here).
What are your thoughts on sheet pan dinners?🤔
You know – throwing a bunch of meat and veggies on a baking sheet, roasting, aaaand you're done.
MY LATEST VIDEOS
I for one am a fan.👌 I love the idea of putting a bunch of stuff on ONE pan, tossing it in the oven for some hands-off cooking, and then enjoying a delicious, healthy meal.✨
A no-fuss, stress-free dinner that cooks itself?  Sign me up!✍️  It's really quite easy, and your possibilities are endless.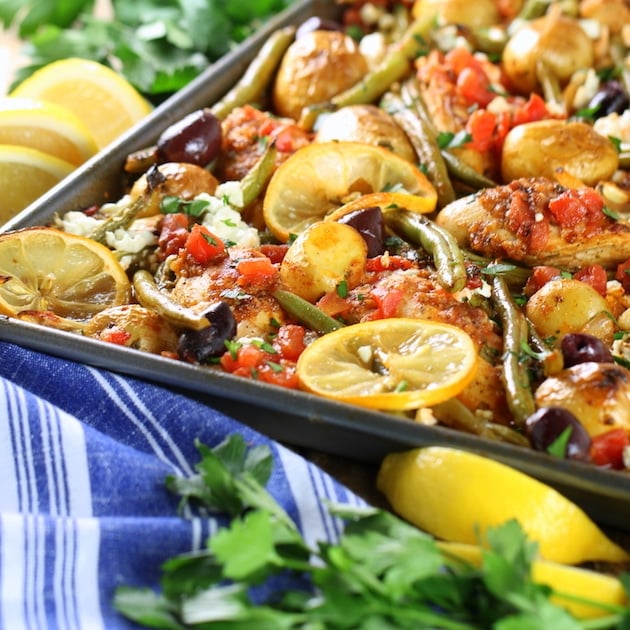 In theory this sheet pan concept is wonderful.  But the execution requires a little bit of fore thought.  Our friends over at food52 gave us some tips about sheet pan dinners to get us started.  Here are some of their thoughts – and mine – on how to make sure your sheet pan dinner is amazing:
Timing Is Everything: You have to determine the cook time for each ingredient that you're roasting and either add or remove them from the pan at the appropriate time.
Consistent Size Will Help. Your veggies should all be cut into similar-sized pieces so they cook as evenly as possible.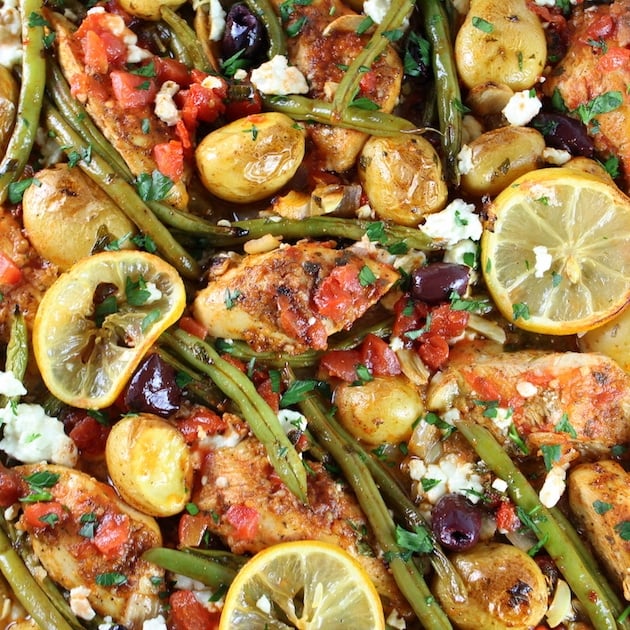 Choose Your Protein First.  Think cuts of meat that don't require braising.  There are so many options…
Any cut of chicken, really: bone-in, boneless, skinless – whatever.
Pork chops, loins, or tenderloins could be great options.
Some cuts of beef such as flank steak, sirloin tips, or ground beef rolled into meatballs or cigar shapes.
Fish is also a good protein for a sheet pan dinner.  Whether it's a whole fish, salmon filets, or swordfish steaks, they all will come out swimmingly.
Even some Italian sausage or bratwurst could be a nice addition!
… Then Choose Your Veggies.  Once you have your protein, pick some veggies that will pair well.  You can play it safe with some peppers, onions, and broccoli, or go little crazy and add some fennel, parsnips and beets.  Any type of veggie you would typically roast can make a delicious and healthy one-pan meal.
Think Themes.  Sometimes a theme can help you pull it all together.  Here are just a few examples:
Asian: Salmon filets brushed with a soy/lime/ginger glaze, with a medley of veggies like bok choy, carrots, colorful peppers, and snowpeas.🌱🐟
German: Bratwurst with cabbage wedges, carrots and potatoes. Throw in a touch of dark lager with a little apple cider vinegar, and your crew will be saying "danke" all night long.🍺
Italian: Chicken thighs with white wine and a little rosemary, garlic cloves, hot peppers, olives, and cherry tomatoes.  Mmm buon appetite!🇮🇹
And how 'bout some good ole' red/white and blue Pork Chops and Applesauce?🇺🇸  Ok, so maybe not applesauce but don't be afraid to add a little fruit into the mix… think apple wedges, dried cranberries, pork chops and sweet potatoes.  YUM!  A little sage, and apple cider vinegar would take this over the top.🙌  Hola!✌️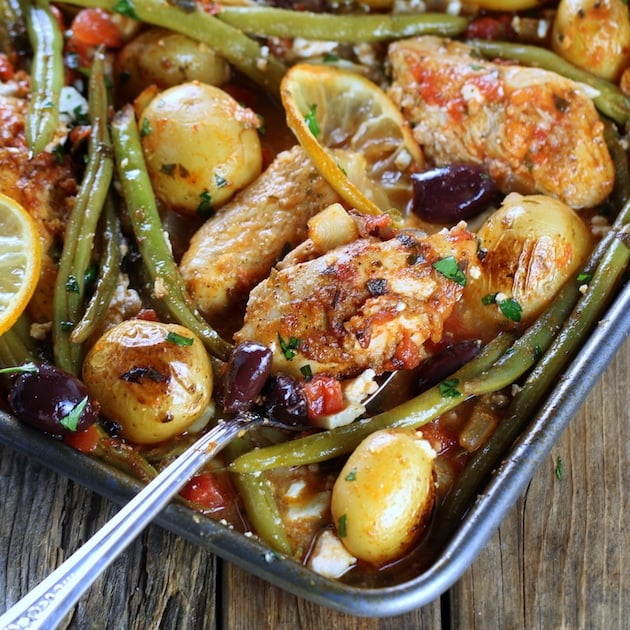 And TODAY we're going Mediterranean with this Greek Chicken Sheet Pan Dinner with Green Beans and Feta!🇬🇷  It has tender chicken breasts marinated in lemon, garlic, and paprika.  Alongside some baby yellow potatoes and garlicky green beans, diced tomatoes with onions, Kalamata olives, and feta.👏👏
Is your mouth watering??  Mine definitely is!😋
You start by cutting each boneless skinless chicken breast into about 4-5 equal sized pieces.  Then in a large bowl add the chicken, freshly squeezed juice from one lemon, minced garlic cloves, salt, pepper, paprika, and olive oil.  Let that sit while you prepare your veggies.
Rinse your beans and snip off the end with the hard nub/stem (the other end should have a dainty little tail that is soft and thin, and doesn't need to be removed.)  Place the beans in another large bowl.
Chop up one large yellow onion, rinse (and scrub if needed) 1 pound of baby potatoes, and add them to the beans.
Stir in one 15-ounce can of petite diced tomatoes, juice from half a lemon, 1 teaspoon of salt and pepper, and 2 tablespoons olive oil.  Pour it onto a large baking sheet, add the chicken pieces spaced evenly throughout the pan, a few lemon slices, 4 thinly sliced garlic cloves, a dozen or so pitted Kalamata olives, and roast at 450 degrees for 20 minutes on a large baking sheet.
Sprinkle with  4 ounces of crumbled feta cheese (preferably sheep or goat's milk) around the pan and continue to cook for 5 more minutes or until the chicken reads 165 degrees on your handy digital meat thermometer.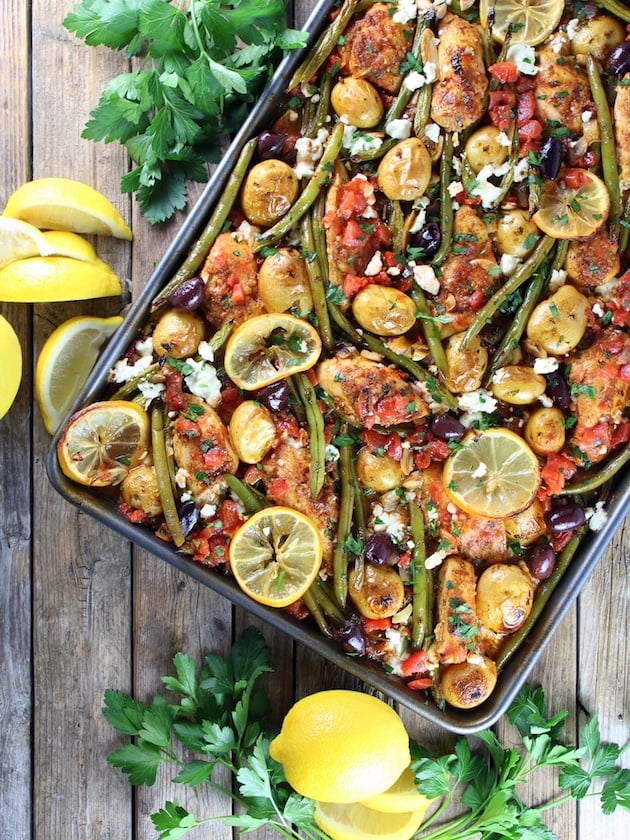 Then prepare yourself for lots of ooh's and ahh's as the family devours this super-flavorful, hearty, healthy meal.🌟
I know you're gonna love this Greek Chicken Sheet Pan Dinner with Green Beans and Feta, and hopefully you'll be inspired to invent your own sheet pan dinner creation.💙  Enjoy!!
Want some more ideas on the topic?  Here are a few of my favorite sheet pan dinners:
I would love to connect with you!  Leave a comment and follow me on Instagram, Twitter, Facebook, & Pinterest!
Easy Greek Chicken Sheet Pan Dinner!
Click To Tweet
Looking for more healthy ideas to kick off 2017?  Check these out:
Sausage & Peppers with  Zucchini Noodles:


Sun-Dried Tomato Goat Cheese Dip & Spicy Green Hummus: