These Mini Strawberry Rhubarb Pies in Muffin Tins are the most delicious and adorable summer treats!  This semi-homemade recipe is an easy dessert that will impress all your guests.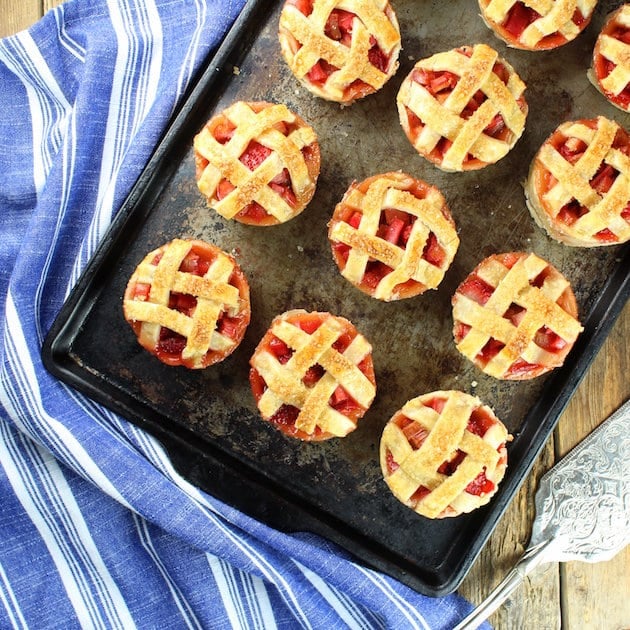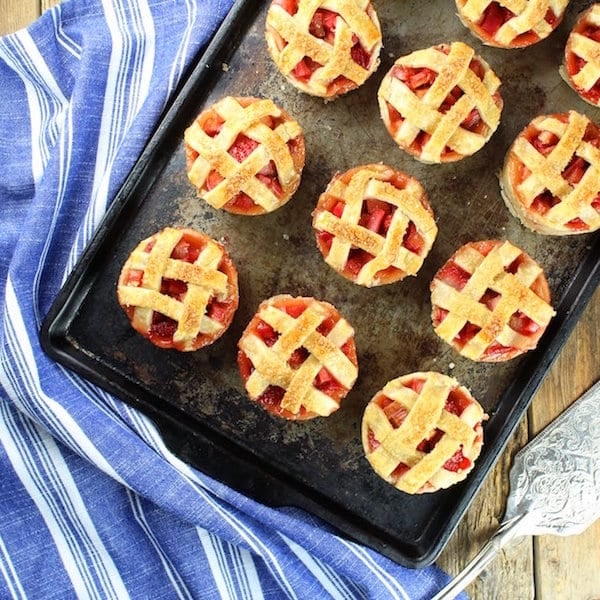 Mini Strawberry Rhubarb Pies in Muffin Tins
Ingredients
For The Crust:
All-purpose flour (for dusting)

2

packages refrigerated pie crust (3 single crusts are needed for this recipe)

1

egg

1

tablespoon

raw sugar or granulated sugar
For The Filling:
1

pound

rhubarb, cut into ½-inch pieces

1

pound

strawberries, hulled, and cut into ½ inch thick slices.

½

cup

granulated raw sugar

⅓

cup

light brown sugar, packed

3

tablespoons

cornstarch

zest from 1 lemon

1

teaspoon

vanilla extract

1/8

teaspoon

salt
Instructions
Preheat oven to 400 degrees.

Roll out three pie crust (into 12-inch rounds) onto a flat surface. Using a large cookie cutter or any circular lid, cut out a 4-inch circle of dough. Press each dough circle into the bottom of a muffin tin cup, keeping the top edge of the dough flush with the top of the muffin tin. Repeat with remaining dough to fill all 12 muffin cups.

Use the remaining dough to create a top lattice crust to cover each pie: use a knife or pizza cutter to cut out ½-inch x 3¼-inch thin strips of dough and set aside. (I gathered the smaller dough scraps together, added about a teaspoon of water and formed a ball of dough. Then dusted it with flour and rolled it out and cut it into strips for the rest of the lattice top.)

In a large mixing bowl, add rhubarb, strawberries, raw sugar, brown sugar, cornstarch, lemon zest, vanilla, and salt; toss to coat.

Fill each cup with1/3 cup pie filling.

Weave the dough strips together to form a lattice top on each pie. Use your fingers to gently connect the lattice crust onto each pie where it meets. (Or for an even quicker topping option mix up a crumble topping like this one.)

Beat the egg with 1 tsp. water in a small bowl and lightly brush over the top of the dough, then sprinkle with raw sugar.

Bake 23-25 minutes at 400 degrees. The filling should be bubbling and the crust golden brown.

Remove from the oven and let cool for at least 15-20 minutes. Then very carefully loosen the edges of each pie with a knife, and gently lift out from the muffin tin. Serve immediately or cover and refrigerate.
Recipe Notes
You can also use muffin tin liners to make removing the pies even easier. When finished baking and resting, lift the pies (still in the liner) from the pan and peel the liner off.
Pies can be made 1 day ahead.  When cool, cover and store at room temperature or in the fridge.
For a quicker topping option mix up a crumble topping and sprinkle of the pies then bake.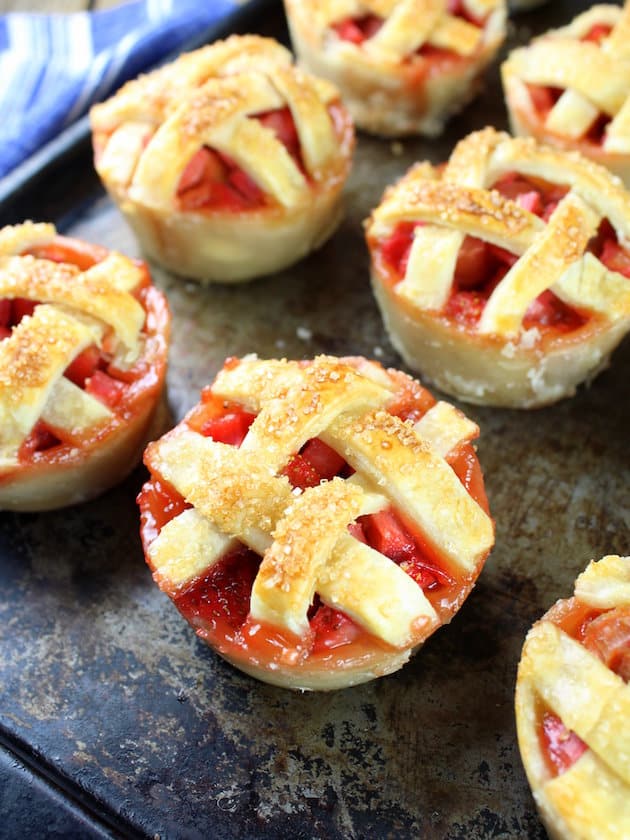 Looking For More Delicious Summer Dessert Recipes?
Summer Blueberry Mascarpone Tart