This Pan-Seared Sea Scallops with Corn Puree Recipe is a delicious, decadent low-calorie meal full of protein and flavor.  With dry-cured chorizo, cherry tomatoes, shallots and scallions, it's the perfect way to bid summer goodbye.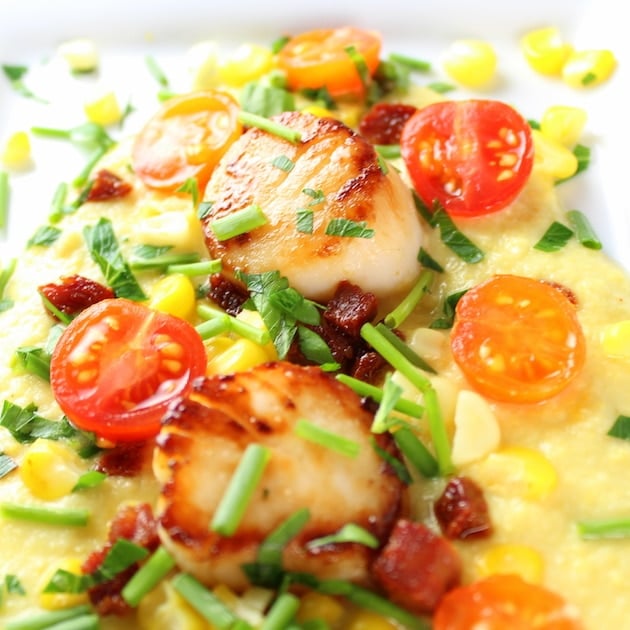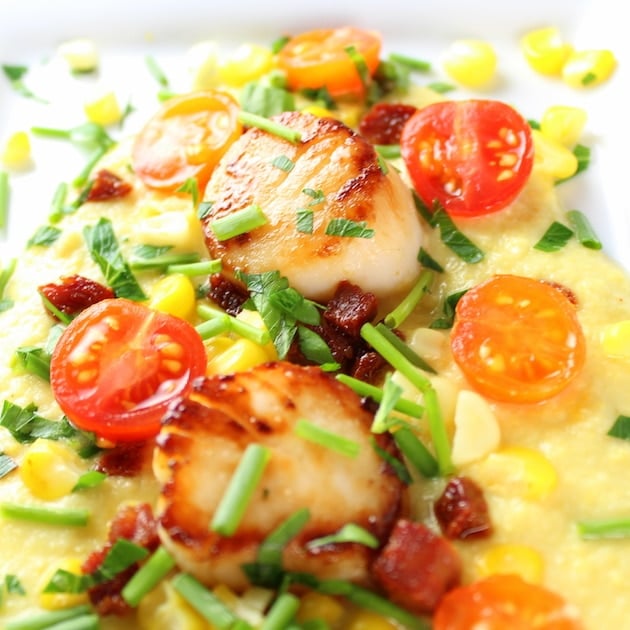 Pan-Seared Sea Scallops with Corn Puree Recipe
Pan-Seared Sea Scallops with Corn Puree - delicious, decadent, & low-calorie. Full of protein & flavor! With chorizo, cherry tomatoes, shallots & scallions.
Ingredients
For The Corn Puree:
4-5

ears of fresh corn

1/2

teaspoon

salt

1

shallot,

thinly sliced

1

cup

chicken broth

2

tablespoons

butter

A pinch of cayenne

1/4

cup

almond milk

2

tablespoons

Olive Oil
For The Scallops:
1 1/4

pounds

of medium-sized dry sea scallops

(about 25)

3

ounces

dry cured chorizo,

chopped into small pieces

20

red & yellow cherry tomatoes,

cut in half

Scallions, chopped
Instructions
For The Corn Puree:
Boil corn for 5 minutes, drain in a colander, and allow to cool.

While corn is cooling, sauté sliced shallots in a saucepan with 1 tablespoon of olive oil over medium heat for about 5 minutes. When finished cooking shallots, turn the heat off and add the butter to the pan so it can melt.

Once the corn is cool enough to handle, carefully cut kernels from cob. Set aside ½ cup of kernels for garnish.

In a food processor, combine remainder of the corn kernels, the chicken broth, salt, cayenne, almond milk and the shallots with melted butter. Blend until thoroughly combined into a smooth puree.

Transfer puree to a medium bowl and set aside.
For The Scallops:
Divide the scallops into groups of similar size, so you can cook batches of similar size together.

Salt the scallops and place them on a paper-towel lined plate and blot the excess moisture.

Heat up a large cast iron skillet or sauce pan over medium high heat then add the chorizo. Cook for 2-3 minutes then using a slotted spoon remove chorizo from the pan but leave the oil.

Keep the pan hot and add the scallops. Cook for 2 minutes a side, and be sure to not over cook them. Scallops should be golden brown. If needed, cook them in batches (about 7 at a time) to avoid over-crowding the pan. Add a little olive oil between batches if needed.

Serve the scallops on a bed of corn puree, garnished with remaining fresh corn kernels, chopped scallions, halved cherry tomatoes and cooked chorizo.
Recipe Notes
Dry scallops are preferred to wet scallops!  If you are uncertain ask your fish market which they are selling you.  If you are only able to obtain wet scallops, rinse them of any milky residue & dry with paper towels.
Frozen corn can be substituted for fresh corn.  Thaw and heat up in a sauce pan for a few minutes.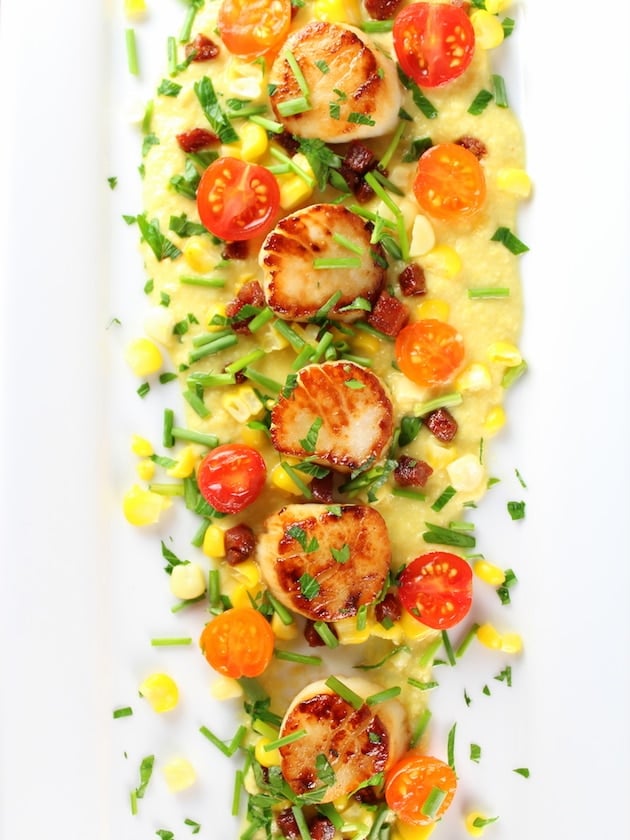 I would love to connect with you!  Leave a comment and follow me on Instagram, Twitter, Facebook, & Pinterest!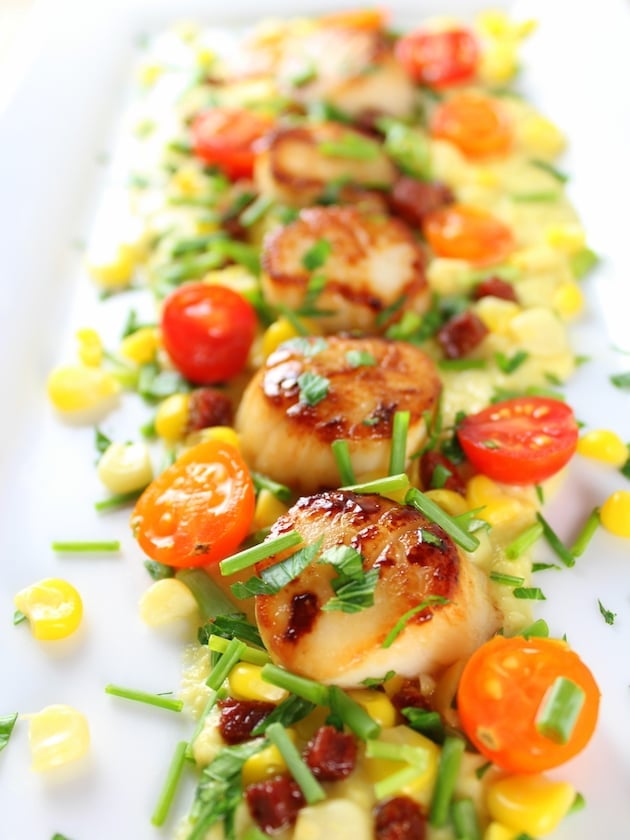 Looking for more amazing seafood entrees?  Try these!

Fish Tacos With Mango Guacamole: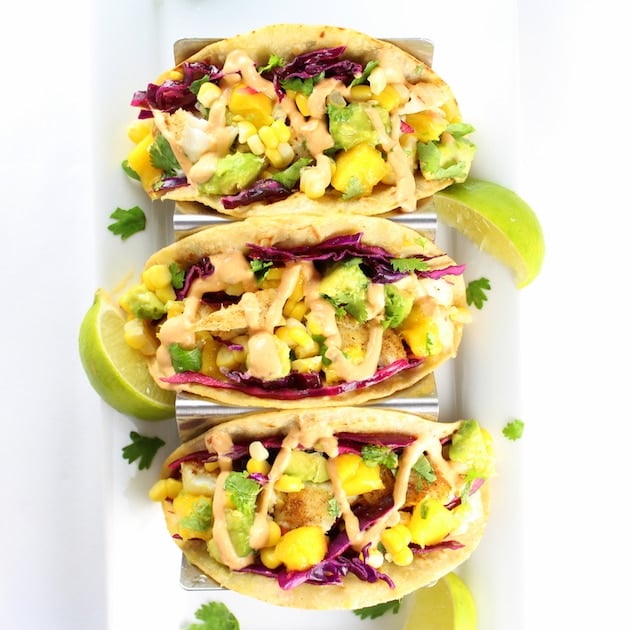 Buffalo Shrimp With Blue Cheese Grits: