This Smoky Salt and Vinegar Roasted Potatoes Recipe paired with some tasty cod fillets makes for the most delicious homemade take on English Fish and Chips!  With baby Yukon gold potatoes, apple cider vinegar, smoked salt, liquid smoke, fresh rosemary and bacon it's the most tangy, smoky and addicting flavor in every bite!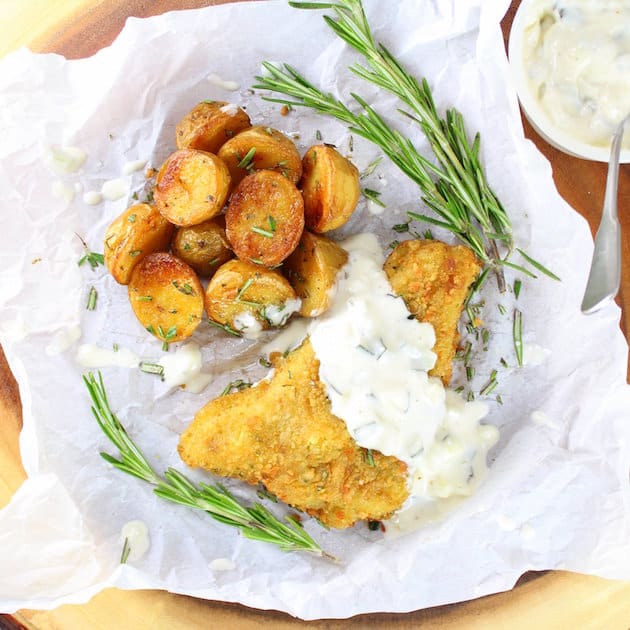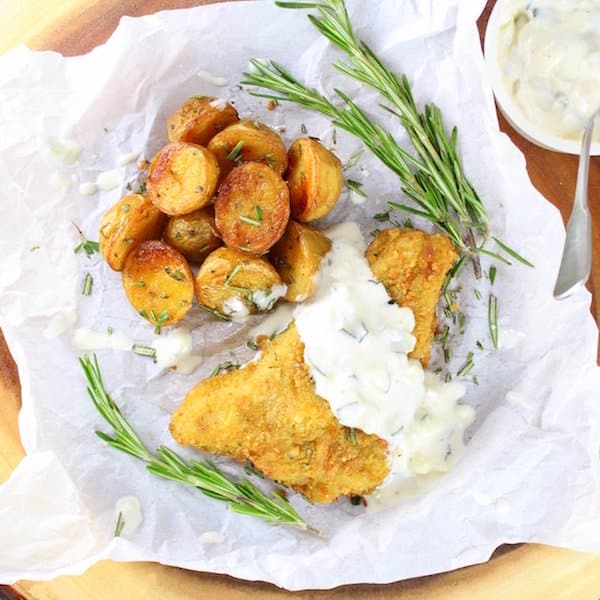 Smoky Salt and Vinegar Roasted Potatoes
Baby Yukon gold potatoes, cider vinegar, smoked salt, fresh rosemary & bacon. Tangy, smoky & addicting!

Ingredients
2

pounds

baby Yukon gold potatoes cut in half (the best potatoes to use for this recipe)

1

cup

+ 2 tablespoons apple cider vinegar (3/4 cup for steaming, ¼ cup for marinade, and 2 tablespoons for finishing)

½

cup

water

1

tablespoon

liquid smoke

2

tablespoons

olive oil

1

teaspoon

smoked salt (1/2 teaspoon for marinade, 1/2 teaspoon for baking potatoes)

½

teaspoon

pepper

1½

tablespoons

finely chopped rosemary

6

pieces

bacon

Sea salt to taste
Instructions
Preheat oven to 400 degrees. Bake the bacon on a tin foil lined baking sheet (for easy clean up) until moderately crispy. Or follow package instructions for baking bacon.

Meanwhile, add 3/4 cup cider vinegar, 1/2 cup water, 1 tablespoon liquid smoke and potatoes to a sauce pot over medium heat. Cover and steam for 20 minutes.

Remove the bacon from the oven and place on paper towels; dab to remove some of the grease, then chop and set aside. Turn the oven up to 425 to bake the potatoes.

When potatoes are finished steaming, drain them and discard the liquid.

Mix together ¼ cup cider vinegar ½ teaspoon liquid smoke, ½ teaspoon smoked salt and pepper. Pour over cut potatoes and fold together several times to coat them thoroughly.

Use a slotted spoon to place potatoes on a parchment-lined baking sheet (you can discard the vinegar mixture.) Sprinkle potatoes with 2 tablespoons of olive oil, 1 tablespoon of the rosemary, ½ teaspoon smoked salt and toss. Place the potatoes cut side down on the baking sheet and bake for 20-25 minutes or until cooked through and golden.

When fully cooked, remove the potatoes from the oven and toss with 2 tablespoons apple cider vinegar. Transfer to a platter and toss with bacon and fresh rosemary. Sprinkle with sea salt if desired.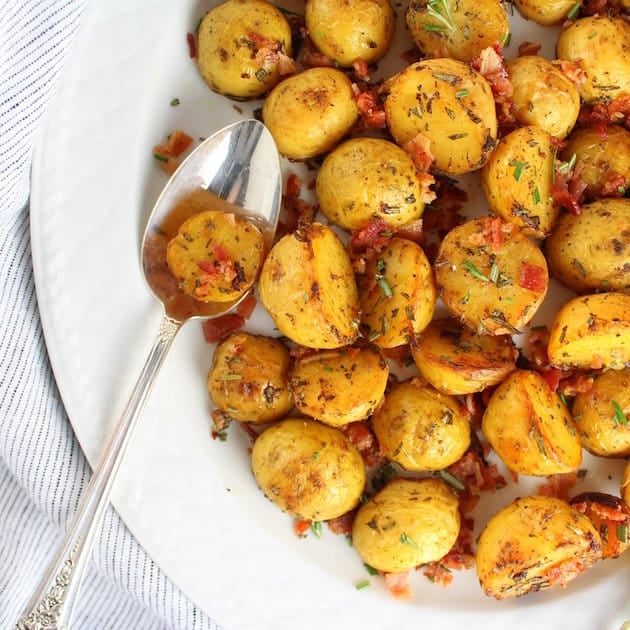 MY LATEST VIDEOS
I would love to connect with you!  Leave a comment and follow me on Instagram, Twitter, Facebook, & Pinterest!
Looking for more tasty side dish recipes?