Print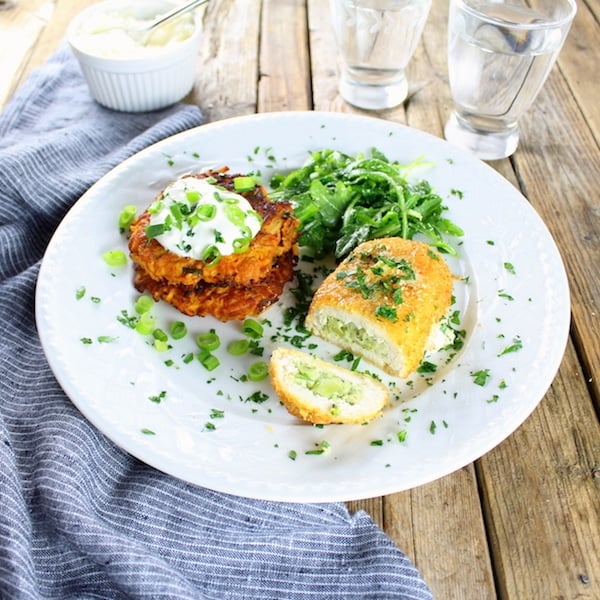 Parmesan Sweet Potato Cakes
Parmesan Sweet Potato Cakes: Savory & cheesy, a bit smoky, w/a touch of sweet.
32

ounces

shredded sweet potatoes

(2 large sweet potatoes)

3

ounces

shredded onion

(1 medium onion)

4

tablespoons

green onions,

chopped (reserve 3 for garnish)

1

teaspoon

smoked paprika

3

cloves

garlic,

minced

1

teaspoon

salt

1/2

teaspoon

pepper

3

eggs

1/3

cup

almond meal

(or your preferred flour)

1/4

cup

Parmesan cheese

5-6

tablespoons

Canola oil

Sour cream

for garnish
Combine all ingredients (except canola oil, sour cream and 3 tablespoons of the green onions) thoroughly in a large mixing bowl.

Add 1-2 tablespoons canola oil to a large sauté pan and bring to medium-high heat. Using a ¼ cup measuring cup, scoop the sweet potato cake mixture into the palm of your hand and form a cake. Place it in the hot pan and continue to fill the pan with the cakes (be sure to not over-crowd the pan).

Cook for 2 to 2 1/2 minutes. Check the bottom and flip them when they are golden, with some dark brown flecks throughout. Once flipped, cook for an additional 2 minutes or until the 2nd side is golden. Remove and place on a cooling rack over a cookie sheet to catch any excess oil (or place on a paper towel-lined plate).

Turn the temperature down to low while you are prepping your next batch of cakes. If needed, add another tablespoon of canola oil, and once all cakes are in the pan, return the heat to medium-high. Continue cooking each batch for 2-3 minutes per side, adding canola oil if needed, and watching closely to be sure they don't burn.

To serve, top with sour cream and garnish with the reserved chopped green onions.