Print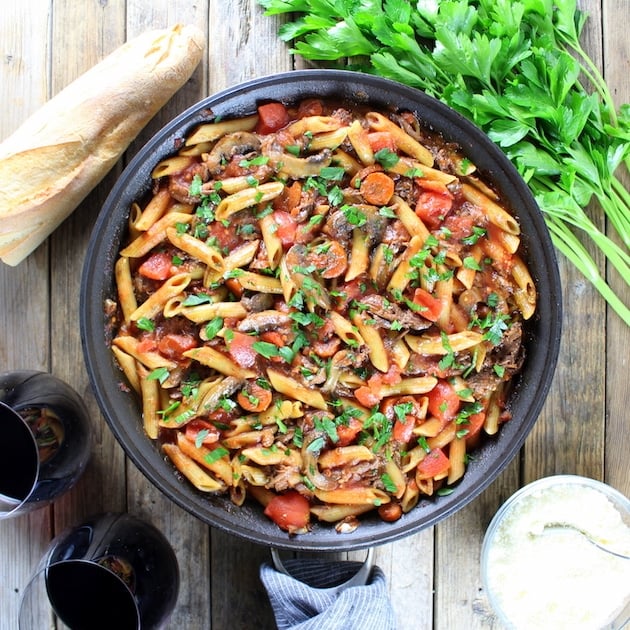 Crock-pot Beef Ragu With Penne And Ricotta
Crock-Pot Beef Ragu with Penne and Ricotta – a hearty and effortless comfort meal!
Total Time
6
hours
20
minutes
Season the meat with 1 teaspoons salt & 2 teaspoons pepper, then braise on all sides.

Add all ingredients into crock-pot except for the pasta, ricotta, Parmesan and mushrooms. Cook on high for 5-51/2 hours.

Remove meat from the crock-pot, let it cool slightly and pull and set aside (remove any fat and discard).

Cook mushrooms in large sauce pan with 1 tablespoon of olive oil for 3 minutes a side.

Then add all the juice from the crock pot into the saucepan, remove the bay leaves and bring to a simmer. Now add uncooked pasta and cook for 10-12 minutes or until pasta is done to likeness (stir occasionally to ensure the pasta cooks evenly).

Add pulled meat to the sauce, and cook until heated through, about 2 minutes. Sprinkle with Parmesan cheese.

Serve with dollops of ricotta cheese and enjoy!!!
I like to buy tomato paste in a tube rather than a can. That way I can keep it on hand in my fridge and there's never any waste.
If sauce is too thick you can add some beef or chicken stock to sauce to loosen it up.