Print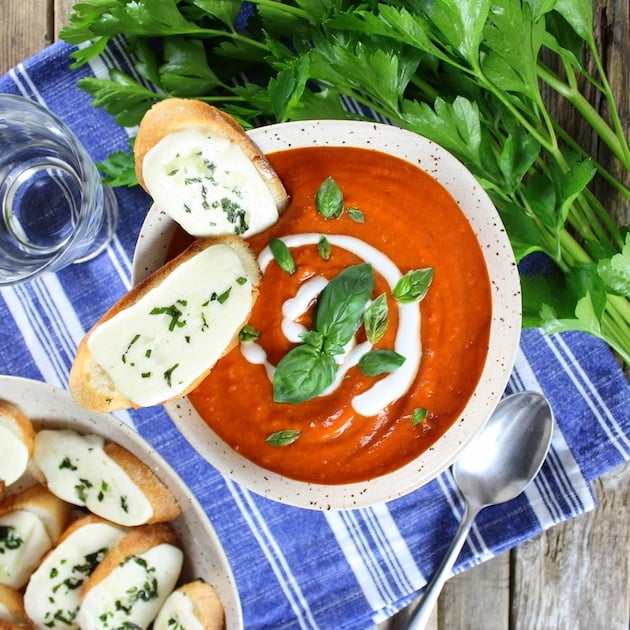 Smoky Harvest Tomato Soup with Mozzarella Crostini Recipe
A tasty variation on classic homemade tomato soup!
Total Time
1
hour
10
minutes
For The Soup:
2

lbs

of cherry tomatoes

(or other tomatoes)

1

small onion,

peeled and rough chopped

3

large garlic cloves,

smashed and rough chopped

3

tablespoons

olive oil

1

red bell pepper,

seeded and cut in half

1

small beet,

peeled and cut in half

1

small turnip,

peeled and cut into eighths

3

cups

chicken stock

1 1/2

tablespoons

chipotle peppers in adobo,

chopped (use less to make less spicy)

3

ounces

of sun-dried tomatoes in oil,

chopped

1

tablespoon

smoked paprika

1

ounce

tomato paste

1

teaspoon

salt

1

teaspoon

pepper

1

cup

Greek yogurt, for garnish

Fresh basil for garnish
For The Mozzarella Crostini:
For The Soup:
Place tomatoes, onion and garlic on a baking sheet and toss with 1-2 tablespoons olive oil and ½ teaspoon salt and pepper. Bake on 350 for 30 minutes.

At the same time place the turnip, beet and red pepper in a tin foil boat, and add 1 tablespoon of olive oil, ½ teaspoon salt and pepper. Roast on 350 for 45 minutes.

After cooked, remove the skin from the beet, chop the beet and peppers, and add all the veggies to a large pot on the stove. Add chicken stock, chipotle peppers, sun-dried tomatoes, smoked paprika, and tomato paste. Bring to a boil then reduce to a simmer for 15 minutes.

Use an immersion blender (or food processor) to puree all the ingredients until completely smooth.

Garnish with fresh basil and Greek yogurt.
For The Mozzarella Crostini:
Preheat the oven to 350 degrees.

Slice the bread into ¼ inch slices...about 20 slices.

Brush one side with olive oil and bake (oil side up) on a parchment-lined baking sheet for 5 minutes.

Meanwhile, slice the fresh mozzarella into thin slices (about 10), then cut in half width-wise so they fit nicely on the sliced French bread. Place one piece of cheese on each slice of bread and bake for 6 more minutes.

Mix together 2 tablespoons of olive oil and 1 minced garlic clove. Heat in the microwave for 20-30 seconds.

Add the chopped fresh basil to the oil/garlic mixture, and drizzle on the baked Mozzarella crostini. Serve warm with the Smoky Tomato Harvest Soup.