Print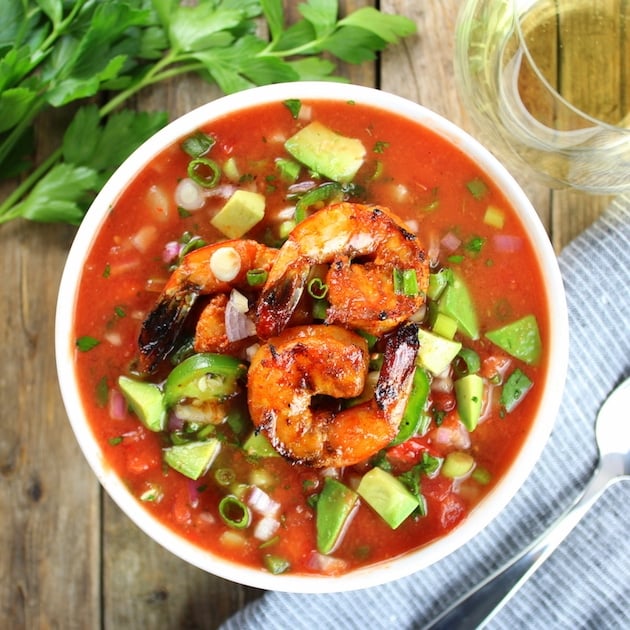 Classic Gazpacho with Spicy Grilled Shrimp
A delicious chilled soup topped with spicy shrimp. Loaded with jalapenos, cucumbers, red peppers, shallots, tomatoes, olive oil and sherry vinegar. Low-carb, gluten free, dairy free, and Paleo friendly!
For The Shrimp:
1 1/2

pounds

shrimp,

cleaned and deveined

1/2

cup

fresh lemon juice

3

cloves

garlic,

minced

2

tablespoons

olive oil

1/2

teaspoon

cayenne pepper

2

teaspoons

paprika

1

teaspoon

smoked paprika

1/2

teaspoon

salt
For The Gazpacho:
3 1/2

pounds

ripe tomatoes

(I used heirloom since they're juicier)

2

red peppers,

seeds, veins and stem removed

2

large shallots,

skin removed and root cut off

2

large garlic cloves,

minced

2

tablespoons

olive oil

1

large English cucumber,

skin and seeds removed

3

jalapeños,

seeds, veins and stem removed (1 for garnish)

1/4

cup

sherry vinegar

1 1/2

teaspoons

salt

1/2

teaspoon

pepper

1-2

avocados for garnish

1/3

cup

Parsley or cilantro for garnish

3

green onions for garnish
For The Shrimp:
Put shrimp in a large resealable plastic bag.

Mix the remaining ingredients together and pour over shrimp.

Marinate 20 minutes in the refrigerator.

Heat grill to 450-500 degrees and grill for 2-3 minutes per side.
For The Gazpacho:
Wash, dry and remove the core of each tomato. Over a fine mesh colander with a large bowl underneath, use a spoon and scoop out the meat of the tomato, leaving the skin and flesh intact. Make sure all the juice, seeds and meat go into the colander. Set the hollowed out tomato aside.

Make sure the tomato seeds are removed from the meat, then put the tomato pieces into a food processor (or blender).

Using a spatula press, stir, and work to get all the juice through the colander, leaving the seeds behind. Discard the seeds and add the juice (should be about 11/2 cups) to the food processor.

Add half of one chopped red pepper, half of one chopped shallot, 2 minced garlic cloves, and 2 tablespoons of extra virgin olive oil to the food processor. Blend until completely smooth. Pour this liquid into a large bowl and set aside (should be 5 cups of liquid total).

Finely chop the rest of the shallots and red pepper, jalapeno, cucumber, and tomato skin with flesh. Add to the bowl of tomato liquid, then stir in sherry vinegar, salt and pepper. Place in the fridge and let chill at least 2 hours (longer would be better) before eating.

Meanwhile, finely chop the jalapeno, green onions, and parsley for garnish and refrigerate until soup is ready to serve. Slice and dice the avocado for garnish right before serving.
You can also sauté the shrimp on the stove for 2-3 minutes per side if preferred.