Print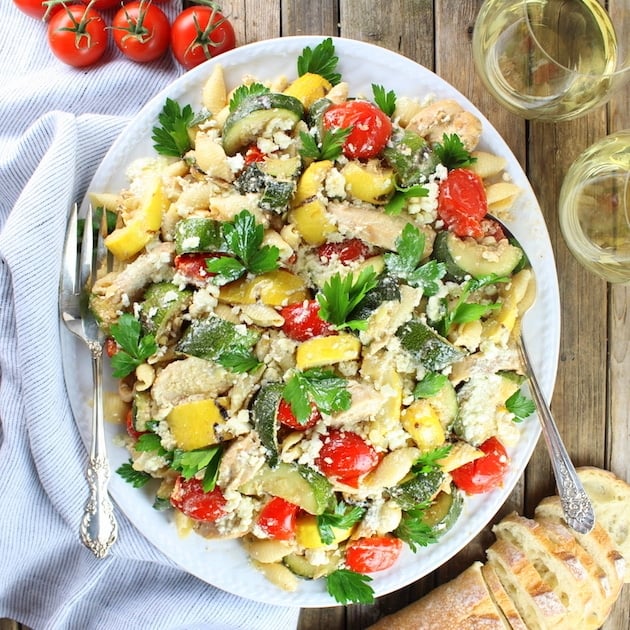 Grilled Chicken and Squash with Tomato Feta Pasta
Grilled Chicken and Squash with Tomato Feta Pasta – a complete meal full of savory cheesy tomato feta flavor, loaded w grilled zucchini, squash, & chicken!
1

pound

Campari tomatoes

2

teaspoons

salt for tomatoes

1/2

pound

medium pasta shells

2

small-medium zucchini

2

small-medium squash

Salt,pepper, & garlic powder for seasoning

Canola oil cooking spray

4

boneless skinless chicken breasts

8

ounces

feta cheese

1/4

cup

olive oil

fresh chopped parsley or basil for garnish
Cut tomatoes in half and place in a large bowl. Sprinkle about 2 teaspoons of salt over the tomatoes and stir, then let them sit while you prepare the rest of the dish. The salt will force the tomatoes to release all their juices and create a delicious base for the sauce.

Boil pasta in salted water, reserve ½ cup of the pasta water, then drain remaining water & set pasta aside.

Cut the squash & zucchini in half lengthwise. Season them with salt, pepper and garlic powder, spray them with cooking spray, then grill for 3 minutes per side on a 400-450 degree grill.

At the same time, season the chicken with salt and pepper, spray with cooking spray, then grill 5-6 minutes per side or until internal temperature reaches 165 degrees. Let the chicken rest for 5 minutes after grilling, then slice thinly.

Crumble 3/4 of the feta cheese and add it to the tomatoes. Use a fork to mash and stir until the juice from the tomatoes and the feta creates a sauce. Now add about ¼ of a cup of olive oil, ¼ cup reserved pasta water, & ½ teaspoon of pepper to the tomato mixture and stir.

Slice the grilled squash and zucchini into 1-inch pieces and add them to the tomato mixture while they're still warm (you want the juices that run out of the squash to end up in the sauce, and the heat from the squash will blanch the tomatoes ever so slightly).

Add the sliced chicken and pasta into the squash and tomato mixture and fold in gently.

If the dish is too dry add a bit more olive oil, or reserved pasta water.

Crumble the remaining feta cheese and sprinkle on top. Garnish with fresh parsley or basil.