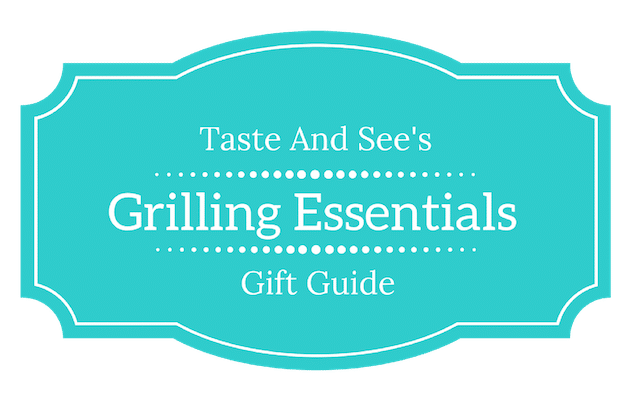 This shopping guide is especially for the grill-master in your life! Help them take their grill game to another level with this gear, and your taste buds will thank you later!
(Note that these links are "affiliate links" so our good friends at Amazon will give us a small referral fee if you purchase via these links, at no extra cost to you. Thanks for supporting Taste And See!)
Wood Chip Smoker Box

With hinged lid, for charcoal or gas grills. Lifetime warranty!

Project Smoke

A step-by-step guide to cold-smoking, hot-smoking, and smoke-roasting

Apple Smoking Chips

Raw timber kiln dried chips. Each pint container yields approx. 30 smokings.

Premium Cedar Planks

7/16" thick planks, great for repeated use & allows for more smoke flavor.

Instant-Read Thermometer

Digital display reads quickly, swiveling head rotates for easy reading
Auto shut-off after 15 min.

Heat Resistant Grilling Gloves

The premier way to protect your hands! Kevlar & Nomex for extreme heat safety.

BBQ Grill Tools Set

Complete kit in stainless steel that is super strong & durable. 10 year warranty!

18" three-in-one BBQ Grill Brush

Universal long-handled BBQ grill brush. Durable & makes for effortless cleaning.


Alderwood Smoked Sea Salt

Food Grade & Certified Kosher, 100% Natural Smoked Sea Salt.

Grill Master

The ultimate arsenal of back-to-basics recipes for the grill.

Stainless Steel Meat Claws

Reduce a barbecued pork shoulder to succulent shreds in a matter of minutes!


BBQ Skewers Set

Flat skewers keep food in place when rotating kabobs, & simple ring easily slides food off once cooked.
[clickToTweet tweet="Perfect Holiday Gifts For The Grill-Master!" quote="Perfect Holiday Gifts For The Grill-Master!" theme="style3"]