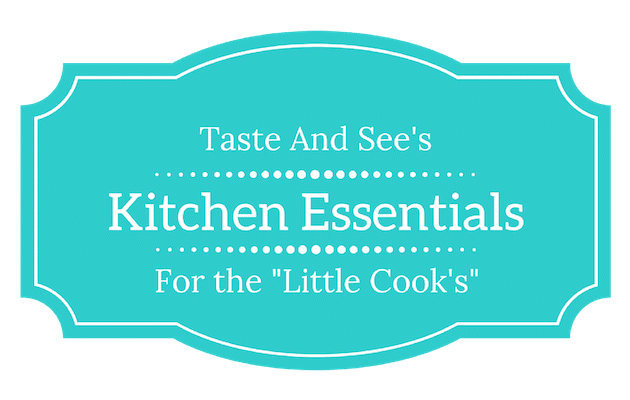 Do you have a "Little Cook" on your shopping list? Check out these suggestions to keep them cooking!
Note that these links are "affiliate links" so our good friends at Amazon will give us a small referral fee if you purchase via these links, at no extra cost to you. Thanks for supporting Taste And See!
Babycakes Waffle Stick Maker

Non-stick plates, latching handle, no-skid feet. Makes 4 waffle sticks.

Ouddy Silicone Spatula Set

Won't discolor, warp, melt, crack or break; easy to use & clean.

Ouddy Silicone Wire Whisk

Heat-resistant & non-stick, microwave and fridge-safe. Set of 2.

Babycakes Mini Cake Pop Maker

Makes 9 pops. Non-stick, non-skid, latching handle.

175 Best Babycakes

Some of the best cake pop recipes. Includes gluten-free options.

Cake Pops

Some of the best cake pop recipes. Includes gluten-free options.

Babycakes Multi-Treat Baker

3 Interchangeable non-stick plates can make 7 cupcakes, 7 donuts, or 12 pops.

Lollipop / Cakepop Sticks

200 six-inch sticks in assorted colors. Non-toxic and non-abrasive.

Cakepop Stand

Perfect for displaying the goods! Holds up to 16 cake pops.


Skrub'a Kids Glove

Kids sized gloves for scrubbing vegetables - cleans them but retains all the nutrients.


Child's Chef Hat Apron Set

Variety of sizes & colors. Velcro-adjustable, fully machine-washable.

American Girl Baking

From Williams Sonoma & American Girl: cookies, cupcakes, & more.
Sunbeam Cupcake Maker

Super-cute cupcake shape! Makes 6 cupcakes in 10 minutes.

The Big Book of Cupcakes

Adorably decorated and deliciously flavored cupcakes made easy.

Dessert Decorator Kit

Five tips to make it easy to get started decorating.


Babycakes Donut Maker

Bakes 6 light, fluffy mini doughnuts in about 4 minutes. Nonstick of course.

Babycakes Pancake Maker

Makes 2 pancakes in minutes, can also be used to make eggs or omelets.

Tovolo Pancake Pen

Makes the whole process much easier! Holds 3 cups, heat-resistant silicone tip.