Where would we be without our moms? Make sure you take the time and effort to show them some love this Mother's Day!!
Need a few ideas on how? I've put together a list for you... including some really cool products that our friends at UncommonGoods asked us to review - more on that later. And yes, some of these items include links to partners who will pay us a small referral fee (at no cost to you) if you buy from them. Thanks for helping us keep the lights on over here at Taste And See!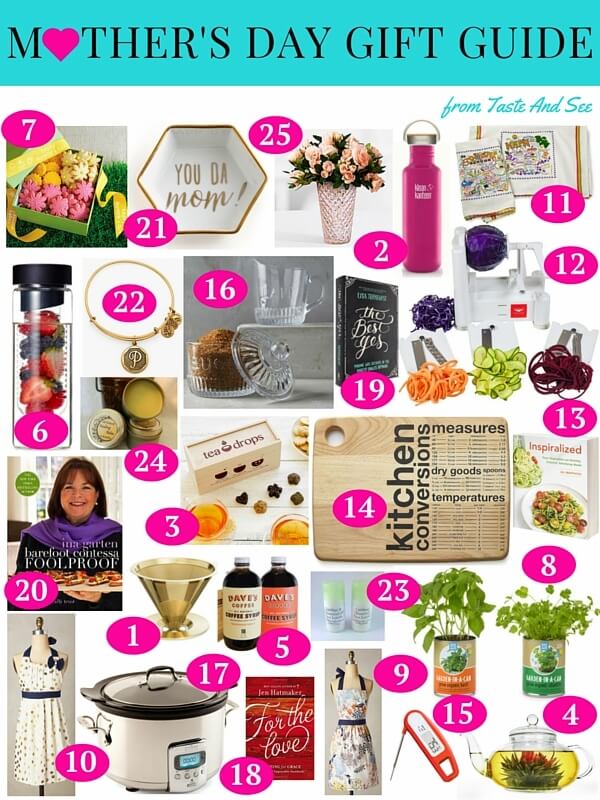 #1 - Osaka's Titanium Coated Pour Over Cone Dripper
She can make her own cup of coffee just the way she likes it with this individual size Pour Over Coffee Dripper. It's a quick, easy and reusable stainless steel coffee filter with a cup stand. Mom will be making pour-over coffee like a boss. A great alternative to disposable paper filters, environmentally friendly, and the most beautiful pour-over I've ever seen.
#2 - Klean Kanteen 27 Ounce Water Bottle
Does anyone even use a plastic water bottle anymore?? Mom will love this Kleen Kanteen's slim design bottle that fits just about everywhere. Stainless steel bottle & cap, finished with a nice bamboo accent and a gorgeous pink exterior.
#3 - Tea Drop Organic Sampler Set of 25,c/o UncommonGoods
Genius!!! No tea bag, no infuser - no problem! Just drop one of these into 8 ounces of hot water and you're good to go. These handy Tea Drops are full of finely-sourced organic tea, sugar, & spices. I am so loving the Sweet Peppermint & Citrus Ginger flavors! Beautifully packaged in a cute wooden box, this is really the perfect mother's day gift for any tea-loving mom. UncommonGoods carries so many unique, hand-crafted items... The story behind Tea Drops is pretty cool, read it here.
#4 - Daisy Borosilicate Glass Teapot with Glass Infuser
This beautifully designed glass teapot fits any home or kitchen… it's as much a decoration as a teapot. Includes a glass infuser for loose leaf tea. Mom will love the ergonomic handle, the anti-drip spout for easy and clean pouring, and that it's dishwasher and microwave safe.
#5 - Dave's Original All Natural Cold Brewed Coffee Syrup Combo
A fun gift idea for the coffee loving moms in your life! Use this syrup to make coffee milk, or as a sweet factor in cocktails, recipes, sauces, etc. All natural...the only ingredients are pure cane sugar, cold brewed coffee, and Madagascar vanilla bean.

#6 - Flavor Infuser Water Bottle, c/o UncommonGoods
Water never tasted so good! I love how quickly this infuser transformed my water into a fruity, flavorful elixir. Help mom get her daily requirement of H2O with this flavor infuser water bottle. Try an endless combination of fruits, herbs, and yes even veggies in this beautiful infuser. Think strawberry-thyme, raspberry-mint, cucumber-basil, I could go on...

#7 - Mother's Day Shortbread Sampler From Dancing Deer
Lemon Daisy, Raspberry Blossom and Tangerine Swirl shortbreads are guaranteed to brighten any Mom's day. She'll love this beautiful green linen-finish gift box filled with 3 dozen seasonal cookies from Dancing Deer - based right here in Boston! Packaged with a bright and cheery "Happy Mother's Day" ribbon.
#8 - Garden In A Can, c/o UncommonGoods
Help the woman who loves to garden bring some fresh organic herbs indoors. Perfect if she doesn't have a garden or is tight on space... just pop the top, plant the seeds, add water, set in a sunny spot, and before she knows it she'll have organic cilantro and basil on her hands!PS: If you like the idea of gardening gifts, check out this full list from UncommonGoods.
#9 - Botanist Knoll Apron
This adorable apron from Anthropologie is cotton-based, machine washable, and super-cute! Mom will be stylin' in the kitchen in one of these. This Botanist pattern gives a nod to trees, leaves, flowers, & herbs.

#10 - Polka Pleats Apron
Mom will love this adorable apron from Anthropologie… it's cotton-based, machine washable, and totally on trend! Because every woman needs something in her wardrobe with golden polka dots!

#11 - State Dish Towel, c/o UncommonGoods
I can't tell you how many times I've given these fun, yet practical, State Dish Towels away as gifts myself! I literally stock extras in case I need a housewarming or hostess gift. So why not give one to the hostess with the mostest - mom? They are vibrant collages of regional names, images and landmarks that make every state special. Towels are silk screened, then framed with a hand embroidered border on a 100% cotton dish towel.
#12 - Paderno World Cuisine Tri-Blade Plastic Spiral Vegetable Slicer
Spiralized veggies are the latest rage for making salads or even veggie pasta. Any mom would appreciate the quick and fancy vegetable peeling of this spiral vegetable slicer. Simply place the vegetable or fruit on prongs, turn wheel while pushing the base toward blade. Magic! (Purchase with the Inspiralized cookbook for family friendly recipes.)
#13 - Inspiralized: Turn Vegetables Into Healthy, Creative Satisfying Meals
Endless recipes to go with mom's new veggie spiralizer. These recipes from Ali Maffucci inspire whether you are low-carb, gluten-free, Paleo, or raw. Inspiralized shows you how to transform more than 20 vegetables and fruits into delicious meals that look and taste just like your favorite indulgent originals. (Purchase with the Paderno World Cuisine Tri-Blade Plastic Spiral Vegetable Slicer for the perfect gift for mom.)
#14 - Kitchen Conversion Cutting Board
How many ounces are in a cup? Well, thanks to this handy Kitchen Conversion Cutting Board I know it's 8.8 ounces to be exact. This beautiful cutting board not only provides a generously sized cutting surface, it also lists common kitchen conversions in bold, graphic design. So handy!
#15 - LavaTools Digital Thermometer
The best kitchen thermometer I've owned! With such fun bright colors, an instant readout on a nice clear digital display…a gift every home cook will appreciate.
#16 - French Table Sugar Pot & Creamer
Bon appétit! Beautiful imported French glass table sugar pot and creamer from Anthropologie. Dishwasher safe and absolutely gorgeous for any Mom's table!
#17 - All Clad Slow Cooker
Cut down mom's time in the kitchen with the device that does it all for her…the All Clad Slow Cooker. Fully programmable cooker, easy-to-read digital display, 4-quart ceramic insert. Has large ergonomic buttons on the control panel, countdown timer, and 3 temperature settings. Yep this one should get the job done!
#18 - For the Love: Fighting for Grace in a World of Impossible Standards
For the reader and the mom that likes to laugh - a lot. Best-selling author Jen Hatmaker is convinced life can be lovely and fun and courageous and kind. She reveals with humor and style the key to dealing with life's biggest challenge: people! For down-to-earth, hilarious inspiration, Jen is your girl.
#19 - The Best Yes: Making Wise Decisions in the Midst of Endless Demand
Too busy? Not enough time? There is a big difference between saying "yes" to everyone and saying yes to the things you are supposed to do. This book will help moms everywhere cure the "disease to please," escape the guilt of disappointing others, and overcome the agony of hard choices. Help your mom rise above the rush of endless demands and discover her best yes today.
#20 - Barefoot Contessa Foolproof: Recipes You Can Trust
For the mom who likes to make delicious food for those she loves. Millions of people love Ina Garten because she writes recipes that make home cooks look great; family and friends shower them with praise and yet the dishes couldn't be simpler to prepare using ingredients found in any grocery store. Trust me - Ina's got it going on!
#21 - You Da Mom' Porcelain Trinket Tray
It's her special day so go ahead and validate her prestigious job title…"Mom." Perfect to hold Mom's bling while she's, oh... I don't know... making you dinner?? The catchphrase and gold trim add plenty of personality to this hexagonal trinket tray. It's slightly over 3" x 3".
#22 - The Alex & Ani Initial Bracelet
What mom doesn't love something classy and pretty? Personalize her jewelry with initials. Each charm is beautifully stamped with script letters creating an elegant and classic look. Available in gold or silver.
#23 - Essential Oil Face Moisturizer from Ginger Bliss Bath Co
Mom will love how soft her skin feels with this Essential Oil Face Moisturizer. It's full of only the best ingredients...coconut oil, goats milk, sunflower oil, tea tree oil, rose geranium oil, lavender oil, rosemary oil, eucalyptus oil, frankincense oil, therapeutic oils, & aloe. Made to order by our friends at Ginger Bliss Bath Co!
#24 - Healing Balm from Ginger Bliss Bath Co
Think "natural neosporin." Made with calendula, chamomile, tea tree oil, horsetail, beeswax, lavender oil, olive oil, comfrey, rosemary oil, coconut oil, bee pollen, & melaluca. Perfect for any cut or scrap, or the dry hands of a diaper changer, gardener or home cook.
#25 - Flowers, of Course!
Tried and true, naturally beautiful, always appreciated... order Mom some fresh spring flowers! We like this Potted Rosalea Bouquet from ProFlowers with the pretty and pink mercury glass vase, they have so many beautiful options for all the mom's in your life. Get 15% off every ProFlowers order now through ⅚ - no coupon code required!
If that's not enough inspiration, our friends at UncommonGoods have even more ideas for you. There are so many reasons we love them: First and foremost, their products are amazing... lots of unique, hand-crafted items created with the environment in mind, and without harm to animals or people. Half of what they sell is made by hand, most in the USA, and about ⅓ from recycled and/or upcycled materials.
And as an independently-owned business, they have the freedom to support causes they believe in and to impact the world in a positive way: with every purchase you make, they donate $1 to the non-profit of your choice. They've donated over $1Million to charities around the world! Snaps for them!
They hold B-Corp status: B Corporations use the power of business to solve social and environmental problems. The B seal means that they meet a rigorous standard on a wide range of issues, including wage levels, environmental impact, and giving back to the community. Not only that, but UncommonGoods has been awarded for outstanding customer service every year since 2007. Whoa! They're the real deal - people!
... So you can understand why we like them so much. They've got more great gift guides for Mother's Day that you can check out here, or here.
Remember, Mother's day is right around the corner! So whatever you do, don't miss the chance to make your Mom feel special this Mother's day!
*This post contains products & reviews sponsored by UncommonGoods. All opinions are my own.*