Grilling season is upon us! Why not refresh your grilling skills with this mouthwatering Cedar Plank Harissa Smoked Salmon. It's smoky and zesty and super tasty!
Cedar Plank Harissa Smoked Salmon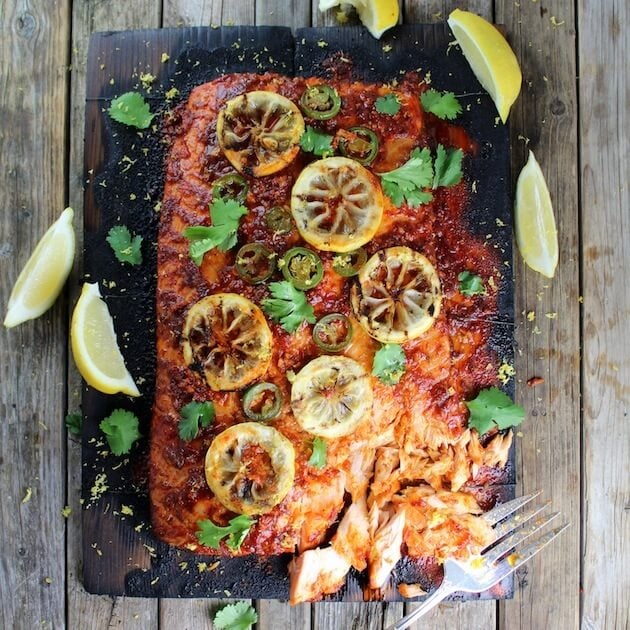 I allowed myself a small break from my production schedule Monday and went to cheer on the Boston Marathon runners. It was also Patriot's Day here in Massachusetts, when we celebrate in remembrance of the first battles of the revolution fought in Lexington and Concord, Massachusetts.
The Boston Marathon is always held on Patriot's Day. In case you didn't know, it is the world's oldest annual marathon and ranks as one of the world's best-known road racing events.
We live 1½ miles from the marathon route here in Wellesley, MA which is the halfway mark for the race – mile 13-ish. We didn't stay that long but in the short amount of time we were there we saw so much!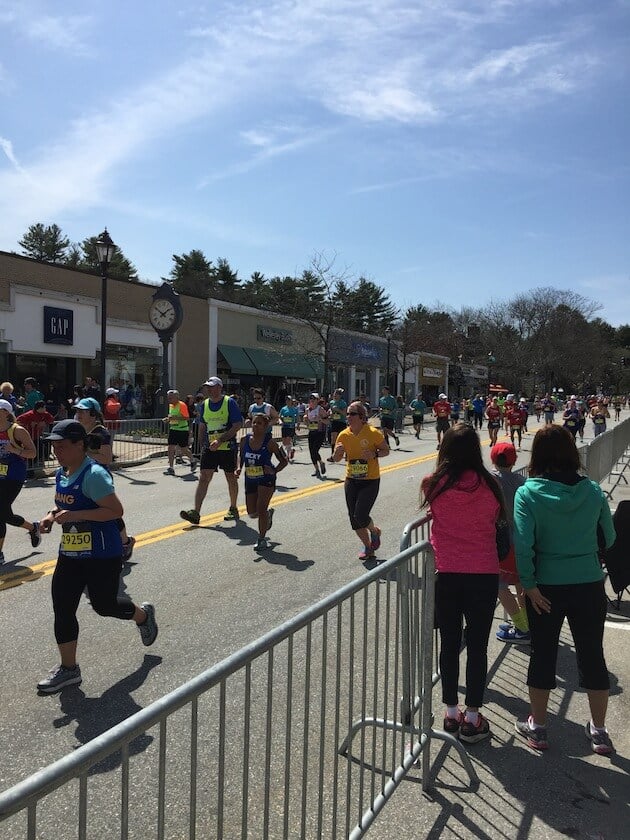 There were random strangers cheering on other random strangers. Onlookers lined up along the route handing out bananas and orange slices, clapping and holding up signs that legitimately said…"Go Random Stranger Go!" I absolutely love this.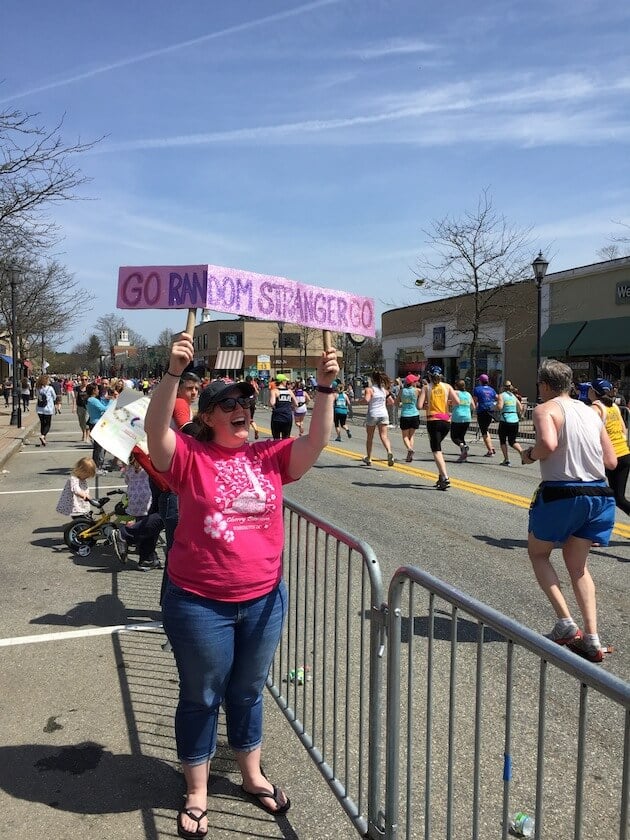 Some race participants actually wear their names on their shirt or write it on their arms…I can only assume this is so we can encourage them specifically by calling out their names. Which you better believe I did, along with so many others!
One man was so tired, he was kind of stumbling along and then a guy from the sidelines called out his name and told him what a great job he was doing. You would have thought zombies were chasing him, 'cause he was gone in a flash!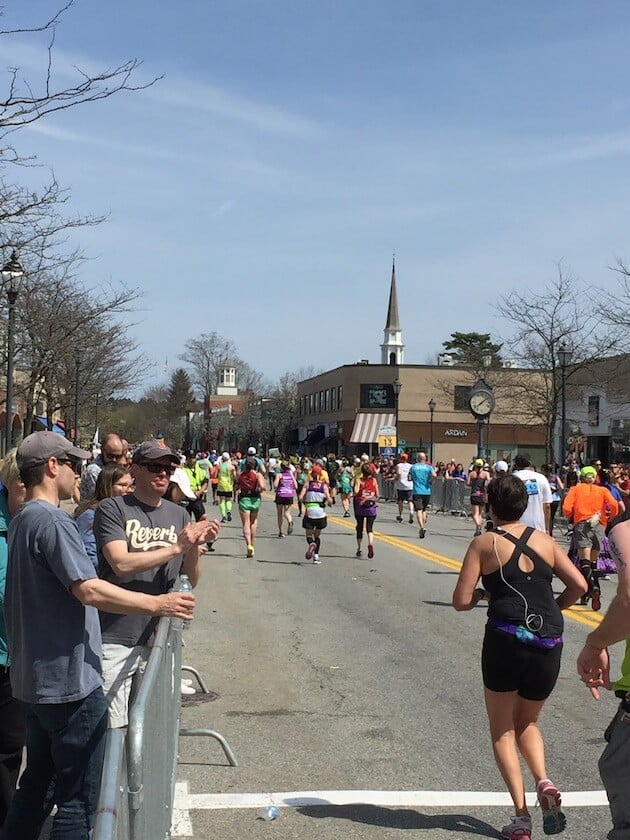 Then there was the pink tutu lady… hey I get it, whatever it takes – dance yourself to the finish line girl!
What a huge accomplishment for these people and a big YAY to Boston for showing up and supporting like you always do! In case you're wondering, Boston is still strong!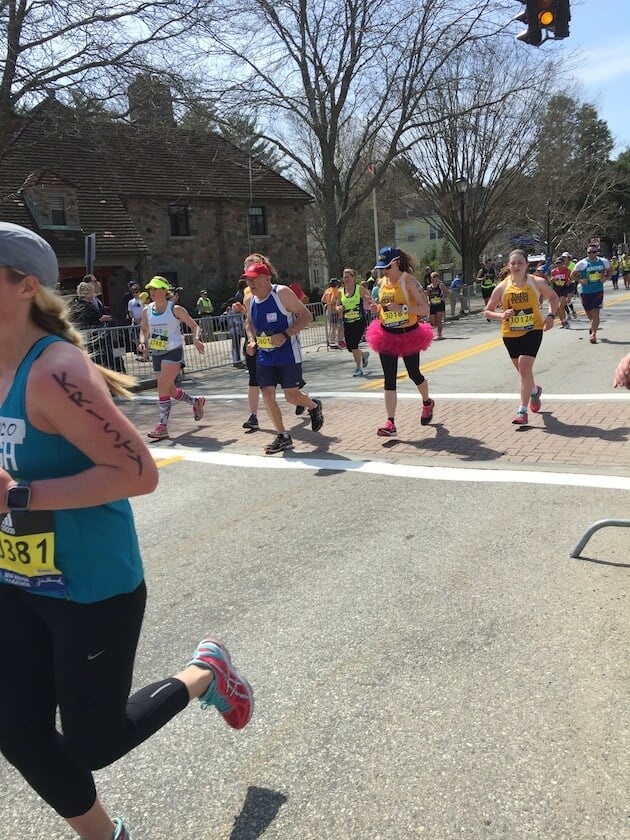 Then the B man and I were back to the Taste And See headquarters to make more yummy amazingness. And to be more specific about the amazingness: Cedar Plank Harissa Smoked Salmon!? Yeh yeh!!!
I can't tell you how excited I am to be able to grill without getting out my snow blower to make a path to the outdoor oven. The sun is shining, birds are singing, trees are budding, and the salmon is grilling!♨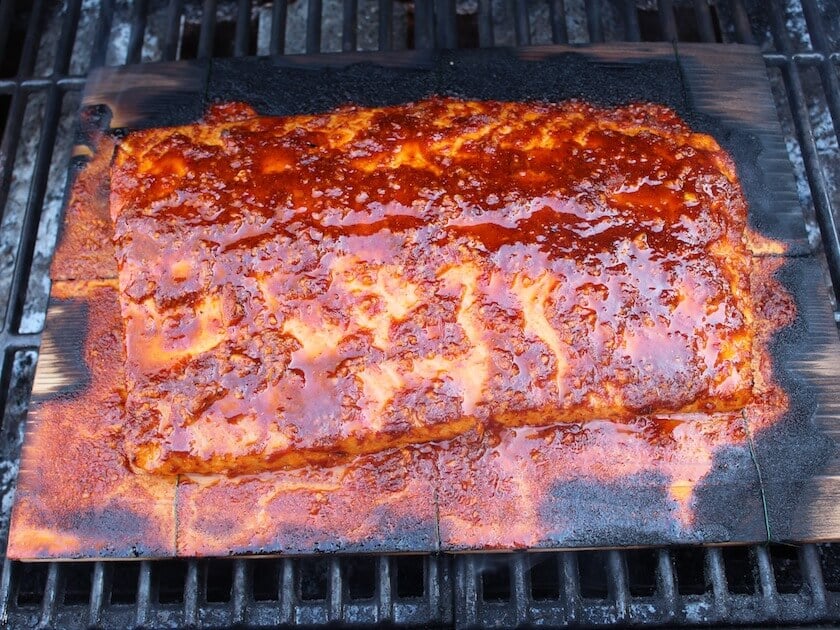 I must say cedar smoked salmon is always a good idea. Then the addition of a Harissa marinade and well, it's just not fair to all the other recipes in the world. It's really that good. AND so easy!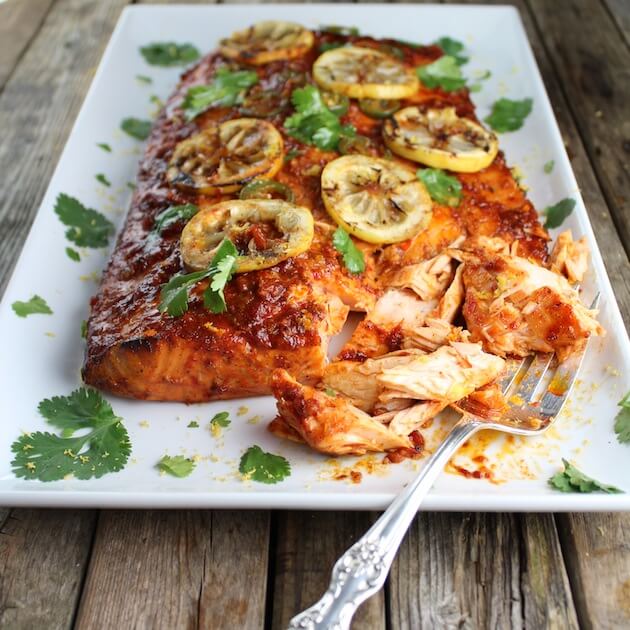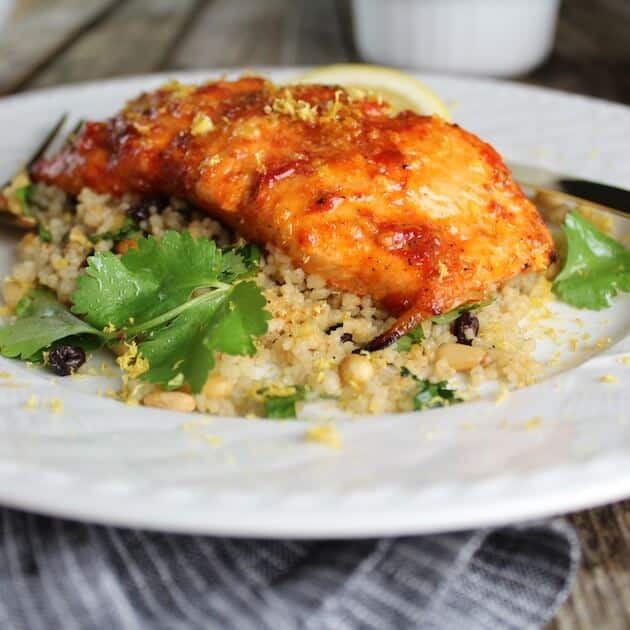 I mixed together a marinade of garlic, lemon, honey, Harissa, smoked paprika, coriander, salt and pepper. Then poured it over the salmon, and let it soak up all those flavors for about an hour. Then grabbed my cedar plank that I had soaked in water and lit it up!
I smoked the salmon at 400 degrees for 20 minutes. Then served it over some delicious Moroccan Couscous with sweet currants, toasted pine nuts and chopped cilantro. D-Licious with a capital D!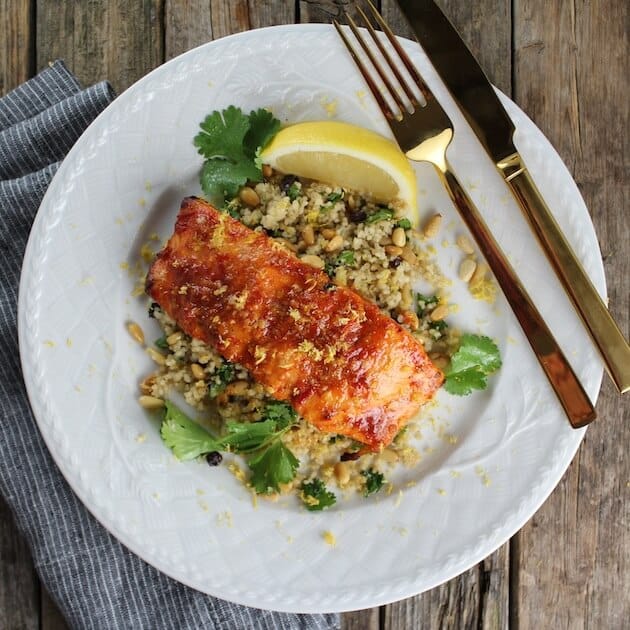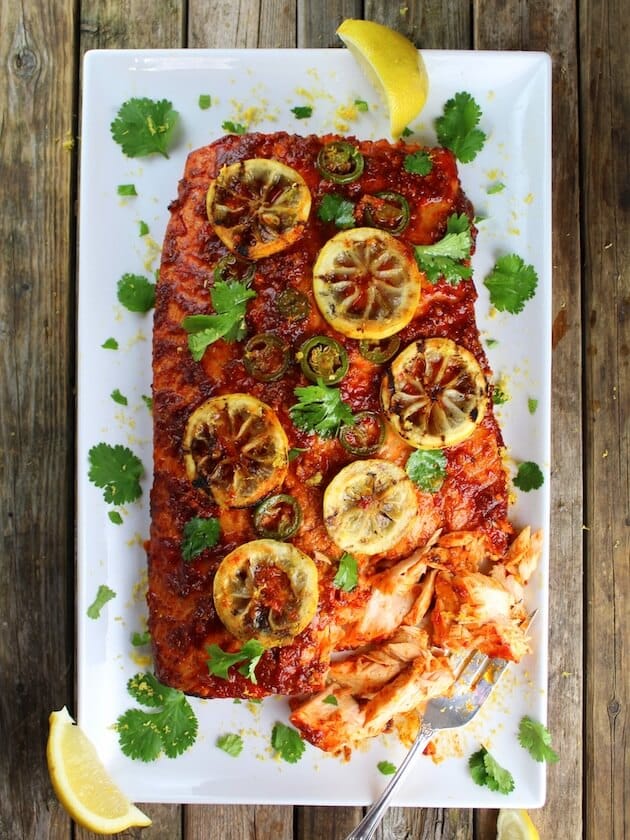 I had already made some additional sides the day before, to go with this work of art: pickled red onions and some tasty mango chutney. Yummers!✨ The flavors played so nicely together…the smoky, zesty salmon, the buttery couscous and the sweet and tangy onions and chutney. Truly an award-winning combination!
But please don't take my word for it, see for yourself…Cedar Plank Harissa Smoked Salmon is calling your name! And there are no zombies chasing you, so take your time.✌
Go ahead my friend, it's about that time. Get your grill on!?
Are you following me on Instagram, Twitter, Facebook, and Pinterest?
Yield: 8 servings
Cedar Plank Harissa Smoked Salmon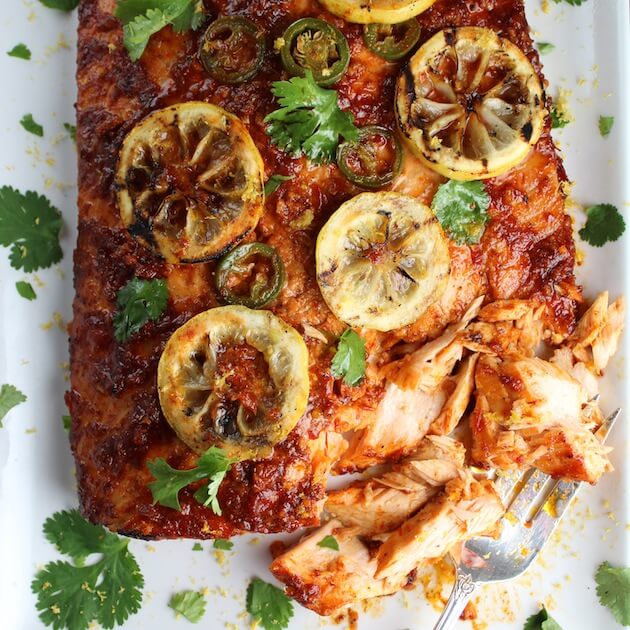 Cedar Plank Harissa Smoked Salmon marinated w/garlic, honey, lemon, harissa, & paprika, served with Moroccan couscous. Tender, flaky, & full of flavor!
Prep Time
1 hour
10 minutes
Total Time
1 hour
30 minutes
Ingredients
3 pounds salmon filet - one large piece with pin bones removed
5 cloves garlic, minced
¼ cup Harissa
2 tablespoons freshly squeezed lemon juice, (1 whole lemon)
3 tablespoons honey
2 tablespoons olive oil
1 tablespoon coriander
1 tablespoon smoked paprika, (optional)
2 teaspoons salt and pepper
cedar plank that will fit your salmon, soaked/completely submerged in water for 1-2 hours or ideally overnight!
Instructions
If you haven't soaked your cedar plank in water, start soaking it for at least an hour before you start this recipe, then continue.
Mix together all ingredients for the marinade and pour over the salmon in a 9 x 13 baking dish. Make sure the fish is completely coated, including the sides and the bottom. Cover and place in the refrigerator for 1 hour.
Preheat grill to 400 degrees or a medium-high heat. Place the cedar plank on the grill and allow it to preheat for 5 minutes or until it begins to crackle and smoke.
Dab off some of the marinade from your salmon so it isn't too wet. Lay the salmon filet on the cedar plank and grill for 20 minutes, or or until just cooked through but still moist (internal temperature should read 135 degrees).
Be sure to check on the salmon regularly to make sure it's not engulfed in flames!
Serve over Moroccan Couscous with lemon wedges, chopped cilantro, Pickled Onions and Mango Chutney.
Notes
You can purchase your salmon filet with or without skin. I get mine from Costco without the skin, since it doesn't crisp up during the cedar plank cooking method.
You could also cut your filet into smaller portions and then grill it. This could cause the salmon to cook more quickly so be sure to check it early and temp it.
You can add sliced lemon wedges and jalapenos to the salmon before cooking for a beautiful presentation.
Nutrition Information
Yield
8
Serving Size
7-8 ounces
Amount Per Serving
Calories

312
Total Fat

14g
Saturated Fat

2g
Unsaturated Fat

0g
Cholesterol

93mg
Sodium

772mg
Carbohydrates

9g
Sugar

7g
Protein

34g
Want more amazing harissa recipes?
Harissa is a surprising and amazing flavor to combine with so many veggies, like these Honey Harissa Rainbow Carrot, this Sweet and Spicy Roasted Cabbage, or this low carb Harissa Chicken. You can even pair up harissa with seafood, like this Cedar Plank Harissa Smoked Salmon! Or if you want to keep things simple, then keep it nice and easy with this Harissa Chicken Sheet Pan Dinner.