Three Cheese Tomato Thyme Galette, a true slice of summer packaged perfectly in a tomato pie!  A homemade crust layered with heirloom tomatoes, shallots, thyme, Parmesan, asiago and sharp white cheddar cheese.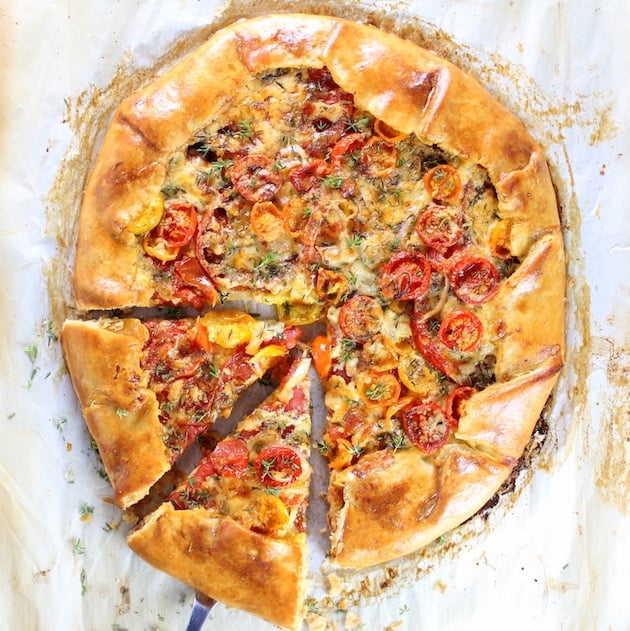 It's that time of year for beautiful, juicy, vine-ripe tomatoes.  I'm not sure why the distinct flavor of garden-grown tomatoes cannot be replicated in a green house or in a mass-produced environment.  I do know that because of this fact, it makes me appreciate them even more.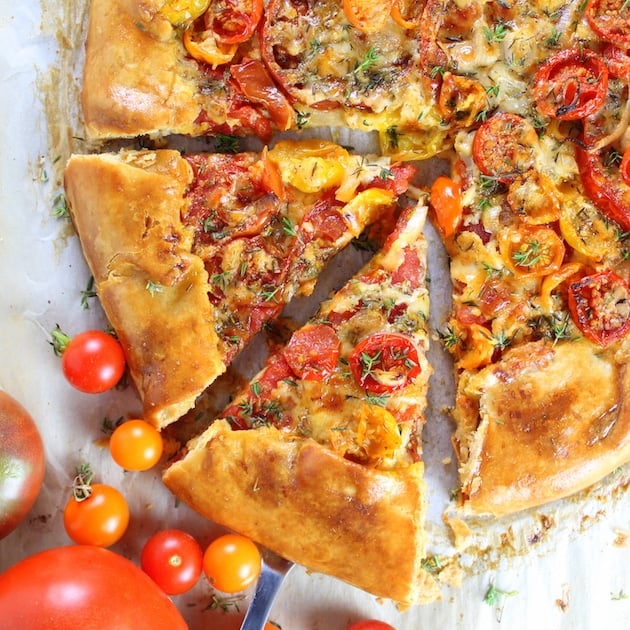 MY LATEST VIDEOS
Their taste, texture and shape are only something that can come straight from the soil and the sun.  An intricate crafted work of art that nature has perfected.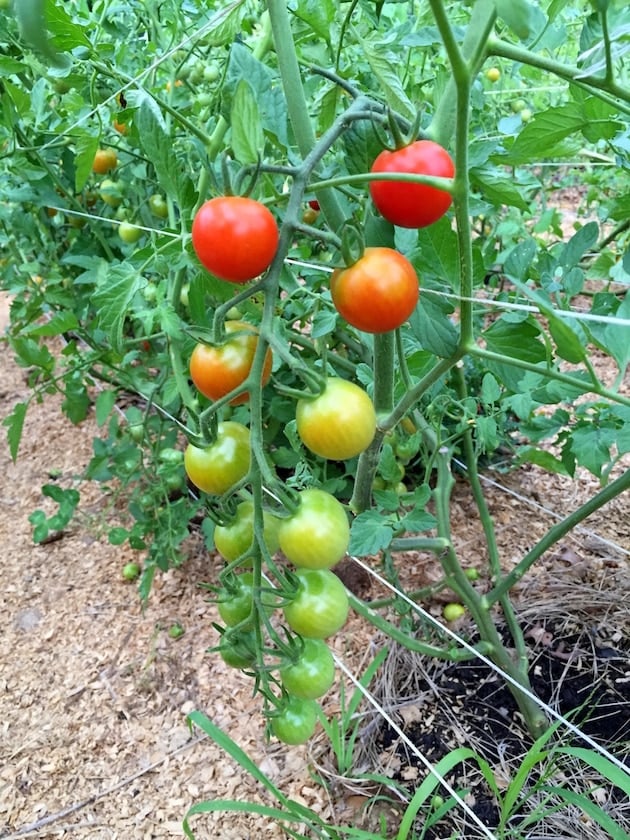 And because of this, tomatoes are the single largest crop in my garden – always.  I have to be honest: if someone told me I could plant a garden but not tomatoes, I would probably pass on the whole thing.  I know – possibly a little dramatic, but the truth nonetheless.  If you've had the pleasure of enjoying your own homegrown tomatoes or some from the local farmers market, then I'm sure you understand.
I'm quite certain garden-grown tomatoes and fresh corn on the cob are served daily in heaven.  Don't you think?  Truly heavenly bounty!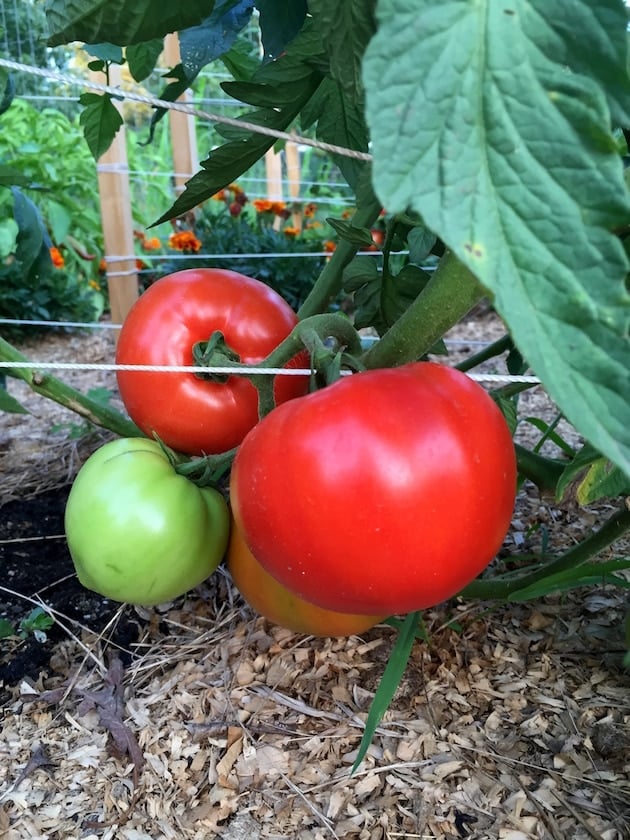 This year we planted several different varieties of tomato seedlings we found at a local organic farm: Sun Gold cherry tomatoes, Brandywine beefsteak tomatoes, and some Black Krim slicing tomatoes.  We rounded out our medley of heirloom tomato plants with some Super Sweet 100's and a few Mountain Fresh slicers from the local nursery.
In total we had over 40 tomato plants we nurtured and cared for this summer… and the reward has been massive.  We've enjoyed and shared bushels of gorgeous, juicy, sweet glorious fruit.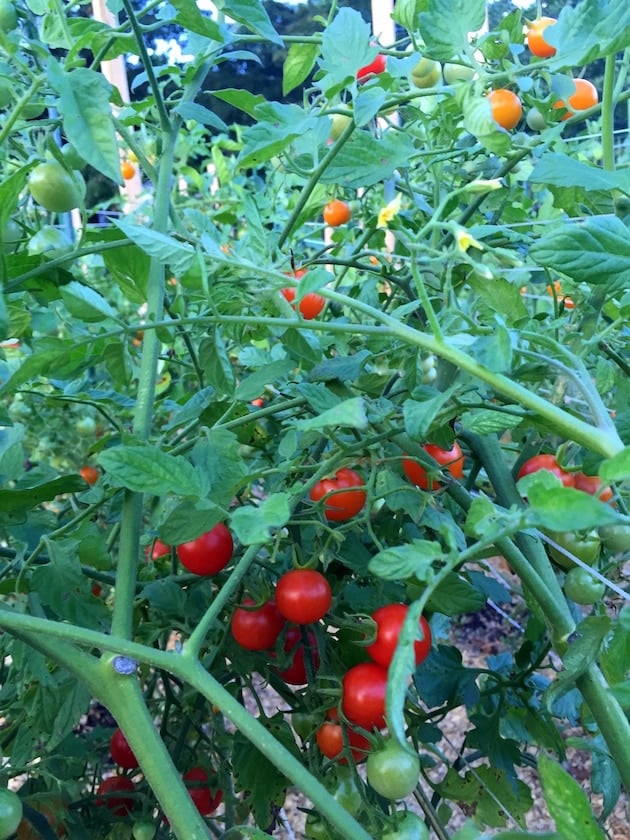 Ahh harvest time is so rewarding.  And to be honest it's even a little overwhelming.  You have all of these edible treasures that you're stewarding.  They are all little gifts packed in beautiful and unique wrappings that deserve to be savored and celebrated.
The pressure is great.  We take it seriously.  The weight of responsibility nudges us to partake with deep appreciation, share with great pride, and cook with surgical precision.
But these beauties deserve to be the belle of the ball, the star of the show.  They don't need much fuss, just to be elevated and allowed to shine.
Many get consumed like candy… stem to mouth.  Others are sliced, salted, and devoured.
The rest are savored in simple dishes like basil burrata, chunky salsa, feta-zucchini boats, and cheesy tarts.  All of these wonderful recipes completely worthy of this summertime gem.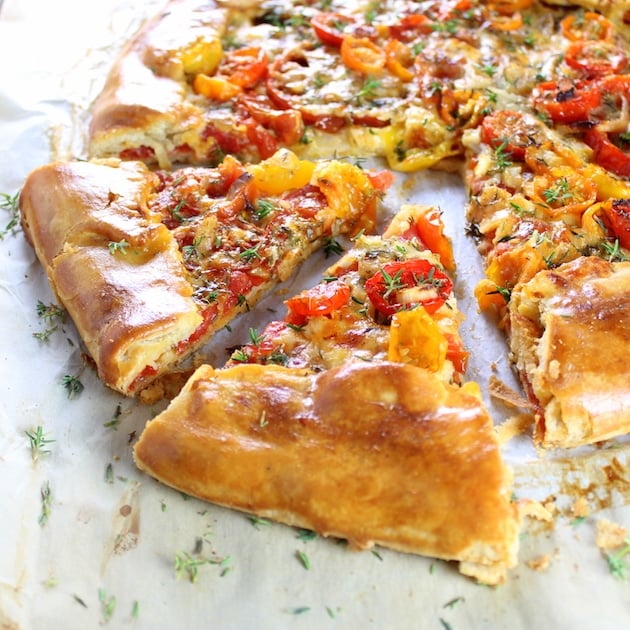 If you're like me and share the same adoration for this juicy fruit, then I have the perfect recipe for you: The Three Cheese Tomato Thyme Galette!  This simple recipe is full of flavors that were created to be savored together.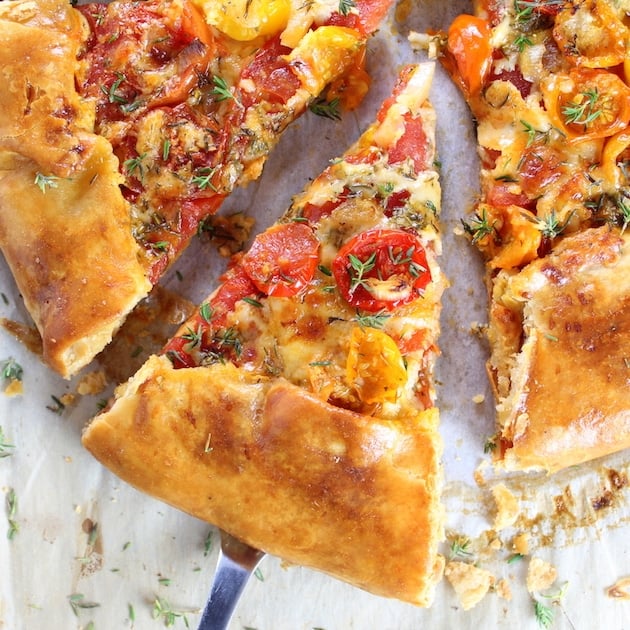 You will need a piecrust or two – depending on how many you're making. In my opinion, one is good and two is better, especially when you're talking about tomato pies!?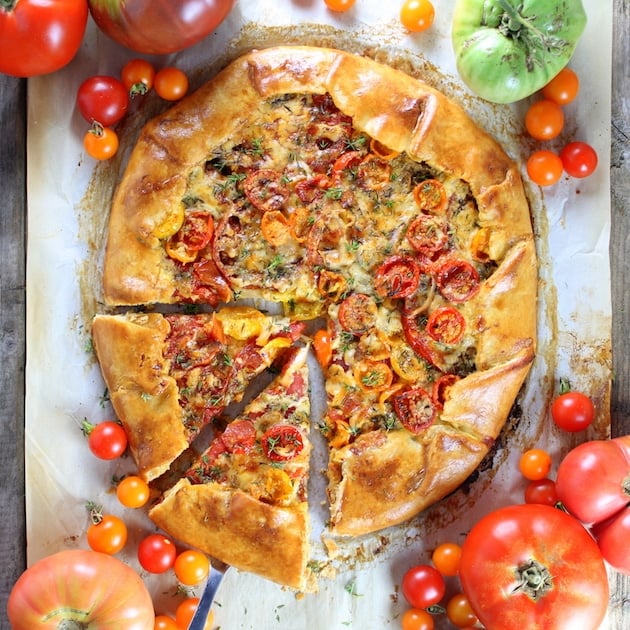 Pie crust is not my strong suit; in fact I think I've referred to it before as my nemesis.  For a while I just gave up and bought crust at the grocery store (so feel free to do the same).  But I'm happy to report I'm back in the ring today.  I'm using this All Purpose Galette Dough courtesy of Fine Cooking.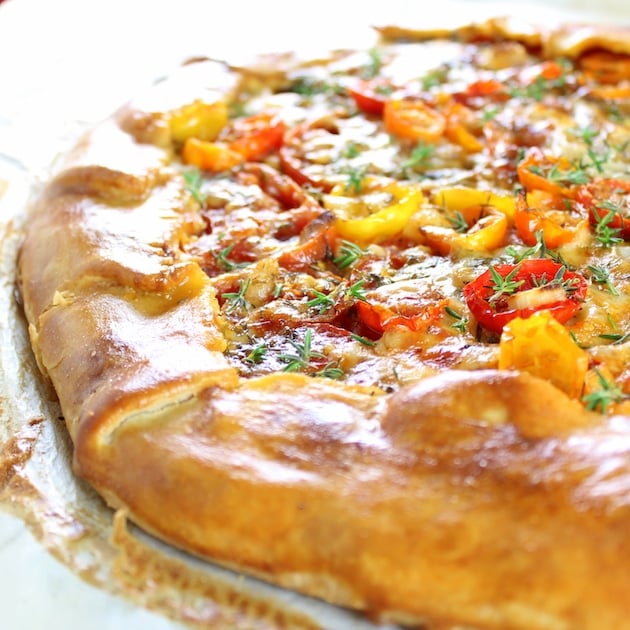 We need to slice, salt and then sweat some of those juices out of the tomatoes… or our crust will always be dough.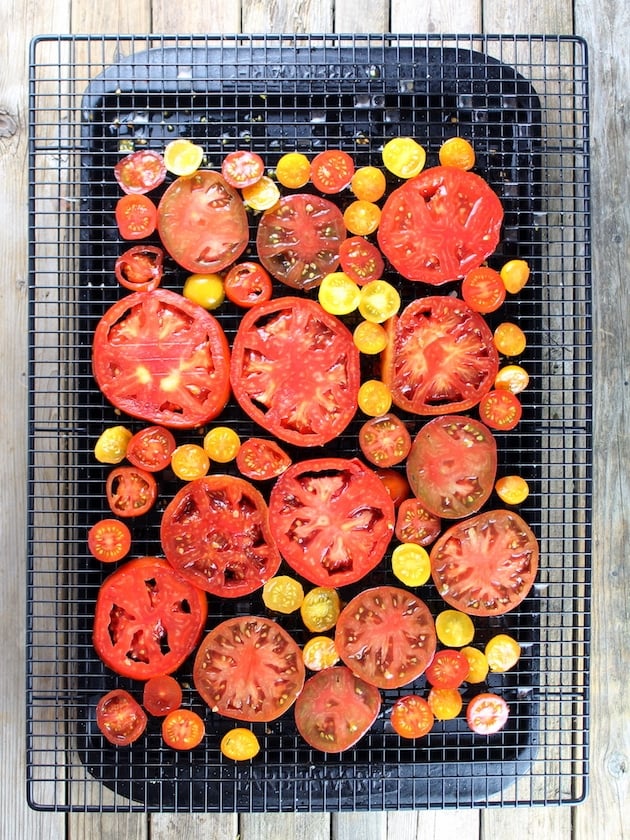 Then the assembling can begin.  Roll out your crust into a 14-inch disc.  Then add a sparse sprinkling of fresh Thyme and three cheeses (Parmesan, white cheddar and Asiago), leaving a 2-inch border around the outside edge.
Now add your tomatoes, taking care to layer them evenly all over the dough.  Sprinkle with pepper more Thyme and the rest of the cheese, then fold the edge of the dough up and over the filling.
Brush the folded dough with the egg wash.  Now bake the crust until it's golden brown (40 to 50 minutes).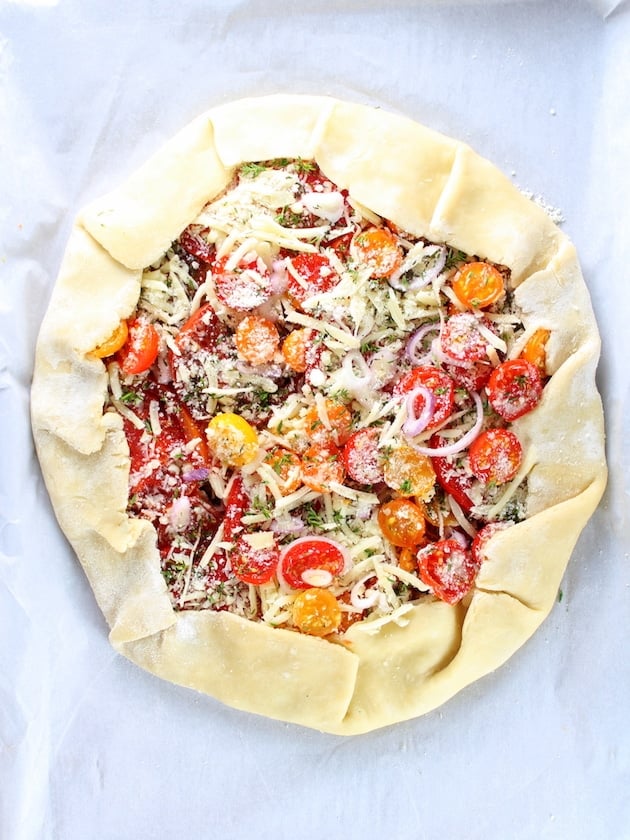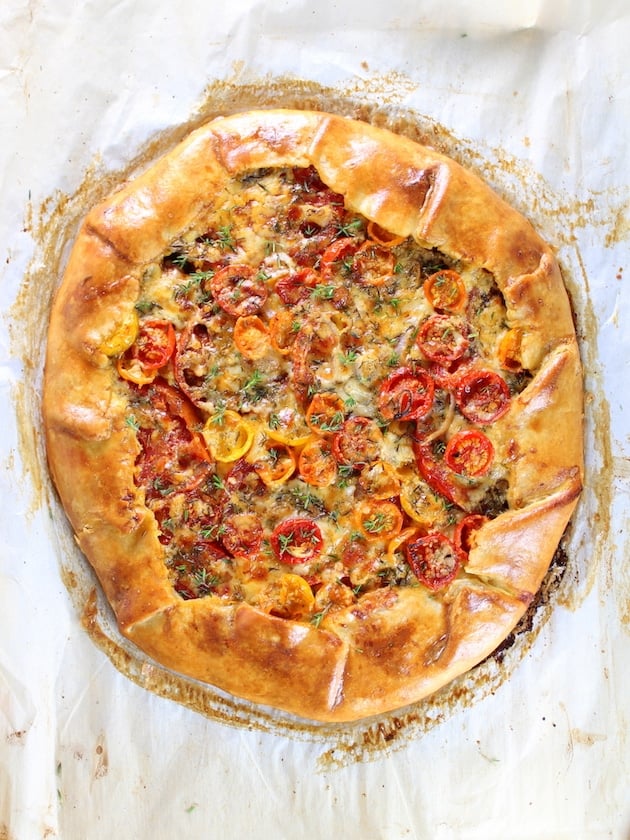 If you can stand it, let the Three Cheese Tomato Thyme Galette cool for 10 minutes, then serve warm.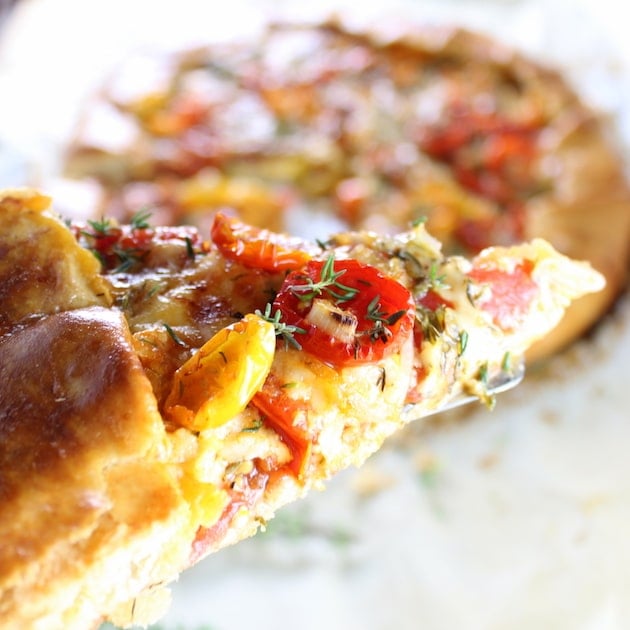 Now you understand why you made two… one to share with your guests and one just for you!
The Three Cheese Tomato Thyme Galette… the ultimate taste of summer.  Enjoy!
I would love to connect with you!  Leave a comment and follow me on Instagram, Twitter, Facebook, & Pinterest!
Looking for more fresh tomato deliciousness?  Try these Sweet Cherry Tomatoes With French Feta!