Smoky Chicken Chili!♨ I'm gonna show you how to smoke a chicken in your oven - no special equipment required!! For those of you who want to leave the smoking to someone else, I also offer another option: buy a precooked BBQ chicken. Either way read on my friend…this recipe's a keeper!✅
By the way, did you know Tuesday was Groundhog Day? Our friend Punxsutawney Phil was in rare form and as feisty as ever while making his annual appearance. Maybe his mood had something to do with being up at 3am when all the Ground Hog day celebrations kicked off in Punxsutawney, Pennsylvania. The results were in our favor…well at least mine…he DIDN'T SEE his shadow! That means we're getting an EARLY SPRING! Woohoo!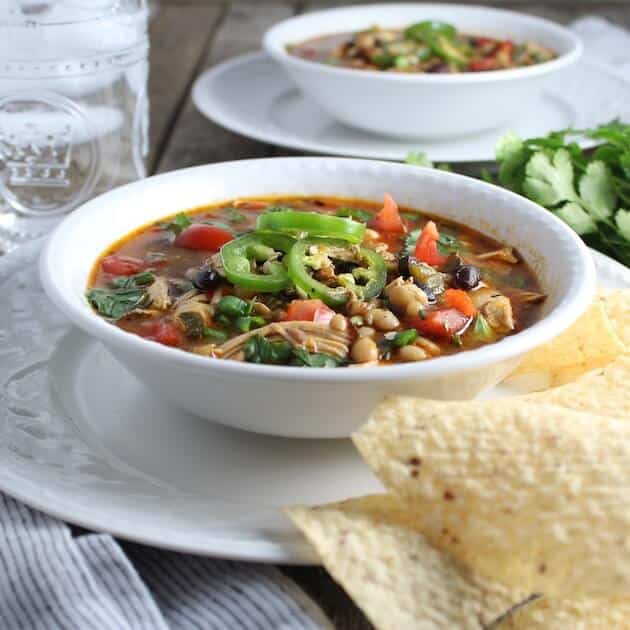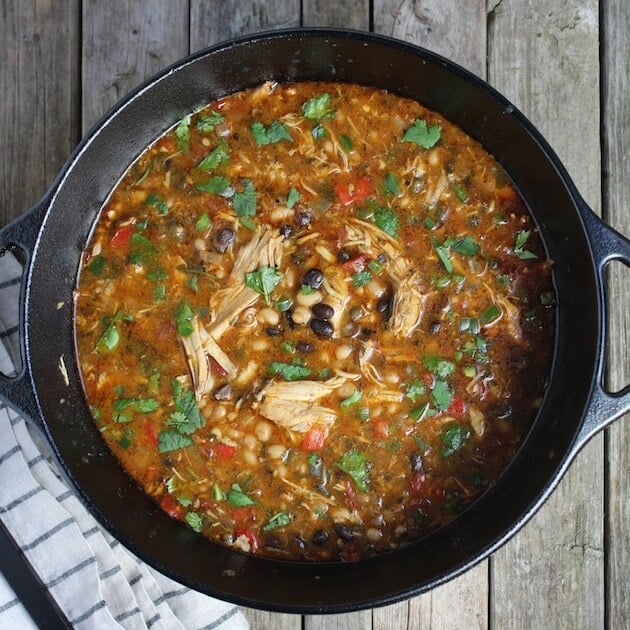 If I'm honest I don't put much weight (none at all) in Phil's predictions. But it is nice to think about spring arriving early. Birds chirping, flowers blooming, seeds to be planting, coats and scarves to be storing...all such happy thoughts. But until that happens we've got a winter to survive. So let's make some soup!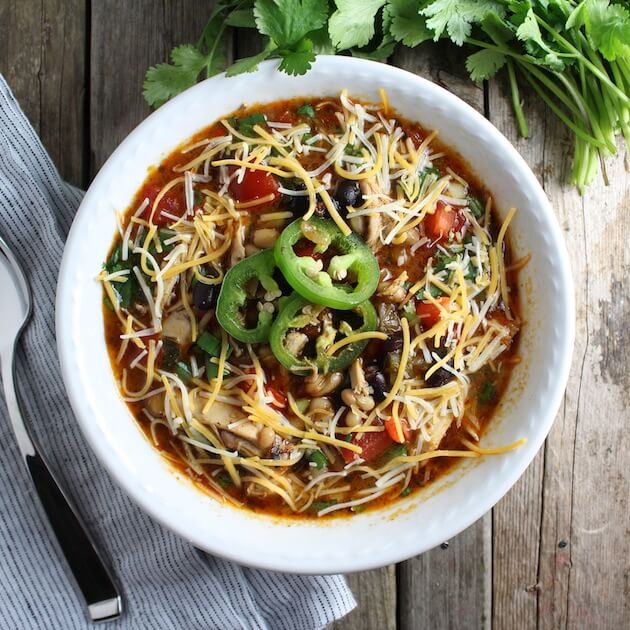 So back to the Smoky Chicken Chili... everyone loves a meaty, chunky bowl of chili! Especially Chicken Chili! Well, except for those of you that are allergic to chicken. Yes – that's a real thing. We have one friend who is allergic to chicken - like call the ambulance; go the hospital kind of allergic. I can't imagine what that would be like. If that's you I'm sorry… I will be sure to eat an extra wing at the Super Bowl Party in your honor.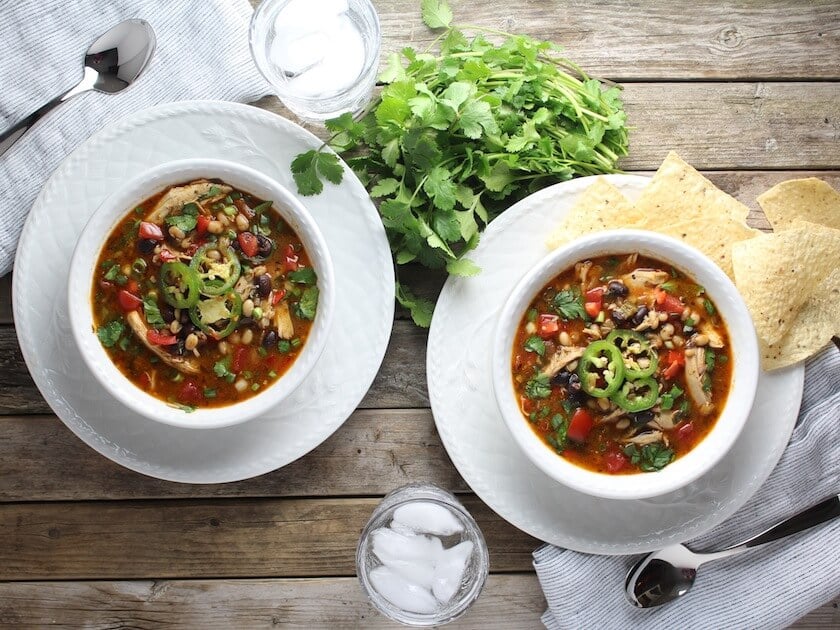 I have several Chicken Chili recipes that I make. There's the St. Michael's Alley Chicken Chili, the White Chicken Chili, and the Smoky Chicken Chili. Today we're going smoky!♨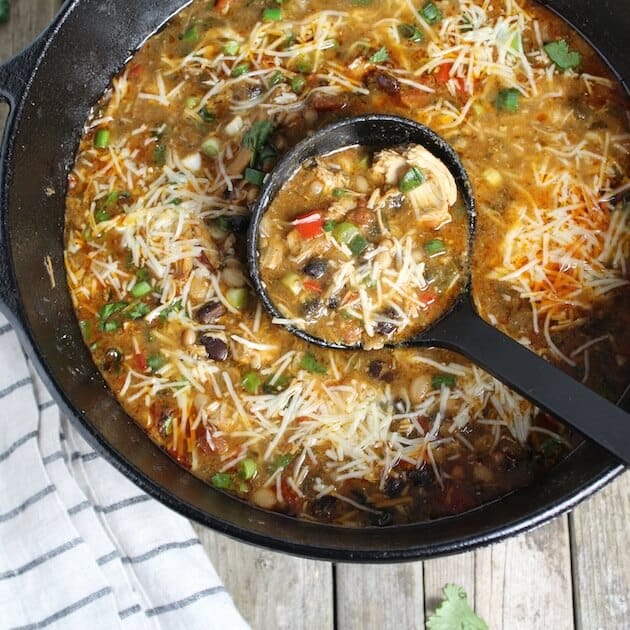 I usually make this chili with a store-bought whole BBQ (smoked) chicken, but they are becoming harder to find. I have also used a regular rotisserie chicken, and although it's still good, it just doesn't have that same campfire flavor. So I did what any smoke-lovin' girl would do…I smoked my own bird! Here's how it went down…
I purchased some liquid smoke from the grocery store along with a raw whole chicken. I used a roasting pan that had a rack and a lid. I mixed chicken stock, liquid smoke and smoked salt in the bottom of the pan, then put the rack in the pan with the prepped chicken on top of it. I seasoned the bird with smoked salt and pepper, closed the lid and cooked it for 2 hours on 325. AMAZINGNESS!✨ It came out super-tender and perfectly smoky.♨
Then I went to work on the Chili…chopping, sautéing, mixing and stirring. And finally, pulling the chicken into 1 inch chunks, then gently folding it into the soup. It was like eating a campfire, only better 'cause there were no ashes! AND it was full of healthy yumminess like beans, tomatoes, peppers, garlic, onions and stock. So I guess it's really not like eating a campfire at all, but I really wanted say that. So peace out girl scout.✌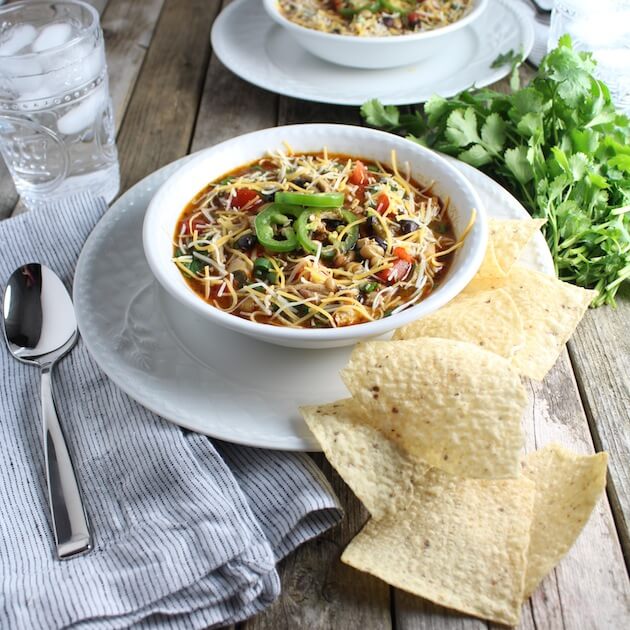 Before the snow melts and the flowers start blooming you definitely need to make this Smoky Chicken Chili. Smoke your own bird or buy one precooked…either way you and your family will absolutely love this pot of cozy goodness! Oh, and just a heads up…don't be surprised if your kids start singing Kumbaya and roasting s'mores over candlelight!
Yield: 10 Servings
Smoky Chicken Chili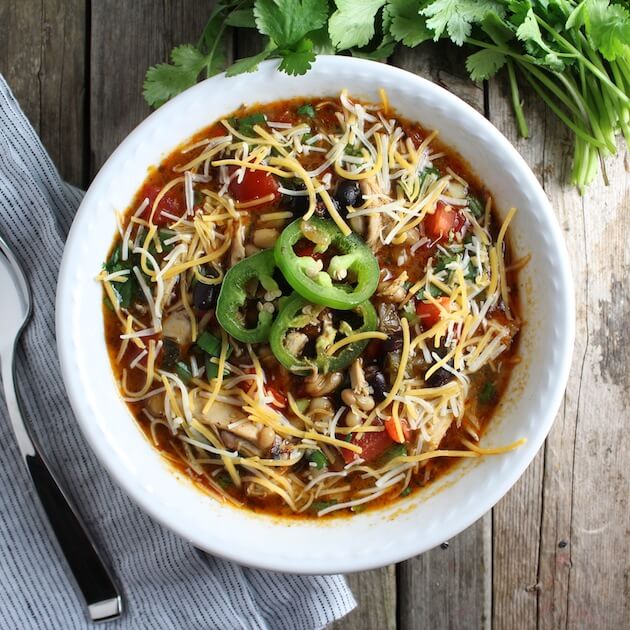 Smoky Chicken Chili. With instructions to smoke the bird right in your own oven! Full of healthy yumminess: beans, tomatoes, peppers, garlic, & onions
Cook Time
2 hours
35 minutes
Total Time
2 hours
50 minutes
Ingredients
For the smoked chicken:
3 tablespoons liquid smoke
1 whole raw chicken, organs discarded, rinsed and patted dry
2 teaspoons smoked salt, plus more to season the chicken
pepper to taste
Roasting pan with a rack and lid
For the chili:
1 whole smoked chicken, meat pulled
1 large onion, chopped
1 red pepper, seeds and membranes removed and chopped
2 poblano peppers, seeds and membranes removed and chopped
2 jalapeño peppers, seeds and membranes removed, diced
4 cloves garlic, minced
½ cup finely chopped cilantro, (plus more for garnish)
28 ounces canned small white beans (navy or great northern), drained and rinsed
14 ounces canned black beans, drained and rinsed
14 ounces canned fire roasted tomatoes
1 cup juices from smoked chicken pan, (if you're not smoking your own chicken use regular chicken stock and 1 tablespoon liquid smoke)
2 teaspoons smoked salt
1 tablespoon smoked paprika, (2 tablespoons if not using a smoked bird)
2 tablespoons cumin
½ teaspoon chili powder, (ideally smoked chili powder)
2 teaspoons oregano
1 teaspoon coriander
Instructions
For the smoked chicken:
Preheat the oven to 350 degrees. Use a roasting pan that has a rack and a lid. Mix chicken stock, liquid smoke and 2 teaspoons smoked salt in the bottom of the pan.
Place the rack in the pan, then put the prepped chicken on top of it. Season the chicken with more smoked salt and pepper, close the lid turn the oven down to 325 and cooked for 2 hours.
Allow the chicken to cool for about 20 minutes, then pull into one-inch chunks using two forks or by hand. Set aside.
For the chili:
Heat 2 tablespoons of olive oil in a soup pot on medium heat. Add the onions, poblano peppers, red peppers, jalapeño peppers, and season with 1 teaspoon of the smoked salt. Sauté for 6 minutes. Mix in the garlic and sauté for 1 more mine. Add in all the spices along with the other teaspoon of smoked salt, and let cook for another minute.
Mix in the cilantro, beans, tomatoes, and stock then bring up to a boil.
Turn down to a simmer and cook for 15 minutes.
Gently fold in the pulled smoked chicken and simmer without stirring for 10 minutes. Remove from the heat and let sit 10 minutes. Serve warm with chopped cilantro, diced green onions, chopped tomatoes, shredded cheese and sour cream.
Notes
You can skip the first step if you buy a pre-cooked BBQ or Rotisserie cooked chicken.
Nutrition Information
Yield
10
Serving Size
10 ounces
Amount Per Serving
Calories

565
Total Fat

30g
Saturated Fat

8g
Trans Fat

0g
Unsaturated Fat

19g
Cholesterol

177mg
Sodium

1285mg
Carbohydrates

26g
Fiber

7g
Sugar

6g
Protein

46g
This nutrition card uses an estimate provided by an online nutrition calculator. This estimate is not a substitute for a professional nutritionist's advice!