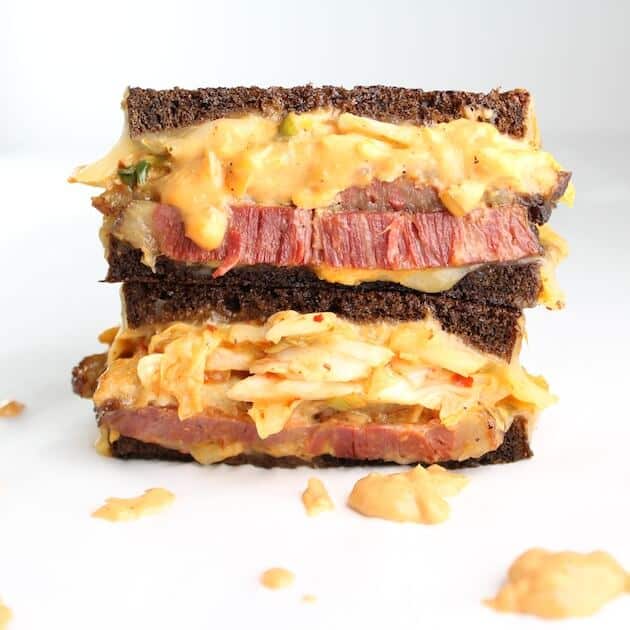 I should probably come clean with you. The only reason I made corned beef for St. Patrick's day is because I wanted to use it for these Kimchi Reubens. Yes – you read that right – Kimchi Reubens! With Homemade spicy Russian dressing! I don't even have words.
Let me try to find a few: Decadent. Indulgent. Flavor nuclear bombs.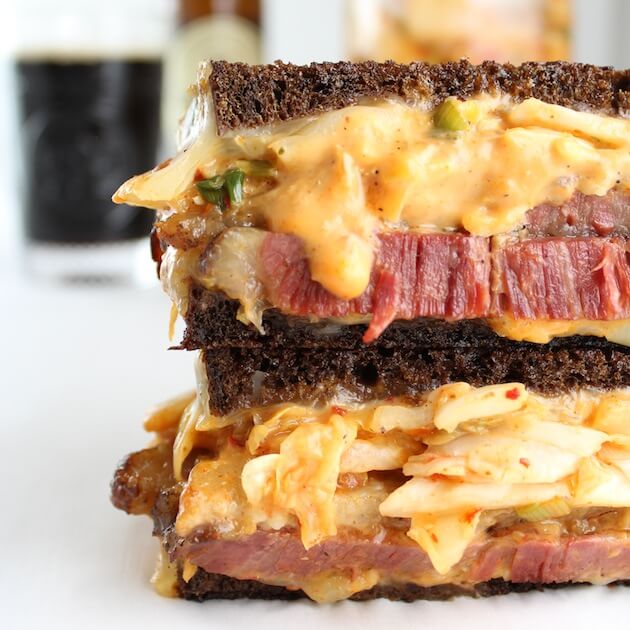 My feelings for the Kimchi Reuben with Homemade Spicy Russian Dressing are best expressed in the words of The Isley Brothers:
Well...
You know you make me want to (SHOUT)
Kick my heels up and (SHOUT)
Throw my hands up and (SHOUT)
Throw my head back and (SHOUT)
Come on now (SHOUT)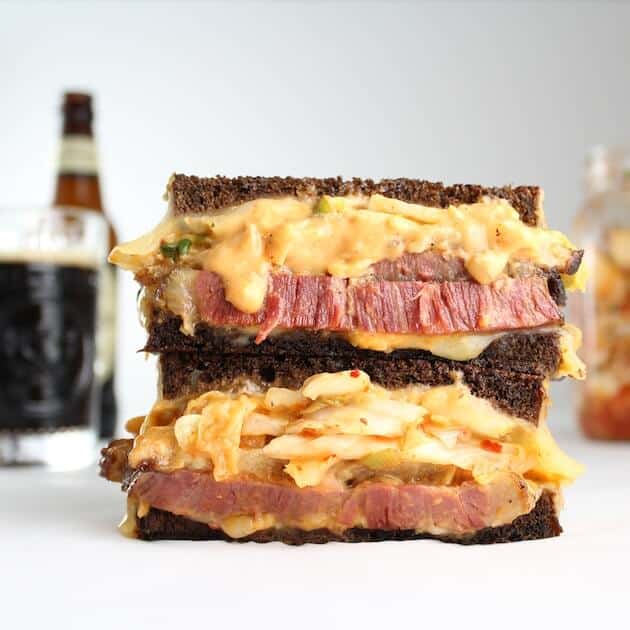 Very few foods actually invoke an involuntary reflex of spontaneous dancing from fully-grown, uncoordinated men… This is one of them. You would have thought the B man was a winning contestant on Dancing With The Stars...one bite of this Kimchi Reuben sent him soaring… Flashdance ain't got nothin'on him!
You think I jest, but truth be told my friend, this might be the best thing I've ever tasted. And I eat everything! No joke.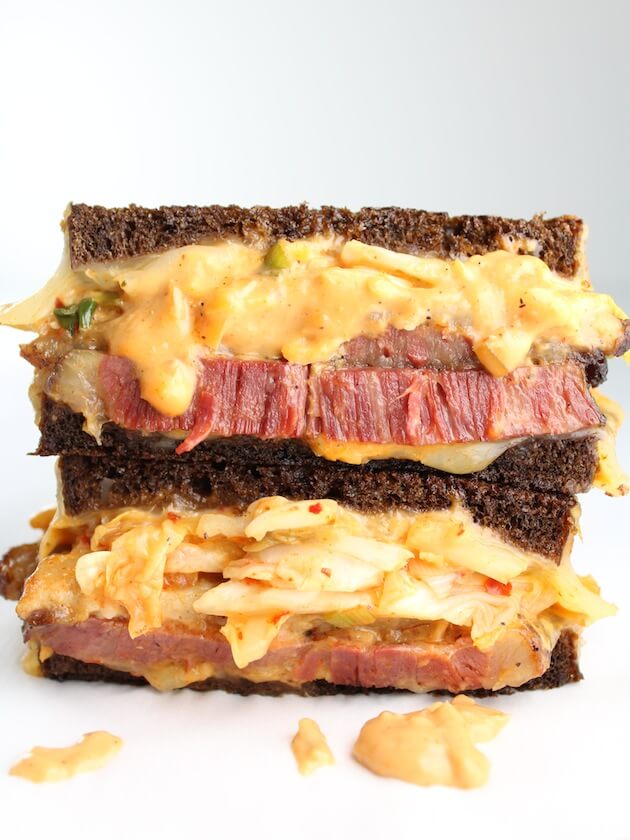 Think about it…all that salty fatty meaty corned beef, layered with delicate lacy melted Swiss cheese, topped with spicy salty crispy kimchi (have I mentioned it was homemade), smothered in sweet creamy and slightly spicy Russian dressing, all sandwiched together between some herbaceous, hearty pumpernickel bread toasted to perfection with the help of our dear friend butter.
Do you need a minute?⌚ Cause I do.
Ok – I can continue.
I'm not even sure how my brain thought to create this masterpiece but let's just say it was most likely supernatural. A gift from God by way of Taste And See. Let's take a moment of silence and show our gratitude.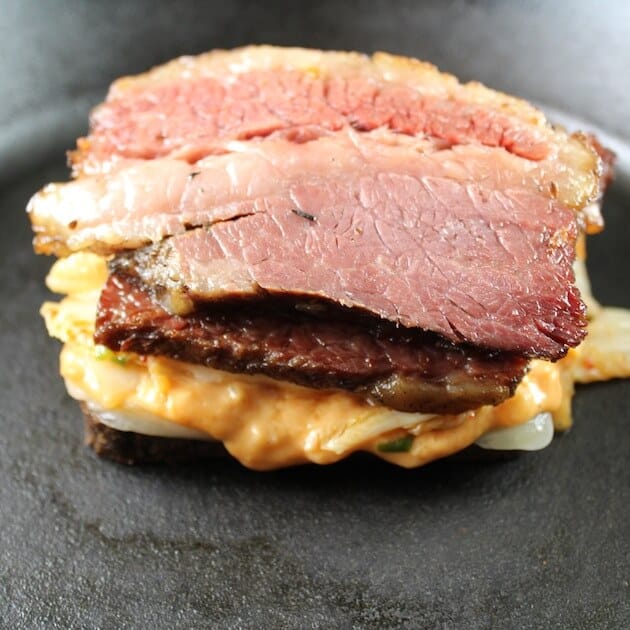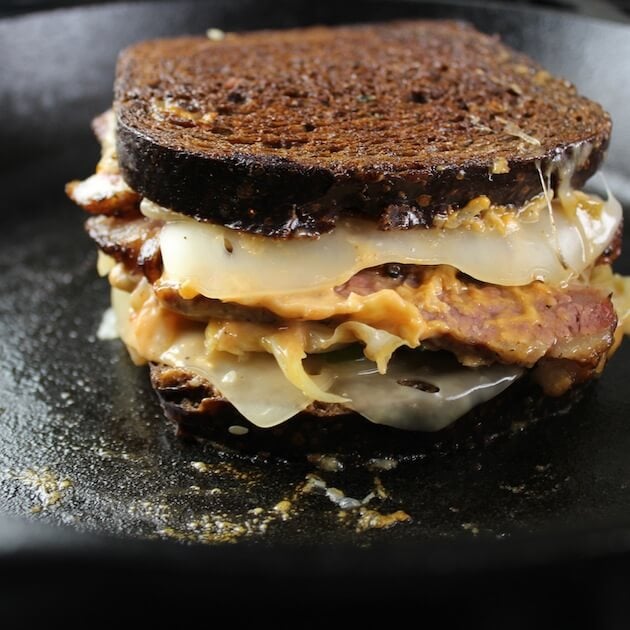 I really hope you have some Corned Beef leftovers in your fridge! Cause if you don't this is just cruel what I'm doing here.
Don't dismay my friend…Holly to the rescue (seriously emoji gods where is the super hero emoji?!?!?!)
Get up right now and go to your grocery store deli and get yourself a pound of corned beef. Then pick up all the other ingredients listed below and make yourself the world's greatest sandwich ever: The Kimchi Reuben!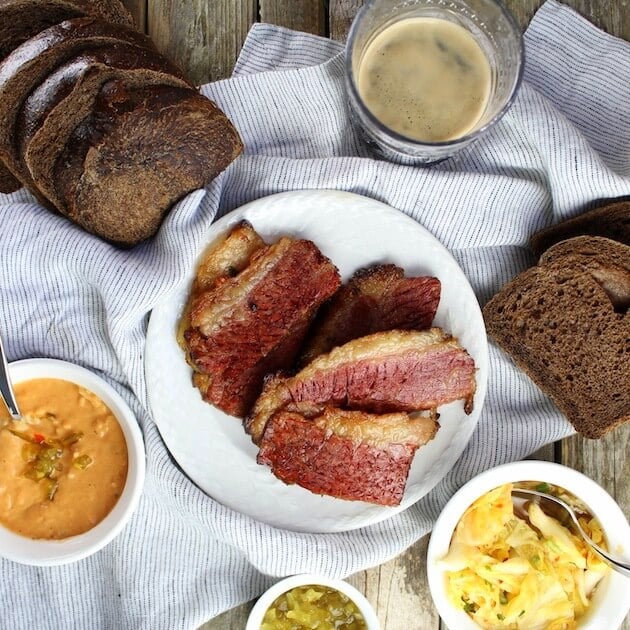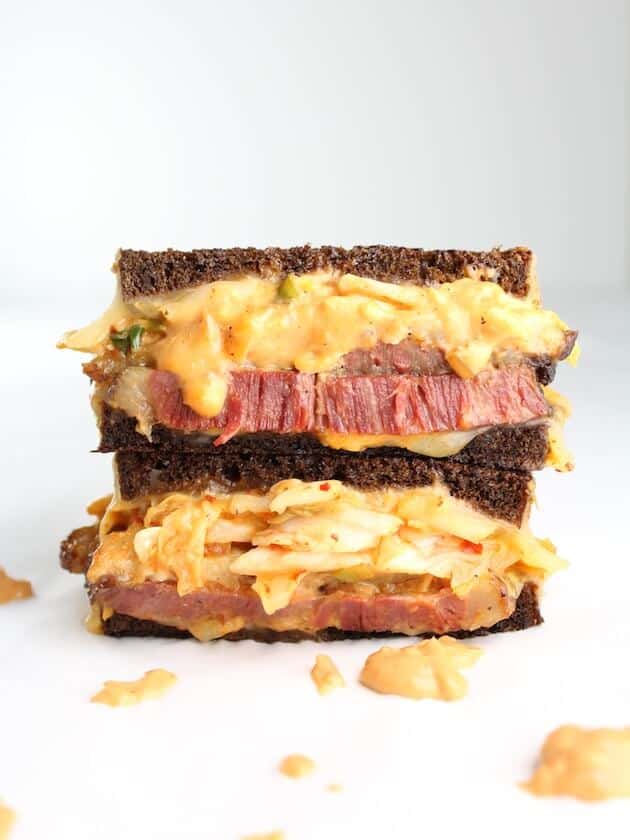 Hey ey, hey ya
Hey ey, hey ya
A little bit louder now
A little bit louder now
Jump up and shout it now
Jump up and shout it now…
Click here for the Easy Kimchi recipe.
Yield: 2 Sandwiches
Best Kimchi Reuben Ever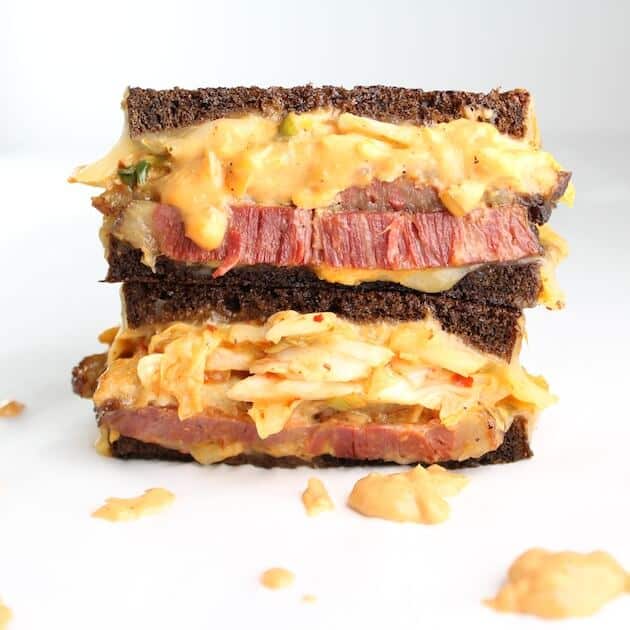 These sweet and spicy Reuben sandwiches are a tasty twist on the original. The Kimchi replaces the traditional sauerkraut, and the Russian dressing has a bit of heat from the horseradish and Sriracha. It's truly the perfect Reuben sandwich.
Ingredients
For The Spicy Russian Dressing:
½ cup mayonnaise
2 tablespoons ketchup
1 tablespoon sweet pickle relish, more if desired
1 tablespoon grated onion
1 teaspoon Sriracha
3 teaspoons bottled horseradish, or to taste
¼ teaspoon coarse salt
¼ teaspoon freshly ground pepper
For The Kimchi Reuben Sandwich:
10 ounces sliced corned beef
8 slices thin of swiss cheese, 4 slices if they are thick
4 ounces Kimchi, drained
4 ounces spicy Russian dressing
4 slices Pumpernickel or marbled Rye Bread
2 tablespoons softened butter
Instructions
For The Spicy Russian Dressing:
Combine all of the ingredients in a small bowl.
Dressing can be covered and refrigerated for up to 1 week.
For The Kimchi Reuben Sandwich:
If your corned beef is cold heat it up to room temperature or even warmer.
Butter one side of each piece of bread. Heat a sauce pan to medium heat.
Place 2 of the 4 slices of bread, butter side down, in the heated pan.
Add half of the cheese to each sandwich and let it melt for 1 minute.
Add the Russian dressing, Kimchi, corned beef, more dressing, the rest of the Swiss cheese and the top piece of bread. (Make sure the butter side is facing out).
Using a spatula slide under the bottom piece of bread, hold the top piece with your other hand, and gently flip the sandwich.
Allow to cook for another 2 minutes. Bread should be slightly crisp and cheese should be melted. Serve warm.
Nutrition Information
Yield
2
Serving Size
1 Sandwich
Amount Per Serving
Calories

750
Total Fat

127g
Saturated Fat

43g
Unsaturated Fat

0g
Cholesterol

247mg
Sodium

3766mg
Carbohydrates

46g
Fiber

4g
Sugar

17g
Protein

57g