Sweet Cherry Tomatoes with French Feta...a quick and delicious side dish or appetizer that will wow any crowd.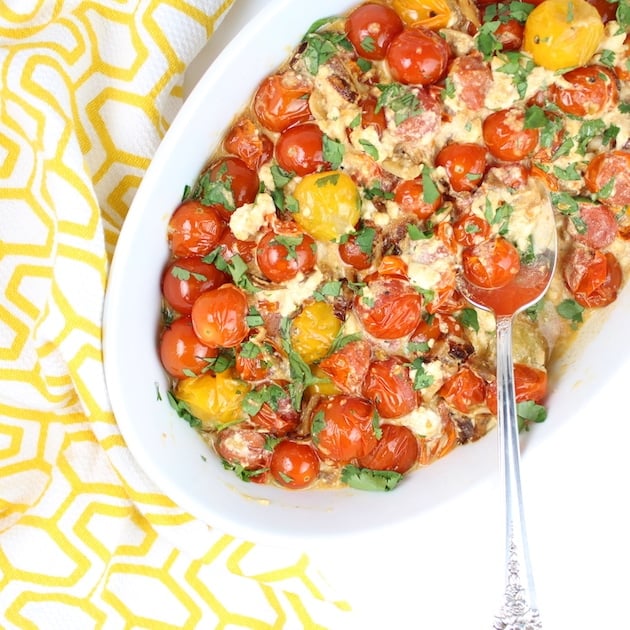 I've got tomatoes on my mind! We just started planting our garden this week and I've got a spring in my step… and pain in my back. LOL
Gardening is hard work my friend. You're bending over planting seeds, raking and hoeing your rows, and tilling that dirt like a champ. Seriously, muscles that have been dormant on holiday for months (maybe a full year) are crying for mercy.
But seeing those seeds push through the dirt all loud and proud like little soldiers makes it all totally worth it. I pray I never stop being amazed by and recognizing the miracle of gardening.✨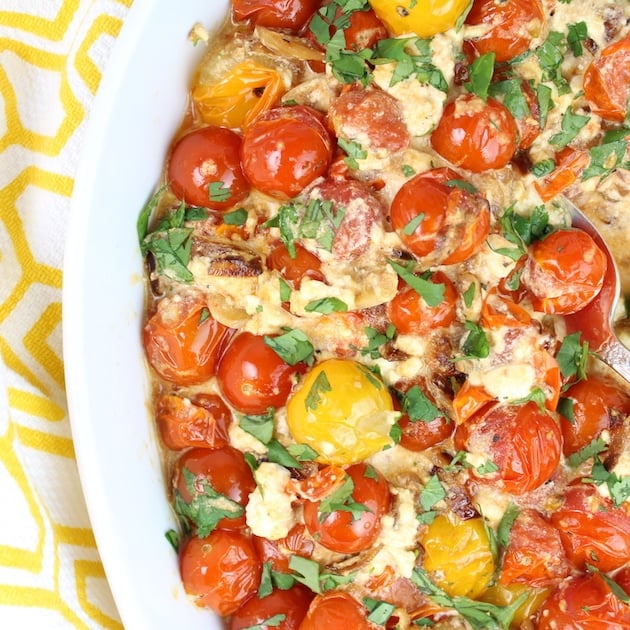 This year I purchased some different types of tomatoes that I've never grown before. I was able to get some heirloom varieties like Sungold, Black Krim, and Brandywine. Not only will they taste unbelievably amazing but those orangy gold, purplish red and dusty pink hues will also provide some pretty gorgeous eye candy.
I added a few traditional varieties into the lineup as well: the new and improved Sweet 100's (called Super Sweet 100's), and the Mountain Fresh…. I can't wait! I'll be making tomato Gratins and Galettes all summer long!☀️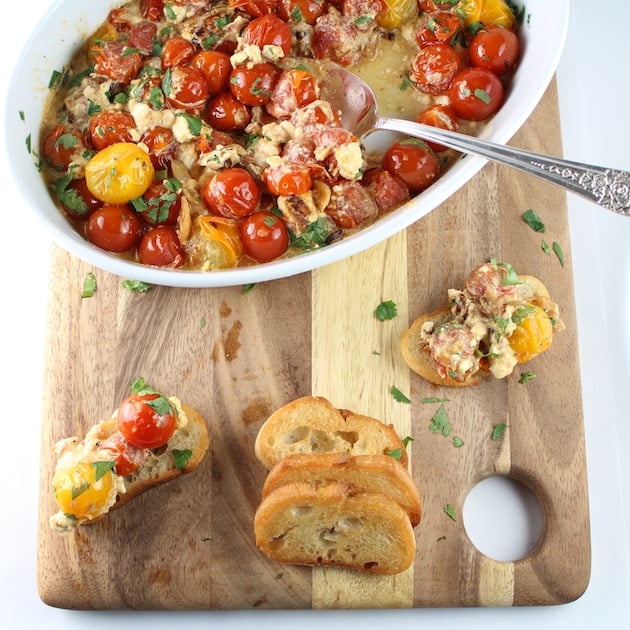 Tomatoes are so versatile - they go wonderfully with so many things. I especially like cherry tomatoes because they are so sweet and literally bite-sized. If you're wondering "what to eat cherry tomatoes with" or "what to use cherry tomatoes for," let me give you some food for thought.
Salads are a no-brainer, right? But if you want to take it up a notch, roast them in the oven with some olive oil, salt and pepper. You get all the deep, rich flavors of sun-dried tomatoes, with the juiciness of fresh ones.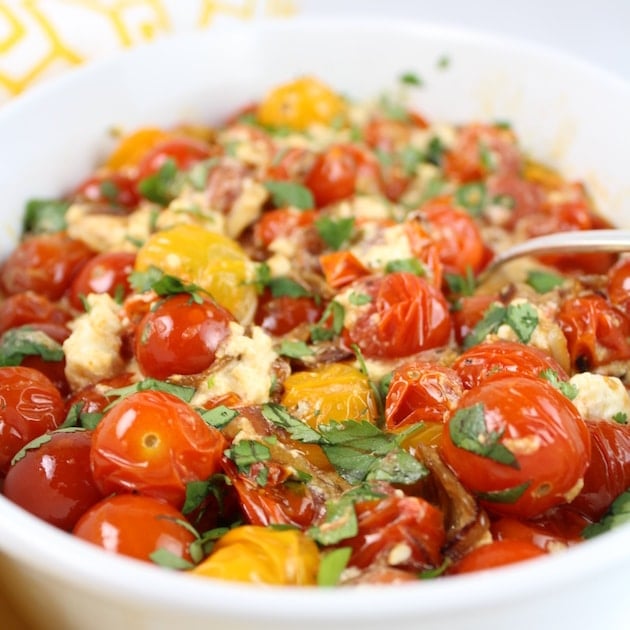 Putting cherry tomatoes in pasta is another way to elevate those little sweeties. Sauté them with olive oil, garlic, salt and pepper – toss in cooked penne, add some shredded Parmesan or cubed fresh mozzarella and purrrfection! Monza bella!
There are so many other delicious creations you can make with cherry tomatoes: fresh homemade salsa, gazpacho, stir some into ceviche, toss them into an omelet or frittata, skewer those babies with long toothpicks and make mini caprese salads, or bake them in a pie crust with some cheddar and parmesan cheese for a delightful summer tart.
Who's getting hungry????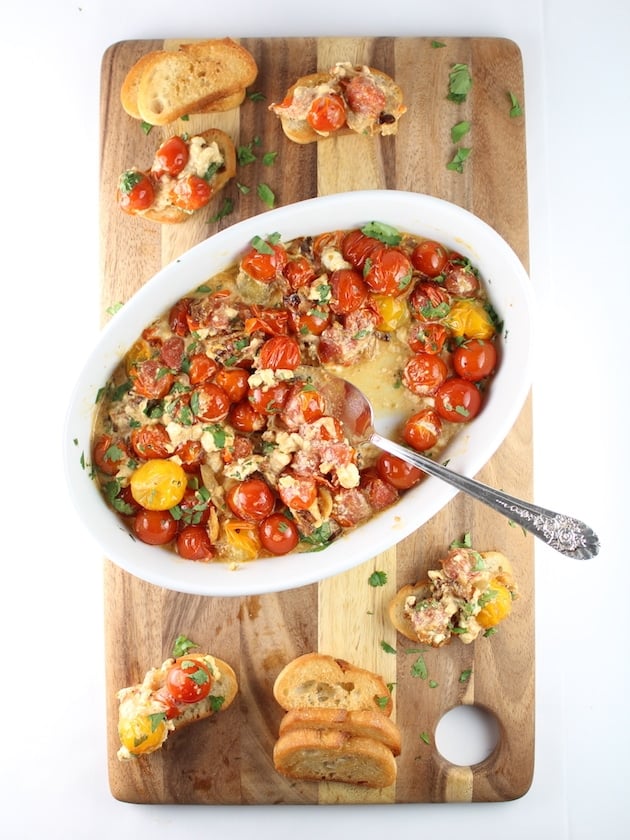 All this tomato talk inspired me to whip up something tasty and quick with some store-bought cherry tomatoes. I like to call it Sweet Cherry Tomatoes with French Feta!
Before we go any further let me address the French Feta. It is divine. My favorite feta evaah! It's less tangy and briny than say Greek feta, and the texture is really smooth and creamy. Yum!! I might have a French feta fetish - not saying/just saying.
Also, I should mention that French feta is made from cow's milk and goat's milk, but usually not sheep's milk like the Greek version. Just thought you might need that important random tidbit for the next time you meet up with your boss at the water cooler or play trivial pursuit with the neighbors. #igotyouboo
Less about random feta facts and more about this Sweet Cherry Tomatoes with French Feta recipe!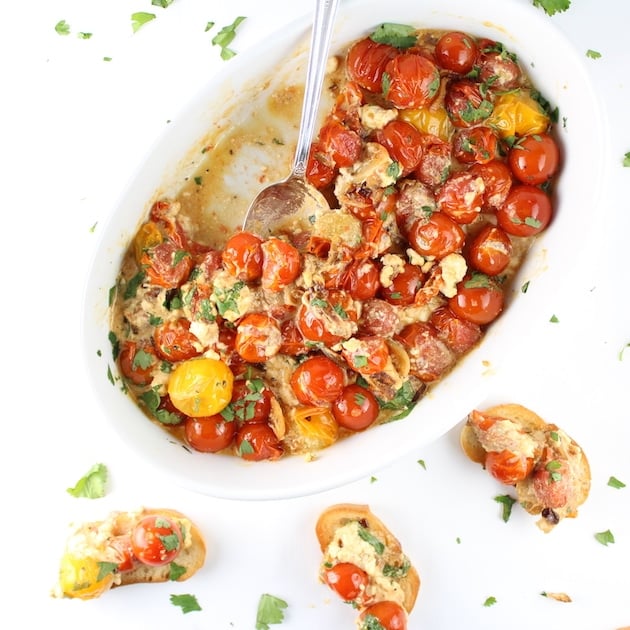 It's a really quick and easy side dish or a delightful appetizer to serve with some crostini. First you sauté the shallots in olive oil over medium heat for about 2-3 minutes.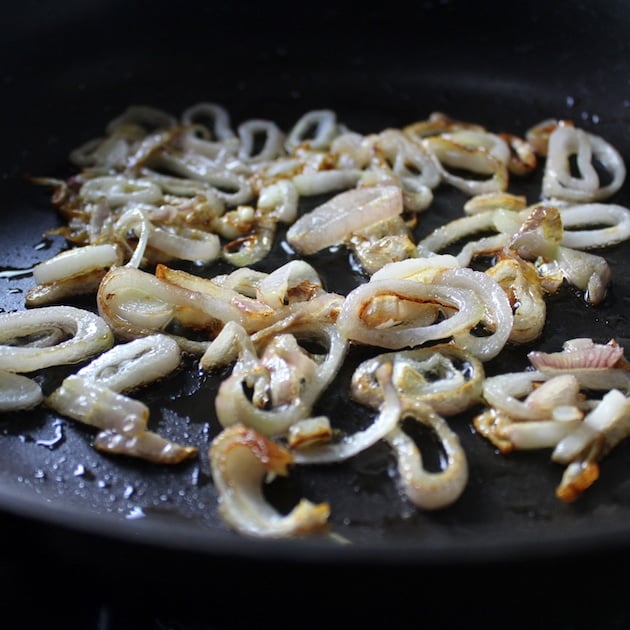 Then stir in some sliced garlic.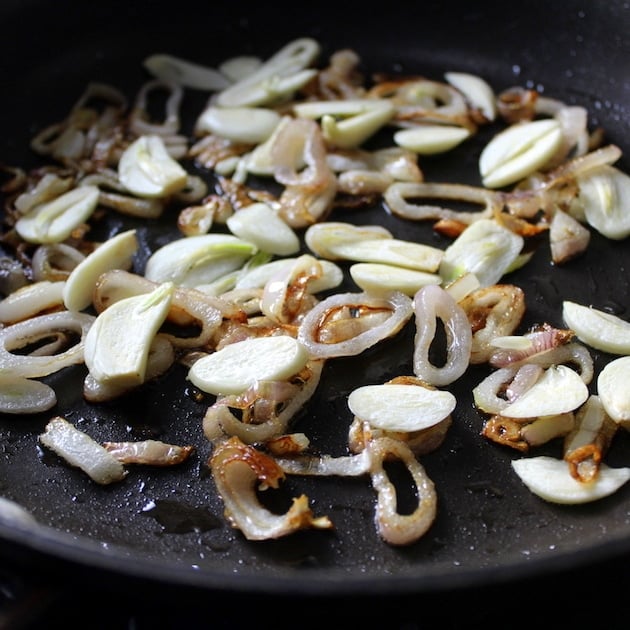 Next, add your tomatoes and saute over medium heat for about 5-6 minutes. While they're cooking, sprinkle with a little salt and pepper. You're trying to heat the tomatoes all the way through without letting them all burst open. You want a handful of them to crack open, so they release their juices and create a sauce for the dish.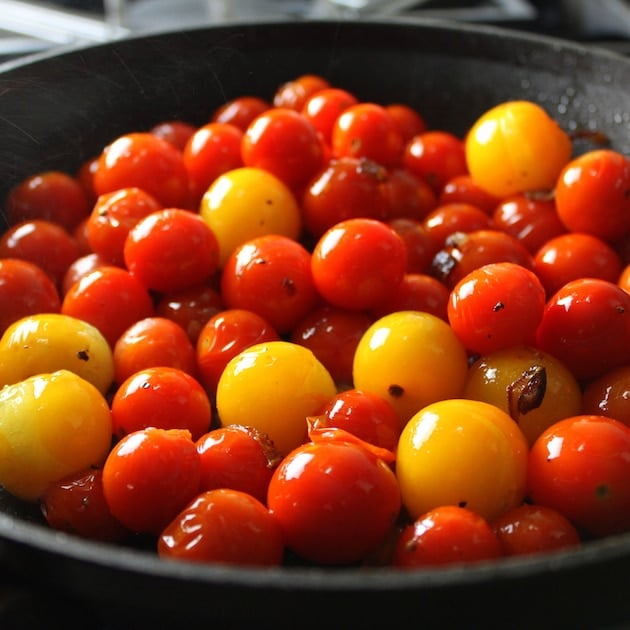 Next you toss in some crumbled French feta and give the mixture a gentle stir. At this point you can take it off the heat and pour it into a serving dish, the feta will continue to melt because of the heat from the tomatoes.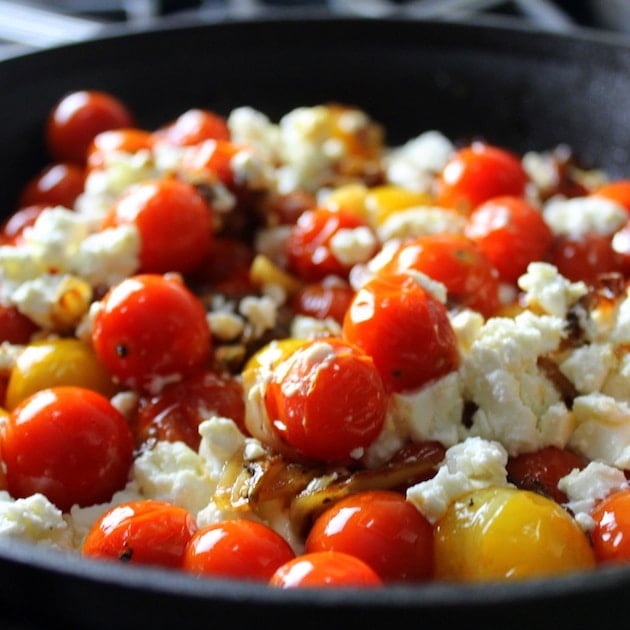 See? Like I said - a quick and easy side dish.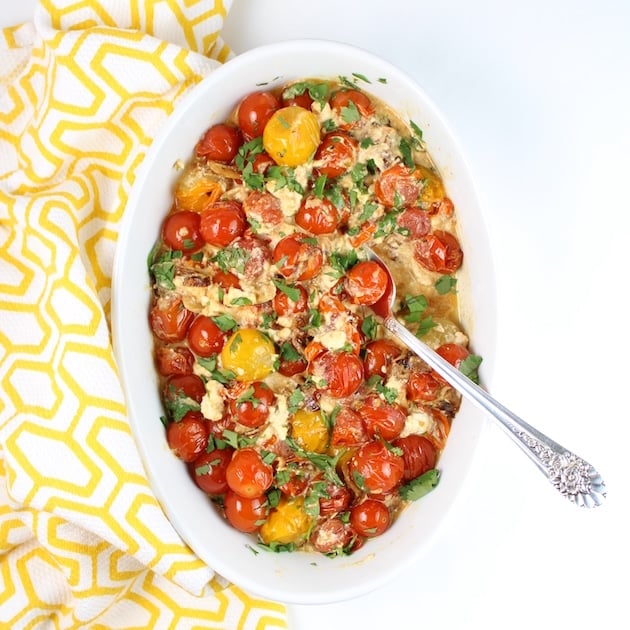 The only thing left to do is to grab those warm crostini, scoop up some of that salty, tomato-sweet, cheesy, creamy goodness and enjoy!
Are you following me on Instagram, Twitter, Facebook, and Pinterest?
Yield: 6 servings
Sweet Cherry Tomatoes with French Feta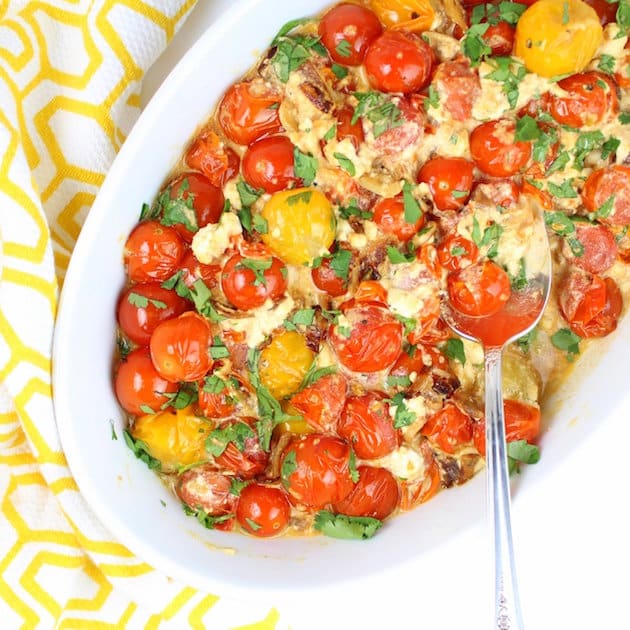 Salty, tomato-sweet, cheesy, creamy goodness ready in only 15 minutes. Perfect side or appetizer with French feta, shallots, garlic, and cherry tomatoes.
Ingredients
2 tablespoons olive oil
1 shallot, finely sliced
2 garlic cloves, thinly sliced
10 ounces sweet red cherry tomatoes, washed & dried
6 ounces yellow cherry tomatoes, washed & dried
Salt and fresh ground pepper
3-4 ounces French feta, crumbled
¼ cup fresh cilantro, rough-chopped
French baguette sliced thinly and toasted, (optional)
Instructions
Heat olive oil in a large skillet over medium-high heat. Add the shallots and cook for 2 minutes.
Add the sliced garlic and cook for 1-2 more minutes.
Pour the tomatoes into the pan, season with salt and pepper, and cook until some of the tomato skins start to split - about 5 minutes.
Remove from heat and add the feta. Stir gently, incorporating the juice from the broken tomatoes with the feta.
Transfer to serving dish, sprinkle with cilantro, and serve warm.
Notes
You can add a tablespoon or two of water or chicken stock if your tomato/feta mixture is too thick.
If you can't find French feta, you can substitute Greek feta. Because Greek feta is firmer you may need to cook it with the tomatoes for a minute until it breaks down.
Note that the nutrition info shown excludes the baguette.
Nutrition Information
Yield
6
Serving Size
5 ounces
Amount Per Serving
Calories

211
Total Fat

17g
Saturated Fat

9g
Trans Fat

0g
Unsaturated Fat

7g
Cholesterol

50mg
Sodium

622mg
Carbohydrates

7g
Fiber

1g
Sugar

5g
Protein

9g
This nutrition card uses an estimate provided by an online nutrition calculator. This estimate is not a substitute for a professional nutritionist's advice!