This Parmesan Baked Chicken Strips recipe is a sure-fire crowd pleaser!! Golden on the outside and tender and juicy on the inside... coated in a cheesy crust with a marinara dipping sauce, these chicken strips are an easy and delicious meal the whole family will love! ❤️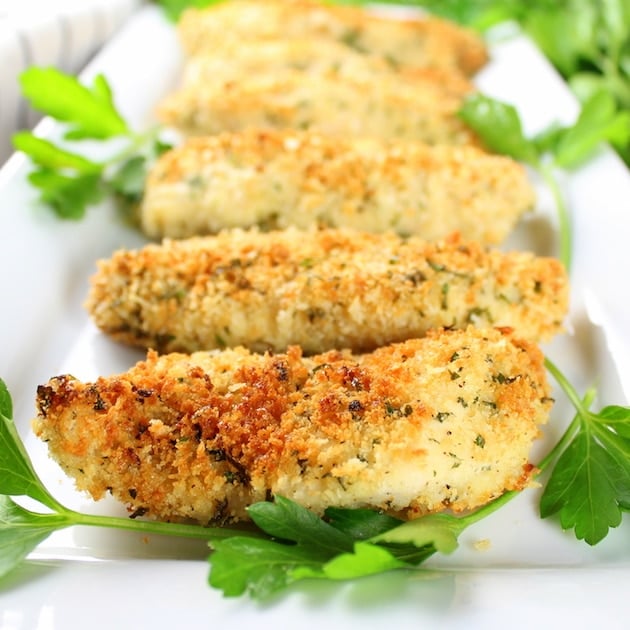 Taste And See is one year old!🎉🎂 Yayyy!! It's been a busy year of developing new recipes, cooking, taste-testing, and documenting all of it right here for you to enjoy. Thanks so much for all your support!🙏 We're honored that you continually choose to follow along on our journey and prepare our recipes!
We're celebrating this special occasion with a new variation of one of our most popular recipes to date: Parmesan Crusted Chicken! It has been one of our favorite recipes so far, and if you've tasted this chicken, then I know you're not surprised.
It is what so many of us want: easy, moist, flavorful, crowd-pleasing delicious baked chicken breasts.💯 A go-to meal for an easy weeknight dinner or something you can serve for a special night with company. Quite simply it has it all. And now it has even more.😳 How is that even possible?🤔 I'm so glad you asked.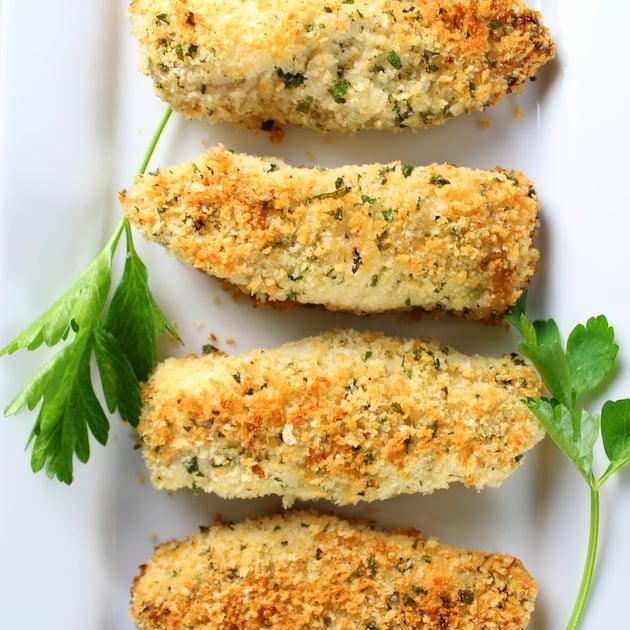 Now it's just as tasty, just as moist, just as tender but it's in the form of a finger food! Say whaaa!?? I know, Christmas came early this year!🎁
It's the perfect appetizer to serve for your next game-day watch party, or for a fun family meal even the kiddos will love. Put it over some angel hair pasta and top it off with my semi-homemade marinara and you'll have one yummy Italian feast.🍴
Did I mention it was easy!?? You literally mix, dip and bake. (Not to be confused with the "bend and snap" - although another very effective method for swooning your significant other, it has nothing to do with this recipe.😝 Sorry - I couldn't help myself!😂 )
The chicken comes out golden on the outside and tender and juicy on the inside. Every time.👇
The process is really simple and only requires a few ingredients.
How To Make Parmesan Crusted Chicken Strips:
You can use chicken tenders or chicken breasts for this recipe. Because I like to save a buck when I can, I used cut up chicken breasts to make my strips. Not only was it more cost effective it also meant I didn't have to contend with the removing the tendon that becomes chewy and tough when cooked.
You MIX:
1. You mix your breadcrumbs, Parmesan, fresh parsley, salt and pepper in a shallow pie dish (or plate).

2. Then in another dish mix the melted butter, fresh lemon juice, and minced garlic.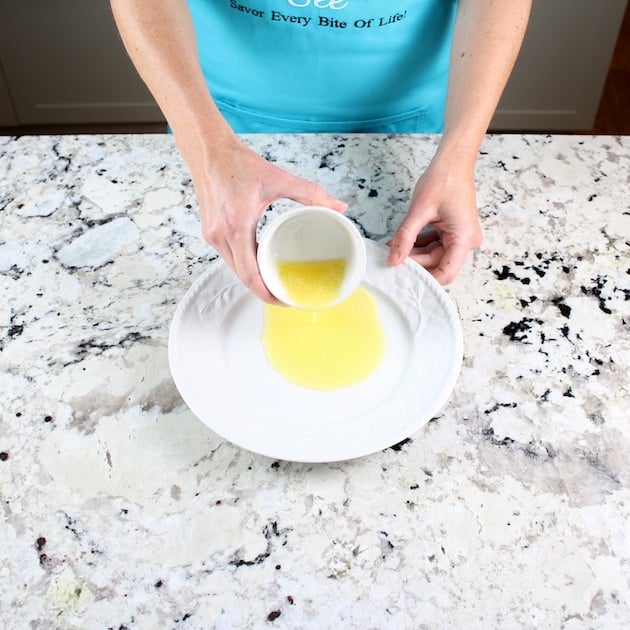 You DIP:
1. Dip both sides of your chicken breasts in the butter dish…

2. … then dip in the breadcrumbs.

And you BAKE:
Bake on 400 degrees for 20 minutes.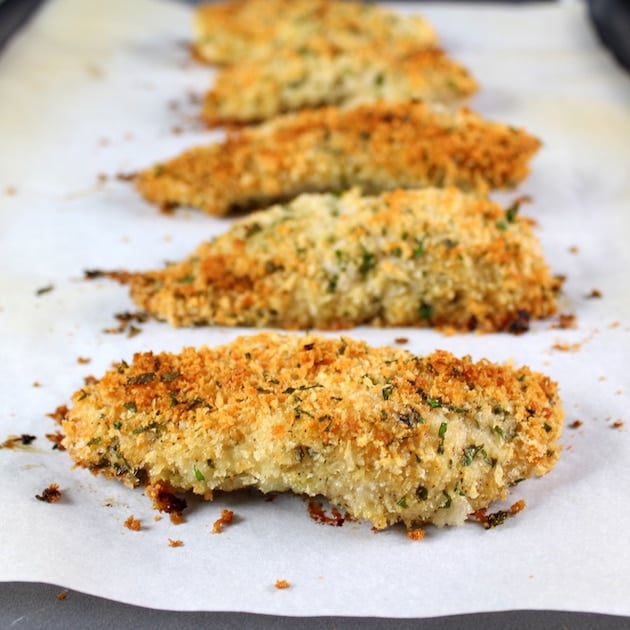 Tada… delicious Parmesan Baked Chicken Strips!

✨
But wait, there's more!👍
The Marinara!🍅 It's so tasty and a breeze to whip up.
While your chicken is getting all golden and delicious in the oven, you add grated onion, minced garlic, salt and pepper to a pot over medium-high heat. Mix in the tomato paste, crushed tomatoes, tomato sauce, water, parsley, more salt and pepper, and simmer for 20 minutes.♨️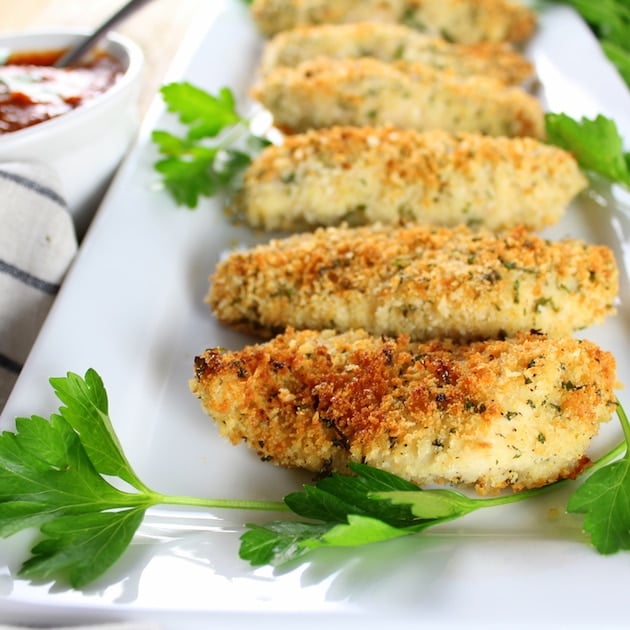 Now plate up all this goodness and dig in!🍴 Parmesan Baked Chicken Strips - an easy and delicious meal the whole family will love!💛 And don't forget to try the original Parmesan Crusted Chicken Recipe, too!
I would love to connect with you! Leave a comment and follow me on Instagram, Twitter, Facebook, & Pinterest!
Yield: 4 servings
Parmesan Baked Chicken Strips Recipe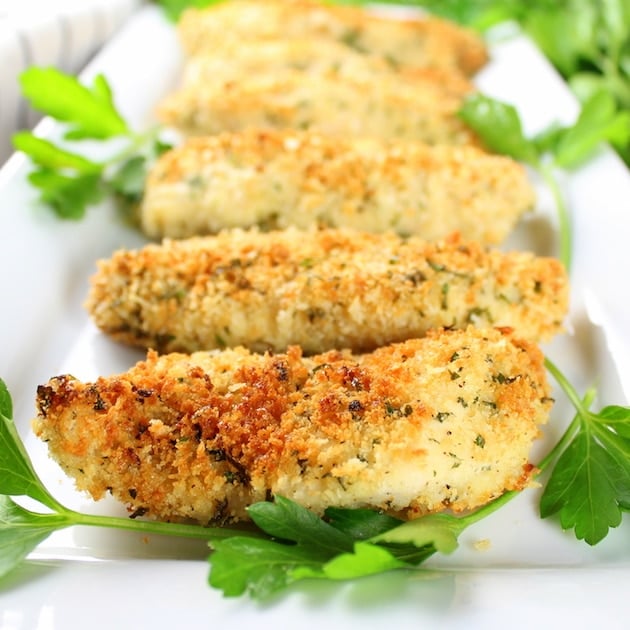 Parmesan Baked Chicken Strips Recipe - golden, tender & juicy. Coated in a cheesy crust w/ a marinara dipping sauce, the whole family will love these!
Ingredients
3 boneless chicken breasts, fat and skin removed and cut into 12 strips (or 12 chicken tenders)
1 ¼ cup panko bread crumbs
⅔ cup grated Parmesan cheese
3 tablespoons minced parsley
¾ teaspoon salt
½ teaspoon pepper
¼ cup plus 1 tablespoon melted butter
1 tablespoon fresh lemon juice
3 cloves garlic, minced
Instructions
Preheat oven to 400 degrees and line two baking sheets with parchment paper.
Mix the bread crumbs, Parmesan cheese, parsley, salt, and pepper together in a shallow pie dish or a deep plate.
Mix the butter, lemon juice and garlic together in a second shallow pie dish or deep plate.
Dip both sides of the chicken in the butter mixture, coating it well.
Quickly place the chicken on the bread crumb mixture and toss the crumbs up over the edges and top of chicken breast, using either your hands or a spoon. Gently press the chicken so the crumbs on the bottom side stick to the chicken. Now turn the chicken over and again press that side into the crumbs.
Arrange breaded chicken strips on the baking sheet and repeat steps 3 and 4 with the rest of the chicken.
When all chicken is prepped, bake uncovered (on the middle rack of the oven) for 20 minutes or until a meat thermometer reads 165 degrees when inserted in the thickest part of the chicken breast.
If strips aren't as golden as desired, reduce the bake time by one minute and broil on the middle rack of the oven for one minute. Be sure to watch them closely to make sure they don't burn.
Notes
If the butter and lemon juice mixture starts to congeal, microwave for 20 seconds.
Be sure to use grated parmesan cheese, shredded cheese won't stick to the chicken as nicely.
Nutrition Information
Yield
4
Serving Size
3 Chicken Strips
Amount Per Serving
Calories

353
Total Fat

20g
Saturated Fat

10g
Unsaturated Fat

0g
Cholesterol

99mg
Sodium

1029mg
Carbohydrates

14g
Fiber

1g
Sugar

1g
Protein

27g
Looking for more easy & amazing dinner ideas? Try these!
Chicken And Green Chile Verde Soup: