There's nothing like this easy Homemade Salsa Verde. It's tangy and fresh and so delicious! It's perfect as a dipping sauce for tortilla chips, on tacos, tostadas, as a sauce for enchiladas, soups stews and Mexican casseroles.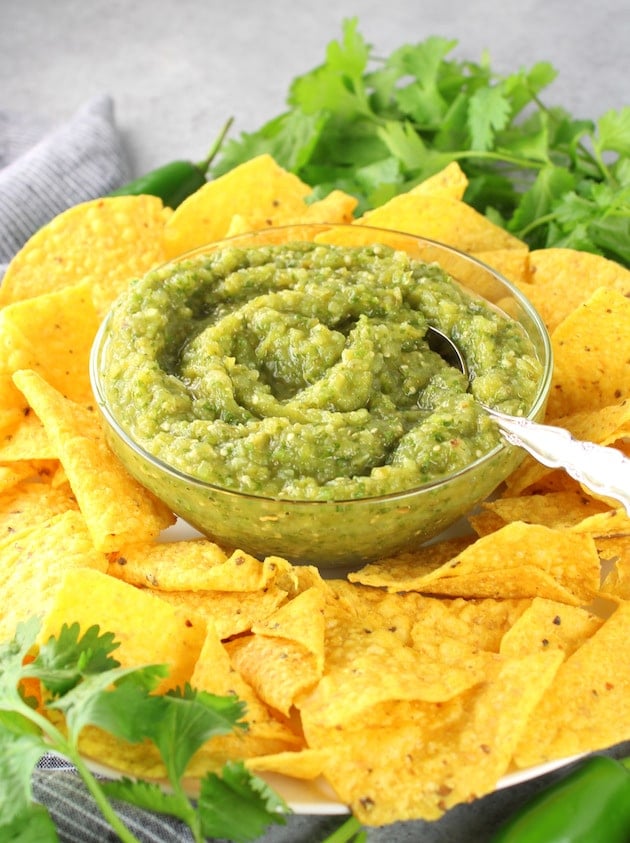 Lately I've been on a tomatillo salsa verde kick! You know the green tangy version of salsa?
It's basically a green sauce made from tomatillos, green chilies, garlic, cilantro and onions. It's bright, fresh and tangy and so delicious especially when it's made fresh.
I like using it to top my tacos, tostadas, huevos rancheros, and in soups, stews and casseroles. Basically, whatever regular salsa is used for, can be used for this salsa verde as well.
What is salsa verde?
There are so many different twists on salsa verde: from super-hot to harmlessly mild, from smooth to chunky, from smoky to spicy to sour… all with a wide variety of chilies.
In the end, since "verde" is the Spanish word for green, generally any green-colored salsa could arguably labeled as "salsa verde."
We used jalapenos as our green pepper and included tomatillos for our recipe today.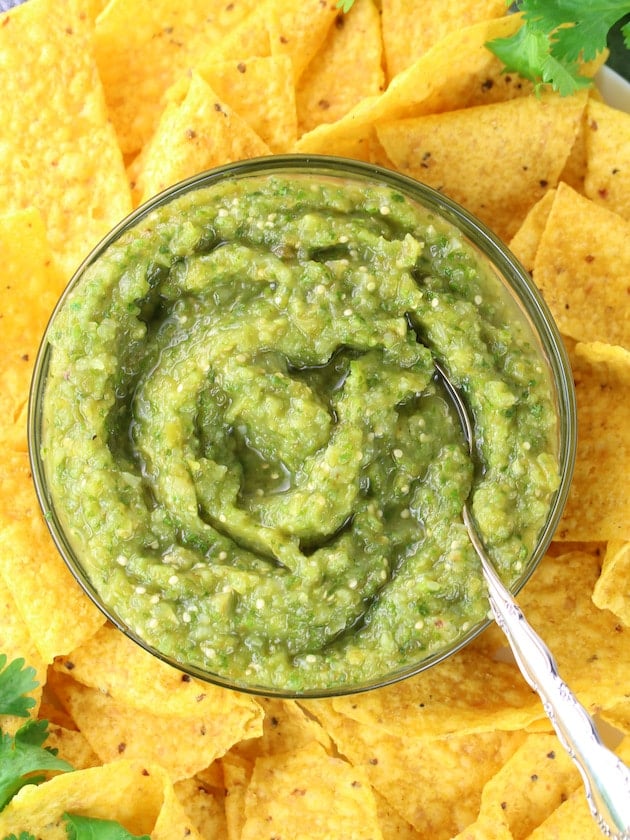 What is a tomatillo?
Many times the base for salsa verde is tomatillos. I'm sure you've seen them in the grocery store: they look like green tomatoes wrapped in green papery husks. You can find them in the produce department – usually near the tomatoes.
Although their Spanish name translates to "green tomato" they are in fact not a tomato at all. But they are related – more like cousins. Just like a tomato, tomatillos are considered a fruit.
I actually grew some tomatillos in my garden this year for the first time. The plant looked similar to a tomato plant but with skinnier stems. I wouldn't say my plants were overly fruitful but growing tomatillos was certainly rewarding.
What do tomatillos taste like?
I knew you were going to ask that. They are more tangy, acidic and definitely less sweet than a regular ripe tomato. To prepare them for use, you simply remove the husks and throw them away, then rinse the sticky residue off the tomatillos. You can eat them raw for a bright fresh flavor, or cooked for a more mellow savory flavor.
For today's salsa verde recipe, I chose to roast my tomatillos along with my chilies and onion.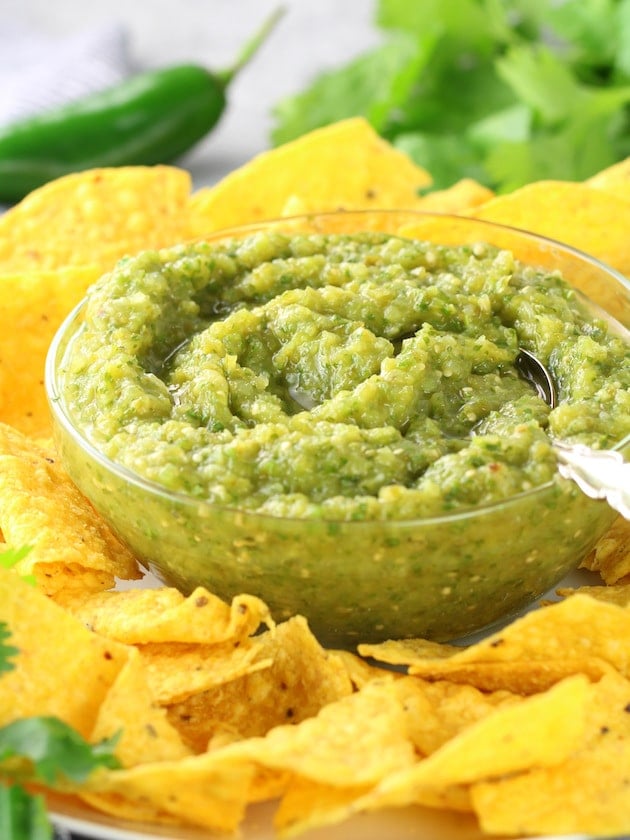 Another question you might have is…
What kind of chilies should be used in salsa verde?
Typically, you should go with jalapeño peppers - or for a spicier version go with serrano chilis for this Mexican green sauce. It all depends on how hot you like it - and of course what's available at your grocery store.
I chose to go with jalapeños for my recipe – 2 roasted jalapeños and 1 one raw for some kick. Since peppers can fluctuate in their spiciness, the heat factor of the salsa verde will depend on how hot the peppers are.
Just like with tomatillos, when you roast jalapeños the flavor, or in this case, the spiciness mellows out. If you prefer a mild salsa, remove the seeds and membranes of your jalapenos and roast all of them.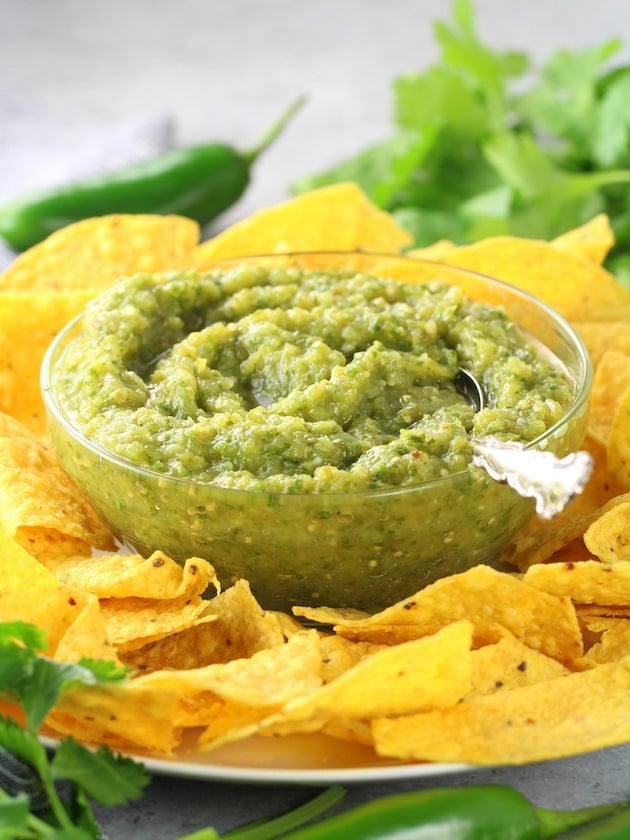 How to make salsa verde:
First, I preheated my oven to 400 degrees. Placed my onion, jalapeños and tomatillos onto a parchment lined baking sheet. I roasted them for about 15 minutes.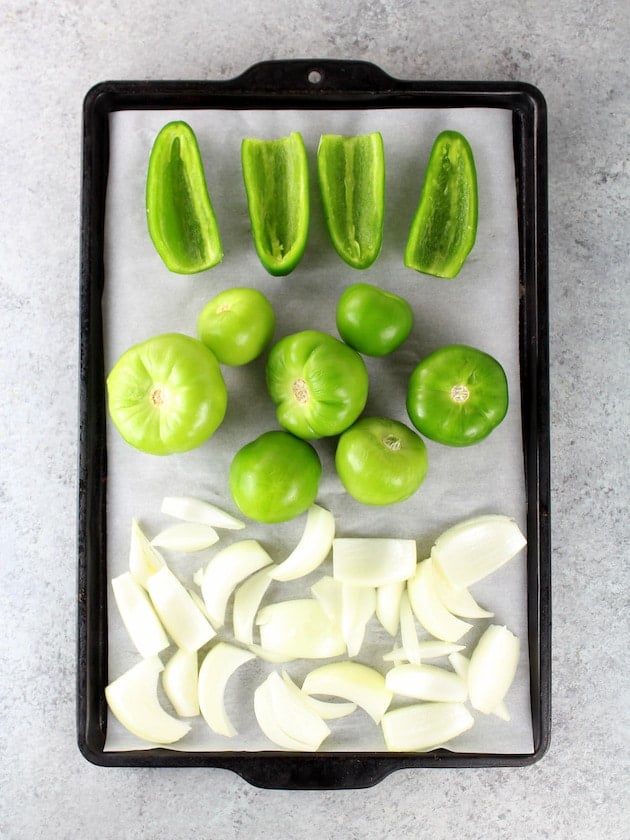 Next, I added the roasted veggies, fresh garlic, green onions, cilantro leaves, lime juice and 1 more raw jalapeño with the seeds left in, to a food processor and blended until smooth. I tasted my mixture and added a little salt and a bit more lime juice until it was to my liking.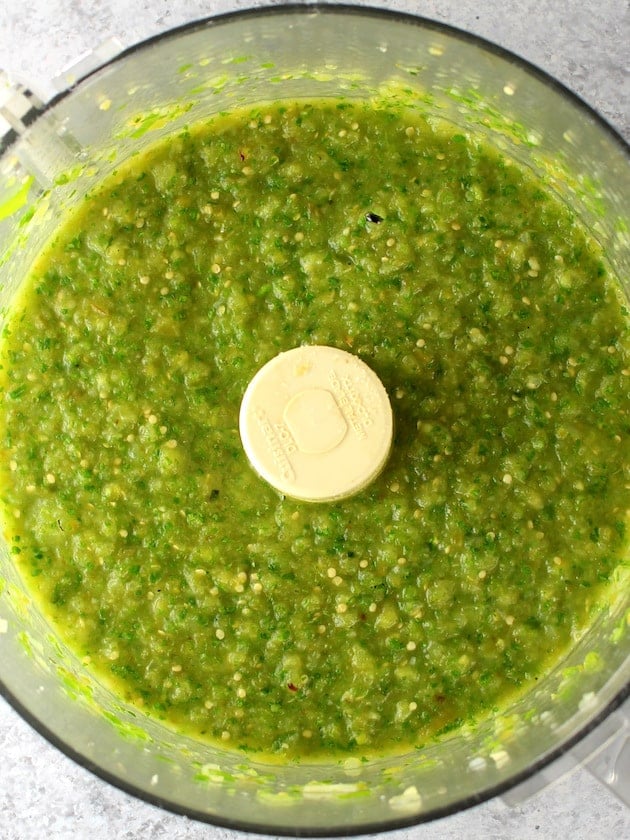 There's nothing like homemade salsa verde… it's so easy, so fresh and so delicious!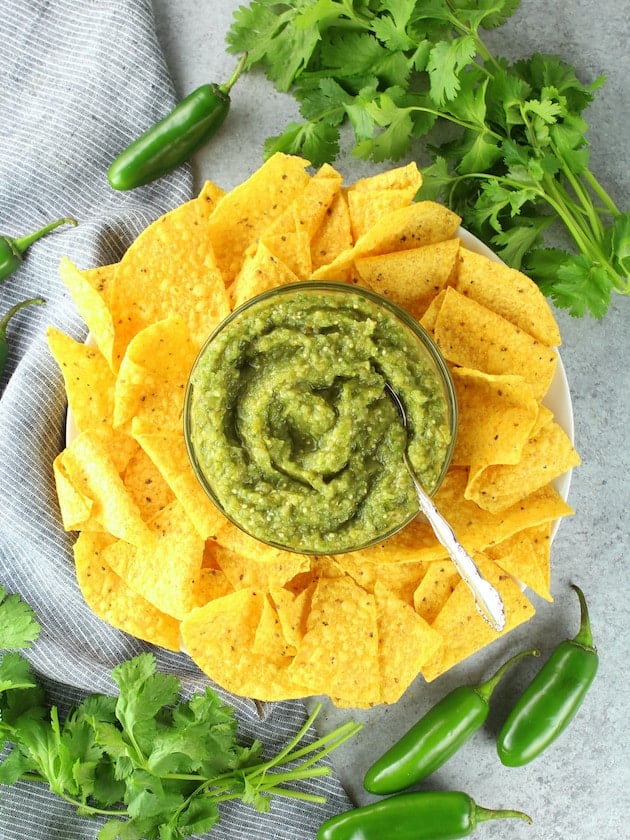 It's really a nice change from traditional salsa and so versatile. You can use it as a dip for corn chips, on tacos, tostada, in enchiladas or in soups like this Chicken Green Chili Verde Soup. I even put it on my eggs for breakfast – it's soo good my friend!
I would love to connect with you. Leave a comment or follow me on Instagram, Twitter, Facebook, and Pinterest!
Yield: 10 servings
Easy Homemade Salsa Verde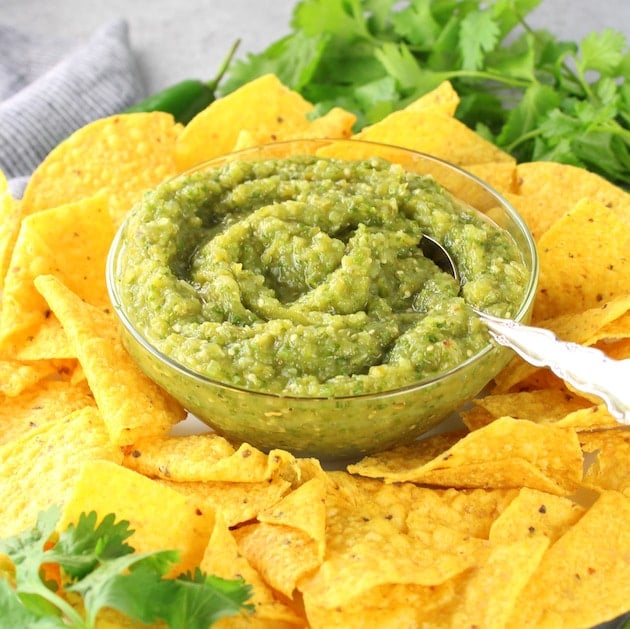 Homemade salsa verde is so easy, so fresh and so delicious! It's really a nice change from traditional salsa and so versatile!
Ingredients
1 pound tomatillos, husked and rinsed
2 jalapenos, stems, membranes and seeds removed
1 jalapeno (leave the seeds in for more heat)
1 small onion, rough chopped
3 green onions rough chopped
3 garlic cloves minced
1 cup cilantro leaves
¼ teaspoon Salt (or more to taste)
½ lime juiced (more to taste if desired)
Instructions
Preheat oven to 400F. On a parchment lined baking sheet, roast the tomatillos, 2 jalapenos (with seeds removed), and the onion for 15 minutes.
Add the roasted tomatillos, jalapeno peppers, and onion to a blender or food processor, along with the minced garlic, cilantro leaves, green onions, lime juice and 1 raw jalapeno pepper with seeds.
Pulse and blend and taste for heat level.
Add more salt and lime juice as preferred.
Serve immediately and store leftovers in an airtight container in the fridge.
Nutrition Information
Yield
10
Serving Size
4 ounces
Amount Per Serving
Calories

23
Unsaturated Fat

0g
Sodium

60mg
Carbohydrates

4g
Fiber

1g
Sugar

2g
PS: As a fellow lover of Mexican food, I feel obligated to recommend you try my shredded Mexican chicken, and these cheesy chicken enchiladas!