This is a sponsored post written by me on behalf of Cooked Perfect® Meatballs for WeConnect. All opinions are 100% mine. These slow cooker meatball chili sliders are easy, hearty and so delicious! Just add all your chili ingredients to the slow cooker – swap out ground beef for Cooked Perfect Meatballs - a few hours later voila… the tastiest appetizer to wow your crowd! Serve them in slit top buns, dinner rolls or straight up like crockpot chili in a bowl! Mmm, mmm!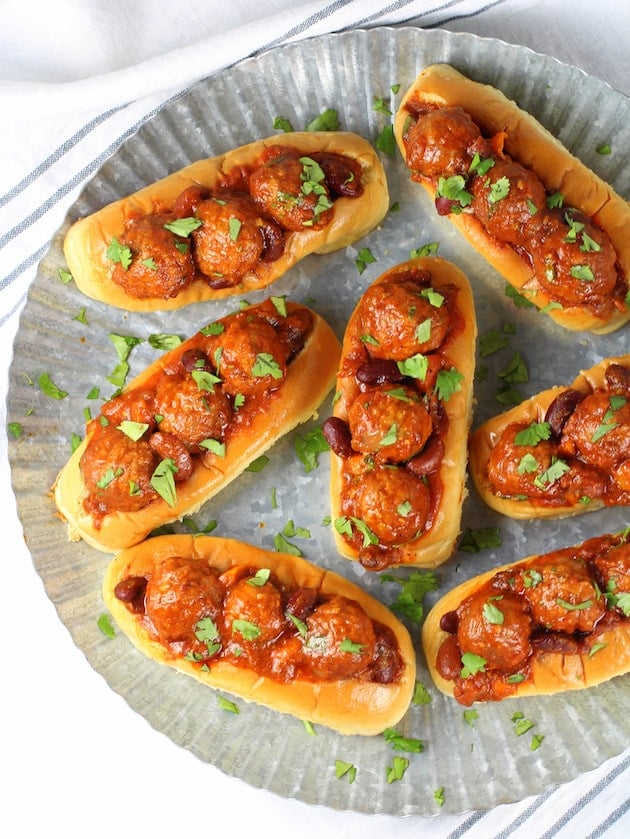 Have you ever heard of slow cooker meatball chili?? Me either… until now!
Isn't it brilliant!??
You're basically swapping out the ground meat for delightful little frozen meatballs!
Ahhh - just so amazing! And in the name of amazingness, I'm serving mine in these top slit buns and turning them into slow cooker chili meatball sliders!
The perfect recipe for some delicious and easy entertaining - don't you think!?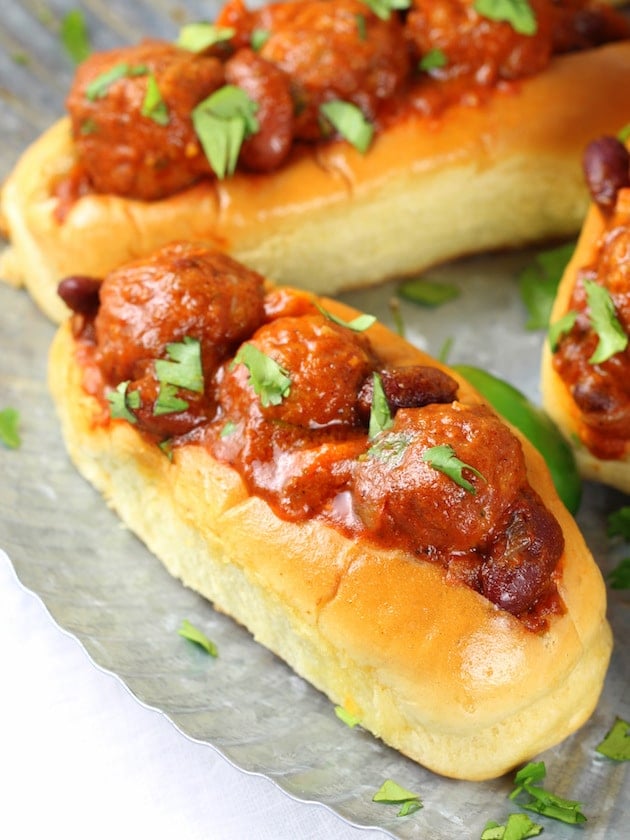 And isn't that what we all want… To create some tasty snacks and meals that don't require too much time or attention, so we can focus on being with all our people and joining in the fun?
I'll just go ahead and speak for you and me both with a big, YES!! I love to have people over whether it be to watch a game, celebrate a birthday, a holiday, or just life in general. And, I also love to actually spend time with my guests…
So, easy and effortless recipes are a must! Less time stressing out in the kitchen, and more time with the people we love = always winning!!
Which is one of the reasons I love these crockpot chili meatball sliders… they're easy, delicious and require virtually no effort at all.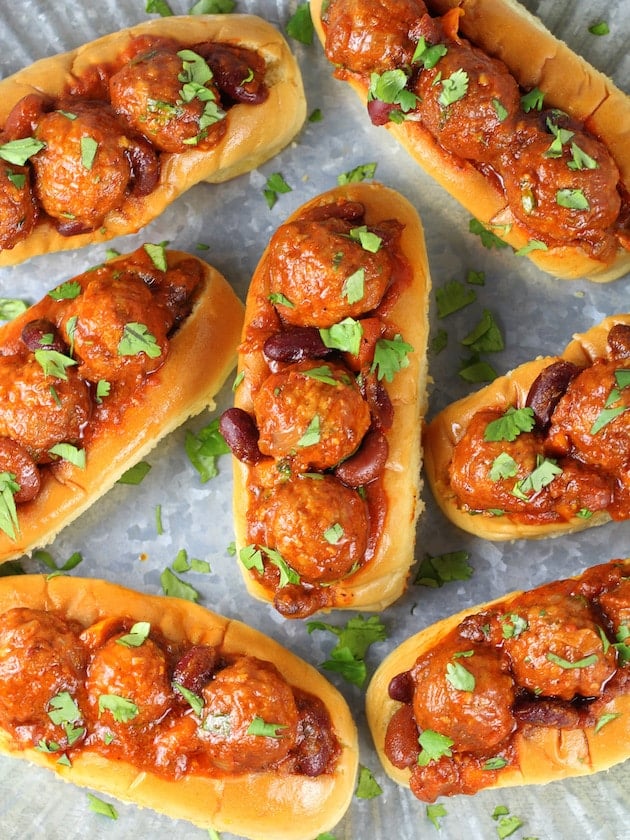 How to make crockpot meatballs in homemade chili:
Literally, you sauté some onions and garlic...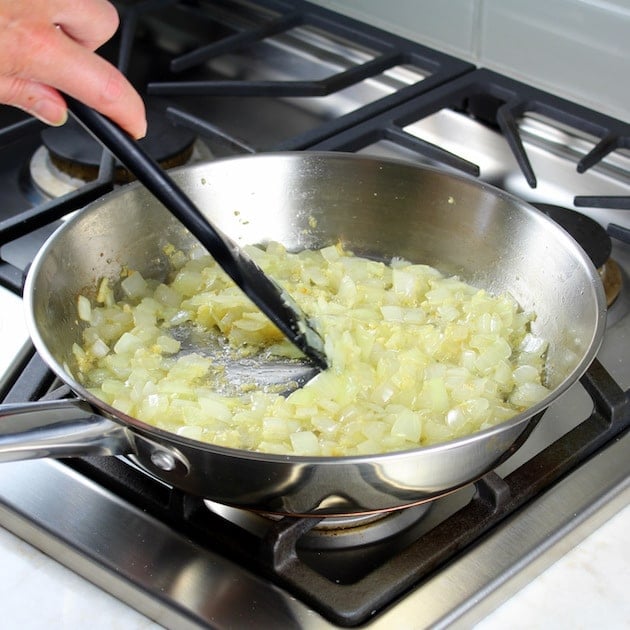 ... throw them in the crockpot.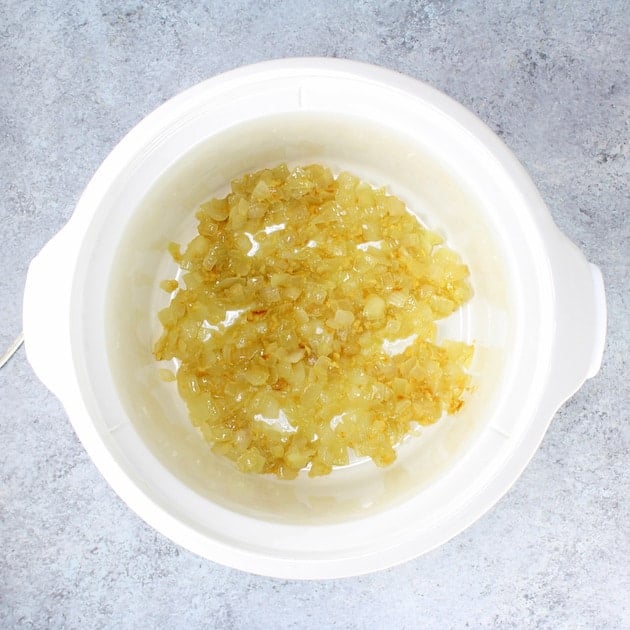 Add all chili powder and the rest of your chili seasonings, beef stock, tomatoes with green chilies, tomato sauce and give it a stir.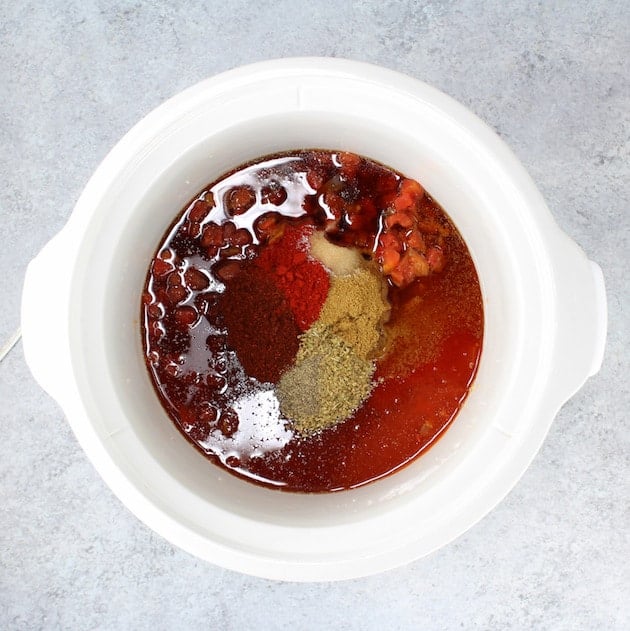 Add your chili beans, chopped sweet pepper and the Cooked Perfect Homestyle Frozen Meatballs in the crockpot...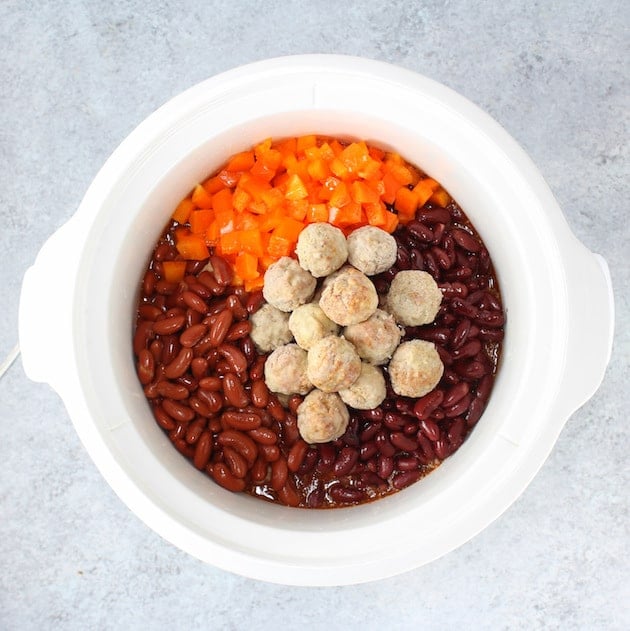 ... and mix it all together.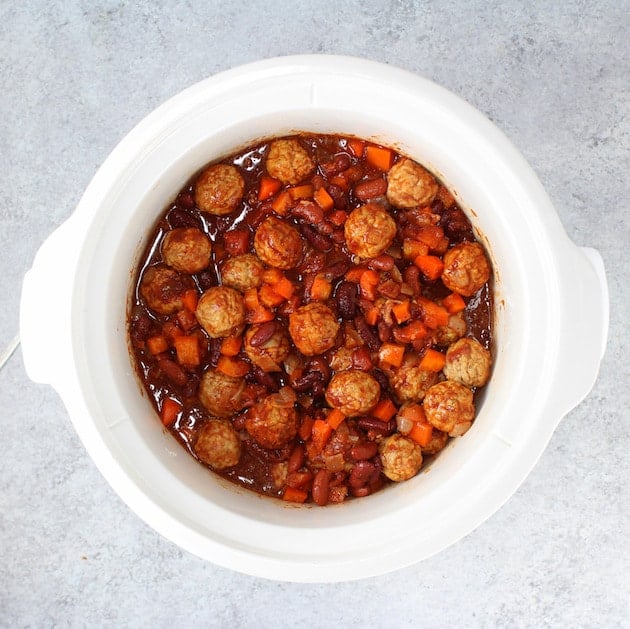 Set it on high and 3-4 hours later viola… a yummy crockpot chili recipe with tender and flavorful meatballs all ready to be devoured!
I'm not sure this crockpot meatball recipe could get any better… combining two crowd pleasing favorites into one amazingly delicious appetizer!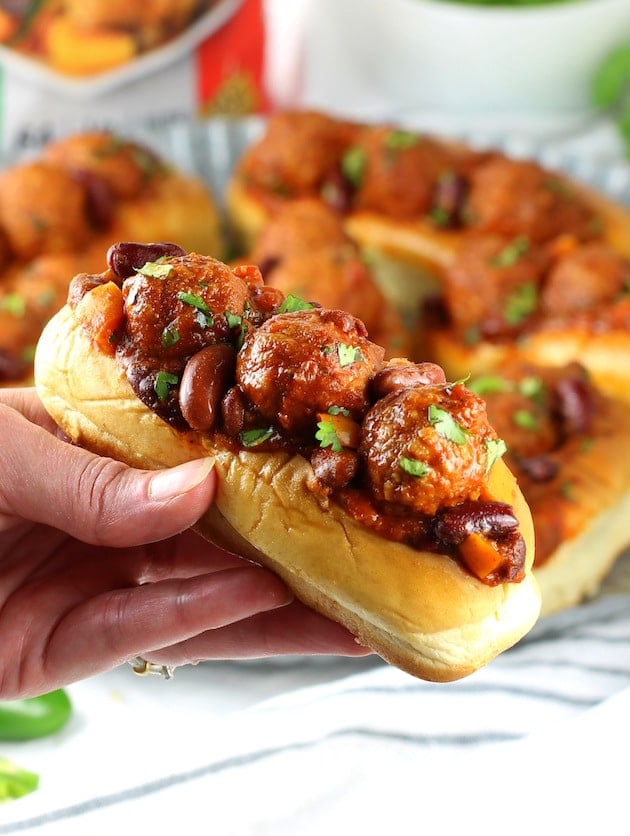 If you've tried Cooked Perfect Meatballs you know they are super flavorful, crafted using select meats, real cheeses, and aromatic herbs and spices then flame-broiled to sear in the flavor for a delicious tasting meatball. Mmm, drooling on myself a little bit just thinking about them.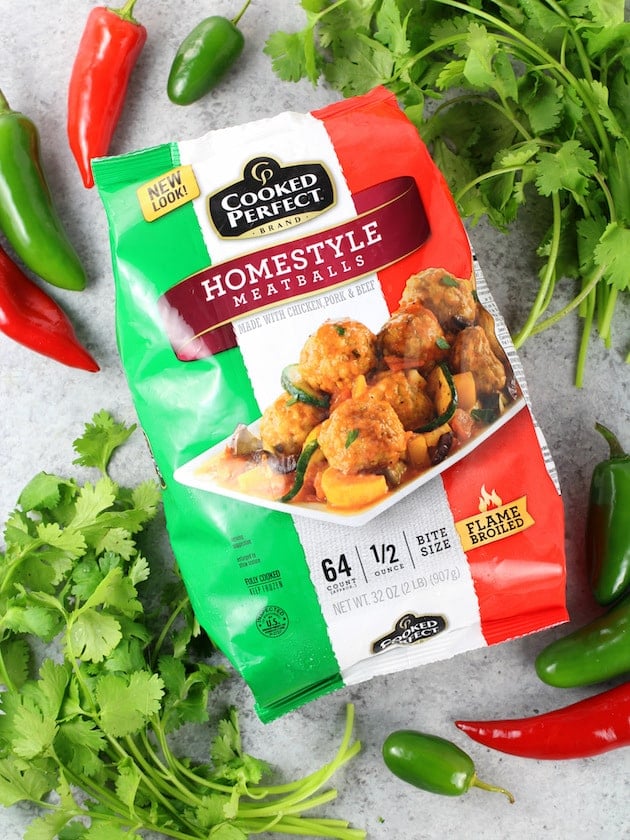 They are really tasty and I just love that they can go from freezer to crock pot to my belly with almost no work. You should know that Cooked Perfect Frozen Meatballs heat up just as well in the oven, microwave, or on the stovetop too.
You gotta love all those options my friend! Be sure to look for them next time you're at the local grocery store in the freezer aisle.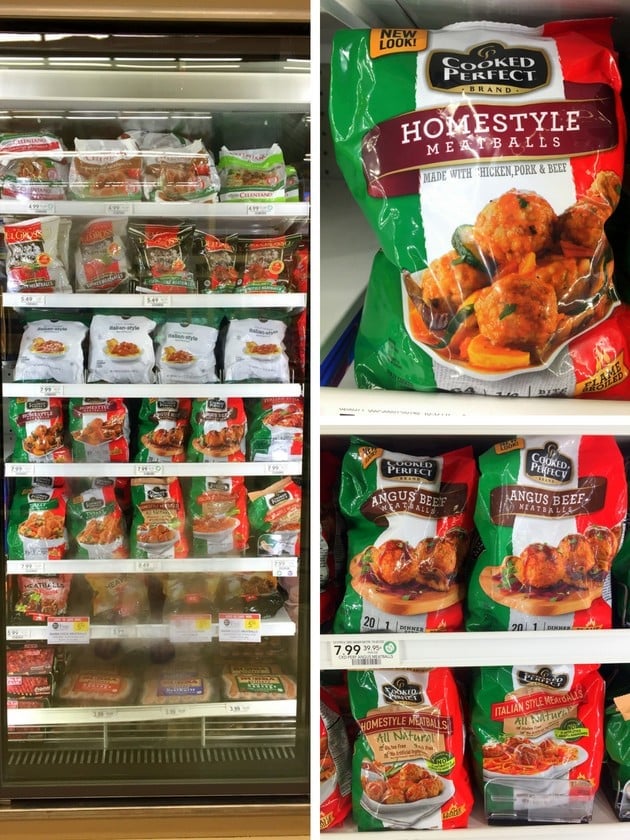 For these chili crockpot meatballs, I used the Homestyle Meatballs because they're a little smaller (½ ounce), and there are 64 meatballs in one bag. So, each meatball makes the perfect bite, with plenty of them for serving a crowd.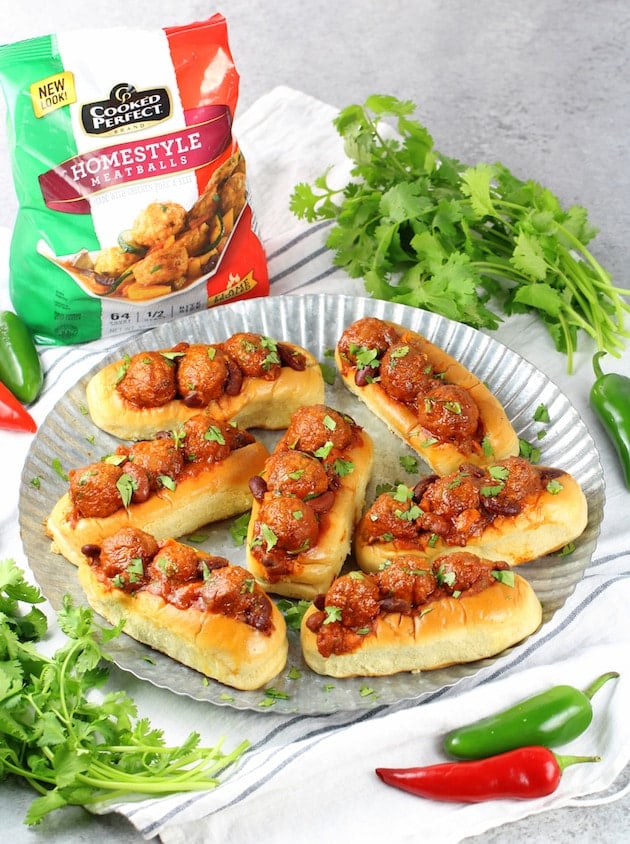 Cooked Perfect has many other meatball flavor options like their Italian Style Meatballs, Gluten Free Italian Style Meatballs, Turkey Meatballs, All Natural Chicken Meatballs, and even Angus Beef Meatballs that I used for these Mini Pizza Meatball Sliders – so good my friend!
With all these fantastic varieties, the possibilities are endless to come up with some easy and delicious entertaining ideas. And If you need more inspiration head on over to Cooked Perfect's website and browse more meatball recipes.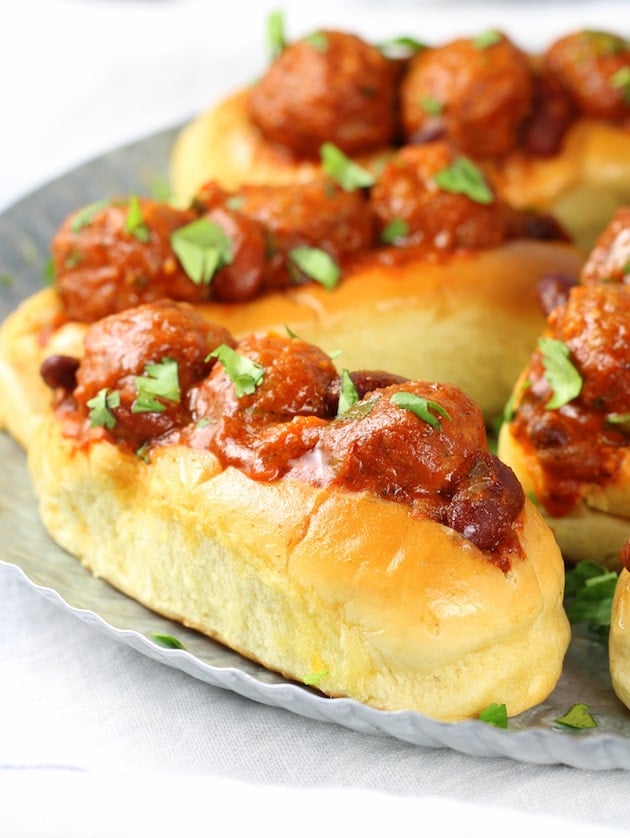 I can't wait for you to try these easy and delicious Slow Cooker Meatball Chili Sliders! They are the perfect appetizer for effortless entertaining!
Serve them in slit top buns, dinner rolls or straight up like easy chili in a bowl – regardless everyone will agree they are the meatball bomb!
Use this link to Find Cooked Perfect Meatballs near you... I used their homestyle flavor for this recipe but be sure to try their Italian and Angus Beef flavors too! And if you need more recipe inspiration... Browse more meatball recipes here.
I would love to connect with you! Follow me on Instagram, Twitter, Facebook, and Pinterest!
Yield: 21 servings
Slow Cooker Meatball Chili Sliders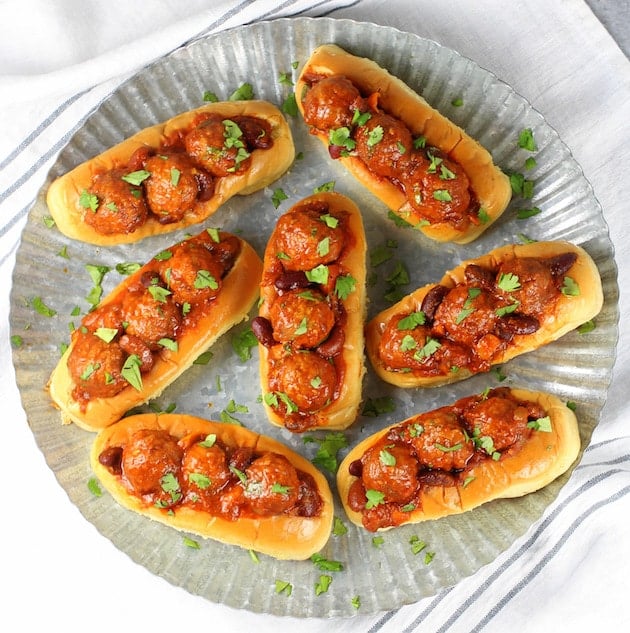 These slow cooker meatball chili sliders are easy, hearty and so delicious!
Total Time
4 hours
10 minutes
Ingredients
1 tablespoon olive oil
1 large onion, diced
4-5 minced garlic cloves
1 bag Cooked Perfect Homestyle Meatballs, (½ ounce size)
15 ounces canned tomato sauce
10 ounces canned diced tomatoes with chilies (mild, medium or hot to your preference)
1 cup beef stock
16 ounces dark kidney beans, drained
16 ounces light kidney beans, drained
1 large sweet pepper (yellow, orange or red)
1 tablespoon Mexican Oregano
3 tablespoons chili powder
2 teaspoons cumin
1 tablespoon smoked paprika
1 teaspoon salt
½ teaspoon pepper
Garnish with your favorite shredded cheese, sour cream, avocado, fresh tomatoes, green onions, and diced jalapenos.
21 small sized hot dog buns
Instructions
Sauté the onion and garlic in olive oil for 5-6 minutes in a pan on the stove top, then add to the crockpot.
Add the chili powder, cumin, smoked paprika, oregano, salt and pepper, tomato sauce, beef stock and tomatoes with chilies and stir.
Next, add the light and dark kidney beans, chopped sweet pepper and the Cooked Perfect Homestyle frozen meatballs in crockpot and mix it all together.
Set the slow cooker on high and cook for 3-4 hours (or on low for 6-7 hours) stirring a few times if possible. Serve meatball chili over top slit buns, dinner rolls or by the bowl with toppings.
Notes
I only needed to cook mine on high for 3 hours and my meatballs temped at 165 degrees, but I know all slow cookers do not heat the same.
Nutrition Information
Yield
21
Serving Size
1 slider
Amount Per Serving
Calories

237
Total Fat

3g
Unsaturated Fat

0g
Sodium

369mg
Carbohydrates

41g
Fiber

6g
Sugar

3g
Protein

11g