Dear Radishes,
I'm writing to apologize for neglecting you for too long. All this time when preparing a salad I didn't give you much consideration. I always admired you and your bright red coat from afar but never really got to know you. Grilled radishes or pickled radishes never crossed my mind...
Until now.

You were on the list of veggies to be grown as a late summer crop in New England… so I followed suit. I tucked you in the garden right next to your distant cousin Arugula. And to my surprise you flourished… and thrived… and I became the proud parent of beautiful, bountiful, zesty, crisp and oh, so fresh radishes.

Not just any radishes – oh no – you were large and in charge… as big as an apple and just as delicious in your own right. So now I'm doing what any proud gardener parent would… giving you lots of attention, showing you off to all my friends and promoting all your strengths on social media! Of course!

Here are a few fun facts about these cute kids:
They are a low-cal snack; one cup of sliced radishes has less than 20 calories.
Because of their high vitamin C content and natural cleansing effects, they can help prevent viral infections.
Radishes also have a natural cleansing effect on the digestive system and can help relieve bloating and indigestion.
They grow really fast – from seed to harvest in 30 days.
Radishes are delicious and nutritious – and can be eaten raw or cooked. Here are a few recipes I've made recently that might inspire you give them a try!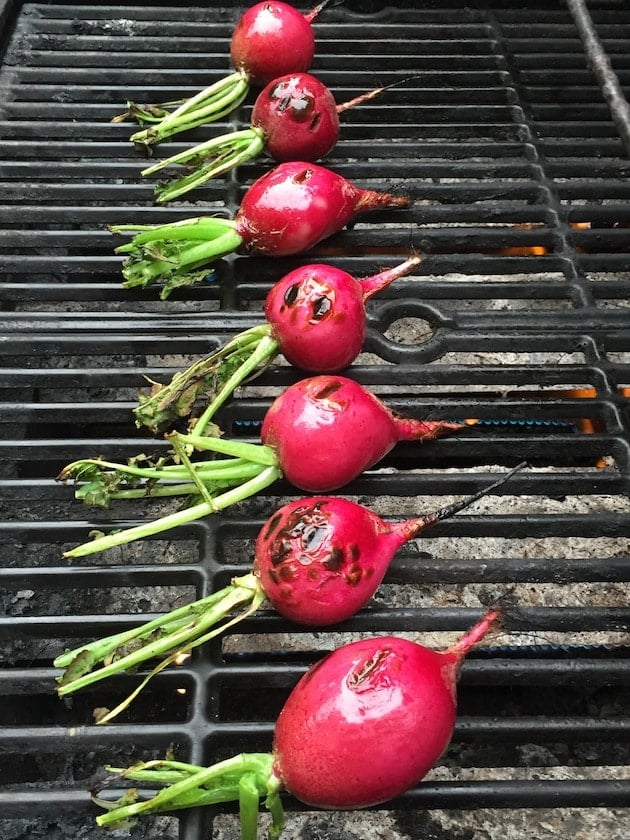 Yield: 15 Servings
Charred Farm Radishes with Greek Yogurt Crema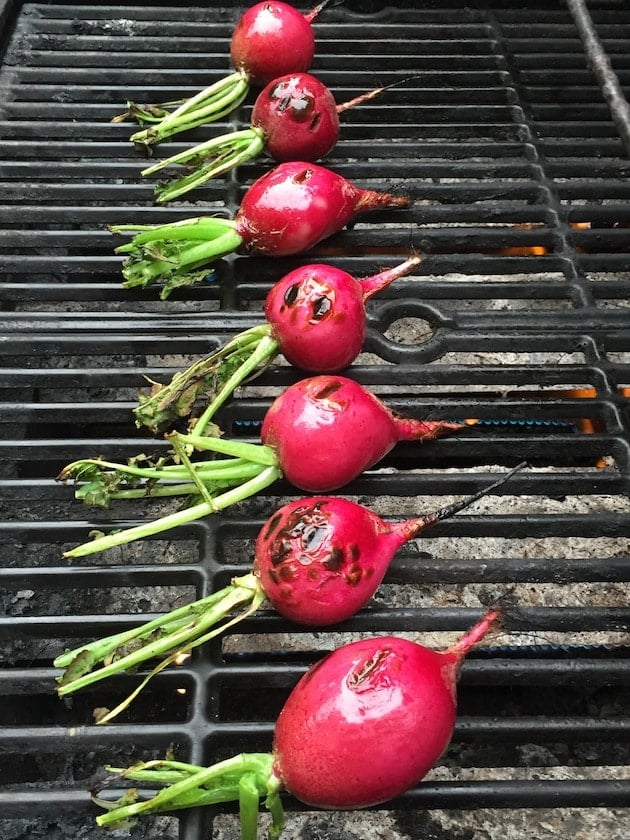 Grilled radishes with perfect Greek yogurt Crema to balance them out!
Ingredients
1 cup fresh goat cheese, softened
½ cup plain whole milk whole milk Greek yogurt
Juice and finely grated zest of 1 lemon
½ teaspoon Dijon mustard
¼ teaspoon ground cumin
¼ teaspoon ground coriander
Kosher salt and freshly ground black pepper
1 pound radishes, trimmed, or greens left intact if still young and tender
2 Tablespoons extra-virgin olive oil; more for drizzling
Instructions
Combine the goat cheese, yogurt, lemon juice and zest, mustard, cumin, coriander, ½ tsp. salt, and ¼ tsp. pepper in a medium bowl. Mix until smooth, season to taste with salt and pepper, and set aside.
Prepare a medium-high gas or charcoal fire. In a large bowl, toss the radishes with the oil. Grill on a perforated grill pan, turning occasionally until lightly charred, still crisp but slightly tender, about 5 minutes.
Spread the yogurt mixture on a platter and top with the radishes. Drizzle with additional oil, and season with salt and pepper.
Notes
The crema is also good served with fresh radishes or other vegetables.
Nutrition Information
Yield
15
Serving Size
3 radishes with crema
Amount Per Serving
Calories

10
Unsaturated Fat

0g
Yield: 20 servings
Ginger Pickled Radishes
Easy ginger pickled radishes
Total Time
12 hours
10 minutes
Ingredients
1 bunch red radishes (about 10), trimmed and cut lengthwise into wedges
1 tablespoon kosher salt
¼ cup rice vinegar, not seasoned
3-4 tablespoons sugar
1 tablespoon very thin matchsticks of peeled ginger
Instructions
Quarter radishes lengthwise into wedges. Transfer to a large bowl and toss with salt. Let stand at room temperature, stirring occasionally, for 1 hour.
Drain in a colander (do not rinse) and return to bowl.
Heat vinegar, sugar, and ginger in a saucepan over medium-low heat, stirring, until sugar has dissolved. Let mixture cool to room temperature.
Add radish wedges and transfer to an airtight container and chill, covered, shaking once or twice, at least 12 hours more (to allow flavors to develop).
Notes
Never use aluminum bowls or utensils when pickling; the acid reacts to the metal.
Beware…The aroma released when the container is opened is sulfurous and strong.  Once you get past the initial smell they are addictive.
Pickled radishes can be chilled up to 3 weeks.
Nutrition Information
Yield
20
Serving Size
4 ounces
Amount Per Serving
Calories

10
Unsaturated Fat

0g