This is a sponsored post written by me on behalf of Riondo Prosecco for WeConnect. All opinions are 100% mine.
The Watermelon Lemonade Prosecco Spritzer… aka summer in a glass! This fizzy fruity concoction is the ideal summer libation. With pureed watermelon, freshly squeezed lemon juice, lemon liqueur and Italy's favorite Prosecco – Riondo.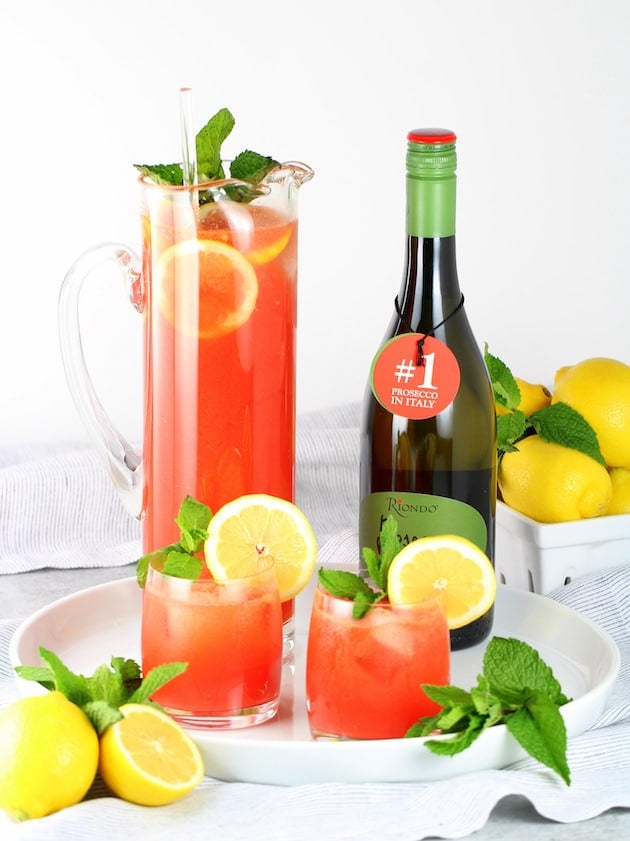 This delicious sparkling cocktail is low in alcohol and relatively hydrating, making it a brilliant choice for an al fresco brunch or just an evening of backyard barbecuing.
Most likely you've heard the term wine spritzer or spritz before. Today's fruity infusion is a take on the original Spritz cocktail, which typically consists of a combination of prosecco and some bitter fruity liqueur, topped off with sparkling mineral water, served over ice in a lowball glass (or sometimes a martini glass or wine glass) and garnished with a slice of orange (and sometimes an olive, depending on the liqueur).
I love how light and fresh it is… truly the epitome of easy summer drinking.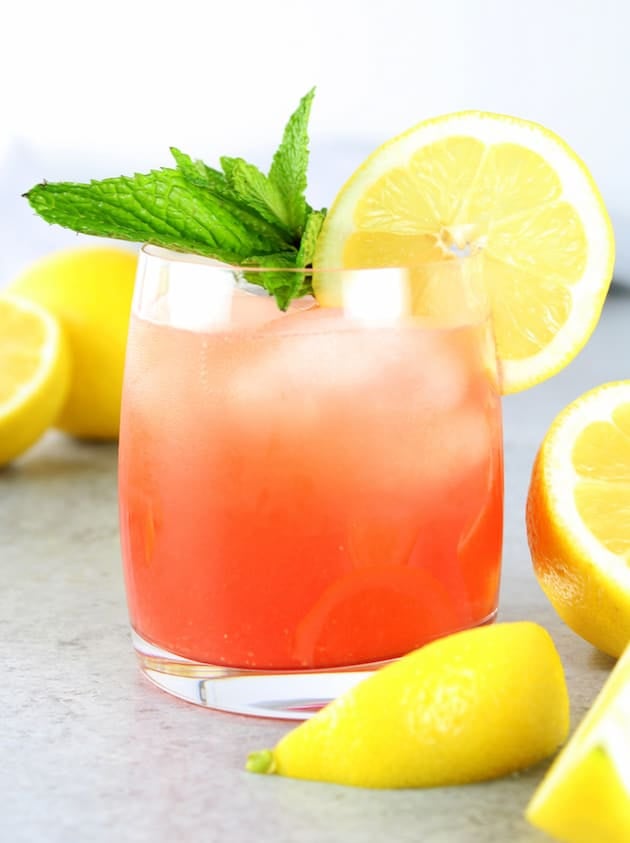 You can create a delicious spritzer from wine as well as prosecco. But I'm all about those Italian bubbles, so prosecco is always my first choice.
This iconic bubbly has long been the favorite "fizzy" of Italians everywhere… and eventually the US of A caught on. Prosecco is now the most sold bubbly wine in America – and why not? It's effervescent, tasty, light, and easy on the wallet. So it's no surprise that we've made a national holiday for Prosecco (August 13th) and declared Riondo Prosecco as the official prosecco of National Prosecco Day!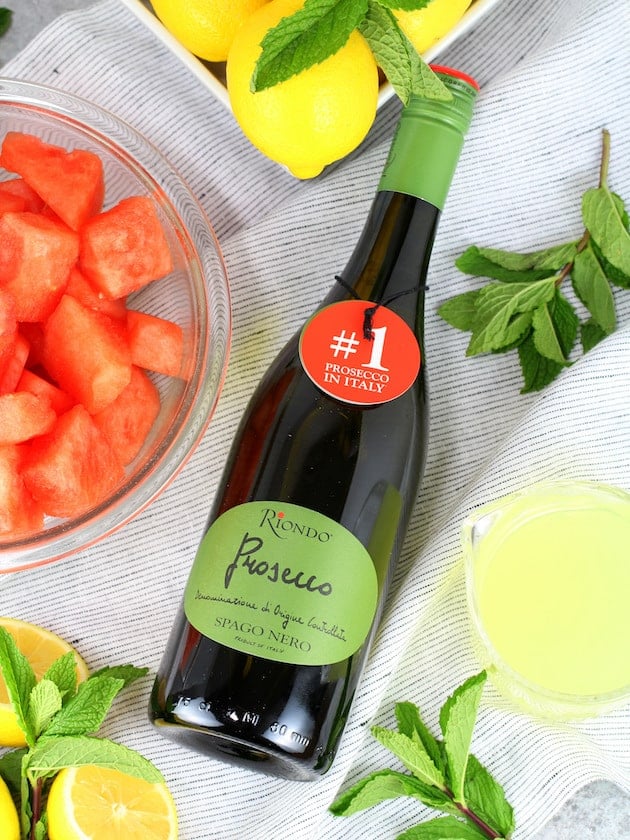 It just dawned on me you may be wondering "What is prosecco?" or "How is prosecco different than Champagne?" I love that you're so inquisitive! Here are some interesting details on this bubbly that you can use to impress your friends at your next get together.
The difference between Champagne and prosecco:
Prosecco is a white sparkling wine from Italy. Like Champagne, the name Prosecco refers to a specific region and grape – in this case, glera grapes grown in the north-east Veneto region of Italy. By comparison, Champagne is only produced in France's Champagne region.
Most proseccos are sparkling, but some versions are made in semi-sparkling or still versions (check the label!).
Champagne must be refermented in the bottle, whereas prosecco is generally made by refermenting the wine in steel tanks. This is called the "Charmat method" or the "Italian method."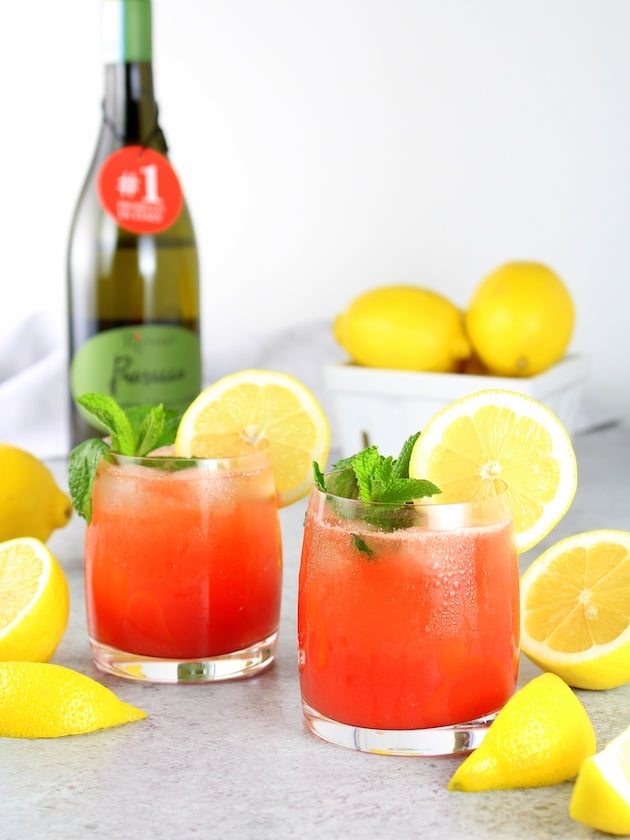 What makes prosecco so popular?
Prosecco wine is made in four different levels of sweetness: Brut, Extra Dry, Dry or Demi-Sec (Brut is the driest and Demi-Sec is the sweetest).
Prosecco sparkling wine usually has aromas and flavors of white spring flowers, citrus fruits, green apples and pears.
Although it's very popular in "before-dinner" drinks, Prosecco is very versatile! The brut versions can even be paired with pizza or seafood pasta.
Prosecco should be enjoyed young and fresh. It's perfect for all occasions, and it's ideal for everyday enjoyment!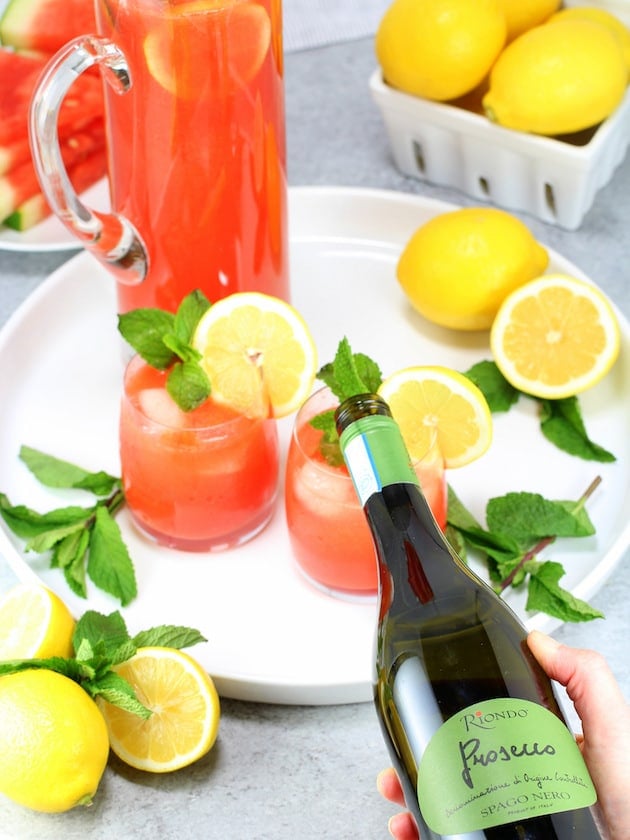 And if you want to enjoy Italy's #1 authentic Italian sparkling wine, be sure to grab a bottle (or a case!) of Riondo Prosecco. Reasonably priced, this sparkling wine embodies the easy-living Italian lifestyle without breaking the bank.
Riondo boasts fresh aromas of Golden Delicious apples, pears, and acacia blossoms… complemented by refreshing effervescence and a crisp, clean finish. This delicate and fruity prosecco is the perfect choice to sip all by itself, and it's great in the classic bellini, but why not try out some fun new Riondo Prosecco Cocktails… like our Watermelon Lemonade Prosecco Spritzer!!?!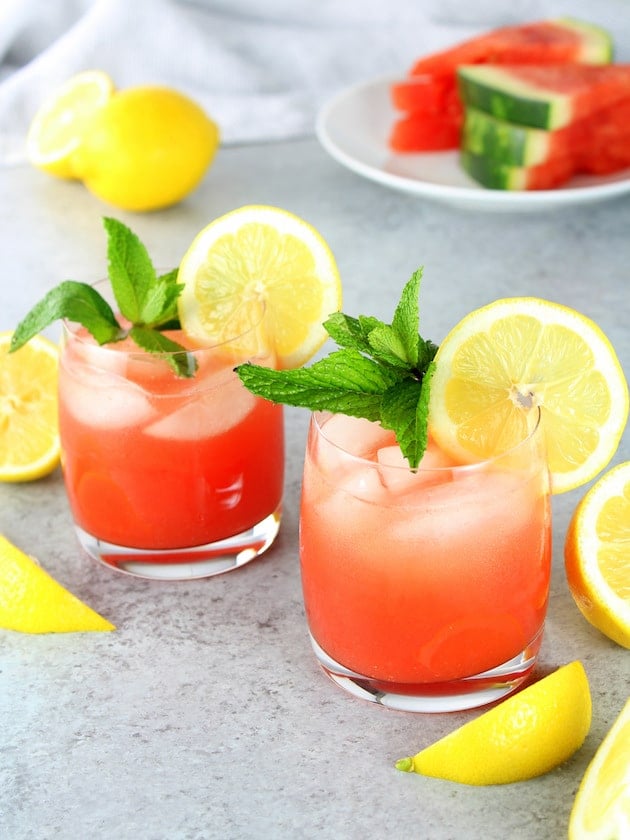 The Watermelon Lemon Prosecco Spritzer!
This watermelon lemon cocktail is perfectly balanced and seriously refreshing. Plus, it's super-easy to mix up a batch, which makes it the perfect cocktail for summer entertaining. Yes, this thirst-quenching sparkling wine spritzer will definitely keep you and your crew "cool by the pool" all summer long.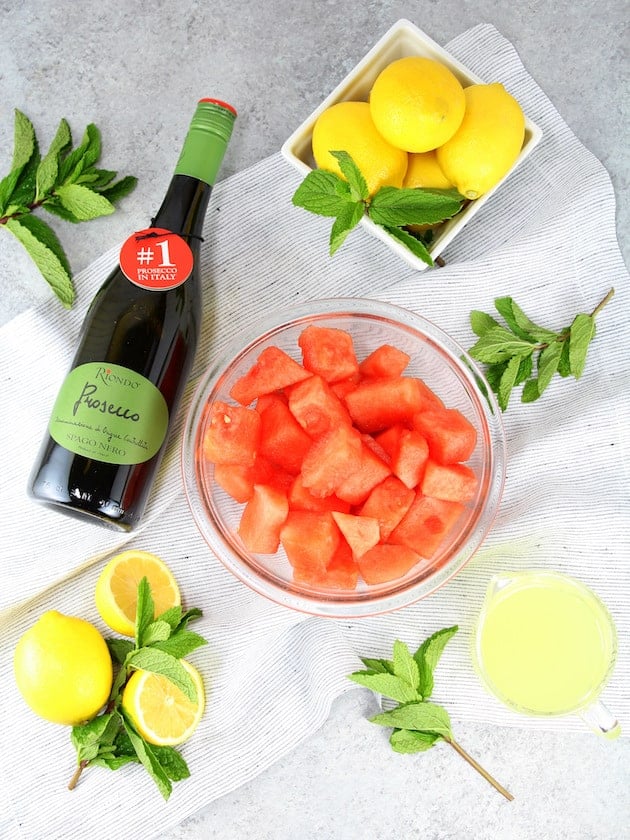 All you need is… 4 cups of fresh watermelon (juiced and strained), one cup of lemon liqueur, 4 lemons (juiced), and a bottle of Riondo Prosecco (conveniently fashioned with an easy twist-off top). You can either mix the first 3 ingredients together, then add your prosecco and pour into individual glasses over ice, or just add the fruity liquid to each glass and then finish them with prosecco.
Pro tip #1 (and my preference): Always add your prosecco last so your bubbles stay bubbly.
Pro tip #2: Swap out regular ice cubes for watermelon ice cubes. Just freeze square cubes or melon ball scoops of watermelon in a single layer freezer bag for 3-4 hours before you need them!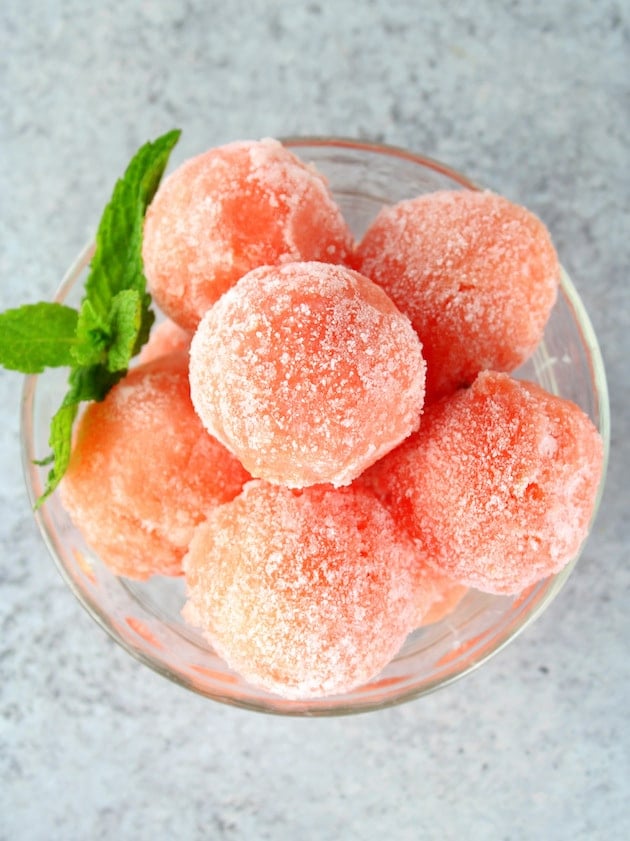 This pretty and pink sparkler is not only gorgeous but she's absolutely the best fizzy fruity infusion of flavor everrr!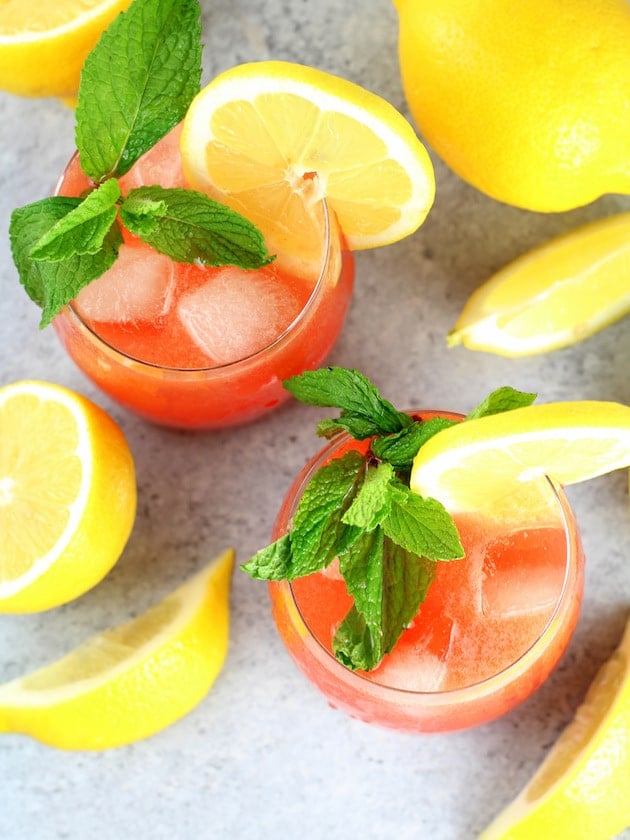 Watermelon Lemonade Prosecco Spritzer – fresh, easy and the perfect way to celebrate summer. National Prosecco Day is Monday, August 13. Be sure to celebrate with Riondo Prosecco - it's the official prosecco of National Prosecco Day!
I would love to connect with you! Leave a comment and follow me on Instagram,Twitter, Facebook, & Pinterest!
Yield: 12 servings
Watermelon Lemonade Prosecco Spritzer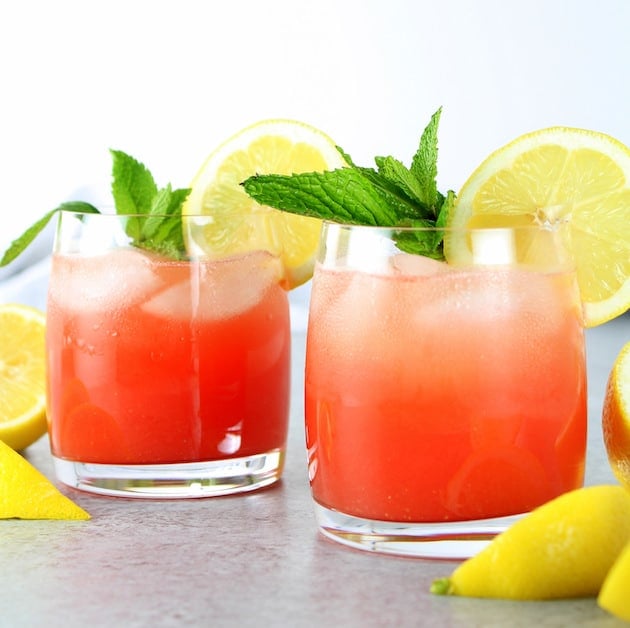 A wonderful and refreshing summer spritzer with watermelon, lemon, and prosecco!
Ingredients
4 cups of fresh watermelon juice, *See Note!
1 cup lemon liqueur
4 lemons, juiced
1 bottle of Riondo Prosecco
Instructions
Before juicing the watermelon, reserve one slice to use for garnishes.
Mix the first 3 ingredients together.
Pour over ice into tumbler ("Lowball") style glasses
Finish each glass with 2 ounces of Prosecco
Garnish with your choice of lemon twists or wheels and watermelon cubes or wedges!
Notes
For the watermelon: If you are buying a whole watermelon, you need a watermelon around 5.5 pounds.  After trimming the rind & juicing, this should produce about 48 ounces of liquid.  If you are buying chopped watermelon, you need around 3.5 pounds to produce 48 ounces of watermelon juice.  You can also buy watermelon juice already made for you! #easy
Before juicing the watermelon, reserve one slice to use for garnishes.
For an extra fun twist, replace the ice cubes with frozen watermelon balls or cubes… use an ice cream scooper to make melon scoops and freeze them for at least 4 hours prior to serving.
Nutrition Information
Yield
12
Serving Size
1 cocktail
Amount Per Serving
Calories

97
Unsaturated Fat

0g
Sodium

1mg
Carbohydrates

14g
Fiber

1g
Sugar

11g