This Chocolate Chip Zucchini Cake is so easy and bakes in half the time of traditional loaves. It's full of oats, chocolate chips, cinnamon, ginger and of course shredded zucchini - creating the best zucchini bread ever!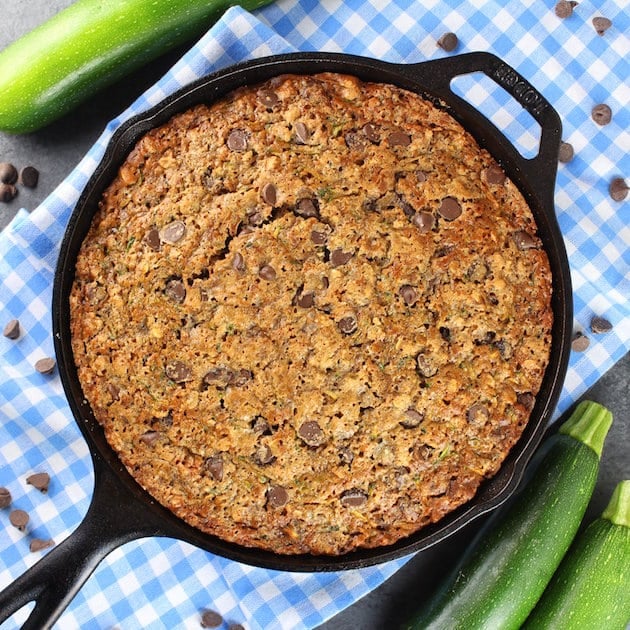 (This post contains affiliate links... read more here).
I love veggies.💚 And as strange as this might seem I'd rather eat a big ole' yummy salad or some sautéed garlic spinach than a piece of cake. I know – so strange – right?🙃 I blame it on my parents. 😁💕
But the B man, now he's quite the opposite. He would probably eat an old shoe if it was covered in dark chocolate. Ok so maybe not, but the guy can put away some dessert.👌 And if it's chocolate – get out the way.💯 Not kidding.
If I make a batch of cookies or chocolate cake – he'll eat almost the whole thing BY HIMSELF.😳 I literally may have 3 cookies or one piece of cake total and the rest is all him. What can I say - the guys got dessert-eating skills for days.😂 But don't worry – he eats his veggies too.👍
You know like when I make Chocolate Chip Zucchini bread. LOL But for real – there are 2½ cups of shredded veggies in there! You gotta celebrate the wins, people.✌️
Healthy Zucchini Bread??
This Zucchini Cake is absolutely winning on so many fronts - most notably all those zucchini benefits: it's full of vitamin C and super moist from the zucchini, hearty and substantial from the oats, warm and spicy from the cinnamon and ginger, low in fat from swapping out some of the oil for Greek yogurt, and of course sweet and chocolatey from the brown sugar and those chocolate chips. Mmm.😋 Just delicious... and healthier than ever.
For my normal zucchini bread recipe, I usually bake it in a loaf pan but decided "why not try it in a cast iron skillet
?" 🤔
I love using cast iron for several reasons, but one of the added benefits of baking this bread in a round flat pan is that it cooks in almost half the time as a traditional loaf pan.🙌 Whaa??? Yep – for real my friend.
And as you can imagine that is just music to my dessert-loving hubby's ears! Dessert in his belly quicker = always winning!🏆 You know #dessertgoals!
In case you were wondering about those benefits of cooking with cast iron that I mentioned – here you go:
A well seasoned cast iron pan is virtually non-stick. Which means you don't need to add nearly as much oil when frying those eggs or searing those chicken thighs.
There are no harsh chemicals to be found - unlike other nonstick pans. Here's a little more info on the topic from our friends over at eatingwell.com… "The repellent coating that keeps food from sticking to nonstick pots and pans contains PFCs (perfluorocarbons), a chemical that's linked to liver damage, cancer, developmental problems and, according to one 2011 study in the Journal of Clinical Endocrinology & Metabolism, early menopause. PFCs get released—and inhaled—from nonstick pans in the form of fumes when pans are heated on high heat"
And while cast iron doesn't give off harsh chemicals it does give off a very important mineral our bodies need – you guessed it… iron!
These pans are great for so many things like Breakfast Skillets, Smoky Chicken Chili, Sun-Dried Tomato Chorizo Garlic Shrimp, and even cast iron skillet desserts like this Triple Berry Blender Cake and now this Chocolate Chip Zucchini Cake.
Woohoo! Three cheers for cast iron pans
!!👏👏👏
And if for some reason you haven't gotten on the cast iron train quite yet, no worries! This recipe for zucchini bread works in a round cake pan as well. That way you're still reaping the benefits of this super yummy treat being baked in half the time. #stillwinning🎯
How to freeze zucchini:
One Pro Tip for you: if you're wondering "can you freeze zucchini?" ... of course you can! If you want to enjoy this yummy treat all year round, freezing zucchini is a super-easy process. Use a food processor to grate the zucchini, then drain the excess liquid, measure out 2 ½ cups per freezer bag, and you are all set. Be sure to lay the freezer bags flat while they are freezing so they take up less space.
I know your family is gonna enjoy this cake as much as we do… low in fat, loaded with zucchini, and brimming with sweet chocolaty goodness. Just so much to love!💕
Happy desserting my friend!!
I would love to connect with you! Leave a comment and follow me on Instagram, Twitter, Facebook, & Pinterest!
The Best Zucchini Bread Recipe!
Yield: 12 servings
Chocolate Chip Zucchini Skillet Cake
It's full of oats, chocolate chips, cinnamon, ginger and of course shredded zucchini
Ingredients
2 cups unbleached all-purpose flour, or all purpose gluten free flour
1 cup old-fashioned oats
½ cup packed light brown sugar
3 tablespoons granulated sugar
3 teaspoons ground cinnamon
1 teaspoon ground ginger
1 teaspoon baking soda
½ teaspoon baking powder
1 teaspoon salt
1 cup semi sweet chocolate chips, plus, 1 tablespoon for sprinkling on top
3 large eggs
¼ cup coconut oil
½ cup Greek yogurt
3 tablespoons almond milk or regular milk
3 teaspoons pure vanilla extract
2 ½ cups packed grated zucchini, about 2 small zucchini
1 tablespoon Turbinado sugar for sprinkling on top optional
Instructions
Preheat the oven to 350 degrees F. Use coconut oil to grease a 10 inch skillet (or grease and flour a 9 inch round baking pan).
Stir the flour, oats, brown sugar, granulated sugar, cinnamon, ginger, baking soda, baking powder, salt and 1 cup chocolate chips together in a large mixing bowl and set aside.
Whisk the eggs, coconut oil, Greek yogurt, milk, and vanilla together in a small bowl and pour into the dry mixture. Gently combine, then stir in the zucchini. Try not overwork the mixture.
Scrape the batter into the baking pan, sprinkle with the turbinado sugar and reserved chocolate chips, and bake for 40 minutes, until a toothpick inserted in the center comes out clean.
Cool in the pan for 15 minutes, then slice and enjoy.
Nutrition Information
Yield
12
Serving Size
1 piece
Amount Per Serving
Calories

296
Total Fat

9g
Saturated Fat

6g
Unsaturated Fat

0g
Cholesterol

43mg
Sodium

324mg
Carbohydrates

45g
Fiber

2g
Sugar

23g
Protein

6g
Looking For More Awesome Desserts?
Summer Blueberry Mascarpone Tart