(This post is sponsored by FitFluential on behalf of SUBWAY® restaurants. All opinions are my own.)
Happy New Year everyone! It's that time of year… you know: attending our last few holiday soirees, starting to put away all those Christmas decorations, finishing off those last few sugar cookies, and moving down the road to a healthier 2017. Woohoo! Let's all do some planks for fun.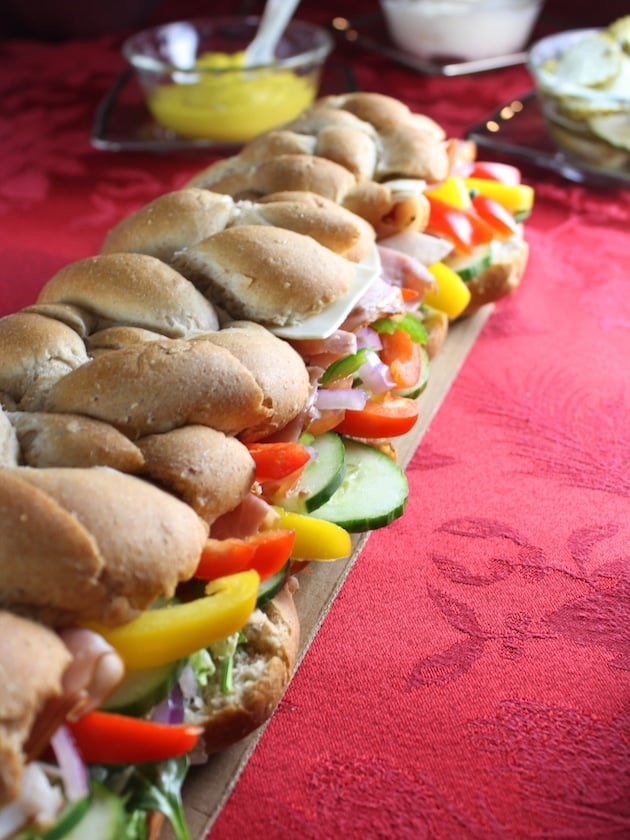 All kidding aside – I absolutely love a new year. It feels like a do-over. Like everything from last year is completely erased and I get a shiny new clean slate. It's the one time of year that we're all trying to be (or maybe just considering being) healthy. It's like the biggest best support group for healthfulness of all time.
Yeah yeah, I know it doesn't always last long but we're strong out of the gate on our healthy high. #2017goals #celeryandcarrotsticksforlife #kalenotcake and ps: #chocolateisstillavegetable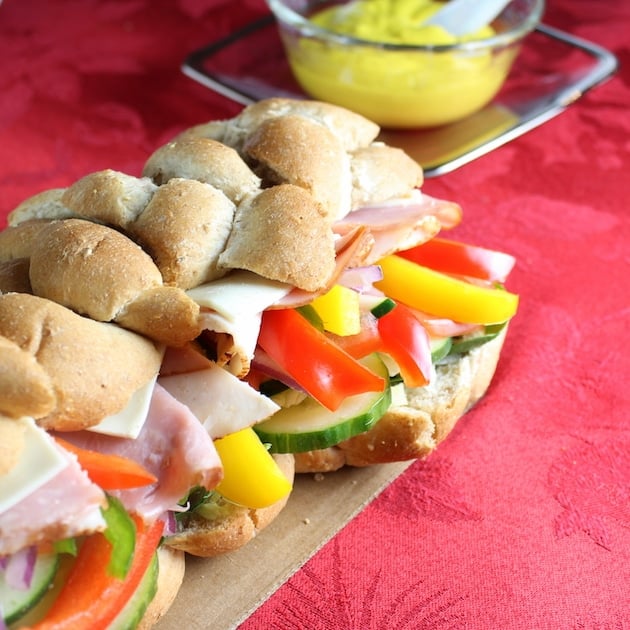 Maybe that's why I'm so excited to share "+color," an initiative launched in 2016 by SUBWAY® restaurants and the American Heart Association.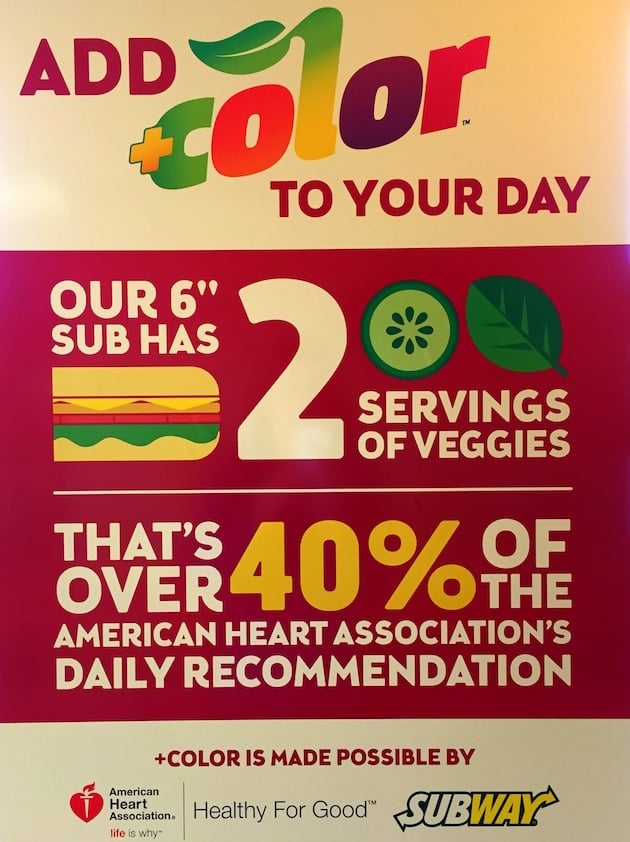 The idea is simple: to encourage Americans to add more fruits and vegetables ("color") to their diets…
The impact is truly stunning: the AHA estimates that if we ate the recommended amounts of fruit and vegetables every day, almost 40,000 deaths from cardiovascular diseases, stroke and diabetes could be prevented every year.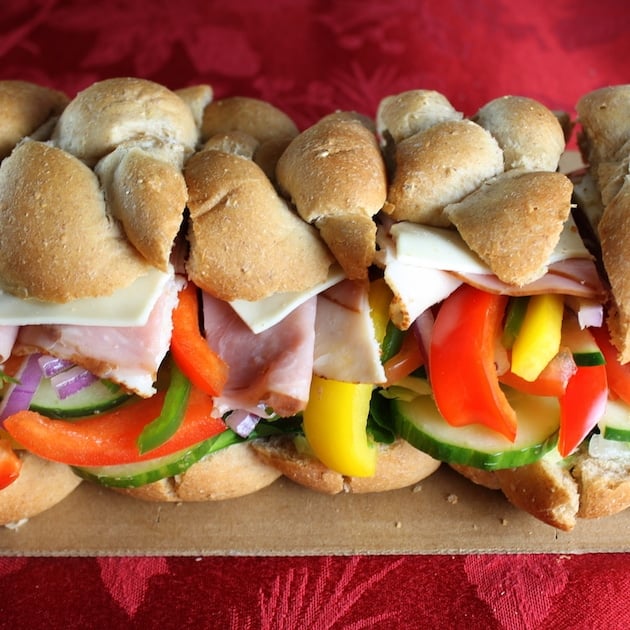 That's right friends, adding just one extra cup of color to your diet every day can help improve your health, dramatically. And SUBWAY has a bunch of options to help you do just that, with literally millions of handcrafted sandwich or salad combinations.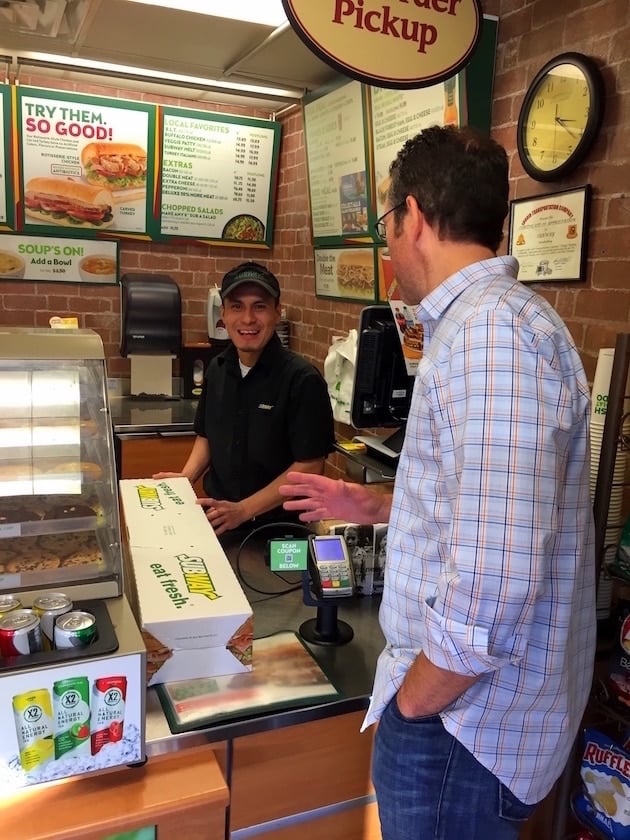 We are huge veggie fans and love adding healthy color to our plates whenever we can. Case in point, a few nights ago we hosted our annual Holiday party and decided to make SUBWAY's 3-foot colorful party sub our menu centerpiece.
Not only was it gorgeous, it was super delicious!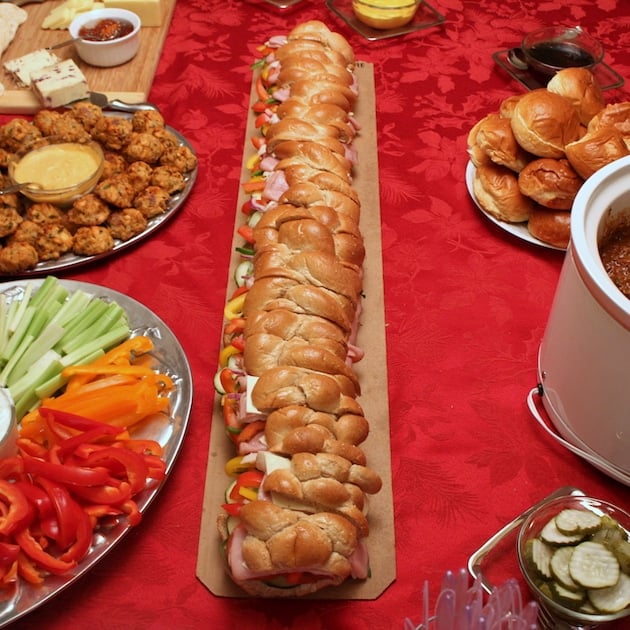 We went with the Turkey Breast and Black Forest Ham 9-Grain Wheat. It was so tasty and super fresh!
We added spinach, tomatoes, cucumbers, lettuce, red onions, green peppers and white American cheese to our masterpiece. And we opted for our condiments on the side so everyone could customize to their liking.
It was crispy, hearty and really filling. The perfect balanced meal all in one yummy sandwich.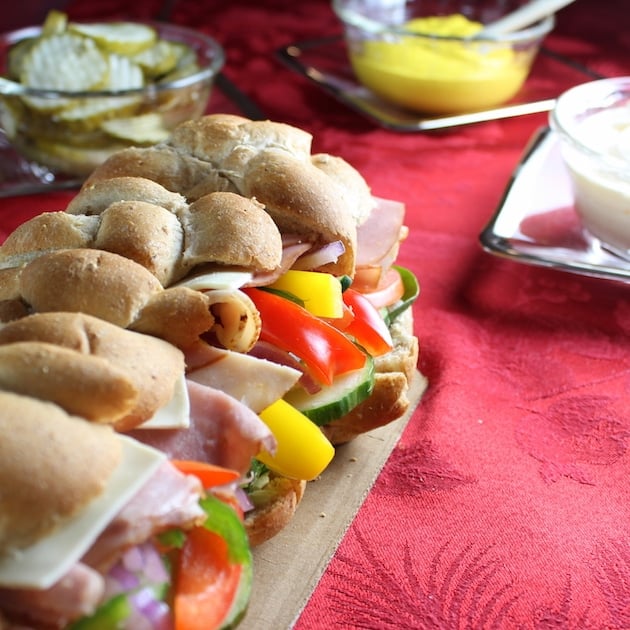 We added a few other appetizers to the party mix, like a veggie platter, salmon cakes, parmesan sweet potato fries, Asian sloppy joes, and baked brie with bacon and caramelized onions… But the 3-foot sub was truly the star of this show.
I loved offering something healthy and substantial for my guests and then supplementing with a few other appetizers. Not only was it a delectable spread, it made for a stress-free party for us hosts.
We spent less time stressing about the food and more time having fun with our crew. Did I mention we had a Gingerbread House-making contest!??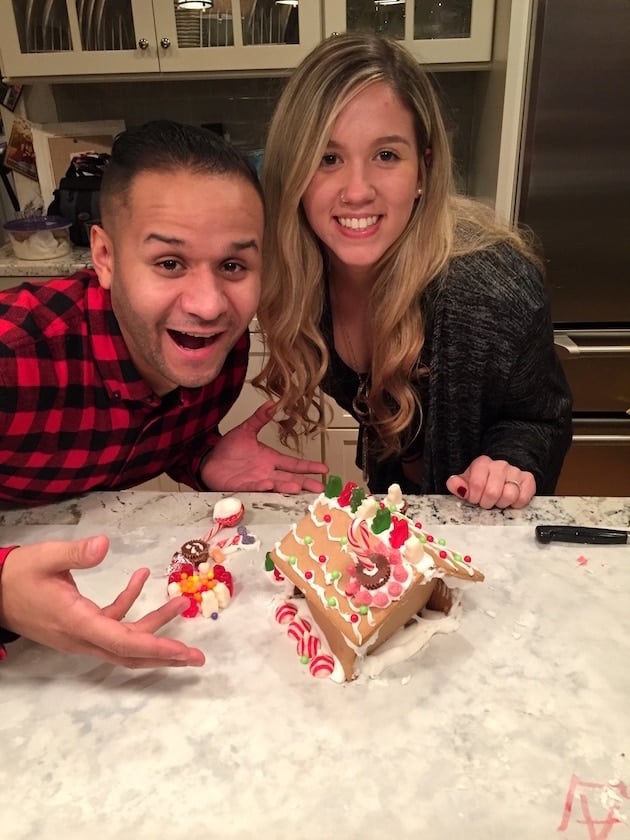 Crazy fun I tell ya!
Here's the winner's fab house – complete with an ice-skating rink (aka graveyard) and a fire pit! #overachievers
They're pretty fancy – right!?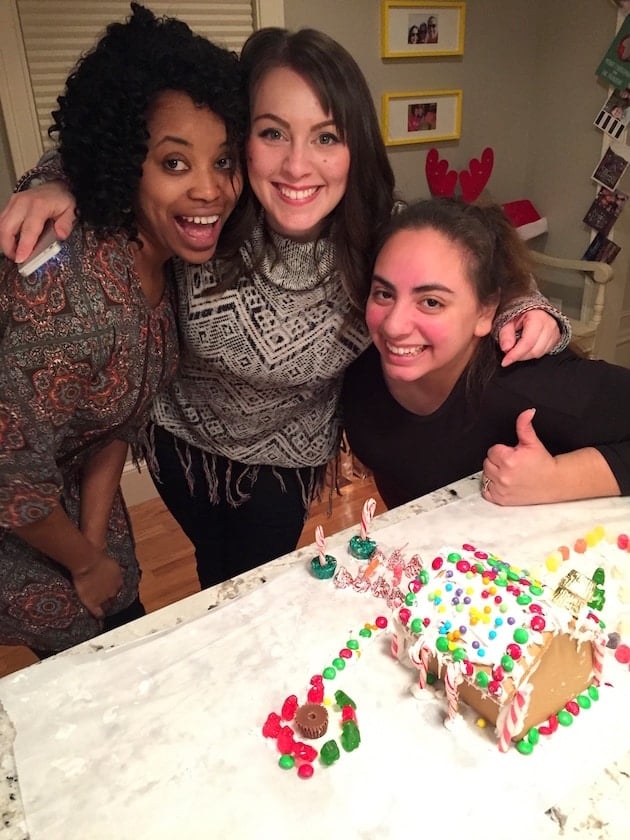 My team came in second place and I would just like to point out the structurally sound roof we crafted... and what about that candy cane door??? Quality construction, people.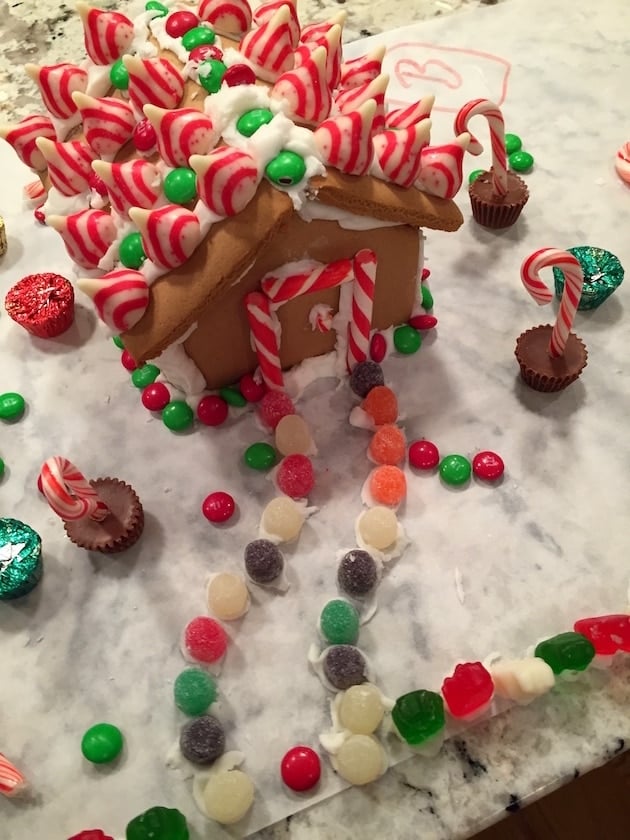 Did I mention one of my teammates works for a high-end siding/roofing company and the other has his degree in mechanical engineering? Seriously – how did we lose???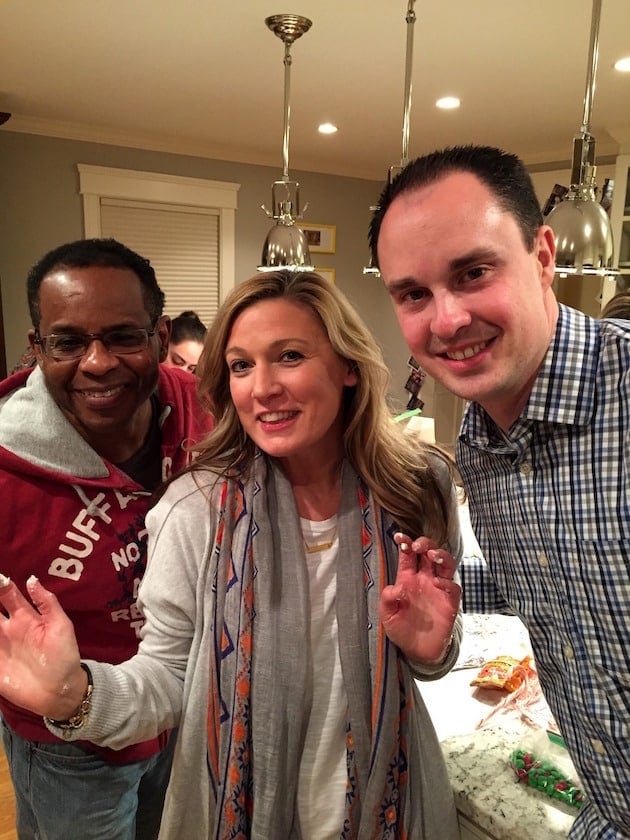 We were completely robbed people. I've already requested a rematch (along with new judges) – of course!
I was barely able to pull it together after our emotional loss. Don't judge – we're fierce competitors over at the Sander household. Somehow we persevered.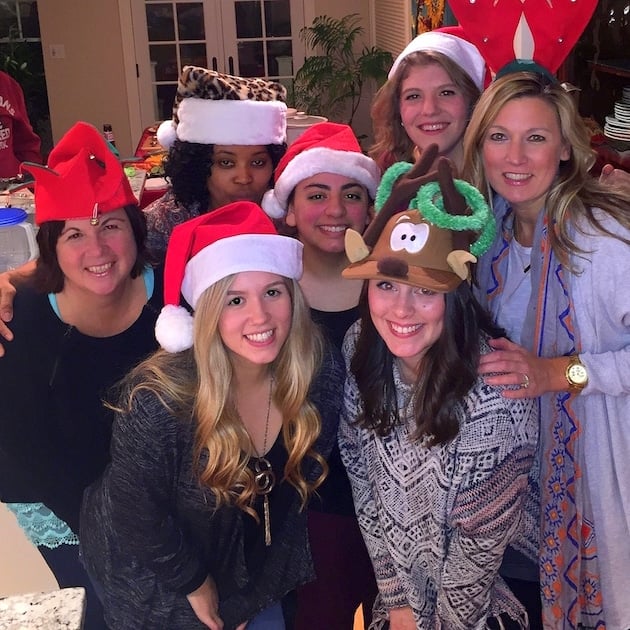 The rest of the evening was full of hot chocolate, yummy desserts, lively conversation and even more shenanigans during a very unscrupulous "Dirty Santa" gift swap.
And not to overstate the obvious here folks, but no one went away hungry thanks to all the yummy appetizers and the delightful colorful SUBWAY sub!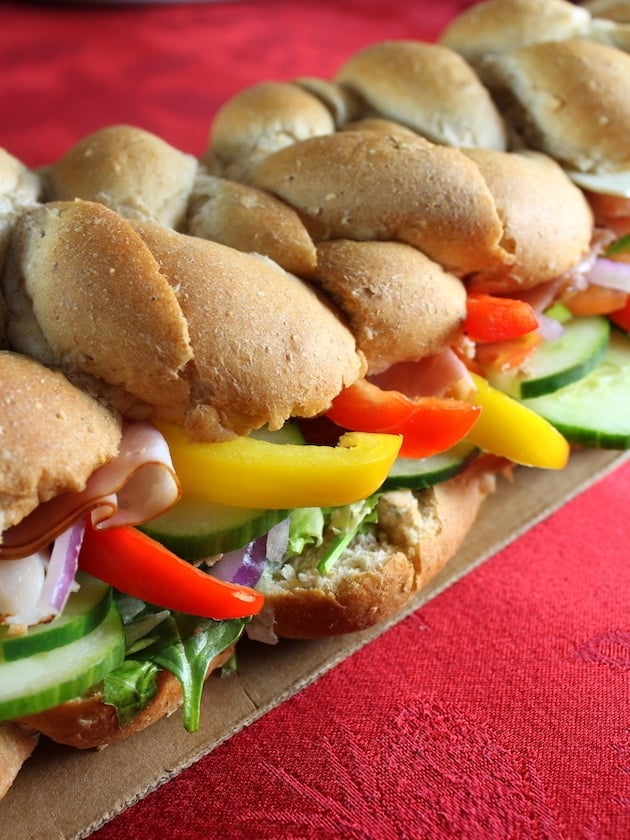 If you're planning an event and want to reduce your stress but provide your guests with some yummy healthy nourishment, I highly recommend getting one of SUBWAY's party platters or for a really fun and attention-grabbing focal point try a 3- or 5-foot sub. Be sure to make it even more beautiful by adding some vibrant "+color" (AKA veggies), and making it a well-rounded meal. Plus, that 9-grain wheat braided bread is completely gorgeous! Literally a work of art.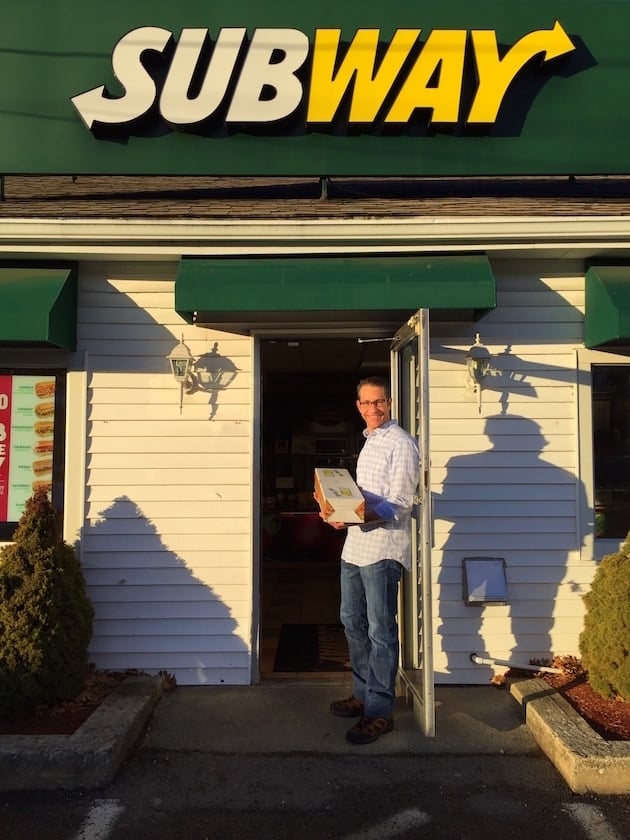 I'd love to hear from you about your new year plans/ideas/resolutions! Leave a comment below and let me know your favorite ways to #addcolor to your meals in the New Year!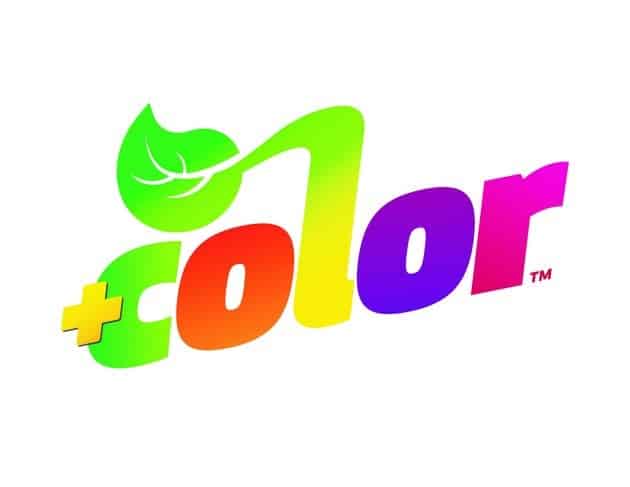 About SUBWAY® restaurants: Guests in 112 countries have easy access to a fresh line-up of vegetables for their made-to-order sandwiches and salads at any of the more than 44,000 franchised locations. The company, founded 50 years-ago by then 17-year-old Fred DeLuca and family-friend Dr. Peter Buck, is still a family-owned business with thousands of dedicated franchisees/entrepreneurs in neighborhoods around the world, providing easy access to vegetables, detailed nutrition, dietary, and healthy lifestyle information. This has been a priority for the SUBWAY® restaurant chain for many years. To learn more, visit www.subway.com. SUBWAY® is a registered trademark of SUBWAY IP Inc.
About the American Heart Association: The American Heart Association and the American Stroke Association are devoted to saving people from heart disease and stroke – the two leading causes of death in the world. We team with millions of volunteers to fund innovative research, fight for stronger public health policies, and provide lifesaving tools and information to prevent and treat these diseases. The Dallas-based American Heart Association is the nation's oldest and largest voluntary organization dedicated to fighting heart disease and stroke.