Kale Egg Breakfast Cups are full of flavor and light goodness. With kale, sun-dried tomatoes, spicy chicken sausage, mushrooms, and feta cheese they will surely be the best part of waking up in 2017!
This post contains affiliate links, which means we'll earn a small commission if you buy the linked products, at no extra cost to you. Thanks for helping us keep the lights on at Taste And See!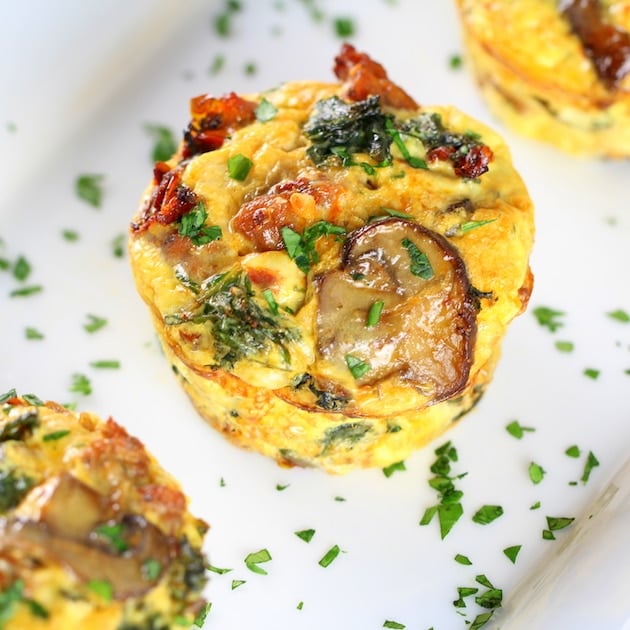 Happy Fresh Start, Clean Slate New Year Errbody!🎉🎊
Isn't New Year's a fabulous holiday? It's almost the only time of year that is centered on eating better, exercise, moderation and a new start.✨
Since we're all trying to be more fit, there's no need to explain or excuse the low-carb, high-protein, vegan, whole-30, starvation diet we've all just started. We're all in this together… one happy, hungry, gigantic support group of a family. Well, for at least the next 2 weeks anyway. LOL😂
I really do enjoy eating healthful and nutritious food. Veggies are probably the first thing I go to on my plate. I know I'm strange like that.🙃
I think many times we tend to not like certain vegetables or grains because they just don't taste very good. And to be honest I think they're just not seasoned properly. And that doesn't always mean salt and pepper.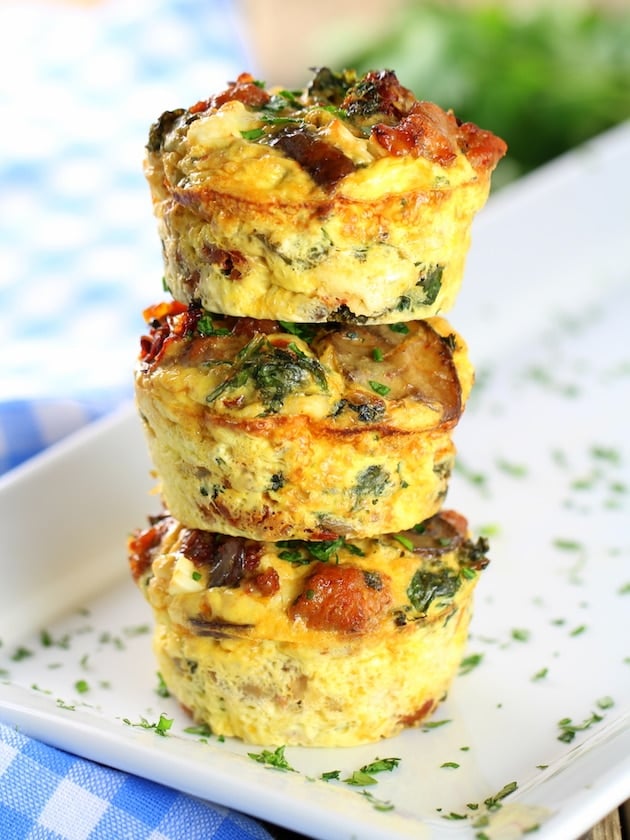 There are plenty of other low-calorie/high-flavor ways to season our food. For example, fresh herbs – they add tons of flavor as well as health benefits, and little to no calories or fat.🌿
Then there's our good friend citrus… a truly wonderful way to add flavor.🍋 I use lemon and lime juice in tons of things, like marinades for Rosemary Lemon Chicken Thighs, Chicken Satay Salad, and Lime Cilantro Shrimp. I also love using the zest from lemons, limes and oranges in my recipes as well. Like this Parmesan Broccoli, Kale Salad, and even these Cranberry Orange Creamsicle Cookies. Soo good.👌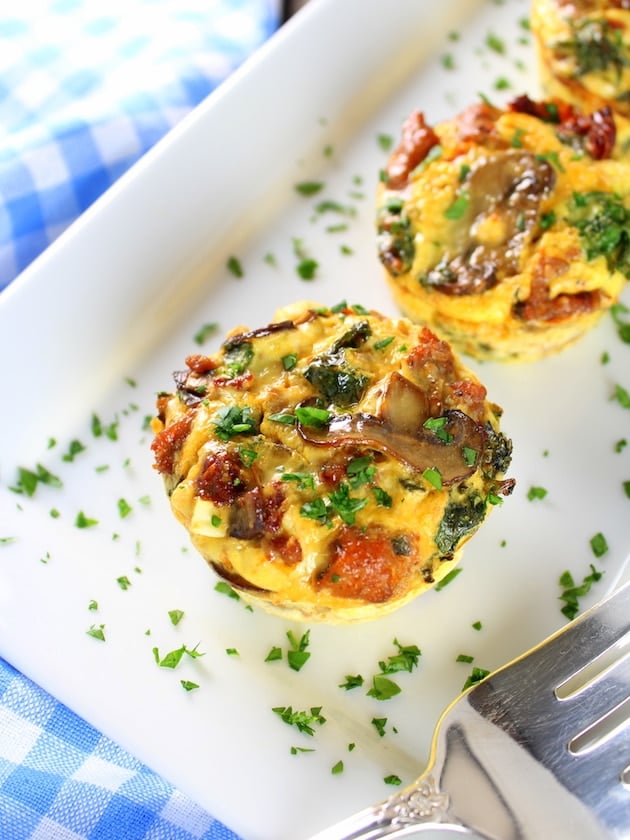 Sometimes all you need is a little pop or zing, and delicious-tasting food doesn't require lots of fat, sodium and calories.
Case in point: these Kale Egg Breakfast Cups… they're quick, easy, and bursting with flavor - minus unnecessary fat and calories.🙌 I'm super-excited to share this phenomenal recipe with you. I think you're gonna love it.💚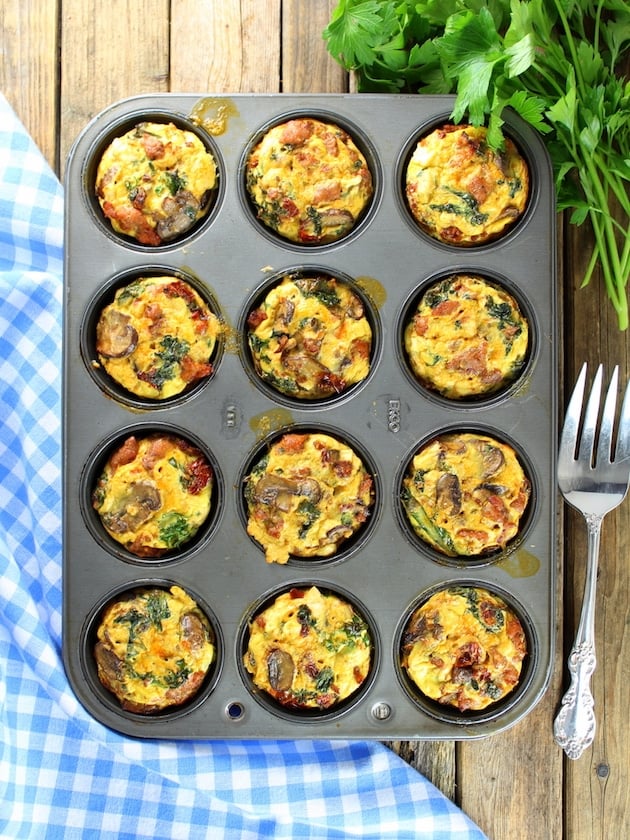 Why not kick start the first meal of the day with some yummy low-cal, high-protein goodness⁉️
I must tell you the best part of waking up this week has definitely been these kale breakfast cups! They're filling and super tasty. And the perfect way to give you the energy you need to kill it at the gym, office, or at home in 2️⃣0️⃣1️⃣7️⃣!
How To Make Kale Egg Breakfast Cups:
The recipe is super simple. You sauté a medium onion, three garlic cloves and mushrooms in olive oil.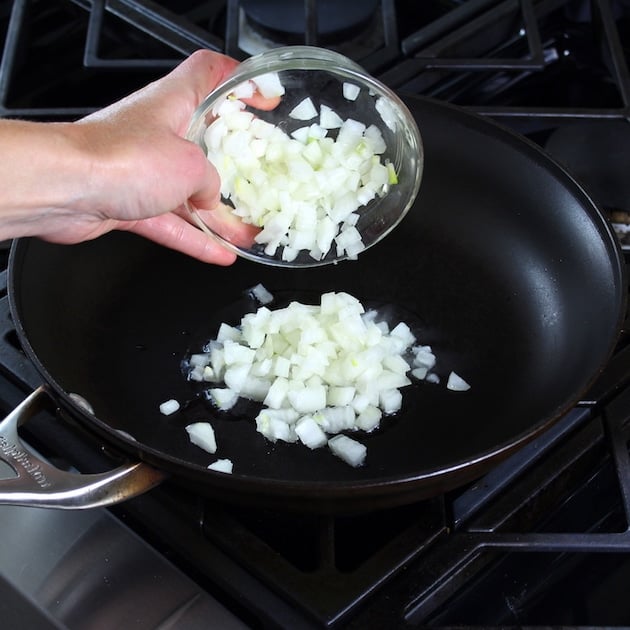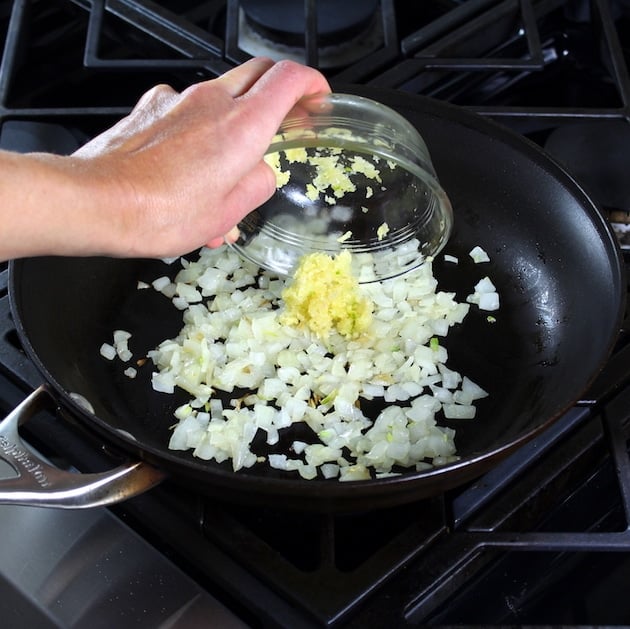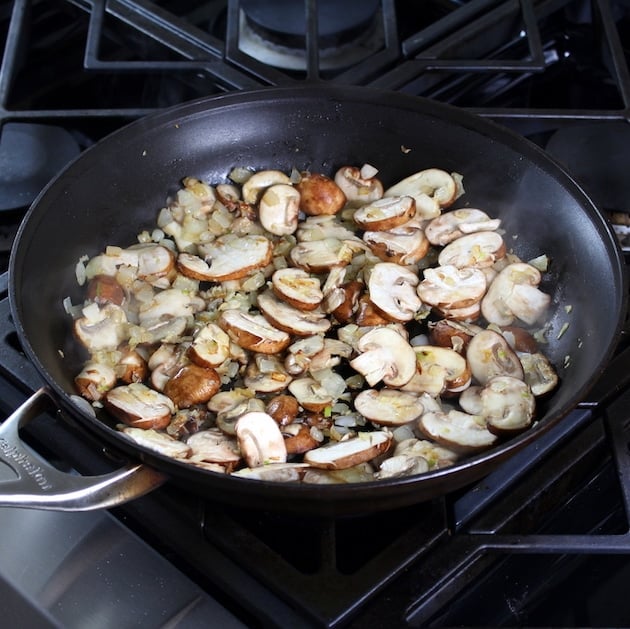 Then add in ½ pound of spicy chicken sausage and cook thoroughly. Then add the sun-dried tomatoes, kale and finally the feta cheese.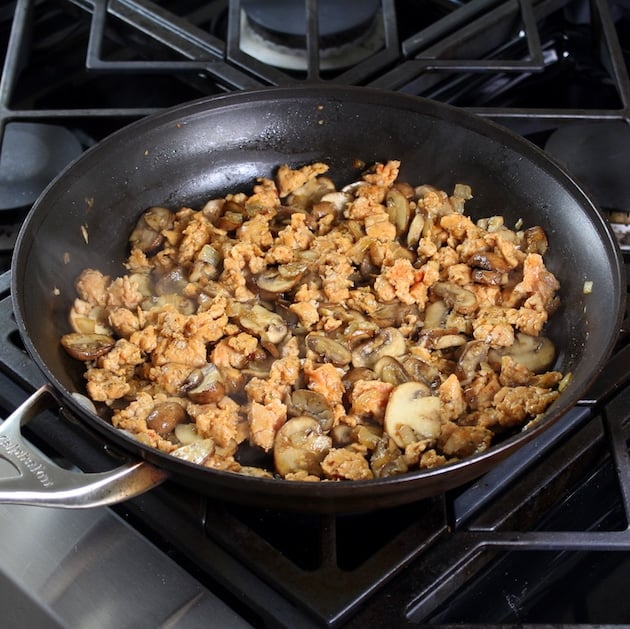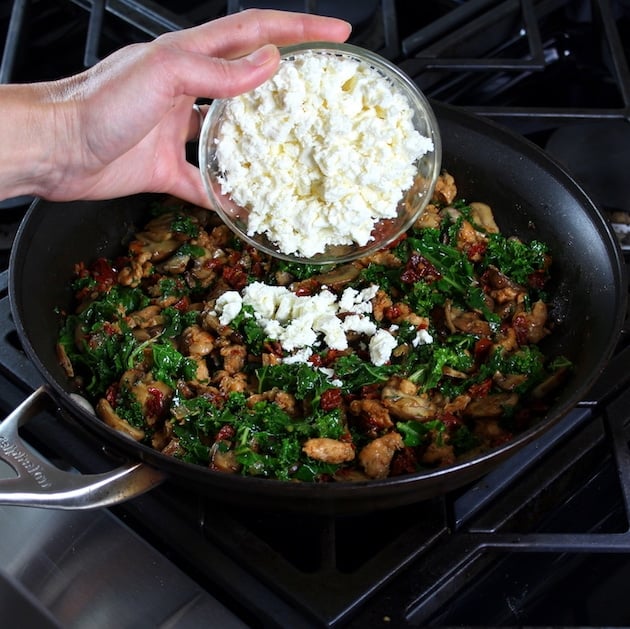 Spray with a non-stick cooking spray, fill up a pan of twelve muffin cups
(<-affiliate link!) with the mixture.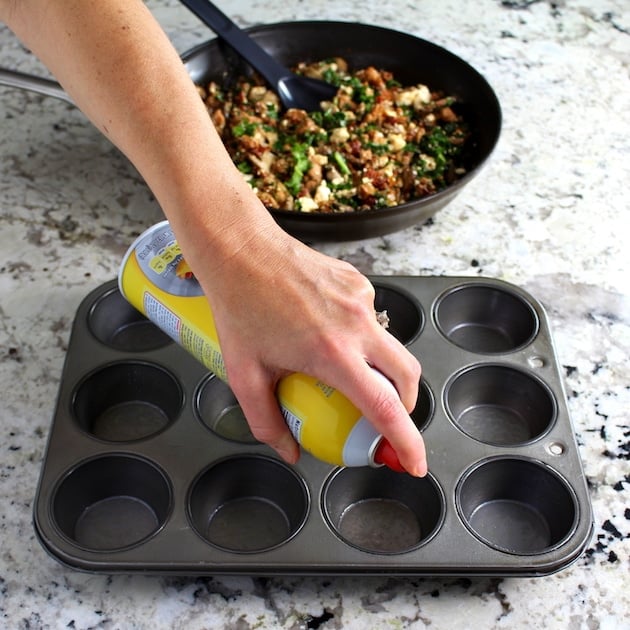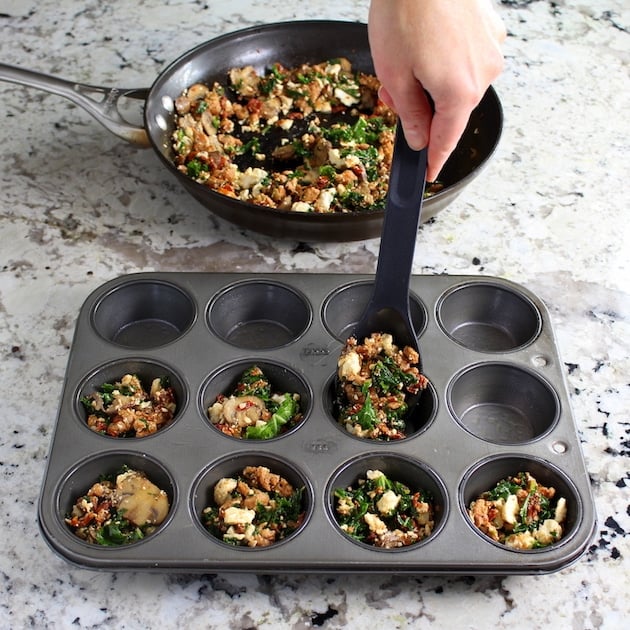 Then pour in the egg beaters and bake for 25-30 minutes on 350 degrees. Voila - breakfast for the whole family for a week!💫
Honestly, I'm not a big breakfast person. Usually a hit of this bulletproof coffee recipe is all I require.☕️ I'm barely coherent enough to scoop coffee grounds – there's just no way I can scramble eggs or stir oatmeal. I think if I had something pre-made that was good for me and delicious, I would be more motivated to take part in this morning feeding ritual.🍴 #morningsarentmyjam
Plus, eating first thing is supposed to be a great way to jump-start your metabolism for the rest of the day.👯 So here we go… whipping up a batch of kale egg breakfast cups, ingesting protein infused deliciousness, and slaying it in 2017.
Woohoo! You got this!🙌 Happy New Year!🎊🎉
I would love to connect with you! Leave a comment and follow me on Instagram, Twitter, Facebook, & Pinterest!
Yield: 12 cups
Kale Egg Breakfast Cups Recipe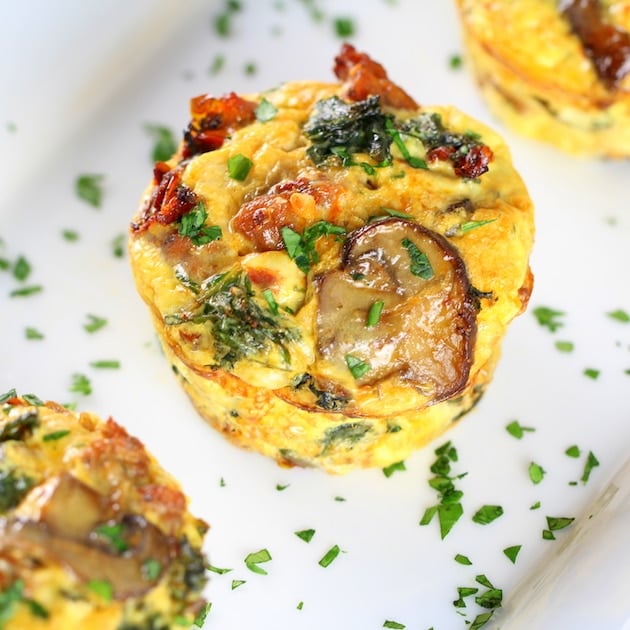 Kale Egg Breakfast Cups are full of flavor and goodness!
Ingredients
1 tablespoon olive oil
1 medium onion, finely chopped
3 cloves garlic, minced
8 ounces mushrooms, thinly sliced
½ pound hot chicken sausage, or sweet if preferred
3 ounces sun-dried tomatoes, finely chopped
2 cups chopped kale
8 ounces feta cheese, crumbled
Pam cooking spray
12- cup muffin pan
1 ½ cups egg substitute, or 6 eggs
Instructions
Preheat oven to 350 degrees.
Add olive oil, then saute onion for 4 minutes. Add garlic and saute one additional minute.
Add mushrooms and cook for 5 minutes. Then add chicken sausage, and cook 6 minutes, or until thoroughly cooked. Break the sausage up into small pieces. Add sun-dried tomatoes and incorporate fully.
Add kale and cook about 2 minutes, until it wilts slightly.
Turn off heat then stir in feta
Spray muffin pan, then add ingredients evenly to each muffin cup.
Pour equal amount of egg into each cup, filling to just below the rim.
Bake until the eggs have set, about 25-30 minutes.
Notes
*Can be stored in an airtight container in the fridge for up to 4 days.
*Can be frozen as well.  Wrap each egg cup individually in plastic wrap and then tin foil and freeze.  To reheat, reheat in a toaster oven or microwave for about 30-45 seconds.
Nutrition Information
Yield
12
Serving Size
1 egg cup
Amount Per Serving
Calories

146
Total Fat

8g
Saturated Fat

3g
Unsaturated Fat

0g
Cholesterol

30mg
Sodium

489mg
Carbohydrates

8g
Fiber

1g
Sugar

5g
Protein

10g