Andouille Sausage and Cajun Shrimp Lettuce Wraps - low on carbs, big on flavor, and gluten-free... healthy eating at its best! These lettuce wraps are a score in flavor department with smoked Andouille chicken sausage, rock shrimp, onions, garlic, red pepper and Cajun spices!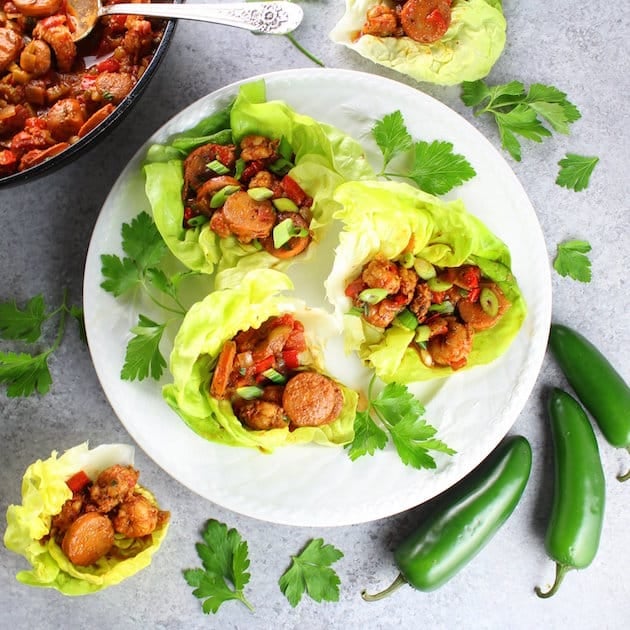 (Thanks to our friends at al fresco all natural for sponsoring this post! All opinions & content are my own.)
Heyyyy!🙋 Who's ready for some football food!??? Or how 'bout just some tasty, low-carb, low calorie, protein infused deliciousness? Let's do this!!🙌
The Big Game is just 2 weeks away and I'm trying to amp up my snack game. I like to think through who will be joining us for the festivities, what they like, and offer something for everyone's taste.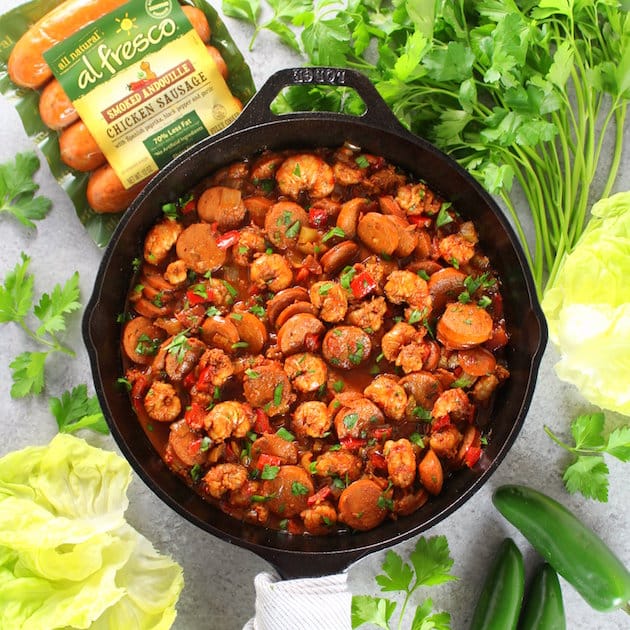 Some will just want ooey, gooey melty cheese dip. I've got that covered!✅
Others will be coming off their New Year's detox (or just trying to be more diet-conscious in 2017) and want something yummy yet on the healthier side.
I can do that too.✅
What can I say? My football food game is strong!🏈✌️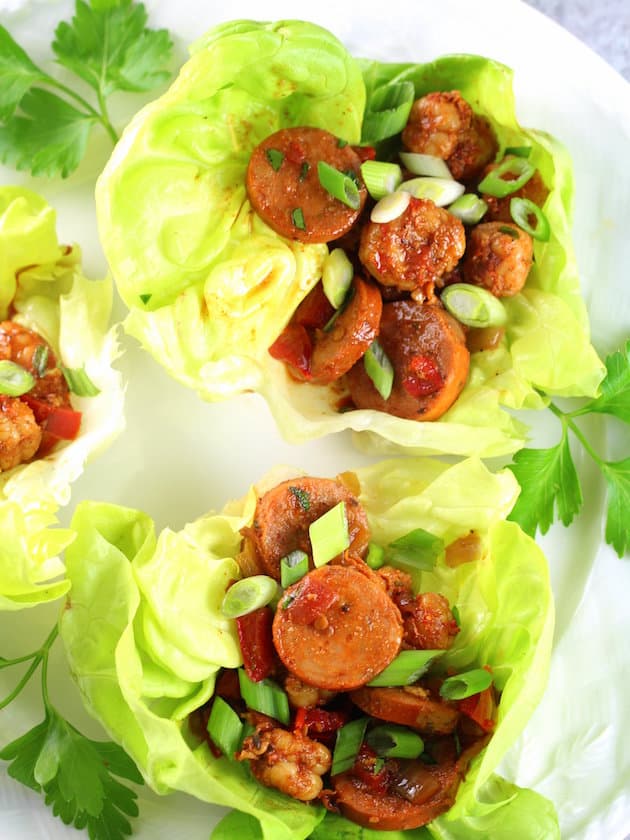 Today I'm sharing a delicious appetizer that will satisfy everyone at your party – Andouille Sausage and Cajun Shrimp Lettuce Wraps!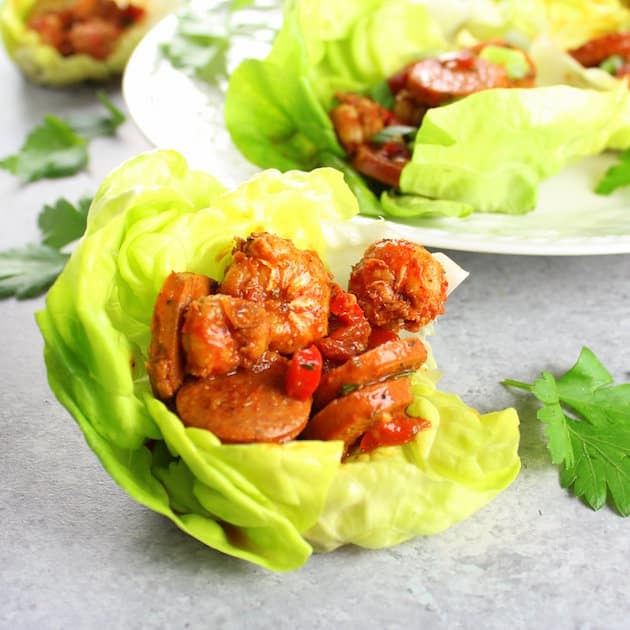 I guarantee these flavor-filled easy shrimp lettuce wraps will score you big points with all your guests!🙌 Not only are they delicious but also hearty and filling, with tons of protein! Which - I must say - makes my carnivorous hubby one really happy guy.🤓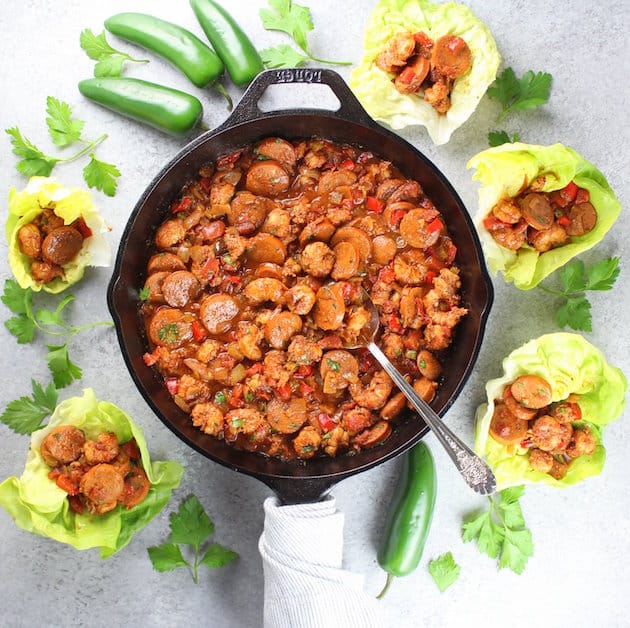 Plus they're quick and easy. Just what you need when you're entertaining and want to be part of all the fun.🎉 You can whip them up in less than 20 minutes (no longer than the half time show) so they're the perfect app for the second half.👌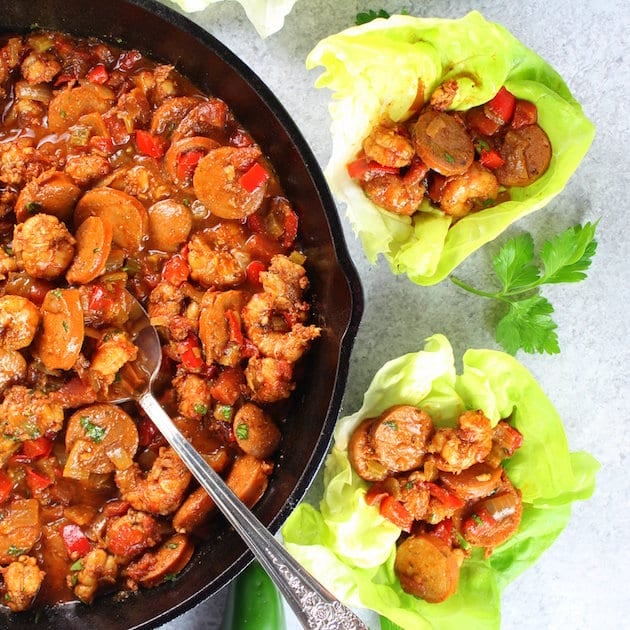 The recipe includes one of my favorite chicken sausages ever!💚
Not kidding people – I use this al fresco all natural Smoked Andouille Chicken Sausage all the time! It's the star ingredient in my famous gumbo, and my go-to summer time grilling favorite: chicken sausage kabobs with peppers and onions.
I need to get those recipes on the blog, stat!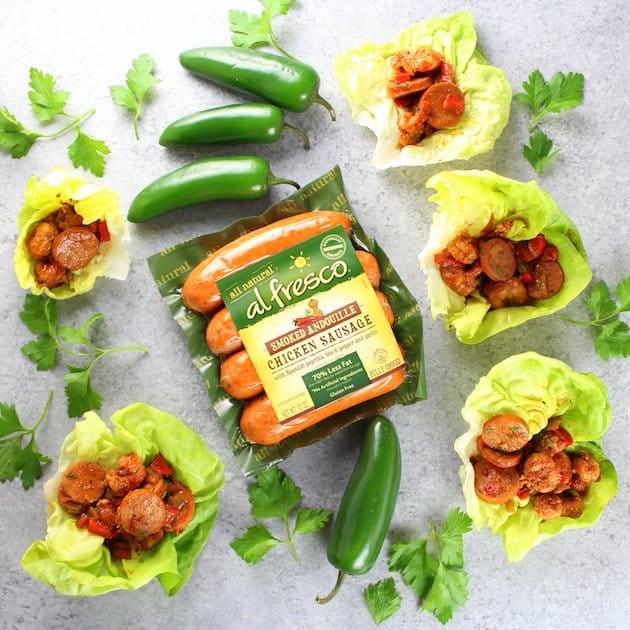 What I love about these sausages is that they taste amazing AND they're good for me. No sacrifices being made with these yummy hearty healthy meat sticks. They have 70% less fat than pork sausage, plus no gluten, nitrites, nitrates, preservatives or artificial ingredients. And the smoked andouille is great because it's pre-cooked, so just heat and serve.
Can you even stand it!??😲
Less about my love and adoration for this Andouille Sausage and more about this amazing recipe to make with them!👇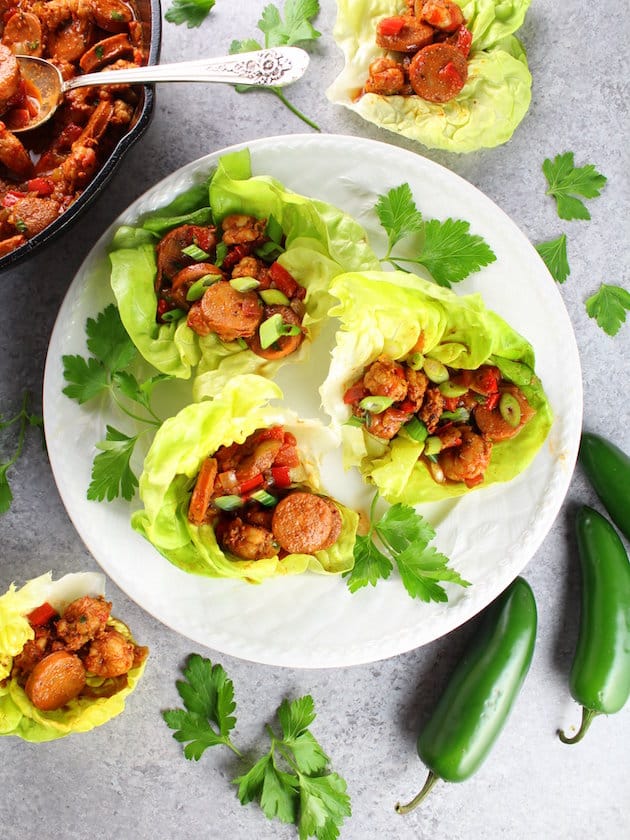 How To Make Andouille Sausage and Cajun Shrimp Lettuce Wraps:
I chop up one onion, red pepper and celery stalk. Sauté them in 1-2 tablespoons of olive oil with hot sauce, Worcestershire sauce, salt and pepper, for about 7 minutes.
While the veggies are cooking, I add some spices and lemon juice to 1 pound of rock shrimp and let them marinate for a few minutes.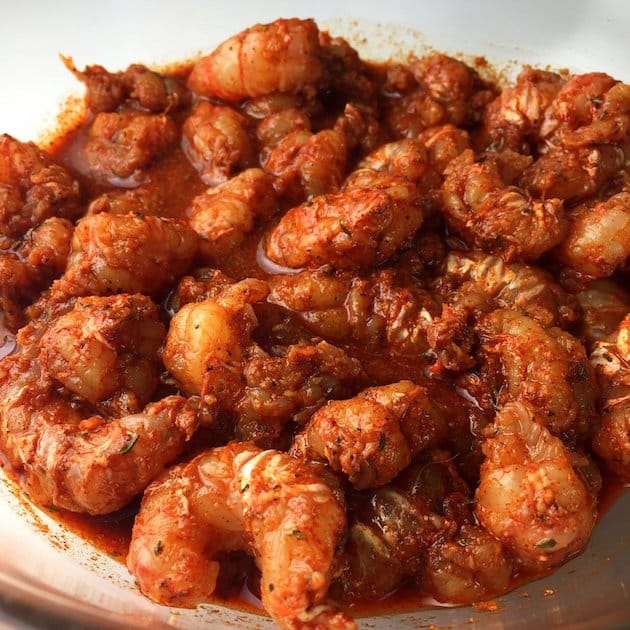 Add garlic, tomatoes and thinly sliced fully cooked Andouille Sausage. Cook that for a few minutes so the flavors of the sausage cook into the vegetables, then add the rock shrimp and all the yummy marinade.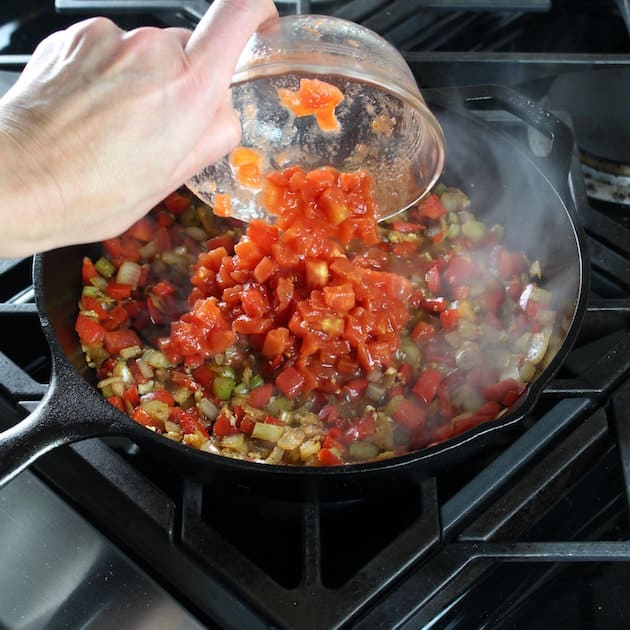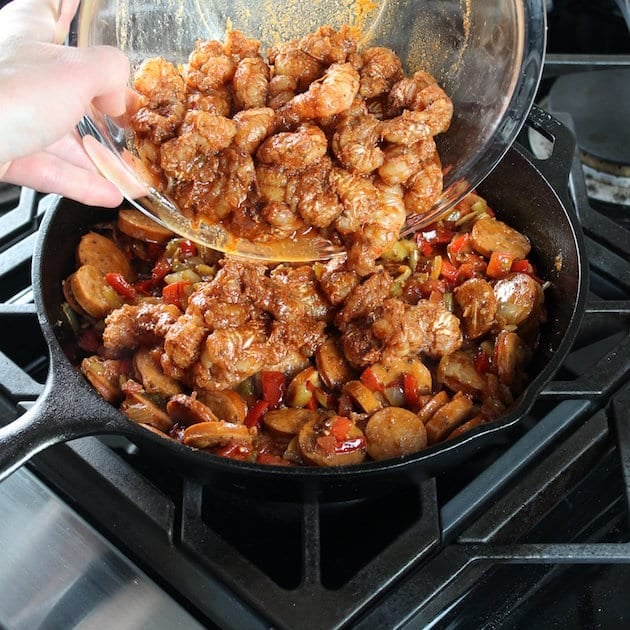 Saute for 2 more minutes, and it's ready to serve. All you need is some rinsed and dried Boston bibb lettuce and it's game on!
Seriously, when this appetizer hits the table your guests will be on it like a fumble in the end zone. You may need shoulder pads to serve this to your guests! For real.😊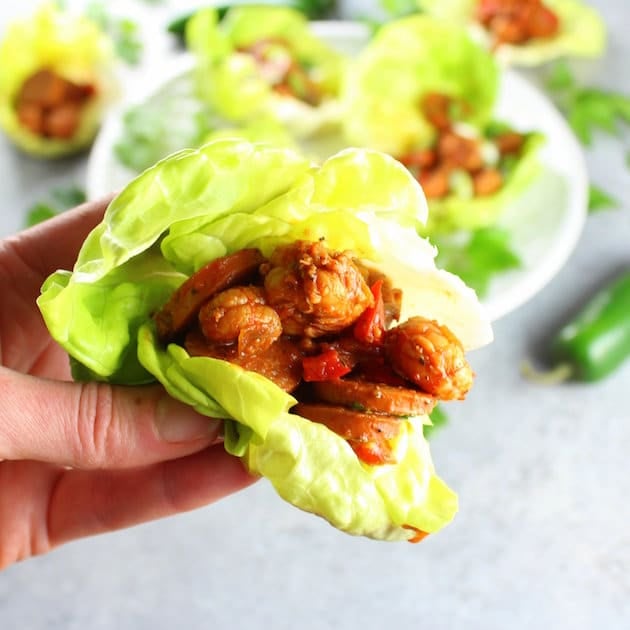 Andouille Sausage and Cajun Shrimp Lettuce Wraps – a delicious, healthy, hearty app that will satisfy all your guests, or another addition to your list of easy weeknight dinners!✨
Here's a little game questionnaire for you. Leave your answer in the comments below!
"I watch the Superbowl for the…"
Football
Food
Friends
Commercials
Halftime show
All of the above!
Yield: 16
Andouille Sausage And Cajun Shrimp Lettuce Wraps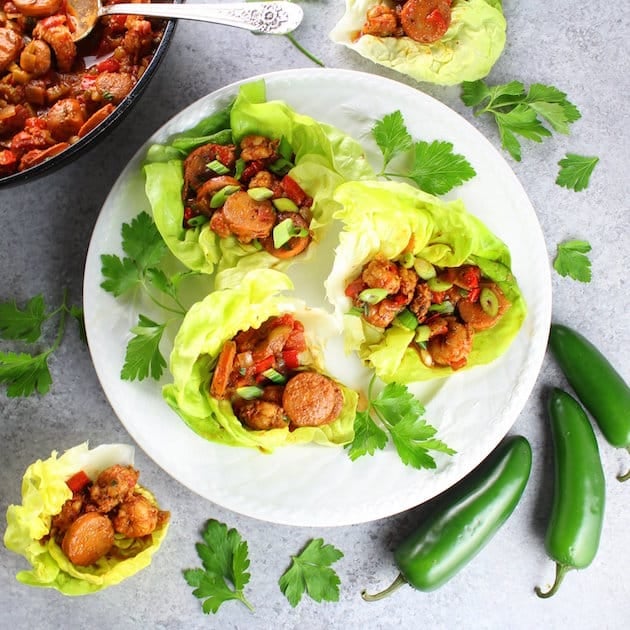 Big on flavor, low on carbs, gluten-free, and healthy eating at its best. With Andouille chicken sausage, rock shrimp, & Cajun spices.
Ingredients
2 tablespoons olive oil
1 medium onion, finely chopped
1 red pepper, finely chopped
1 celery stalk, finely chopped
2 cloves garlic, minced
1 teaspoon salt
1 teaspoon pepper
1 teaspoon Worcestershire Sauce
1 teaspoon hot sauce (more if desired)
7 ounces canned petite diced tomatoes
12 ounces al fresco all natural Smoked Andouille Chicken Sausage
1 pound fresh rock shrimp or small shrimp (50-60 count per pound)
2 tablespoons fresh lemon juice
2 teaspoons paprika
1 teaspoon garlic powder
½ teaspoon onion powder
¼ teaspoon cayenne
½ teaspoon dried thyme
2 heads Boston Bibb lettuce
garnish with chopped green onions and parsley
Instructions
Heat olive oil in a medium skillet over medium-high heat. Add onions, red pepper, celery, ½ teaspoon salt, ½ teaspoon pepper, Worcestershire sauce, and hot sauce, then sauté for 7 minutes.
Meanwhile, in a small bowl combine the rock shrimp, lemon juice, 1 tablespoon of olive oil, ½ teaspoon salt and pepper, paprika, garlic powder, onion powder, cayenne, thyme, and set aside.
Stir the fresh minced garlic into the veggies in the sauté pan, and cook for 1 more minute.
Add Andouille Sausage and diced tomatoes and bring to a simmer, then add the shrimp and cook for 2-3 more minutes.
Spoon two tablespoons of the sausage and shrimp mixture into each piece of lettuce, and sprinkle with green onions and parsley.
Notes
*Prep ingredients ahead of time:  You can chop the onions peppers and celery ahead of time and store in resealable plastic bags until needed.  If you're using the green onion and parsley for garnish you can chop those ahead and store as well.
Nutrition Information
Yield
16
Serving Size
1 lettuce wrap
Amount Per Serving
Calories

99
Total Fat

5g
Unsaturated Fat

0g
Cholesterol

86mg
Sodium

596mg
Carbohydrates

3g
Sugar

1g
Protein

9g