Queso Fundido With Chorizo! Is Queso – FUN-TO-EAT-O!!!
When I was creating this recipe, I was a little skeptical. I know what you're thinking: what in the universe, about warm, melty chorizo cheese dip could make me pause for cause? And how could there be any doubt about how to make queso fundido? (It's such a classic, right?)
Just so you know…This is not just one of those websites that puts out random recipes without doing copious amounts of research, investigation and testing.
Oh no! We're the real deal, legit. A high-quality, trust-worthy food site. And I've got the extra 5 pounds in the last month to show for it. Real talk people.
Let me explain: since this recipe predominantly consists of cheese, you know what happens to melted cheese when it's taken off its heat source. It becomes a solid. (Just a little science class for ya there. What can I say – full stop shop here at Taste And See! Food, Science and more).
SO, here's the question that just kept rolling around in my head: How is this chorizo queso going to stay melted after I serve it ? Do I need a warming device? Maybe a baby crock-pot would be best? Think, think think.
While my subconscious is pondering that question...
How to make this Queso Fundido with Chorizo:
Start by sautéing your chorizo in a small to medium skillet for 4-5 minutes. Then using a slotted spoon remove the chorizo from the pan and set aside. Then drain some of the oil from the meat - you only need about 2 tablespoons left in the pan.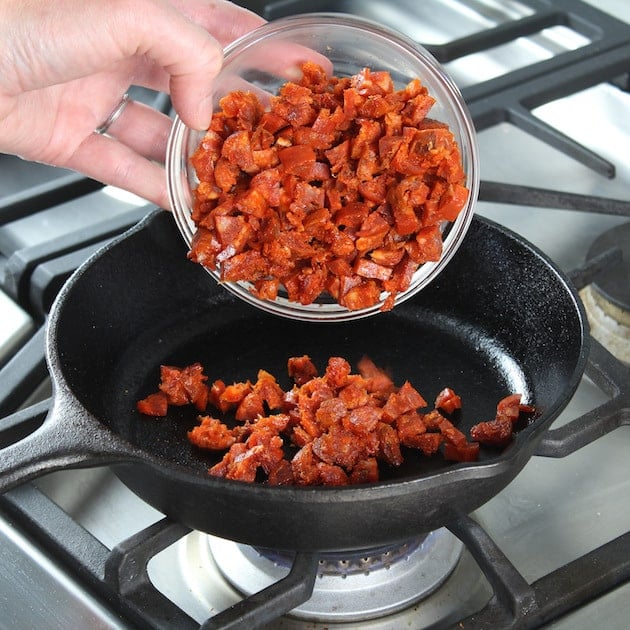 Next, add your onions and saute for 3 minutes, then add your jalapeños and cook for 3 more minutes.
Stir in your garlic and continue to saute for about 30 seconds. Then sprinkle in the flour and cook for another minute.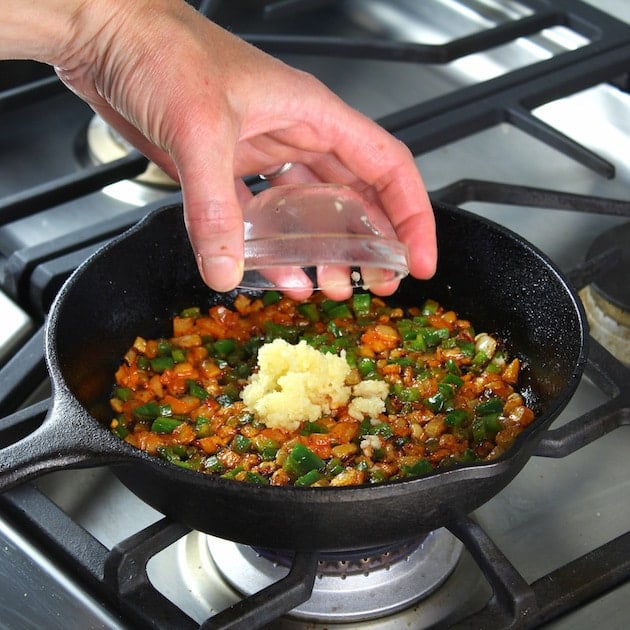 Pour in your beer and bring to a simmer.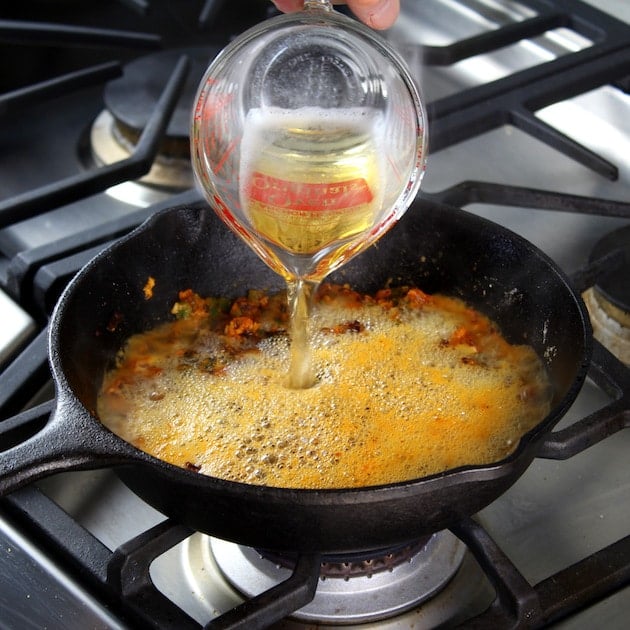 Reduce the heat to low, add the cheddar cheese and the Monterey Jack cheese. Stir or whisk continuously for 2-3 minutes until the mixture comes together as a cheesy sauce, then fold in the chorizo.
Turn the broiler on in your oven and cook the chorizo for 1-2 minutes until the Queso starts to bubble.
Garnish with cilantro and more jalapeños and serve immediately.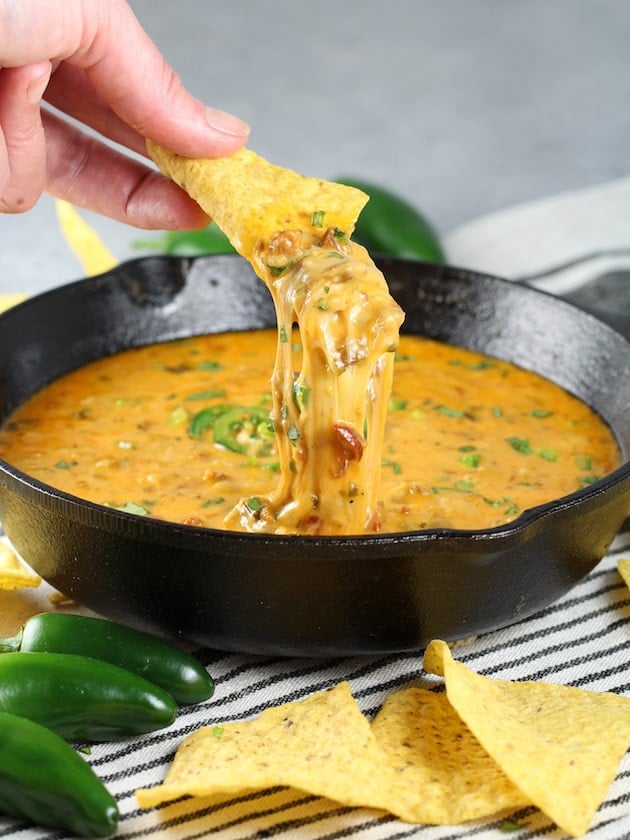 Oh and by the way, my subconscious got back to me...
The answer should have been glaringly obvious about "How is this chorizo queso going to stay melted after it's served?", but I'm a "learn by experience" type of girl.
You see, the cheese will ALWAYS stay melted…because…it will never have enough time to solidify. BECAUSE it's so ridiculously tasty it will be in our bellies within 2 minutes of setting it on the table.
Not. Even. Joking.
This is simply the best queso fundido recipe ever!
And if by some strange random chance it isn't devoured in the first 2 minutes, or if you have some leftovers (WHAAAA!???) and want to reheat it... put it on the stove over medium heat with a little more beer and whisk it continuously for a few minute or until it becomes all creamy and delicious. BOOM. Amazingness on repeat!
So I know I'm slightly prone to exaggeration, but this queso fundido recipe is truly the best thing I've eaten all year. Granted, this is an ever-changing scale since the bar keeps getting raised as I eat my way through a lot of "research" for the blog.
Drop your weapons and hit the ground! Cause there's a new Sheriff in town and it's this Queso Fundido Con Chorizo!!!
If you don't make any other recipe I post - make this one. Not only will it instill great confidence for you to try future recipes, but it will bring you extreme delight and happiness. Seriously, taste buds you never knew you had will come out of hiding for the Queso "FUN-IN-DEEDO" Partay going on in your mouth!!!?✨
Yield: 8 Servings
Queso Fundido With Chorizo (Queso Flameado)
This Queso Fundido with Chorizo will be gone in seconds! The perfect combination of cheddar cheese, chorizo, beer, onion, garlic & jalapeños.
Ingredients
6 ounces diced dried chorizo
8 ounces shredded monterey jack cheese
8 ounces sharp white cheddar cheese
¼ large onion, chopped finely
2 garlic cloves, minced
2 jalapeños finely diced, seeds and membranes removed
1 tablespoon flour
¾ cup beer
Instructions
Cook the chorizo in a medium oven proof skillet for 5 minutes. Remove the meat from the pan with a slotted spoon and set aside. Leave 2 tablespoons of the oil from the meat in the pan and discard the rest.
Reduce the heat to medium and sauté the onions, stirring occasionally, for 3 minutes. Add the Jalapeños and continue to cook for 3 more minutes.
Stir in the garlic and let cook for 30 seconds.
Sprinkle in the flour and cook for 1 minute.
Pour in the beer and bring to a boil.
Add the cheeses and reduce the heat to low. Cook, stirring continuously, until the cheese fully melts, about 2-3 minutes.
Stir in the chorizo.
Turn the broiler on and cook the queso for 1-2 minutes. Letting the top get slightly golden and the cheese bubbly. (You can skip this step and serve the dip warm if preferred.)
Serve warm with chips or tortillas.
Nutrition Information
Yield
8
Serving Size
4-6 ounces
Amount Per Serving
Calories

334
Total Fat

26g
Saturated Fat

14g
Trans Fat

0g
Unsaturated Fat

10g
Cholesterol

72mg
Sodium

619mg
Carbohydrates

4g
Fiber

0g
Sugar

1g
Protein

19g
This nutrition card uses an estimate provided by an online nutrition calculator. This estimate is not a substitute for a professional nutritionist's advice!
Looking for more amazing Mexican Recipes??