Hi everyone it's Bryan here, taking a turn with the writing duties for this Beginner's Guide to Key West restaurants, snackeries, drinking establishments & lodging. Our first time in Key West was a fantastic experience!☀️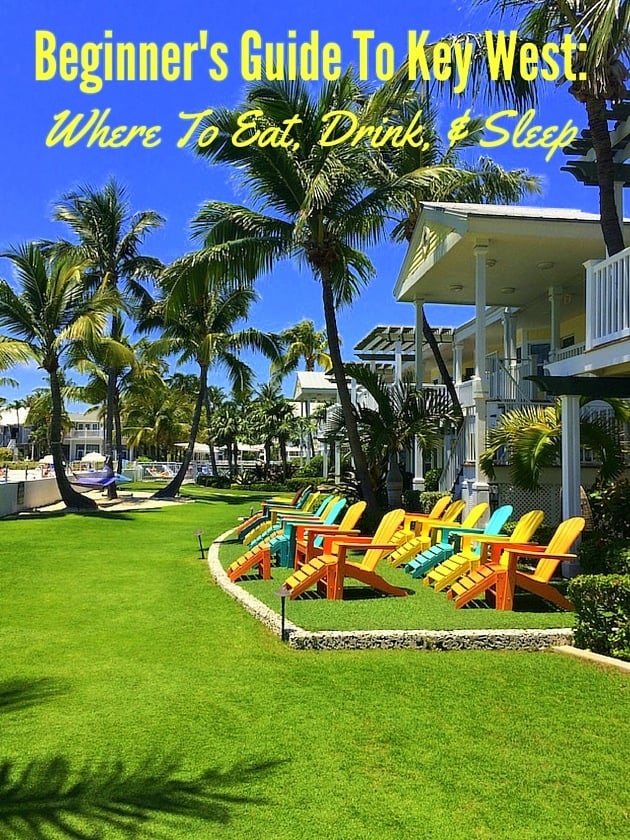 About Key West:
We were there in late April, which is their "shoulder season" (coming off of busy winter season), so it was full enough to be lively but not so full that it was crazy. At this time of year you can get reasonable hotel rates, but still beat the fiercest of the hot summer weather. Key West is about 1 mile x 4 miles, sitting basically west-east at the end of the Key Island chain and about 90 miles north of Cuba.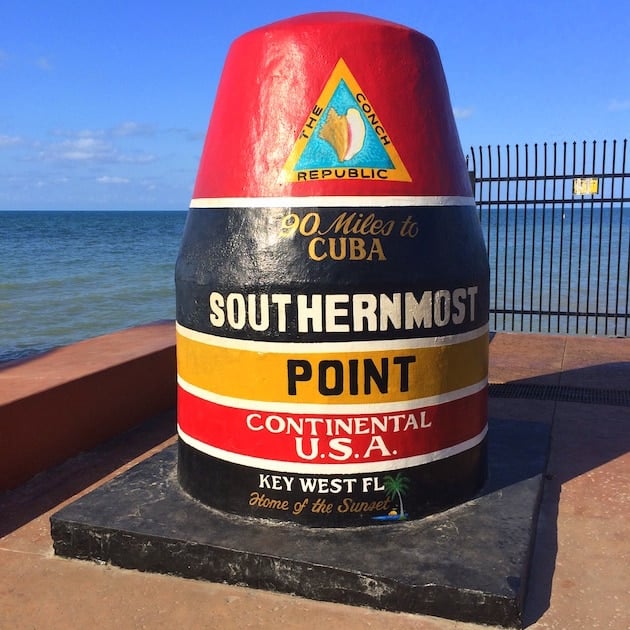 They have a vibrant culture that resonates with Cuban influence, and yes a heavy dose of Jimmy Buffet-esque, margaritaville vibes. The island really offers something for everyone, whether you want a low-key recharge under the sun, wet and wild water activities like snorkeling, scuba, & deep-sea fishing, a lively bar & club scene, some fascinating tourist attractions, or some combination of these. Key West really has it all.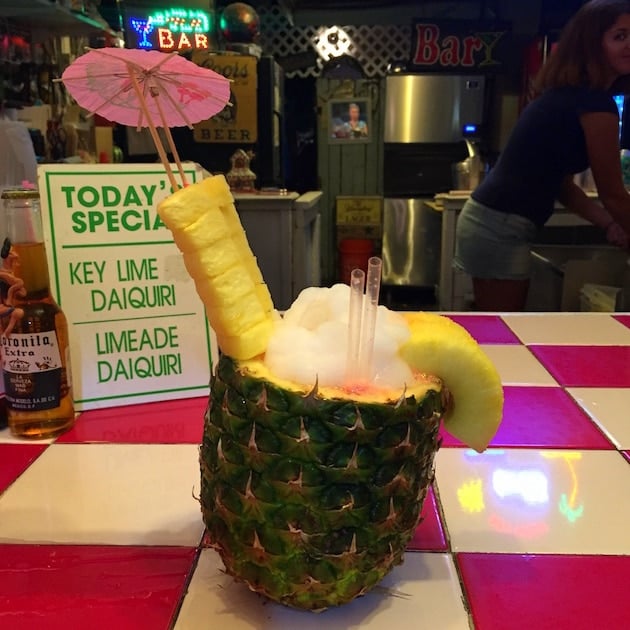 The western half of the island is where the majority of the action is, centered along Duval Street, which is the major north/south "thoroughfare" of the island. The northwest end of the island has more of the larger hotels, louder bars, and touristy stuff, as well as the best views of the famous Key West sunsets and the easiest access to snorkel, scuba, & fishing charters. The southwest end of the island is the more quiet, laid back end with more "boutique-y" hotels & such. In three short days we packed in a lot! Here are the highlights with our recommendations.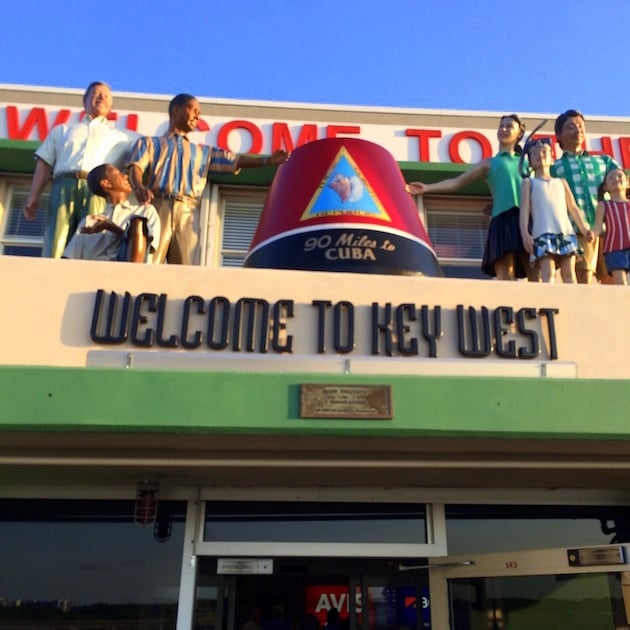 Getting There... Transportation:
To get to the island, you'll either drive in from Miami International airport, about a 3 hour drive, or you can fly directly into the Key West Airport on connections from Delta, American, Silver Air, or private charter. We flew in on American Airlines and found the small airport super-easy to navigate. To get the full experience, we picked up a rental car on our last day and drove back up the infamous "Overseas Highway" to Miami and the mainland. If you can plan far enough ahead to get flights into Key West, we strongly recommend flying in and out of the island and skipping the long drive.
While on the island, there is really no reason to rent a car unless you want to drive up the highway to visit other islands. We found rented bikes to be a wonderful and easy way to get around Key West, since you'll really stay within one square mile while you're there. There are also a large number of Bicycle Taxis to be found everywhere if you don't feel like pedaling yourself.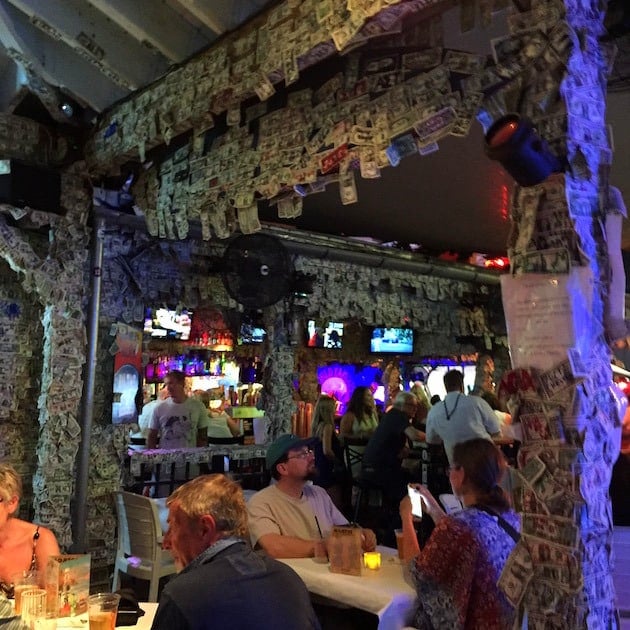 Dinner Restaurants:
Willie T's. Our first stop for a late bite after we arrived. The first thing we noticed at Willie T's was dollar bills stapled all over the walls and ceiling. The dollar-stapling started in the late 90's for no real reason that anyone could tell me, but over time it evolved into a very cool fundraiser for the Wounded Warrior Project: every year bills that come loose are donated to the charity, and since they started making donations, Willie T's has given over $24,000 to support Wounded Warrior. So make sure stop by and staple a buck or two!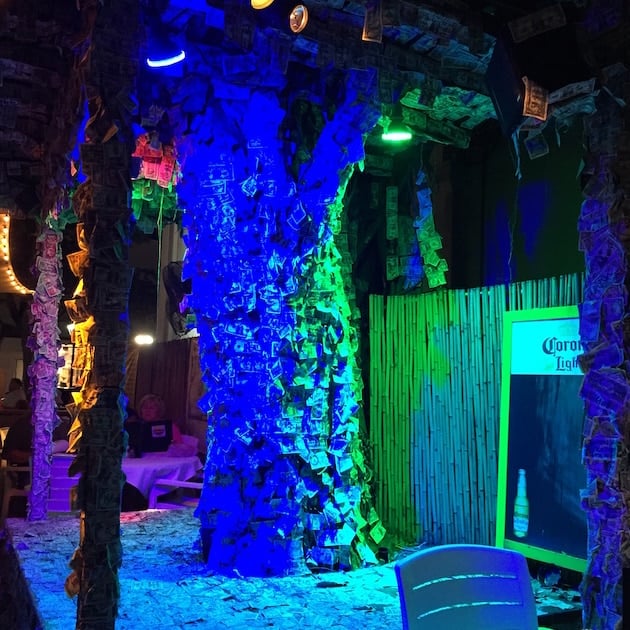 Willie T's has a pretty broad menu, and since it was our first meal on the island it seemed fitting to try their conch fritters, which were quite tasty indeed. They are known for their wide variety of Mojito flavors, although we did not partake. Most of their seating is outdoors, and they have plenty of ceiling fans they'll happily adjust for you. They offer live music daily from 1-4pm and again at 7pm, which really seemed to draw a crowd when we were there. The servers were all super friendly as well. Located right on Duval Street, this is a great spot for live music and people-watching, as well as food & drinks.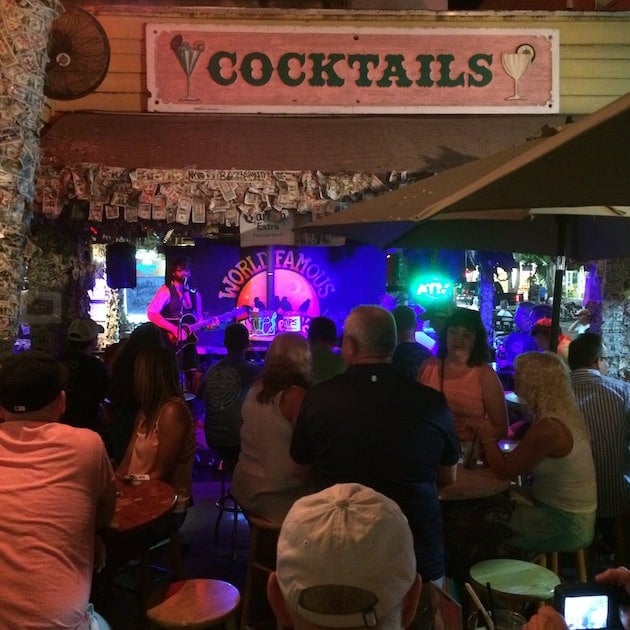 Nine One Five Duval. Key West has a number of "fine dining in a casual atmosphere" restaurants… this is one of them, and also a recipient of two James Beard Foundation invitations. The roasted beet salad with watercress & goat curd was delicious, and beautifully presented - probably our favorite item. We enjoyed the burrata with blood oranges & lavender oil, but unfortunately 915 was out of blood oranges the night we were there - which would have made it even more delightful. We found the beef carpaccio to be a bit too thin for our liking, but their seared diver scallops with chickpeas & lemon were perfectly cooked. They are one of the most popular in the area so they are always busy… because of this we found our server to be a little distracted (we were seated in view of the bar and watch our cocktails sit for almost 10 minutes after they'd been made – I know, "first-world problems," right?)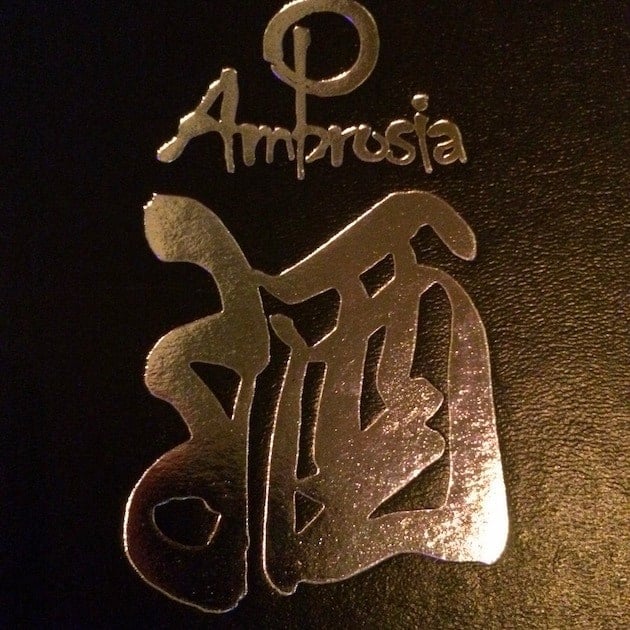 Ambrosia Sushi Restaurant. Located at the south end of Duval St, just next to the Santa Maria Suites Resort. Although they offer other Japanese food, we were there solely for the sushi! A wide variety of sushi rolls, sashimi, and a good selection of sake of course. Service was possibly the best we had during our trip: friendly & attentive, with great recommendations. All the sushi was extremely fresh and tasty, but we found their rolls to be a little heavy on the rice and light on the fish. Also we love spicy roles so we ordered several, but found them to lack the level of heat we prefer. I was particularly impressed with one of their nightly specials, a Norwegian trout sashimi that was outstanding! We understood why this was the unanimous sushi recommendation from every local we asked.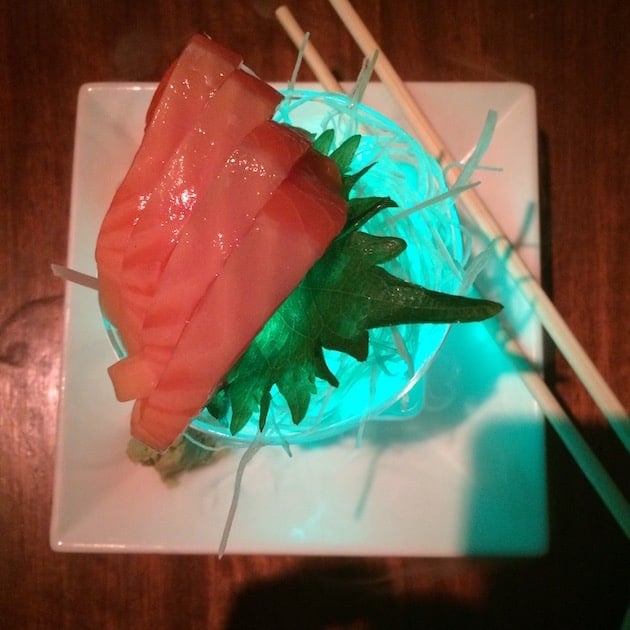 LaTeDa Hotel & Restaurant. A full hotel with restaurant, bar, and cabaret sitting right on the southern part of Duval Street. We found ourselves drawn in after dinner on two different nights due to their fun sing-along live music crowd that wasn't too wild and crazy for us old-souls. They have excellent service, fun live music, and bartenders who should double as island tour-guides – they gave us fantastic recommendations for the rest of our stay. For after-dinner entertainment we'd recommend dropping by!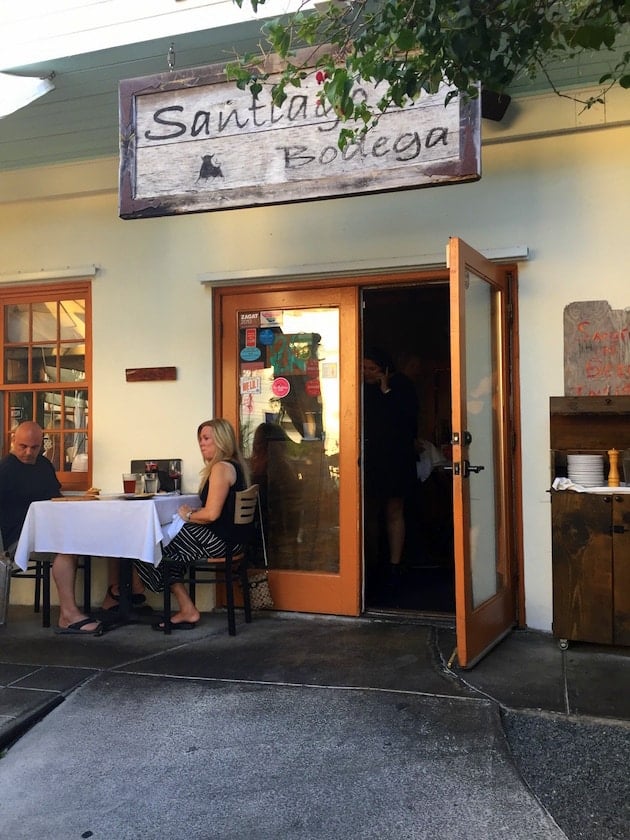 Santiago's Botega. A tapas restaurant that sits a few blocks off Duval Street, just about mid-way between the north and south ends of Duval. They have quite a wide variety: we loved their grilled shrimp & chorizo skewers, drenched in garlic butter, and their salad entrees were huge and hearty. Also, we noted they were very accommodating to the gluten-free couple sitting next to us. Brussels sprouts seemed to be on every dinner menu we saw in Key West, but sadly most places overcooked them… Santiago's was no exception. Also their flash-fried petite-rack of lamb had massive potential but ended up a little over-cooked and one-noted. They were quite popular and had a great atmosphere with outdoor seating, indoor dining room seating, and a full service cocktail/bar area featuring really interesting local artwork.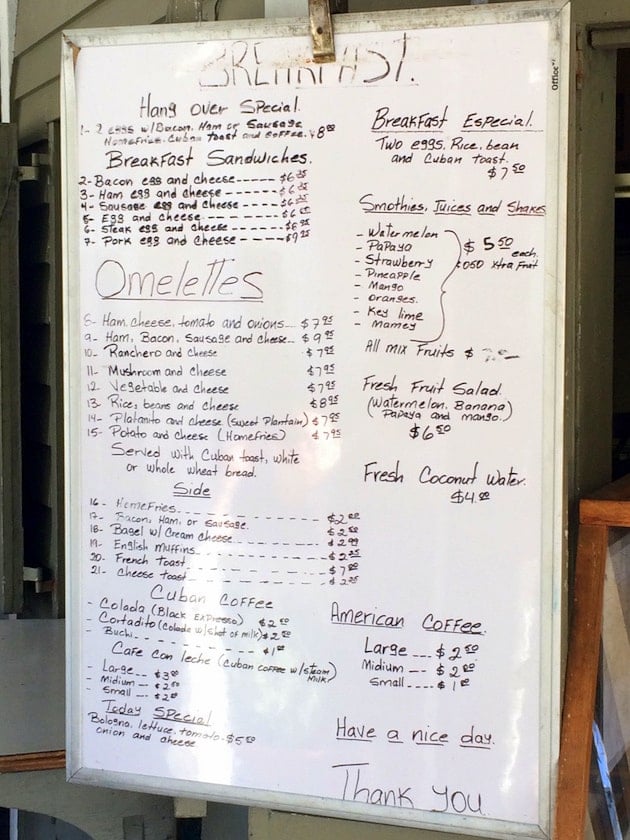 Breakfast, Lunch, Drinks, and Sunsets:
Ana's Conch & The Cuban Cafe for coffee & breakfast! If you are looking for awesome coffee, check out Ana's! Fortunately for us, this place was literally on the same block as our hotel. Every morning I took the 3 minute walk to peruse Ana's vast selection of Cuban and American breakfast and lunch options. Being new to Cuban coffee, we discovered and fell in love with her Cortaditos and Cafes con Leche. Be prepared to stand in a line here, but for a coffee lover it will be worth every minute. (If you are a die-hard Starbucks fan, there is one located near the midpoint of Duval Street and another on Front Street on the north side of the island).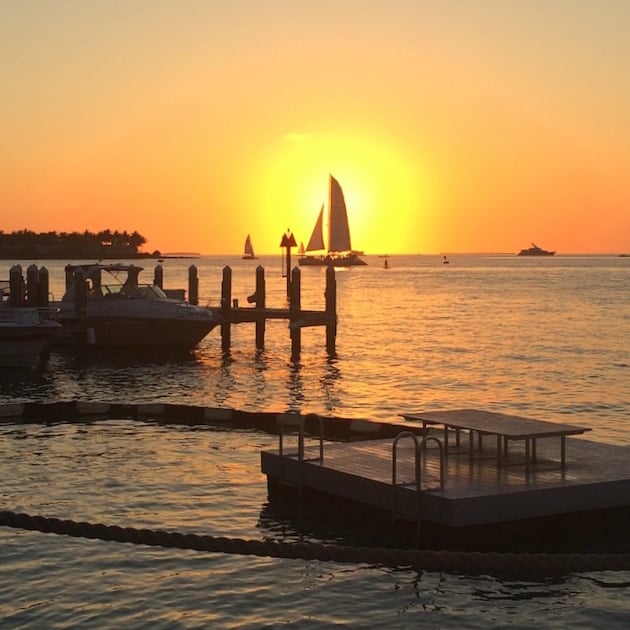 Sunset at the Tiki Bar in the Galleon Hotel. Everyone who comes to Key West expects to see at least one of their famous sunsets, which are best viewed from the north west part of the island. The crowds gather and cram into Mallory Square, but we got a great tip to check out this bar in the Galleon Hotel. Because it's not as well known it will be less crowded, but it had great service, perfect views, and of course live music. They were a little light in the wine selection ("do you want 'the' cab or 'the' chardonnay"), but you're coming to this spot for the sunset, right??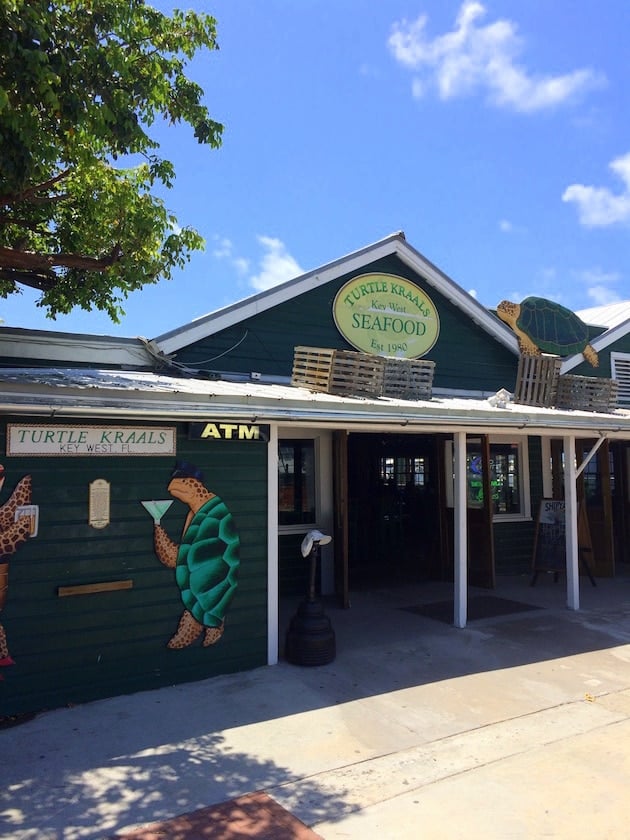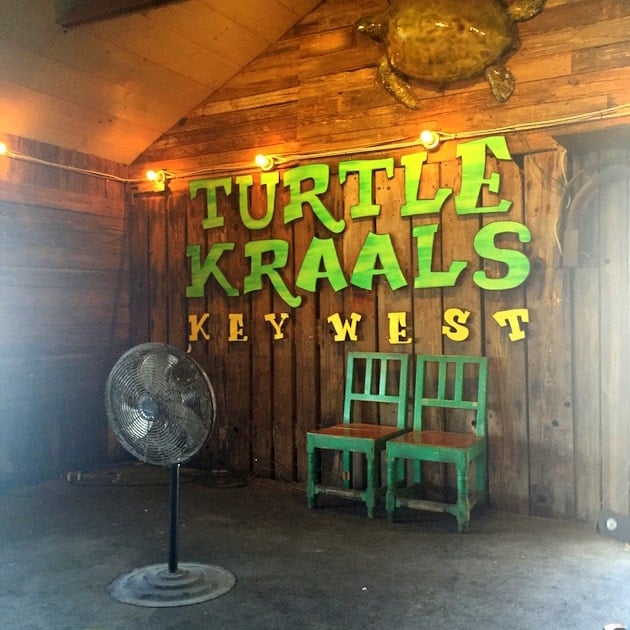 Ceviche at Turtle Kraals. This place was a hoot, and probably our favorite spot to visit overall! Anyone you ask about ceviche will probably recommend TK to you. We took a break from the pool and did the 10-minute bike ride to the north end of Duvall St for lunch here, and we were not disappointed. We went for the four-ceviche sampler to get the full experience… in order of preference we had: "Key West" (hogfish, avocado, sour orange, jalapeño & more); "Mojito" (diver scallops, pineapple, mango, mint, & more), "Nikkei" (grouper, yuzu, tamarind, sesame, soya, ginger, candied lime, with thai basil & chiles), and "Peruvian Classico" (yellowtail snapper, red onion, sweet potato, corn, celery, key lime).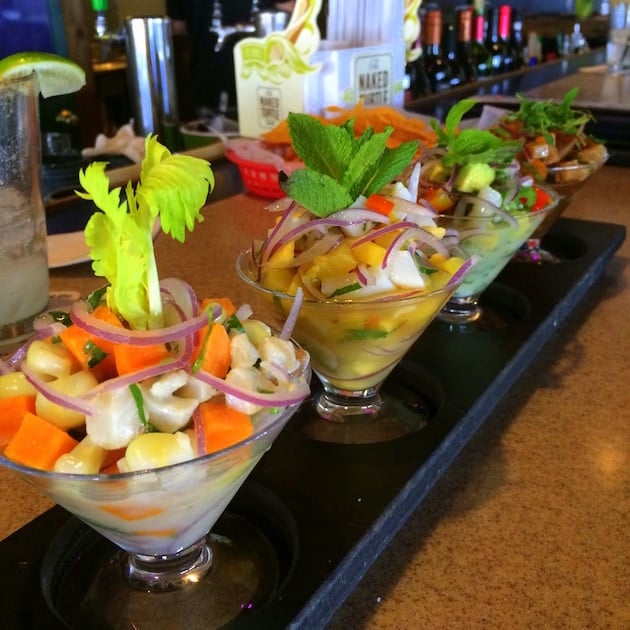 We really enjoyed the first three, but the fourth smelled a little fishy, and, well, good fish shouldn't smell fishy. Our server noticed that we left it alone and without our asking she refunded us for it (very nice touch – full service recovery!)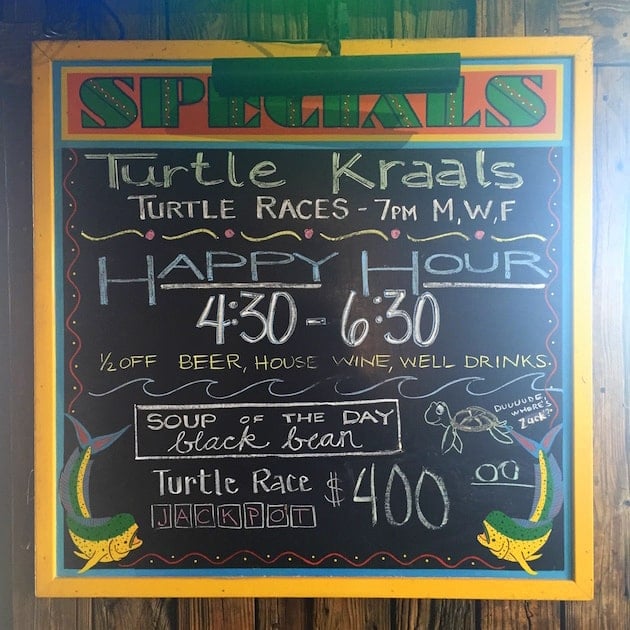 There's much more here than ceviche: Turtle Kraals has a large menu, and happy hour starts at 4:30 – try their brilliant Key Lime Margarita, with graham-cracker-crust rim… literally tasted like key lime pie in a glass. They offer live music, and host turtle races in the evenings (check for their schedule) with prizes up to $500 – yes it's really a thing!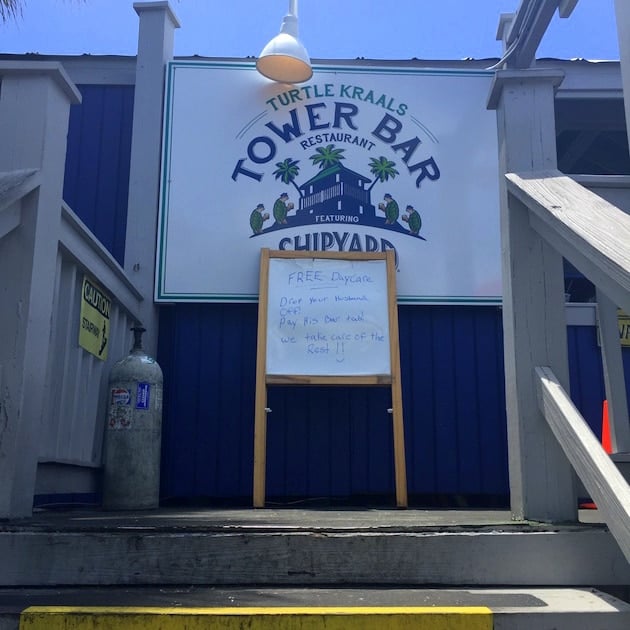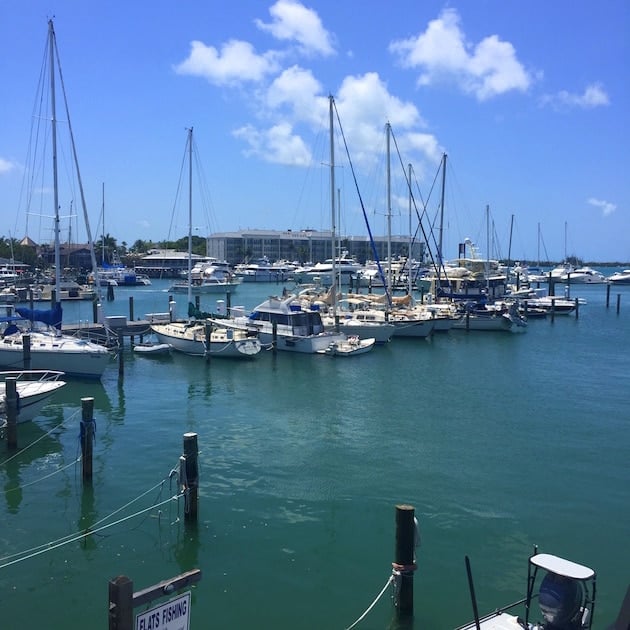 If there's no live music or turtle-racing going on, we recommend you walk through the 1st floor and head up to their 2nd floor "Tower Bar," a 2nd story open air bar with a beautiful view of the marina and hopefully some nice cool breezes. Definitely don't miss TK!!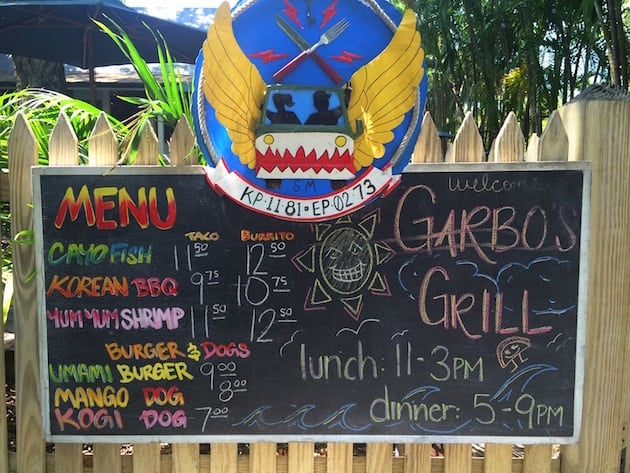 Tacos at Garbo's Grill. Garbo's cranks out tacos of fish, beef bulgogi, or shrimp, as well as umami burgers and a fascinating kogi hotdog… all from a 6x8 food truck. This is a nicely-run hubby & wife business that sits far enough off of Duval St to be a little more peaceful.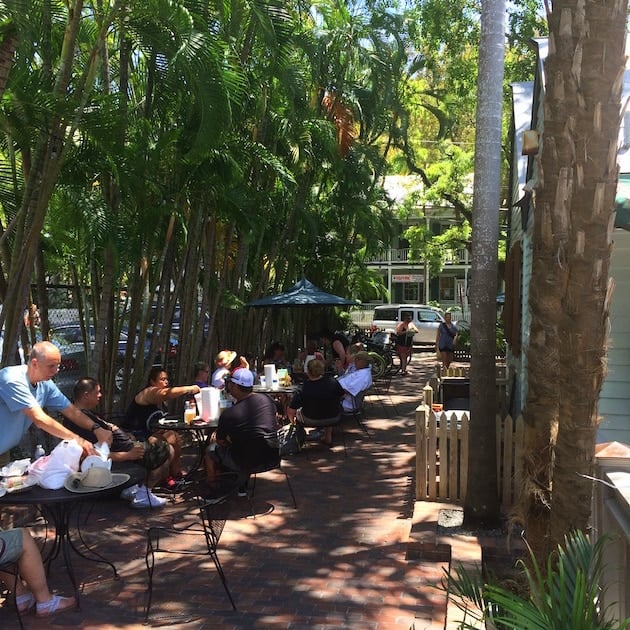 They've got an "indoor" open-air bar as well as outdoor seating, but seating can be scarce if you come at peak times. There's usually a line; we had a 20+minute wait to get our food once ordered, so make sure you factor that in to your plans or maybe try to come at an off-peak time.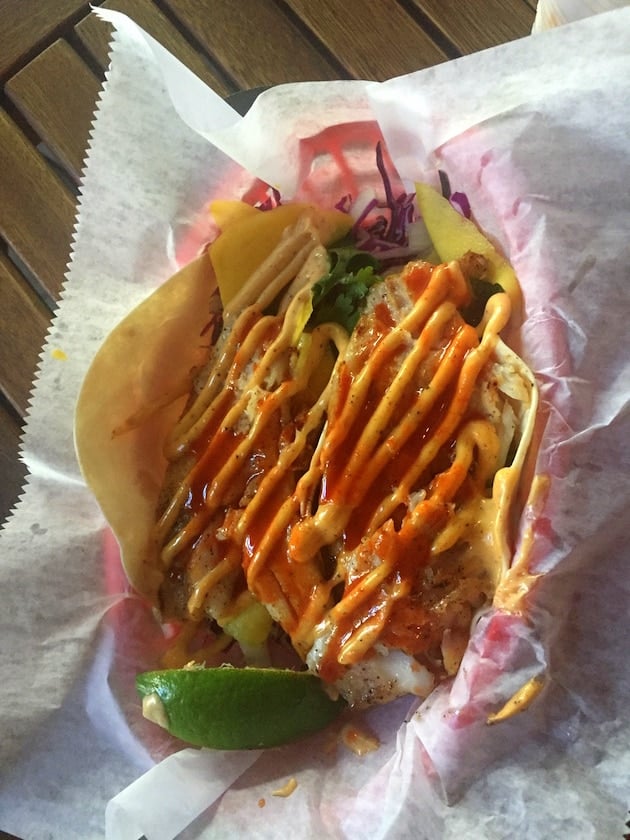 We adore a good fish taco, but we found these a tiny bit on the bland side, in need of more seasoning or sauce. And as kmichi lovers, we would have enjoyed even more kimchi on that hot dog but I'm sure we're the exception. We were pleasantly surprised by the beef bulgogi tacos: they were huge, super-flavorful, and our absolute favorite!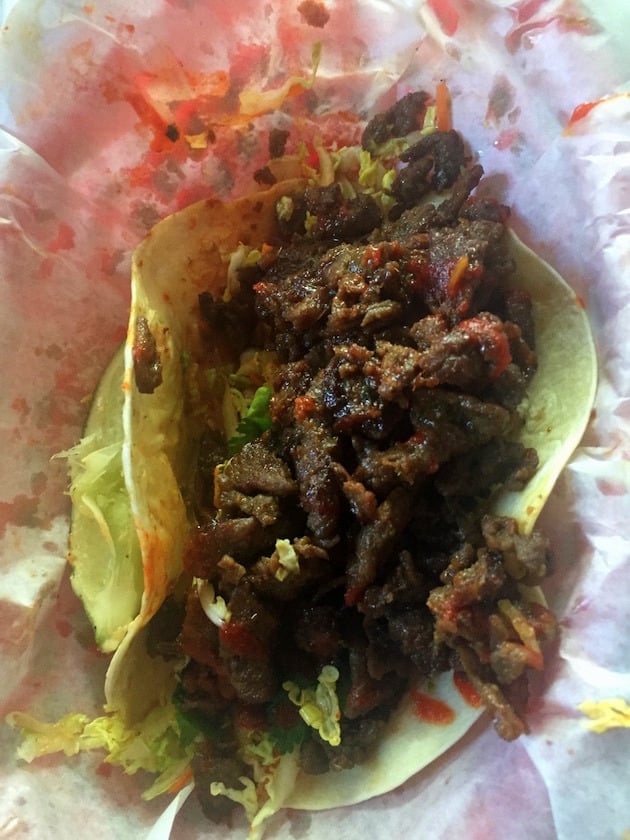 Speaking of huge, really all their tacos were quite generous. As a protein-loving carnivore, I greatly appreciated the generous portions of beef or fish in each taco.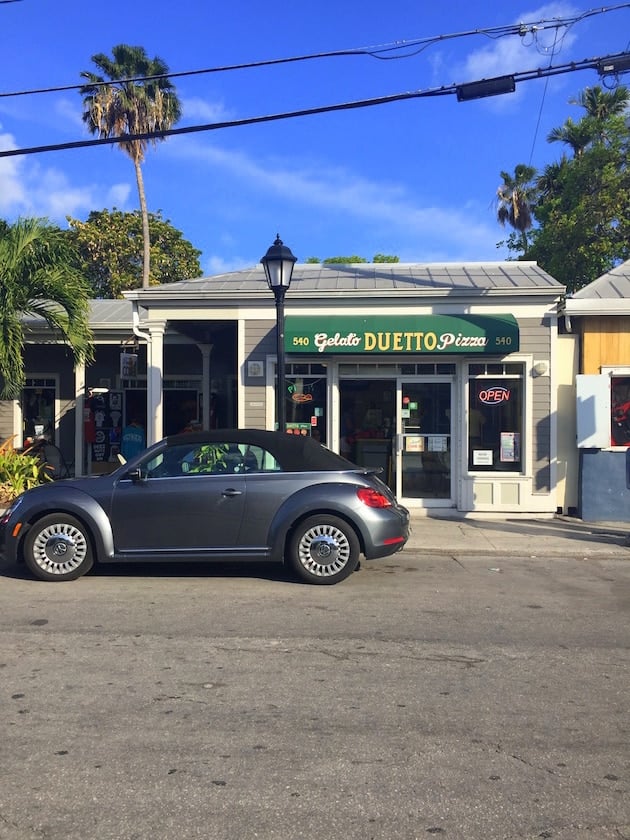 Pizza & Gelato at Duetto. This is a super-casual spot with a wide variety of pizzas ready to sell by the slice. The space is a little narrow, and they have limited tight seating inside plus just a couple tables outside. We enjoyed a meat-lover's (with amazing sausage!) and a Florentine-style pizza, but they all looked delicious.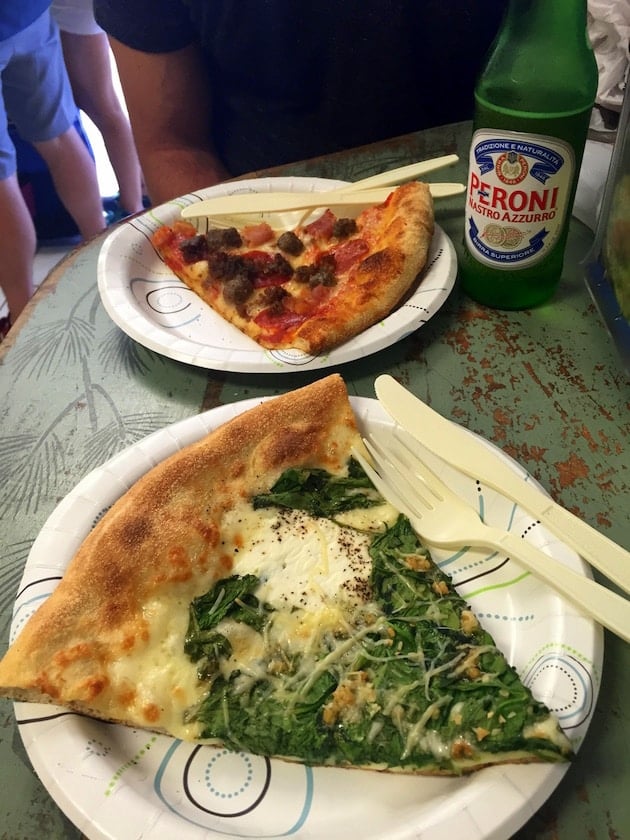 They offer about 12 flavors of homemade gelato, although we didn't sample them. The tight space added to the character & made it a fun experience for us, but you shouldn't expect to go in with a large group and find seating. You may end up dropping by to grab a slice or a cone "on the go" or if you have a larger group consider picking up a few pizzas to go. Super-friendly & prompt service – these guys know how to hustle!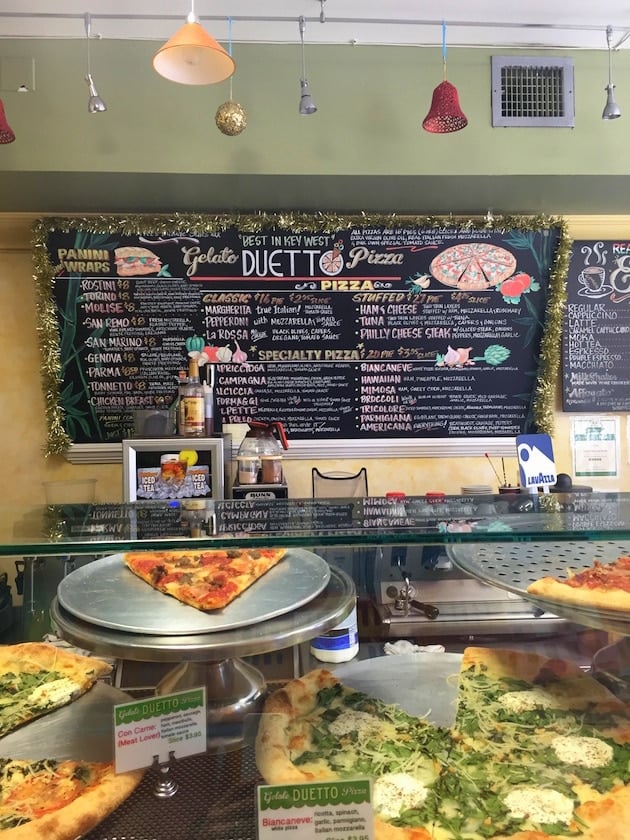 Other Eateries That Were Highly Recommended (We just couldn't sample them all!)
A few others were on our list but we just couldn't get to all of them: El Siboney (Cuban cuisine), Café Marquesa (contemporary American), and 2 Cents (Gastro Pub). And three other dinner spots for a more predictable, but nice dinner that were consistently recommended to us: Azur (Mediterranean), Ocean Key ("fine dining"), and The Commodore Waterfront (classic surf & turf menu w/broad wine list).
Drinking Establishments
Agave 308 Tequila Bar. Located on the northwest side of the island, a block or so off Mallory Square, this bar is a little bit tucked away. A little on the dark side but it looked like it had a lot of potential, with a massive selection of tequila. Unfortunately the evening we dropped by, they were short-staffed and the poor woman behind the bar was the only person serving at least 50 customers. So if you're a true tequila enthusiast it might be worth a try.
Green Parrot Bar. We're not really nightlife people but this was a highly recommended tourist spot so we ventured in after dinner. About a block off of Duval, this is a straight up loud-music, packed-house, everyone's-friendly, lively drinking establishment with very prompt service. We missed happy hour but the Parrot boasts that they have the best specials on the island from 4-7PM. In fact one day we passed by on our bikes during happy hour and the place was busting at the seams. If you are looking for this type of venue Green Parrot is your spot.
Several other bars that looked to promise a lively, eventful evening include The Keys Key West Piano Bar, The Top, Jimmy Buffett's Margaritaville Café (oh come on you know we had to mention it… ), or the Hard Rock Cafe.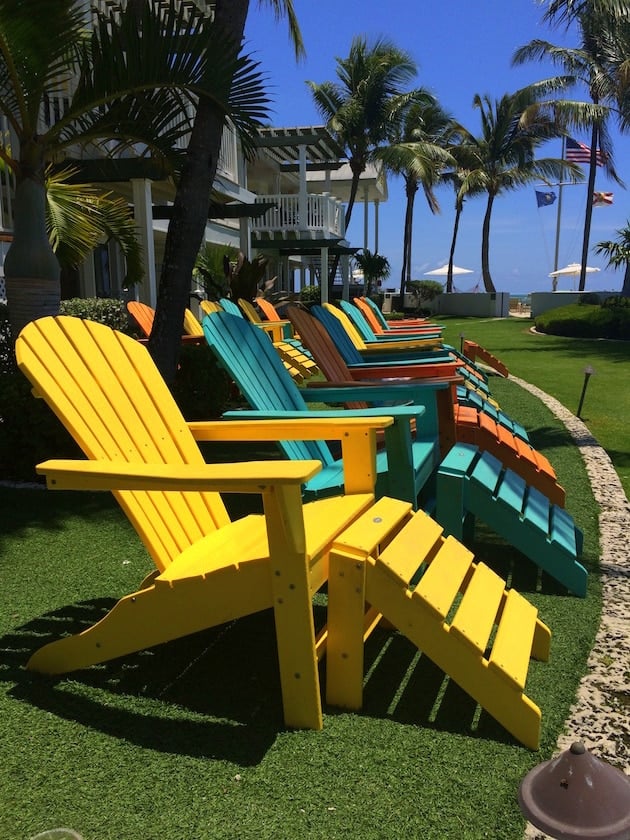 Lodging
We stayed at Southermost On The Beach, and would definitely recommend it. Named for its location near the southern point of the island (which is also the southernmost point in the United States), the Southernmost resort property sprawls across a few blocks because they've acquired and absorbed a few smaller competing properties over the years. We recommend staying at the beachside part of the resort – when booking look for "Southernmost On The Beach" – and suggest you check out this property map for the details when you book. We loved the location of this property, away from the busy-ness of Duval but within a short walk or bike ride. We also loved the ocean breezes & friendly staff.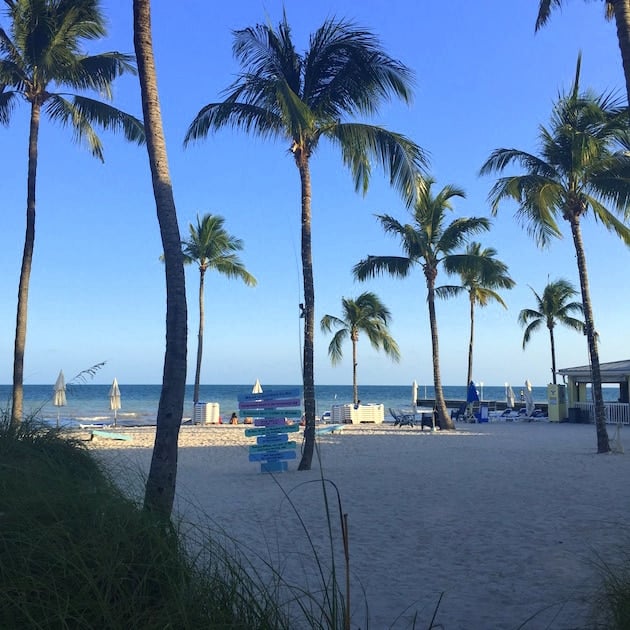 Speaking of beaches, note that their beach is technically a public beach that adjoins the resort, but they have an attendant who will set up beach chairs & umbrellas for hotel guests without charge (but please consider tipping)… you just need to grab towels from the hotel pool area before you head over to the beach area. Key West isn't known for large beaches, and we did find this beach a little small, with water a little cloudy and the sand rocky. Seems that the natural coral reef around the Keys – the largest in the US – means that there aren't a lot of big beaches here with rolling waves like you might find in other beach destinations (this is not limited to our hotel, this was the case for most places in the Keys). So if you want to get out into the ocean water, the best bet may be to take one of the many boating options that specialize in sunset/swim/snorkel/scuba day or half-day trips.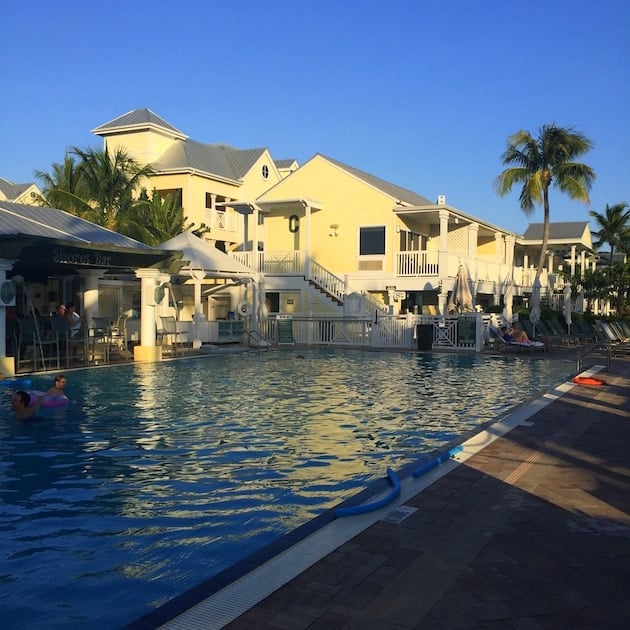 If you're a land-lubber, not to worry: we spent the majority of our "sunning" time at one of Southernmost's three different pools and found their setup to be excellent. The Shores Pool is on the beach side of the resort, and they do also have an adults-only ("Tranquility") pool.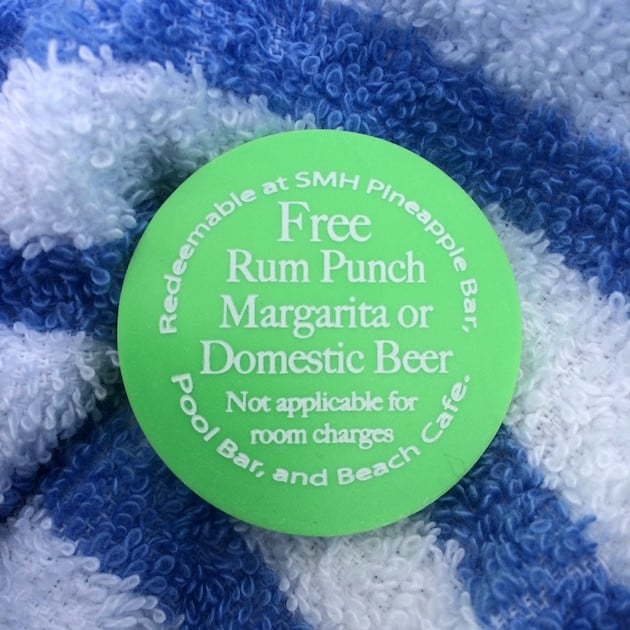 They've got an entertainment director who works the Shores pool area and coordinates daily activities without making you feel like you're at summer camp – think live music, poolside bingo, corn-hole tournaments, and free drinks for couples celebrating anniversaries or honeymooning.
Another hidden gem for sun-seeking and ocean-gazing is at the very southern end of the property: hidden beyond the last building is their "Tanning Pier," another ocean-front sunning area with hammocks and palm trees for shade, and another beach bar (the "Sand Bar"") with open air seating.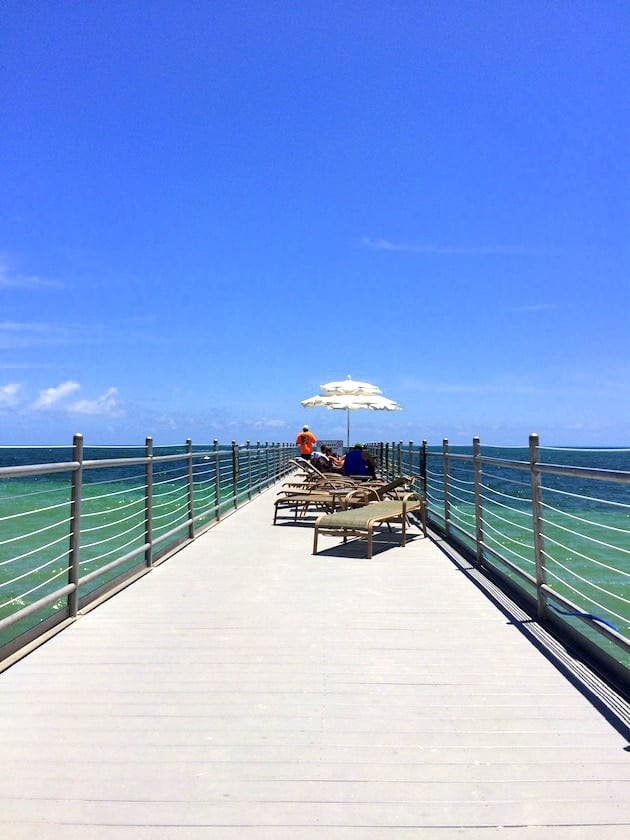 This end of the property is totally exposed to the water so it offers great breezes, and a 180 degree (plus) view of the Gulf of Mexico – very serene and refreshing. Sadly for me while we were there they were replacing the steps from the end of the pier down into the water, so I wasn't able to hop in and become one with the aquatic life.
Pool service was fairly attentive, especially after your first order of the day. For poolside libations, we highly recommend their delicious mojitos packed with mint, or for an even sweeter treat try their coconut mojitos. The Smoked Fish Dip with crunchy salty pita chips was the perfect light snack for poolside munching.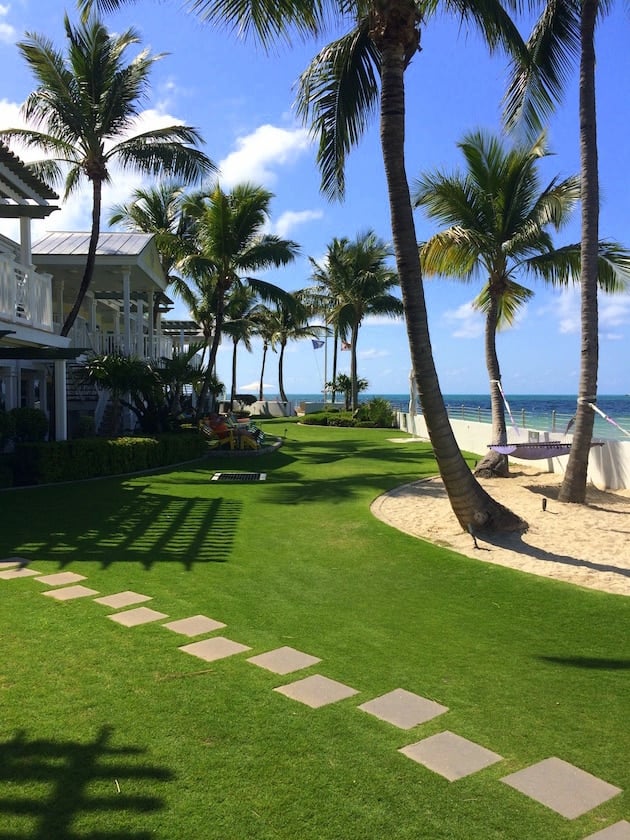 A couple things to be aware of: we stayed in the beach-side buildings, which have no interior hallway… rather the door to each room is an exterior door which some might find to be "motel-like." The two-story building we stayed in had no elevator, and when we checked in there was no evidence of bell staff to help with luggage, although we saw them later during our stay. And lastly, although there are a few places within the resort to get a meal, there is no room service. We normally take breakfast & coffee in our room, but fortunately Ana's Cuban Café was literally two minutes from our hotel so we grabbed coffee & breakfast from them each day. The Southernmost does also have a beachside café that does a booming breakfast business.
We were really pleased with the room. Every room has a safe, a mini-fridge, robes, and they restock bottled water every day. Also (this is a crazy detail) but we really appreciated the pump hand soap in the bathroom - we can never understand why even high-end hotels offer a bar of soap that no one wants to use. They supplied a lot of other personal care/grooming products (shampoo/conditioner, etc.) as well. The air conditioning was strong which is important for tropical climates, and the room was well-maintained and super-clean. Also the front desk staff was very accommodating to our requests, including a late checkout.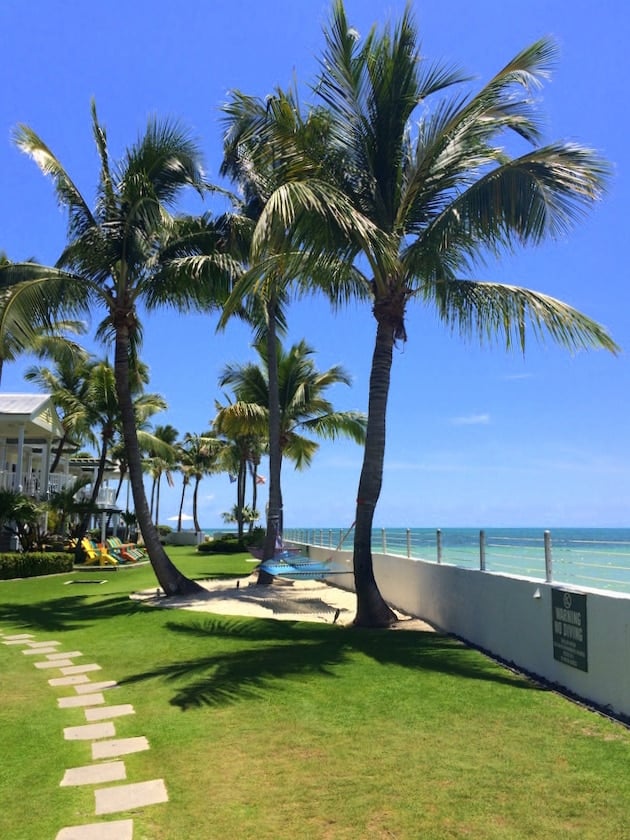 We would definitely stay at the Southernmost on The Beach again. Depending on the length of your stay & your budget, look into the "Ocean Front Balcony King" rooms. These rooms are at the (beach) end of each of the beachside buildings with private balconies and fantastic views of the water. They run an extra $100-$150 per night compared to a king ocean-view room we stayed in, but we would probably go for this next time we stay here.
These other hotels were also on our short list. First, toward the northwest (livelier) side of the island:
Hyatt Key West Resort and Spa
... And toward the southwest (quieter) side of the island:
The Reach by Waldorf Astoria. On the southwest side, they looked to have the nicest man-made beach & ocean swimming area we saw.
Marriott's Cottages on Sunset Key – this is actually a short ferry ride from Key West but looks delightful.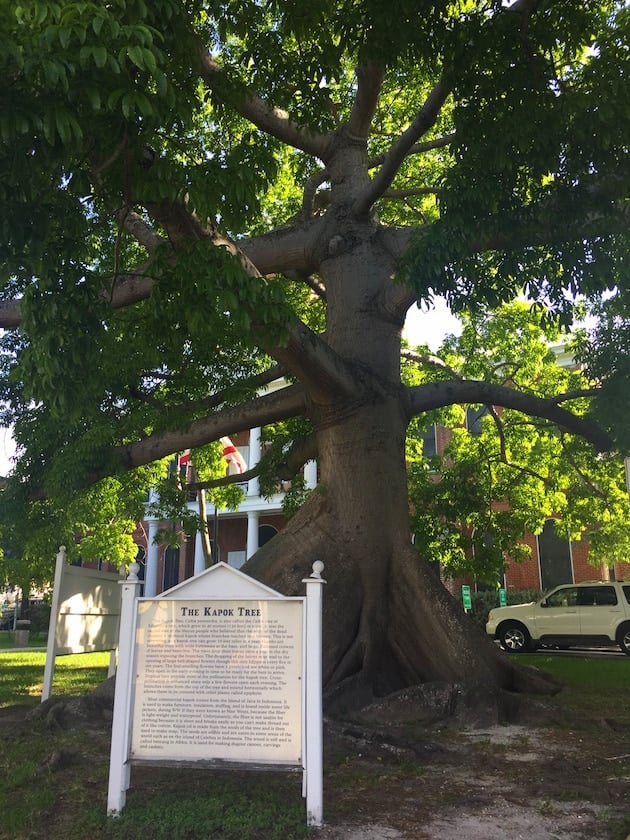 To wrap it up, we'd highly recommend Key West and plan to go back. There is so much to do here! With the time we had, we didn't even crack into the water adventures like snorkeling or deep-sea fishing, and didn't do justice to the many tourist attractions like the Truman Little White House, Hemingway's Home & Museum, the Key West Lighthouse, and Fort Zachary Taylor Park.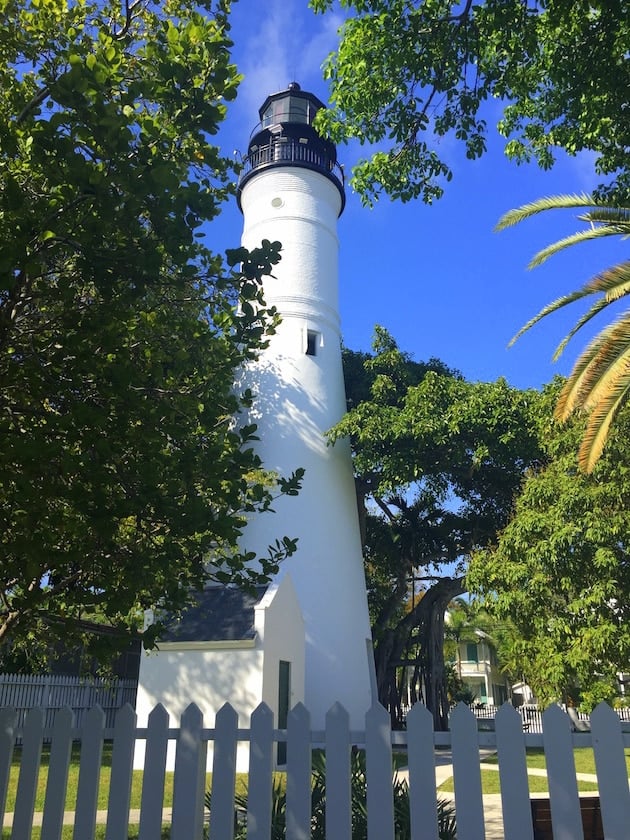 And there's plenty of shopping, whether you're looking for touristy stuff, art galleries, fashion boutiques, cigars, or beach gear. If we were to combine all that with another few days soaking in the sunshine, and one or two more delicious dinners, Key West would easily fill up a full one-week vacation and probably still leave us wanting to come back for more.