Nothing says happy Father's Day like a big ole' hefty Chicken Satay Zoodle Salad! It's chock full of hearty veggies, lemon thyme marinated chicken tenders, and a creamy peanut satay dressing. What can I say, we're trying to keep our fellas fit and strong!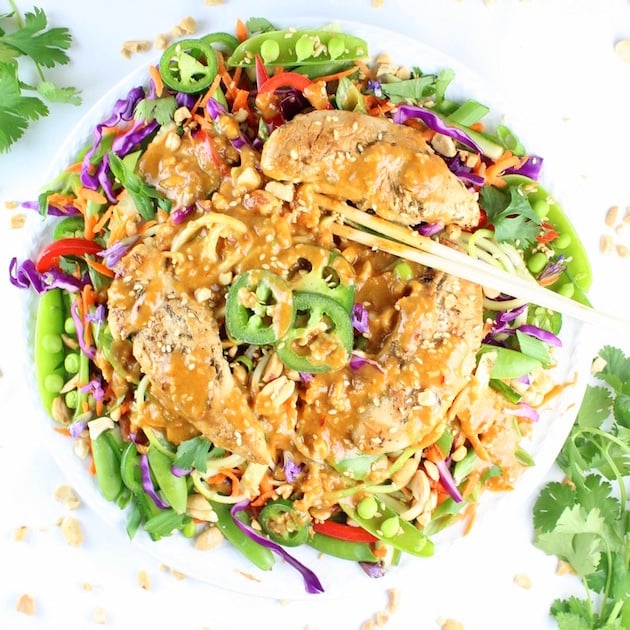 (This post contains affiliate links: read more here).
Happy Father's Day to all the guys out there! You do such a great job of taking care of all your people! I just want to take a minute and really celebrate some of the undeniably great characteristics of all the good guys in our lives.
They are great listeners! And well, they have to be because us ladies have a lot to say. Or is it just me!
They are balanced – guys have no problem prioritizing their time for those that are important to them. Whereas we ladies seem to get all confused and feel like we have to be available for anyone that has a need, whether or not we even know them. Guilty!
They are steady and solid like a rock. They don't get all upset and emotional when friends forget their birthday or don't text back. ("Life is too short to cry over spilt milk and plus there's food to be eaten so pass a hamburger and peace out Girl Scout."✌️)
They focus on one thing at a time and see it through. They don't get all overwhelmed with the 17 different things going on in their life. They just work through things one at a time, opening and closing compartments as they go. It's 7am – time to open the work compartment and go to work. It's noon – open the lunch compartment and eat. It's 5 pm - open the home compartment and drive home. Us girls are all tangled up like a ball of yarn…doing multiple things at once…go go go, do do do. (Yep, I said "do-do." A little guy humor for ya! My friend Jeremy taught me that one.)
They are strong – mentally, physically and emotionally. I know us ladies are strong too, but I can't lift the tiller into the back of the truck by myself, or spend endless hours raking the 4 feet of snow off my roof so it doesn't cave in. Truth talkin' people.
These are just a few of the many ways that guys rock our block! Yayy for all the fellas out there!! Let's hear it for the boys!!
My own father passed away 17 years ago. He was also pretty amazing…a wonderful provider for his family, strong like an ox in every way and pretty darn hilarious. He worked full time at his day job and was a volunteer fireman for too many years to count. He made sure we were obedient, respected our mother and her desire for us to attend church 3-4 times a week. (That's a lot of church. Just sayin'.)
He was always willing to lend a hand – mow your lawn, change the oil in your car and he could literally fix anything with a swing of the hammer. No joke. He had skillzz with two "Z's". LOL
He was always cutting up, pulling pranks and trying to get you to laugh. I miss him for sure but know he's in good company up in the big mansion in the sky, having a blast, telling knock knock jokes to all the angels and anyone else that is in earshot.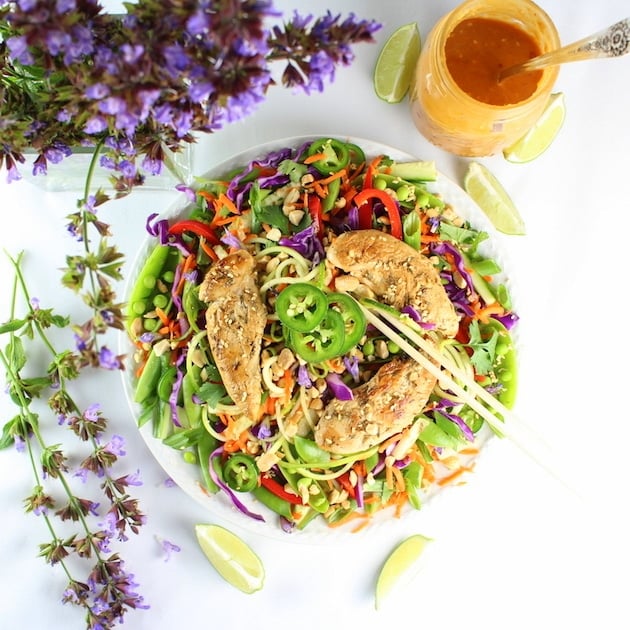 Another pretty amazing fella in my life is my FIL. He's always been a really hard worker – you don't become an Air Force Colonel by sitting around eating pizza and playing video games. FIL is no slacker - he's always taking care of business. Like the time he installed his own insulation in the crawl space of their Florida home with temperatures at 100 degrees outside and 130 in the attic. Whoa! Like a boss.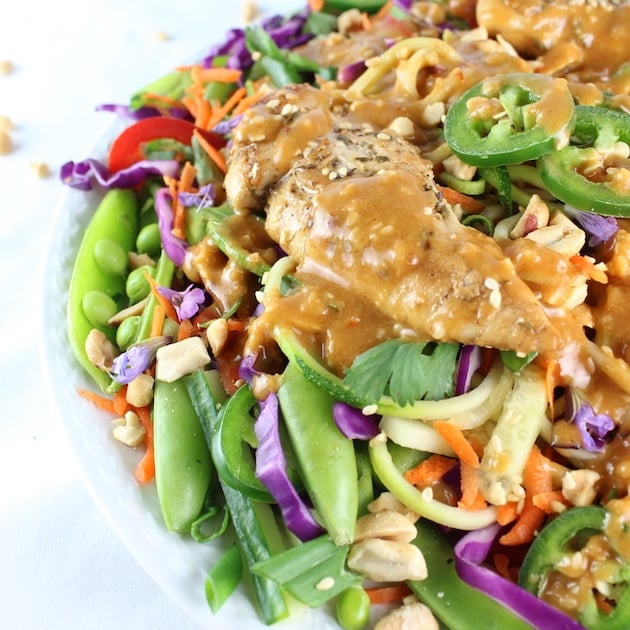 He loves his family dearly and has no problem letting them know about it. Whether that's a phone call, an email, mailing them holiday cards or random parts to a broken coffee maker that's seen better days (may the original BLSC coffee maker rest in peace).
He's so fun-loving and charming, always making sure everyone is taken care of and having a good time. Proof reading a certain person's food blog and making sure the salt in the ingredients column of the Baked Nutella S'mores makes it into the directions (true story).
And most importantly putting Christ first in everything he does and extending the love of God to everyone he meets…his wife, his kids, the neighbors, all the various cats and dogs over the years, the store clerk at Wal-Mart and even the toll booth attendant on the highway.
FIL is one amazing husband, father, and friend and because he's also humble he would probably argue that he could do better. Superman ain't got nothing on you FIL!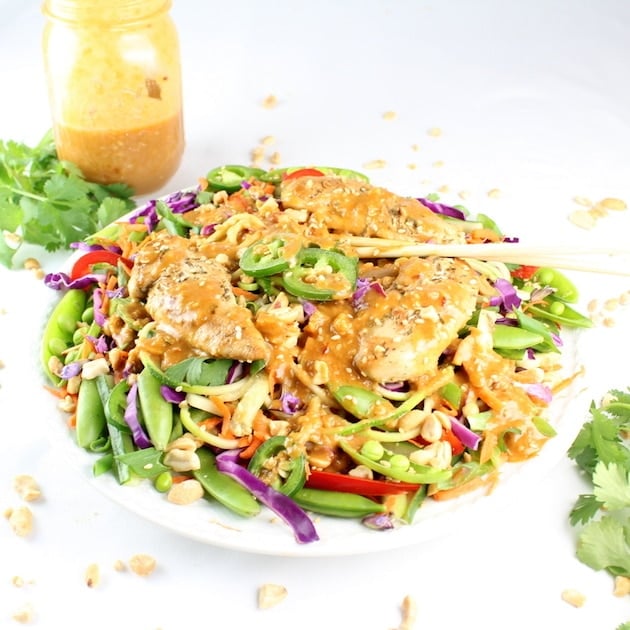 B's parentals live in Florida and we try to get down to see them at least once a quarter. Recently while we were down for a visit FIL asked if I had a good recipe for an Asian Salad. At the time I did not, BUT now I do!
And although you might not think of a salad as a Father's Day meal, it is for our father. He's always looking for ways to incorporate more veggies in his life and he really loves a good salad. So salad it is! Happy Father's Day FIL!!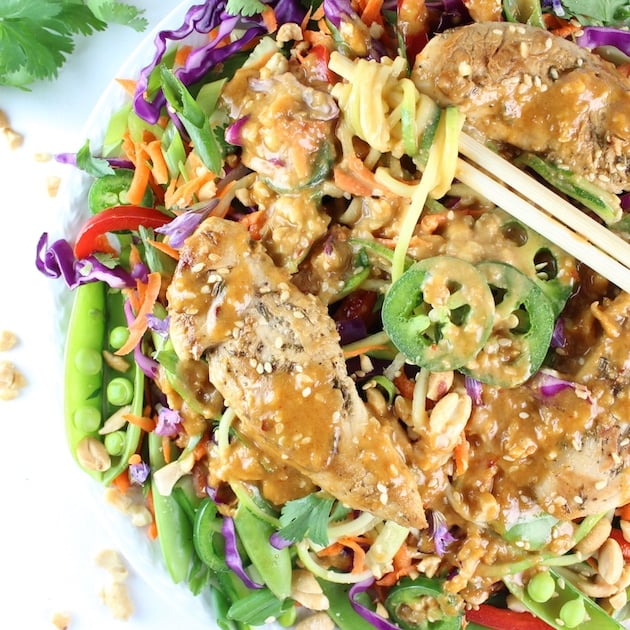 For some reason when I was developing this recipe I kept thinking I should make a peanut satay sauce for the dressing. Maybe it's all the smooth creamy nuttiness of peanut butter that captivated my attention. So what can I say, I went to work and came up with…the Chicken Satay Zoodle Salad.✨ Yep – I said zoodle!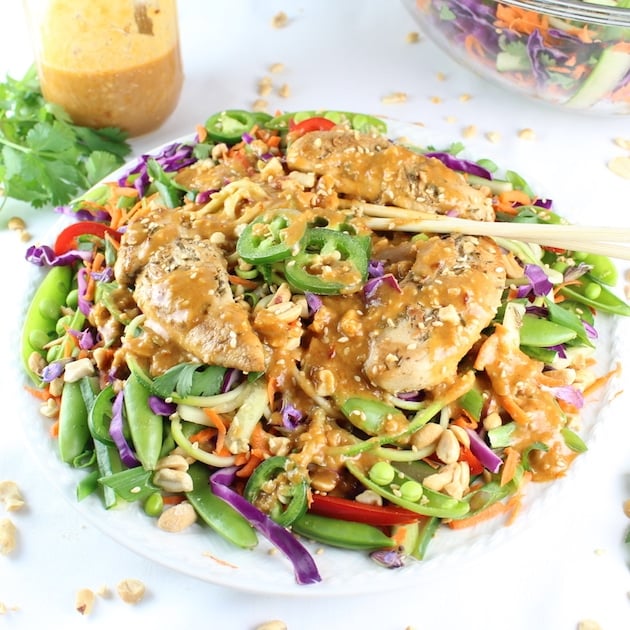 How to make zoodles:
If you're asking "what are zoodles?" … They are basically zucchini made into noodles. So you get all the healthiness of the veggie and the fun texture of a noodle: "Zoodle."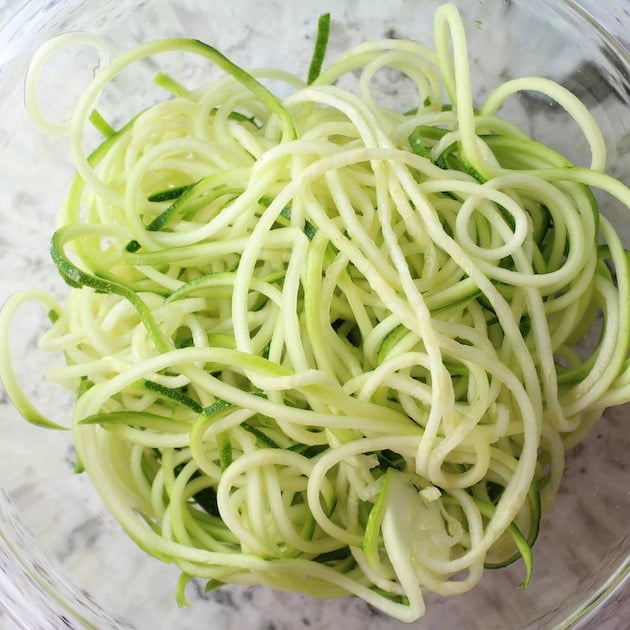 Of course you could always make this salad with regular lettuce or a couple different kinds of shredded cabbage, carrots, etc. and it would be really terrific. But for the sake of trying something new today, we're zoodling.
Introducing the zoodle maker: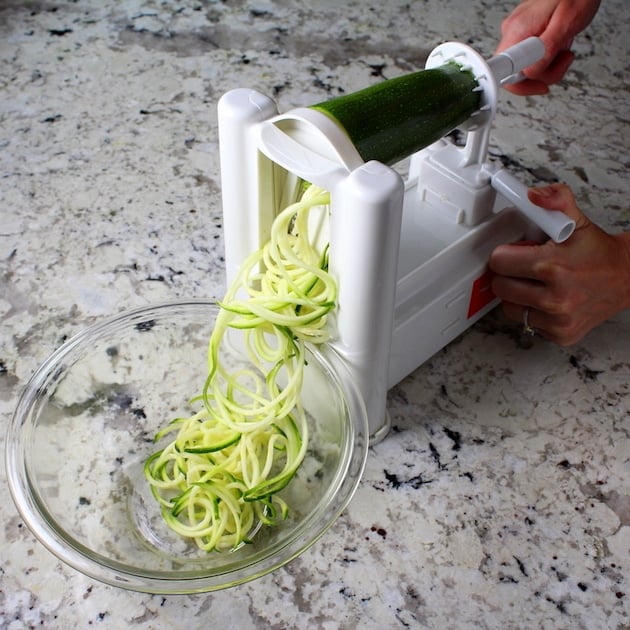 You will need some special equipment to make zucchini noodles. The contraption is called a Spiralizer and it's relatively inexpensive (around $30). It comes with some different attachments, so you can make a variety of veggie ribbons, noodles, etc. Here's my current fave (<--affiliate link).
The first thing you need to do to get this salad on the plate is to get your chicken tenders into a bright lemony marinade that will pair perfectly with the creamy peanut dressing. Because the tenders are so thin, they will only need about 30-60 minutes in their citrus-herb bath to pick up all the yummy lemon flavor.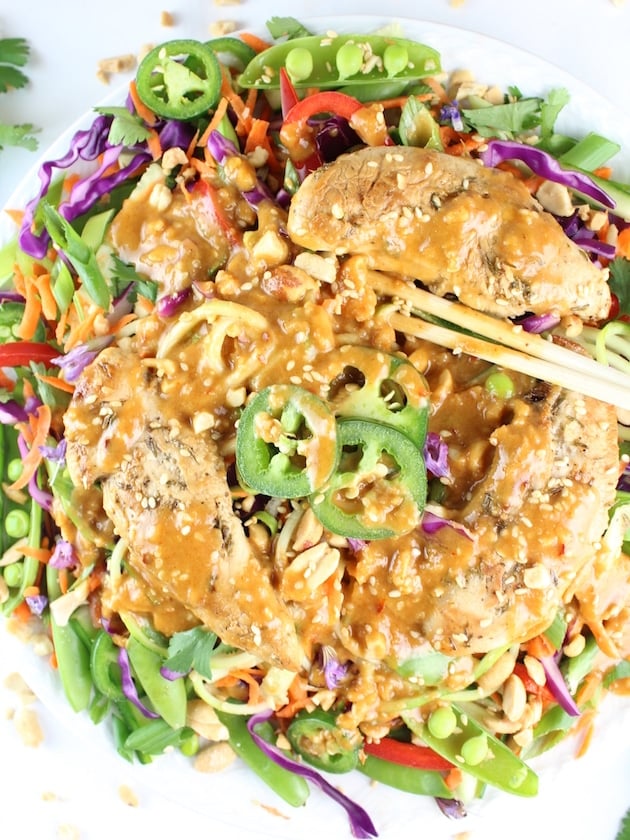 While the chicken is marinating, go ahead and start chopping, shredding and zoodling all your veggies. Then mix together all your dressing ingredients in a small mason jar, seal the lid on tightly and give it a few good shakes.
Since FIL doesn't have a grill and this recipe is for him, we're gonna pan fry our chicken. Add a little olive oil to a large saucepan and cook the chicken about 4-5 minutes a side over medium heat, or until the meat thermometer reads 165 degrees.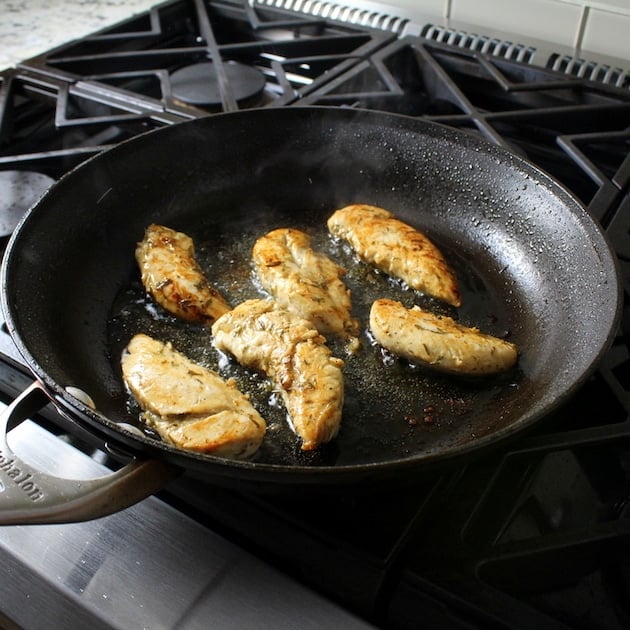 Now it's time to assemble! Layer all your colorful veggies on the plate, add the lemon chicken, drizzle it all with the tasty peanut dressing and top with some smashed dry roasted peanuts. D-Licious!
The Chicken Satay Zoodle Salad is full of hearty crunchy texture, tons of bright and creamy flavors, and a whole week's worth of your daily requirement of vitamins. It's really the perfect meal for summertime living: light on the calories, super-filling and big on flavor.
I would love to connect with you! Leave a comment and follow me on Instagram, Twitter, Facebook, and Pinterest!
Yield: 8 servings
Chicken Satay Zoodle Salad Recipe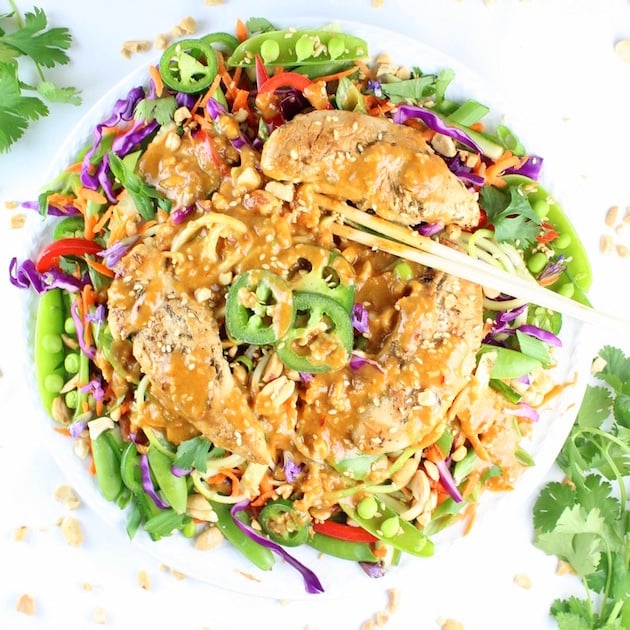 Chicken Satay Zoodle Salad Recipe – Lemon-marinated chicken on spiralized "zoodles" w/peanut satay dressing. Hearty, crunchy, w/a week worth of vitamins!
Total Time
1 hour
20 minutes
Ingredients
For The Chicken:
½ cup freshly squeezed lemon juice, normally 2 lemons
⅓ cup olive oil for marinade, plus 2 tablespoons for cooking
1 teaspoon sea salt
1 teaspoon pepper
1 tablespoon fresh thyme, chopped
2 pounds boneless skinless chicken tenderloin strips
For The Peanut Satay Dressing: (This makes more dressing than needed. Recipe can be cut in half if less is preferred.)
½ cup rice vinegar
4 tablespoons reduced sodium Tamari, (Gluten-free soy sauce)
2 tablespoons sesame oil
4 tablespoons honey
4 cloves garlic, minced
2 teaspoons minced fresh ginger
2 tablespoons sesame seeds, toasted
⅔ cup extra virgin olive oil
⅔ cup organic creamy peanut butter, (no sugar added)
2 tablespoons fresh lime juice (1 lime)
2 teaspoons Sriracha sauce
½ teaspoon crushed red pepper flakes, (optional)
For The Salad:
2 medium zucchini squash, "zoodled"
3 carrots, peeled and shredded
1 cucumber, julienned
½ head purple cabbage, thinly sliced
1 red bell pepper, seeds and veins removed and thinly sliced
8 ounces snap peas, sliced in half
1 jalapeno pepper, thinly sliced, (for garnish, optional)
6 scallions, sliced on the diagonal
¼ cup chopped cilantro for garnish
⅔ cup salted dry-roasted peanuts, smashed
Instructions
For The Chicken:
In a medium bowl, whisk together lemon, olive oil, salt, pepper, and thyme. Pour into a resealable bag, add chicken, coat thoroughly, and refrigerate for 30-60 minutes.
Add the remaining 2 tablespoons olive oil to a saucepan and bring to medium-high heat. Saute the chicken for 4 minutes, then flip each piece and cook for 3-4 more minutes. Use a meat thermometer to ensure that the internal temperature has reached 165 degrees F. Cook chicken in batches to be sure to not overcrowd the pan.
Once cooked, set aside while preparing the salad.
For The Peanut Satay Dressing:
Combine all ingredients in a mason jar and ensure lid is tightly sealed.
Shake until all ingredients are thoroughly combined.
For The Salad:
Spiralize the zucchini and place in a large bowl.
Remove seeds & veins from the jalapenos, then slice into ¼-inch slices.
Shred the carrots, julienne cucumbers and slice the scallions on the diagonal. Chop the cabbage into thin ribbons, and slice the snap peas in half lengthwise.
Combine all the vegetables (except for jalapeños and cilantro) in a large mixing bowl and gently fold them together.
Place peanuts in a resealable bag, and lightly hammer them with meat hammer or a rolling pin to break them into smaller pieces.
To serve, plate the vegetables, add 1-3 cooked chicken tenderloins, sprinkle with peanuts, drizzle with peanut satay dressing, and garnish with sliced jalapeño and chopped cilantro.
Notes
Prep time includes 30 minutes to marinate the chicken.
If no spiralizer is available then use a carrot peeler to make long ribbons of zucchini.
You can also grill the chicken tenders on a 350-400 degree grill for 3 minutes a side or until the internal temperature reaches 165 degrees F.
You can also use boneless skinless chicken breasts in place of the chicken tenders. Just cut each breast lengthwise into 2-3 strips.
Nutrition Information
Yield
8
Serving Size
12 ounces
Amount Per Serving
Calories

549
Total Fat

42g
Saturated Fat

7g
Unsaturated Fat

0g
Cholesterol

40mg
Sodium

996mg
Carbohydrates

26g
Fiber

5g
Sugar

17g
Protein

19g
Looking for another yummy, hearty salad? Check out this
Grilled Mediterranean Chicken Salad
!