We've got a slam-dunk with these Buffalo Chicken Meatballs And Blue Cheese Sauce… just in time for the playoffs!
Welcome to March Meatball Madness my friends! Yup, you read that right! MMM! But what does it mean??? Glad you asked. Yours truly will be posting a new tasty meatball recipe, each week, for the entire month of March! It's like the Dream Team of meatball lineups!
What can I say? I'm all about the swish! Brilliant – right?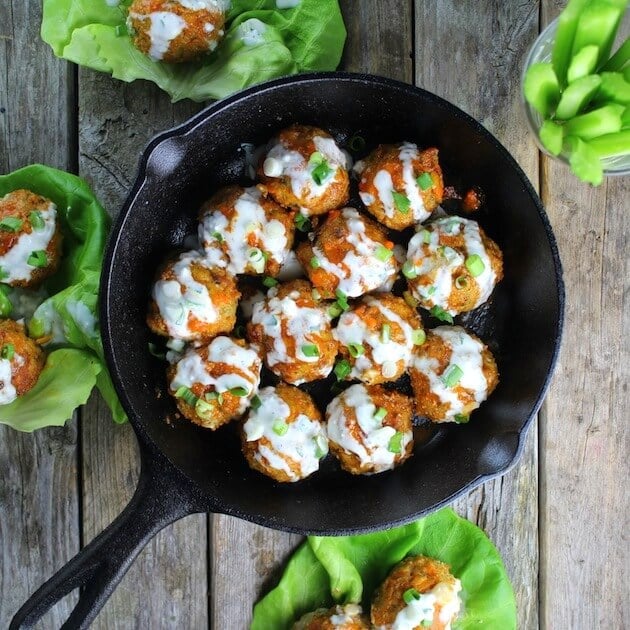 Don't you think they even look like mini basketballs???? I just can't.
They're just bursting with flavor, and so good for you.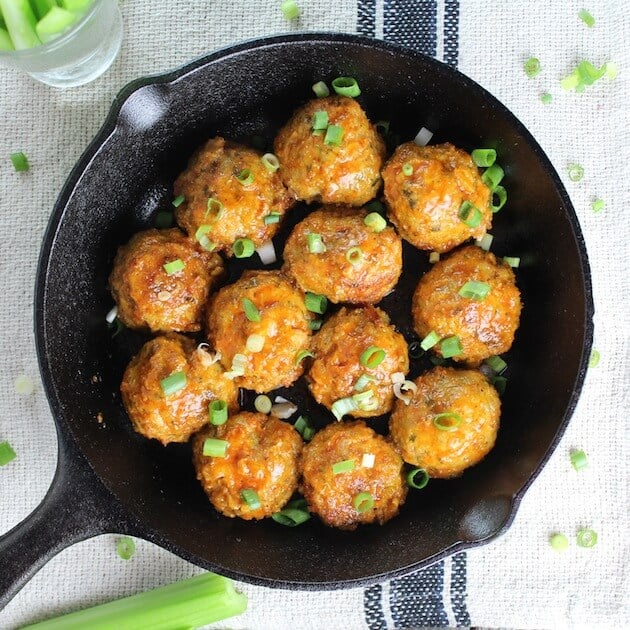 We all love meatballs! And what's not to love…they're hearty and filling, super-flavorful, and they go with everything!! Think about it: meatball subs, meatball pizza, meatball sliders, meatball wraps, meatballs and pasta, meatballs and rice… Should I go on? Literally everything.
I'm crazy excited to share all my new recipes with you. Get your pinning finger ready cause it's gonna' get a workout this month!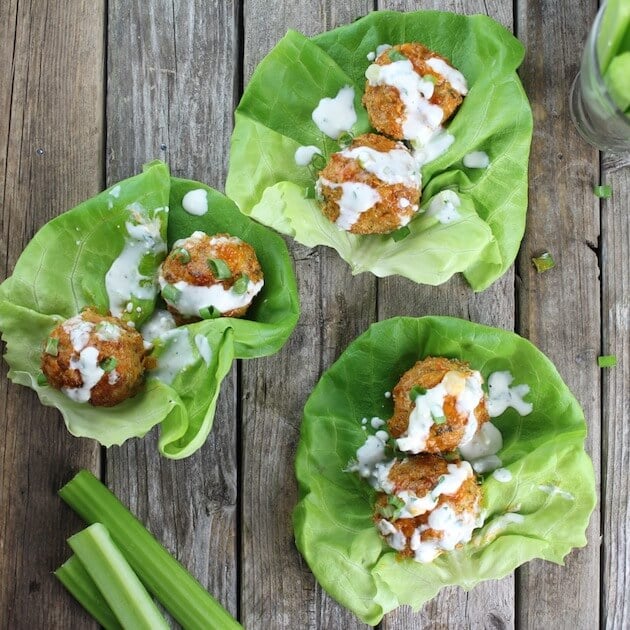 This week we're coming out of the gate strong with these Buffalo Chicken Meatballs. They are D-luscious! So full of flavor from herbs and veggies like garlic, onions, celery, parsley and green onions. And we're bringing the heat with a little bit of spicy cayenne and a nice coating of Buffalo Sauce. But the most valuable playa' in this game is the Blue Cheese sauce!✨ Aww snap! With buttermilk, blue cheese crumbles, plain yogurt, lemon juice and a little mayo it's a definite game changer.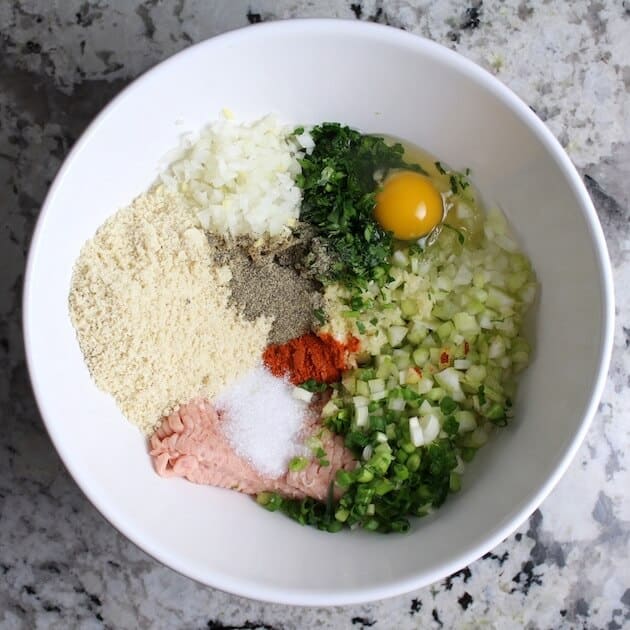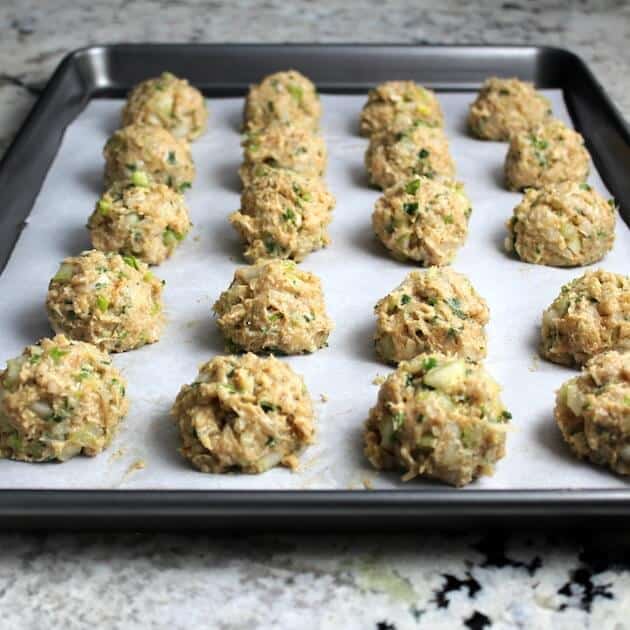 Try these m-balls in a slider bun, or on a fresh piece of bibb lettuce with some extra chopped celery or blue cheese crumbles. Mmmm!!! She shoots, she scores!!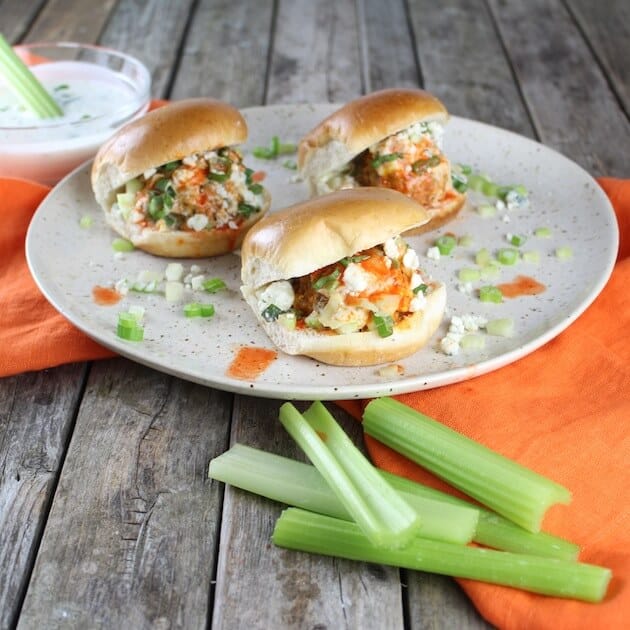 I hope you love this Buffalo Chicken Meatball recipe as much as I do. What can I say – I'm working hard for you. Now print, save, or Yum the recipe and head to the grocery store – cause teamwork makes the dream work baby!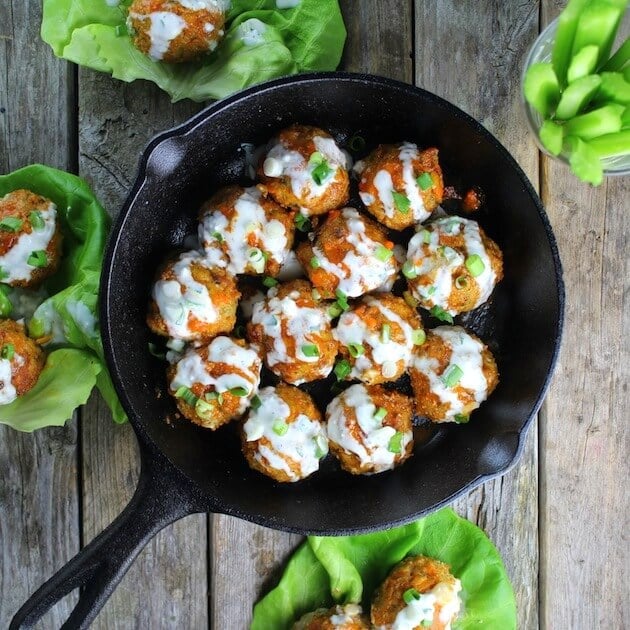 Buffalo Chicken Meatballs
Buffalo Chicken Meatballs! With herbs, veggies, & a little spicy cayenne. Heat is balanced perfectly by the cool, yogurt Blue Cheese Sauce. Healthy & delish!
Keyword:
Chicken, Meatballs
Ingredients
For The Meatballs & Buffalo Sauce:
3/4

cup

almond meal,

or bread crumbs

1/3

cup

finely chopped celery,

plus another one-third cup for garnish (about 3 stalks)

1/2

small onion,

finely chopped

1

large egg

4

medium size garlic cloves, minced

2

green onions, finely chopped

1

pound

lean ground chicken

3

tablespoons

finely chopped parsley

1/2

teaspoon

ground Cayenne pepper

1

teaspoon

Salt and pepper

1/3

cup

Frank's Red Hot Sauce

(or Tabasco Sauce for a spicier flavor)

3

tablespoons

butter

2

teaspoons

raw or regular white sugar

(start with 1 teaspoon, taste and add more if desired)
For The Blue Cheese Sauce:
1/4

cup

fat free plain Greek yogurt

1/4

cup

mayonnaise

3

ounces

blue cheese, crumbled (melt one ounce in microwave)

1/3

cup

fat free buttermilk

Juice of ¼ lemon

or to taste

1/4

teaspoon

salt

1/4

teaspoon

pepper

1

tablespoon

finely chopped parsley

1

tablespoon

finely sliced green onion

2

tablespoons

finely chopped celery
Instructions
For The Meatballs & Buffalo Sauce:
Preheat oven to 400 degrees F.

Line a baking sheet with parchment paper or a silicone baking mat; set aside.

In a large bowl, combine ground chicken, almond meal, egg, garlic, onions, green onions, parsley, salt, pepper, and cayenne. With a wooden spoon or clean hands, stir until well combined.

Roll the mixture into 1¼-to-1½-inch meatballs, forming about 21 meatballs.

Place meatballs onto prepared baking sheet and bake for 20 minutes, or until a meat thermometer inserted in the center of the meatball reads 165 degrees.

To make the Buffalo Sauce, add butter and sugar to a large pot over medium heat, and stir in Tabasco sauce. Allow the sauce to incorporate for 1-2 minutes, then turn off heat.

Add the cooked meatballs to the pot, and gently coat them in the sauce. As the sauce cools, it will form a nice coating that sticks to the meatballs.

Serve immediately, drizzled with blue cheese sauce, if desired
For The Blue Cheese Sauce:
Combine the first seven ingredients in a small bowl.

Smash some of the blue cheese crumbles with the back of a spoon and stir to incorporate. Add parsley and celery.
Recipe Notes
Use the time while the meatballs are cooking in the oven to prepare the Blue Cheese Sauce and the Buffalo Sauce.
Nutrition Facts
Buffalo Chicken Meatballs
Amount Per Serving (1 meatball w/sauce)
Calories 111
Calories from Fat 72
% Daily Value*
Fat 8g12%
Cholesterol 35mg12%
Sodium 366mg15%
Potassium 144mg4%
Carbohydrates 2g1%
Protein 6g12%
Vitamin A 200IU4%
Vitamin C 1.7mg2%
Calcium 40mg4%
Iron 0.5mg3%
* Percent Daily Values are based on a 2000 calorie diet.