Easy Kimchi... a Korean side dish of scallions & cabbage, seasoned w/salt, chili powder, chili flakes, garlic, fish sauce, & sugar. Crispiness with a kick!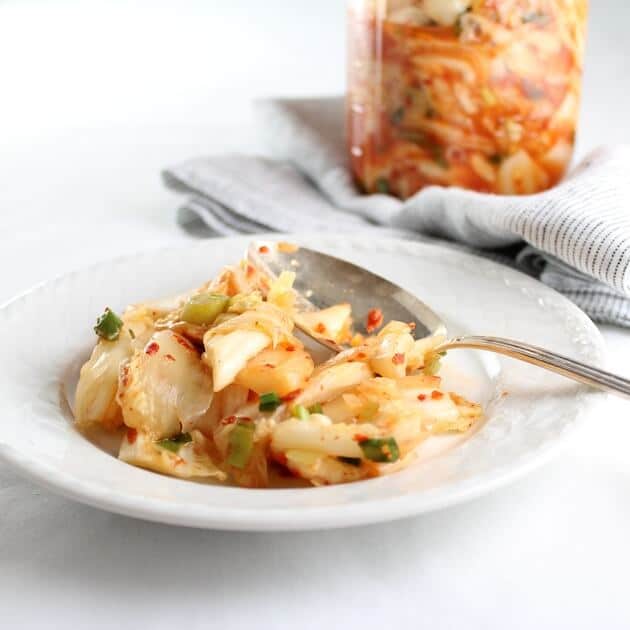 You might be wondering, "Kimchi who?" I get that a lot. And I'm so glad you asked.
Kimchi is a Korean side dish that is made up of seasonings like Korean chili powder, garlic, fish sauce, kelp powder, & salted shrimp… as well as raw veggies like scallions, radish, ginger, carrots and cabbage. It can be eaten fresh like a salad, or fermented and eaten as a condiment or in other Korean dishes.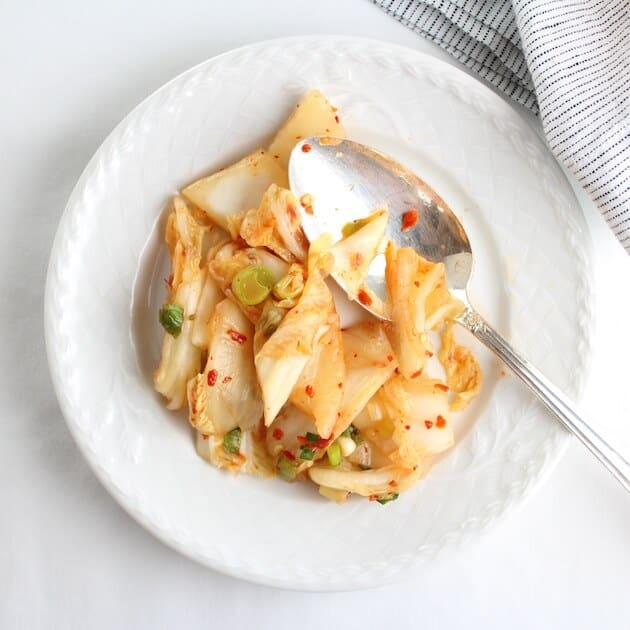 Why would a person seek it out? First because it has a unique and delicious flavor. And secondly because it's really good for us: it's like a prebiotic and a probiotic all in one. That is if it's fermented... which basically enhances the digestibility and nutritional value of the veggies, and adds beneficial bacteria to our bellies. I don't mean to go all teacher on you but I do want you to know what's up. ✅ I got you!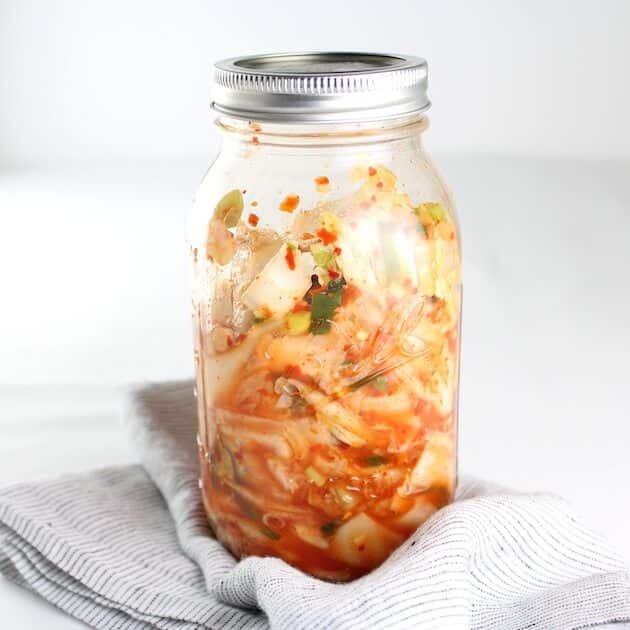 I've been wanting to make Kimchi for some time now. I tried different jarred offerings from the grocery store, but I didn't fall in love with their flavor. A girlfriend's grandmother, AKA "Mimi," is Korean and makes Kimchi all the time. So, of course I reached out to the expert to ask how she makes hers.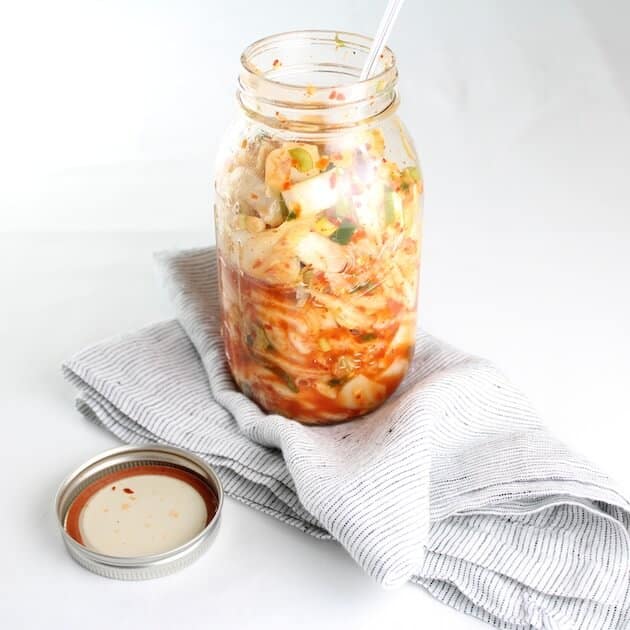 Mimi uses regular cabbage for her Kimchi. She actually chops up the cabbage and lays it out on a baking sheet and coats it with salt. She continues layering the cabbage on top of itself and salting until it's completely coated. Then covers and lets it sit on the counter over night. The next day she rinses it off really good and lets it dry. She mixes minced garlic cloves, chopped green onions, sugar, & Asian dried ground red pepper flakes in a bowl, and covers the cabbage with it. When she's ready to serve it, she garnishes it with a few drops of sesame oil, a few more drops of rice vinegar, and some sesame seeds. Doesn't it sound yummy?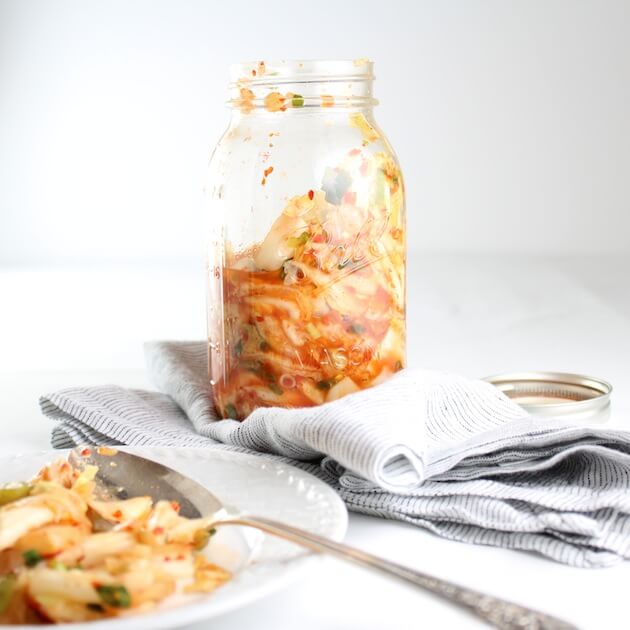 I changed up Mimi's recipe a bit after reading the Wandercooks Easy Korean Kimchi Recipe. I decided to go with Napa Cabbage because it's a bit softer and I used their method of brining the cabbage in salt water. From there I went back and forth between the 2 recipes until I came up with the Kimchi I had always dreamed of.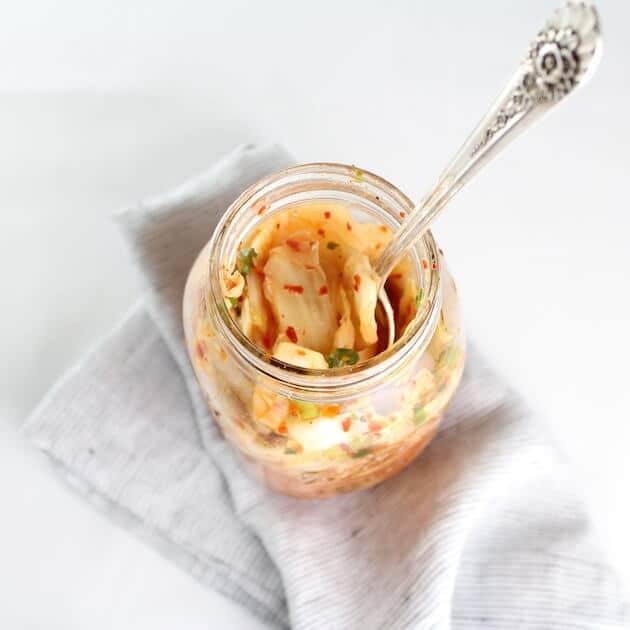 I stored it in a sanitized quart jar and stored it in the fridge. It was quite delicious and the perfect accompaniment to my Kimchi Reubens. Words cannot describe the amazingness of the Kimchi Reuben, but you know what they say…a picture paints a thousand words, so check it out.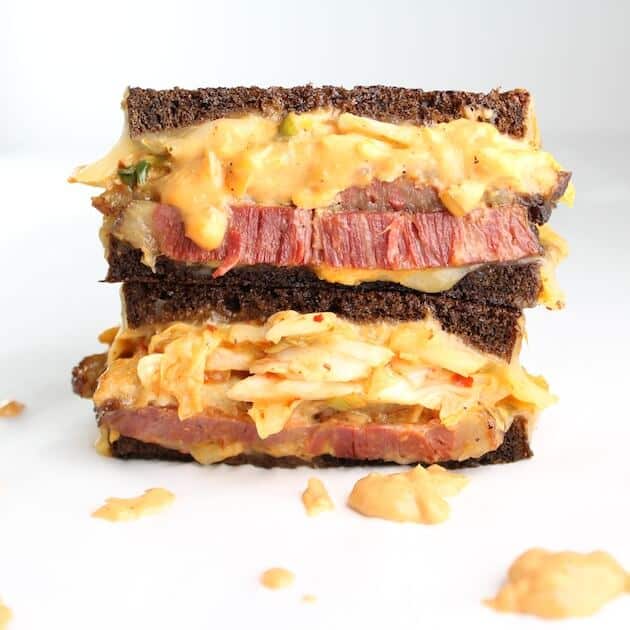 The Wandercooks recommend eating fresh Kimchi (anything under 2 weeks old) alone or as a spicy side dish. Aged kimchi is much more sour, and better to use as a flavor enhancer in other recipes.
One thing's for sure, however you take your Kimchi I recommend taking it often!
Yield: 10 servings
Easy Kimchi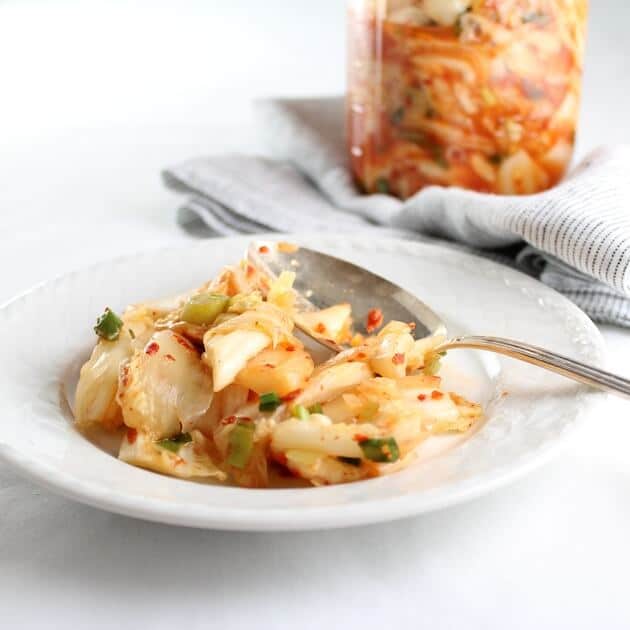 Easy Kimchi: a Korean side dish of scallions & cabbage, seasoned w/salt, chili powder, chili flakes, garlic, fish sauce, & sugar. Crispiness with a kick!
Prep Time
6 hours
30 minutes
Total Time
6 hours
30 minutes
Ingredients
For The Kimchi:
5 tablespoons sea salt (heaping tablespoons!)
½ head of Napa cabbage
1 tablespoon Asian red chili powder
1 tablespoon crushed chili flakes
3 cloves garlic, minced
1 tablespoon fresh ginger, minced
3 tablespoons Korean fish sauce, (or Thai fish sauce if you can't find Korean)
1 tablespoon sugar
1 tablespoon apple juice
5 green onions, chopped
For Serving:
3 Tablespoons Rice vinegar, (more for garnish)
Sesame Oil, optional
Sesame Seeds, optional
Instructions
Add 3 heaping tablespoons salt to 3-4 quarts of cold water and stir to dissolve.
Rinse the cabbage, and be careful to keep the leaves attached to the stem.
Sprinkle generous amounts of salt (about 2 tablespoons) between the leaves of the cabbage, gently working the salt in between each layer of leaves.
Soak the salted cabbage in the salt water for 6 hours, turning the cabbage every 2 hours. Place a heavy bowl on the cabbage to keep it completely submerged.
After soaking, rinse the cabbage to remove the salt.
Mix the seasoning ingredients in a bowl. Place generous amounts of the seasoning mix towards the base of the leaf and spread out towards the tip. Make sure all of the cabbage is covered.
Pick up the cabbage and hold together all but the two outer leaves. Fold the inner leaves in half towards the center, then wrap the outer leaves around the bunch.
Place in a bag or container and store in the fridge.
When ready to use, chop cabbage and place in a small bowl. Add some of the sauce from the original Kimchi mixture. Sprinkle some rice vinegar, a few drops of sesame oil, and some sesame seeds.
Nutrition Information
Yield
10
Serving Size
3 ounces
Amount Per Serving
Calories

23
Unsaturated Fat

0g
Sodium

500mg
Carbohydrates

4g
Fiber

1g
Sugar

2g
Protein

1g