These BBQ pulled pork sliders are made with tender, juicy pulled pork tossed with BBQ sauce, and topped with tangy and sweet warm coleslaw. This pulled pork recipe is perfect for your cookout menu, game day parties, holiday events, and an easy family meal!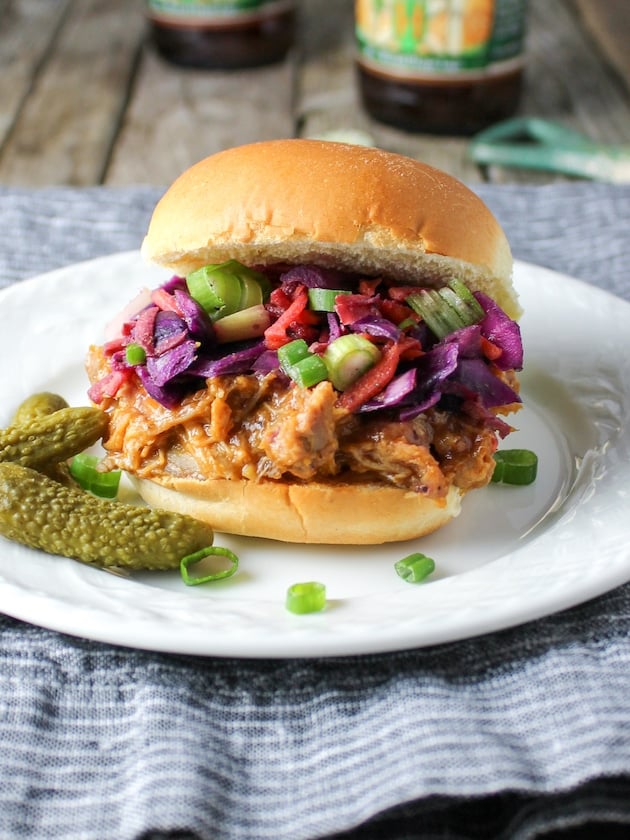 Tired of the same old barbecue? Shake things up with these delicious pulled pork sliders! This scrumptious pork is slow-roasted, then tossed with homemade BBQ sauce, and topped with warm coleslaw, for a truly flavorful experience.
Whether you're serving up a summer cookout or a game day feast, these sliders will make any occasion special. Serve up these pulled pork sliders for a bold, tasty twist on traditional barbecue.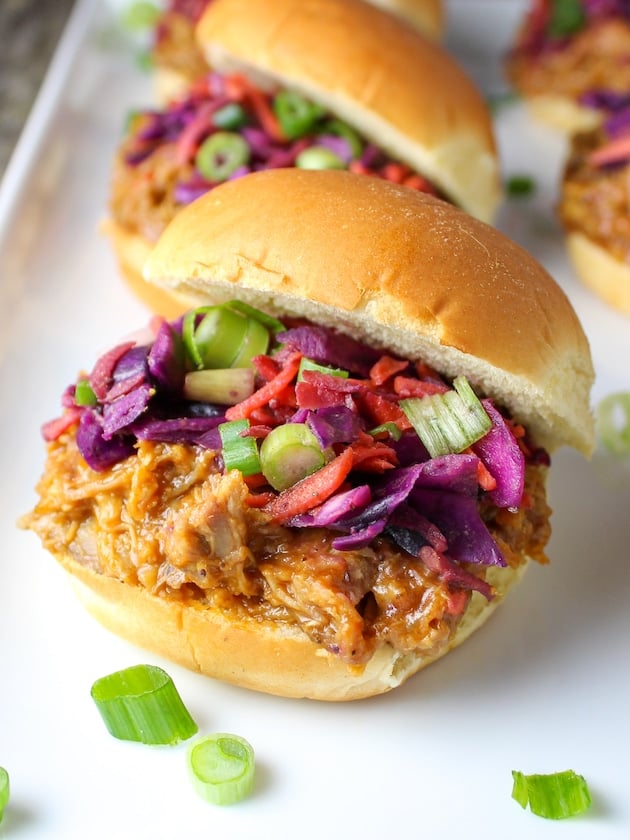 This is one of those recipes that cooks itself. It's super-easy and the reward is mouth-watering, tender, juicy pulled pork. Literally, all you do is salt and pepper the meat, rub it down with some oil, and roast it for several hours.
Then magically before you, appears an amazing hunk of meatiness that is completely delectable!
What's the best pork for pulled pork?
Pulled pork can be made with pork butt, (also known as Boston butt), or pork shoulder. Both cuts of meat come from the shoulder of the pig. The pork shoulder comes from the shoulder area just above the forelegs and the pork butt comes from the area stacked above that, around the shoulder blades.
Pork butt and pork shoulder are usually large cuts of meat that are marbled with fat which makes them juicy and tender when slow-cooked. They typically come with a thick layer of fat on one side (aka the fat cap). I like to trim some of it away but I always leave a portion of it because it gets nice and crispy and the meat bastes itself as the fat melts while slow cooking.
Another amazing feature of these cuts of pork is that they happen to be quite inexpensive so they are perfect for feeding a crowd or even meal prepping.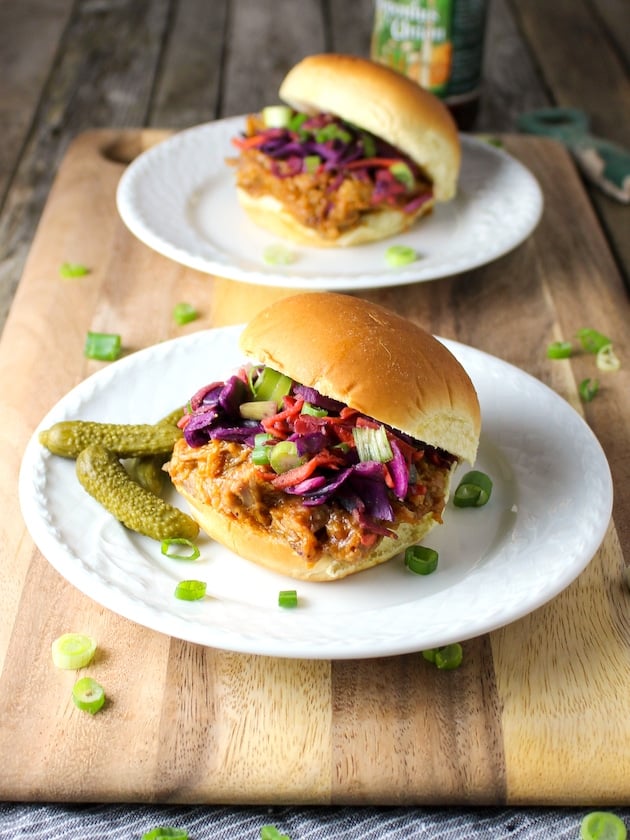 Now that we understand the basics of pulled pork let's talk about this delicious recipe - BBQ Pulled Pork Sliders with Tangy Warm Cabbage Slaw!
What do you need for pulled pork sliders?
First thing first, let's go over the ingredients needed for this recipe.
For the Pulled Pork:
Pork butt roast or shoulder roast
Salt and pepper
Cooking oil
For The Tangy Warm Cabbage Slaw:
Purple cabbage
Yellow onion
Carrots
Green onions
Dijon mustard
Cider vinegar
Pork drippings (from the roasted pork butt)
Coconut oil or extra virgin olive oil
Celery seed
Sugar
You can use your favorite store-bought BBQ sauce or give my homemade Sweet And Tangy BBQ Sauce a try.
Sweet And Tangy BBQ Sauce:
Cider vinegar
Yellow mustard
Ketchup
Brown sugar, (plus another tablespoon if you like it sweeter)
Garlic
Cayenne
Black pepper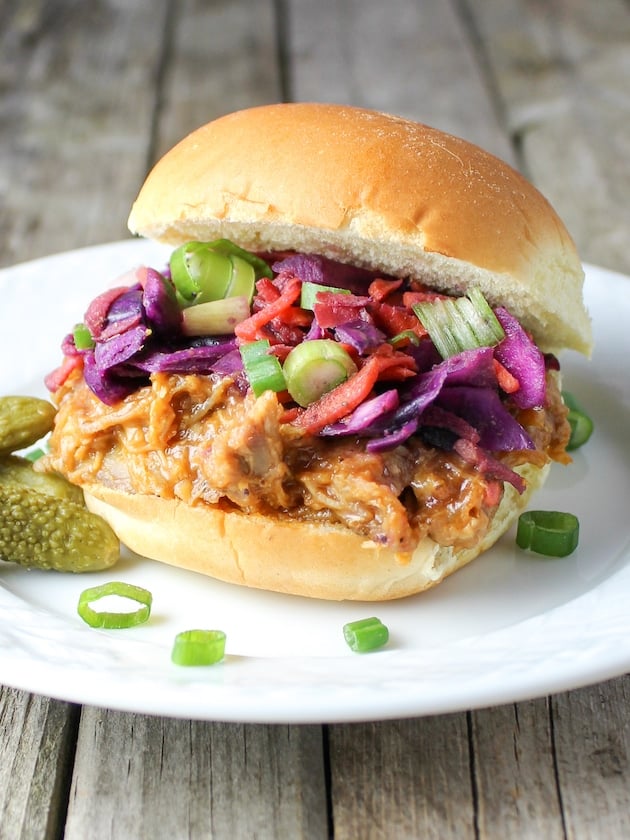 How to make pulled pork
So first off, I make my own BBQ sauce but you don't have to. Feel free to use your favorite store-bought sauce.
Personally, I have a hard time finding a version from the grocery store that I really love. I like a balance of tangy, spicy, and sweet. You do you, my friend.
And then there's the coleslaw recipe.
So that you know I don't eat coleslaw. Well not the kind that consists of mayonnaise and sugar, with albino cabbage, and sparse flecks of carrots. Sorry, it's not for me.
BUT I will devour some warm tangy purple cabbage with cider vinegar, Dijon mustard, and pork drippings! Yes - come to mama!!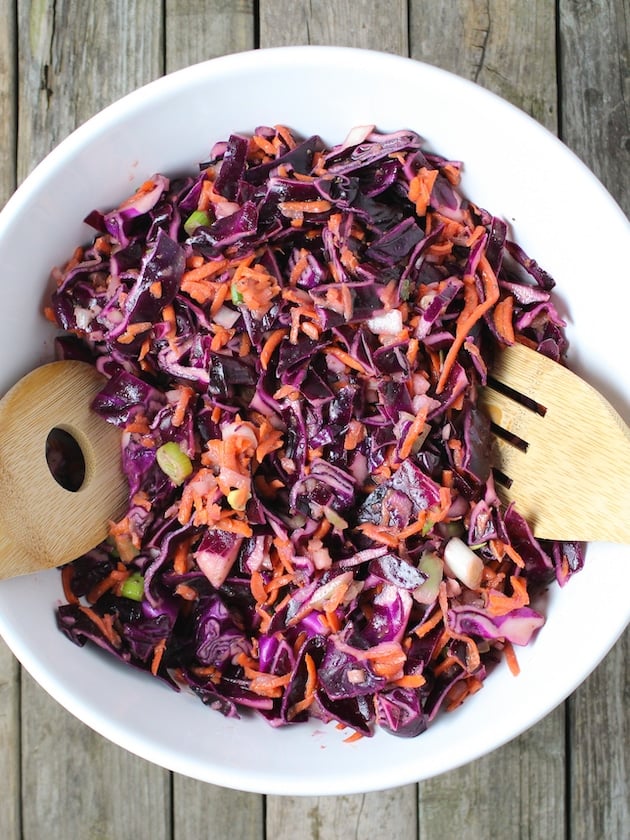 And especially when it's paired with the succulent, rich, and tender BBQ pulled pork.
Drooling!
AND moving on...
As I mentioned this pulled pork couldn't be easier to make.
You trim some of the fat cap away, sprinkle it with salt and pepper, rub it with some high-heat cooking oil, throw it in the oven, and roast it for 3-4 hours so it emerges with a crispy coating from the fat with flavorful and tender meat.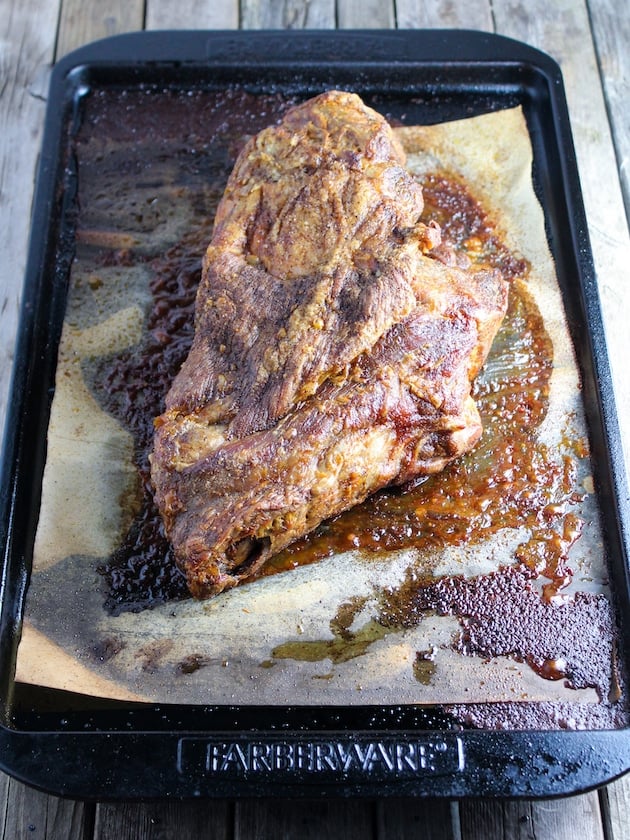 You let it rest for a bit then grab two forks and start eating... oh wait, I meant shredding. Lol
Is anyone else getting hungry or is it just me?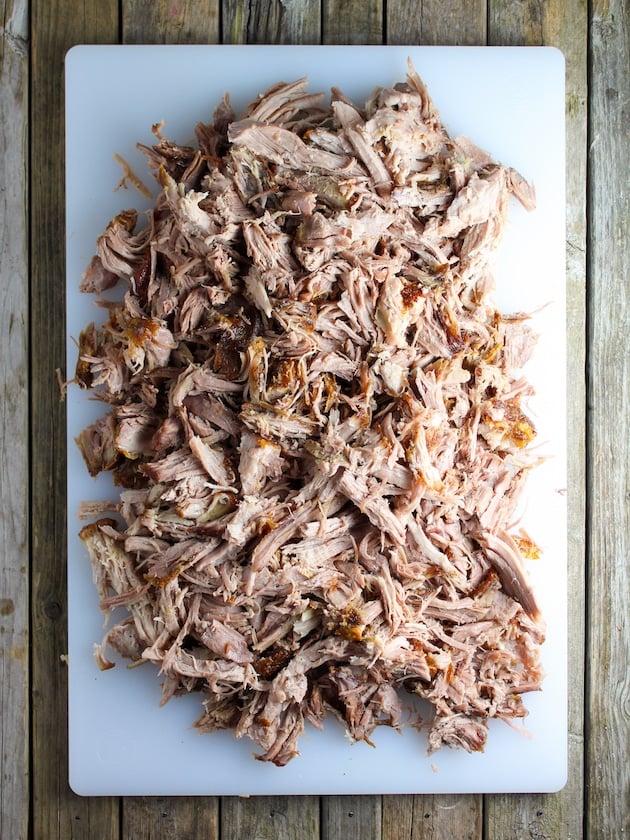 So if you're wondering there are several other ways to cook a pork butt roast. Allow me to share...
Other Cook Methods for Pulled Pork
Slow Cooker or Crockpot Pulled Pork – This recipe is easy and completely hands-off. It makes a lot of pulled pork and only requires a few ingredients and a slow cooker. You'll have plenty of shredded pork to create whatever yumminess you're craving all week long! You can get the recipe for this method here… Pulled Pork Crock Pot Recipe
Instant Pot or Pressure Cooker Pulled Pork – This method only requires 20 minutes of pressure cooking and it's pot-to-table in about an hour! It's a great time-saving alternative to the slow cooker or oven roasted pulled pork or carnitas. The process is a bit more hands-on to start because you cut the meat into 3-4 inch pieces and sear it for 2 minutes a side. Depending on how large your pork butt/shoulder is, you may need to do this in two or three batches. Then add some liquid and let the cooking begin. You can get the recipe for this method here… Instant Pot Pulled Pork AKA Instant Pot Carnitas
And now it's time to assemble and devour! Here are two different ways to serve up this hearty meal...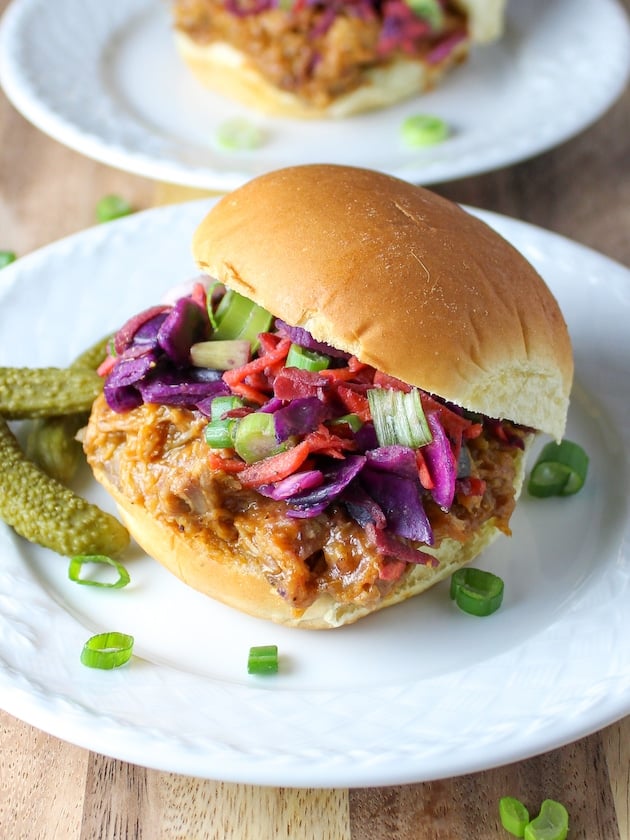 How to serve pulled pork
DIYS (Do It Yourself Sliders) – arrange the BBQ Pulled Pork, Tangy Cole Slaw, extra BBQ sauce, and slider buns all separately so your people can make their own sandwiches or enjoy them without the bun layered with the toppings on a plate.
DIFT (Do It For Them) - assemble the sliders to be served all at once. Add the BBQ Pulled Pork to the slider buns, add the tangy Coleslaw, and more BBQ sauce. Serve them on a large platter and watch them disappear.
And if you're like me and want to serve these sliders with some yummy side dishes, I have a few suggestions for you...
What to serve with BBQ Pulled Pork Sliders?
These Mouthwatering BBQ Pulled Pork Sliders with Tangy Warm Cabbage Slaw are an amazing family meal or the perfect make-ahead option for any of your events or parties!
Enjoy my friend!
Yield: 12 servings
BBQ Pulled Pork Sliders With Tangy Warm Cabbage Slaw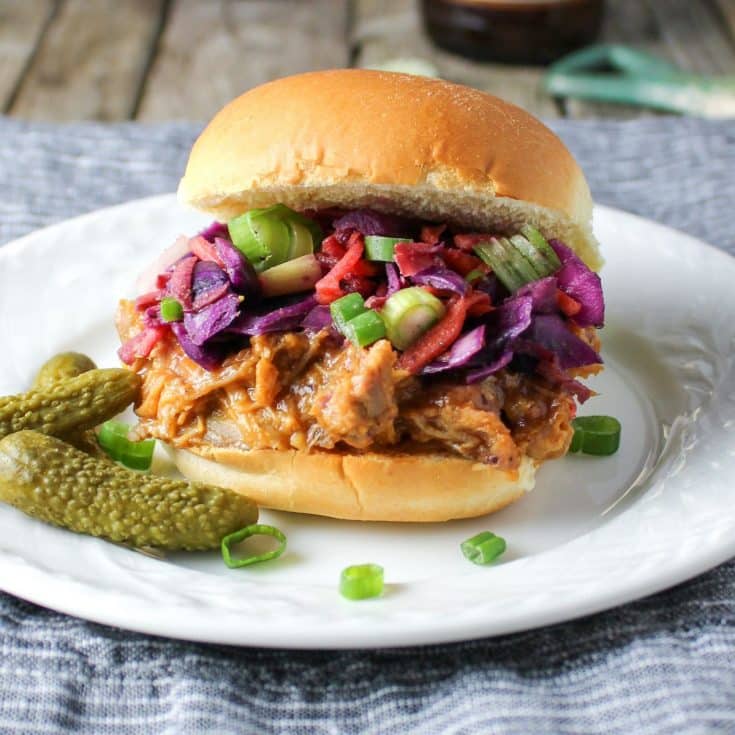 BBQ Pulled Pork Sliders With Warm Tangy Cabbage Slaw and homemade BBQ sauce. Savory, falling off the bone, slow-cooked pork with beautiful tangy slaw!
Total Time
5 hours
20 minutes
Ingredients
For The Pulled Pork:
5 pound pork butt roast or shoulder roast
2 teaspoons salt
1 teaspoon freshly ground black pepper
For The Tangy Warm Cabbage Slaw:
4 cups shredded purple cabbage, (about ½ head)
1 medium onion, grated
4-5 carrots, shredded
1 ½ teaspoons celery seed
1 cup cider vinegar
3-4 green onions
2 tablespoons sugar
¼ cup Dijon mustard
salt and pepper to taste
1 tablespoon pork drippings
3 tablespoons coconut oil or extra virgin olive oil
For The Sweet And Tangy BBQ Sauce:
1 cup cider vinegar
1 cup yellow mustard
⅔ cup ketchup
¾ cup brown sugar, (plus another tablespoon if you like it sweeter)
3 cloves garlic, smashed
½ teaspoon cayenne
½ teaspoon black pepper
Instructions
For The Pulled Pork:
Preheat oven to 450 F.
Pull the pork from the fridge and let it sit at room temperature for 30 minutes. Rinse and then pat dry with paper towels.
Season pork with salt, and pepper.
Rub with 1-2 tablespoons of olive oil, and place in a roasting pan or on a baking sheet; roast for 1 hour.
Reduce the oven temp to 350 degrees F and continue to cook for 3 ½ to 4 hours, or until the meat is very tender.
Remove from oven and cool for 30 minutes.
Using 2 forks, pull the meat into small pieces. Discard any fat you find that you don't want.
Reserve a tablespoon of the pork drippings for the Tangy Warm Cabbage Slaw.
For The Tangy Warm Cabbage Slaw:
In a mixing bowl, toss cabbage, onion, carrots, green onions, and celery seeds.
In a saucepan, combine vinegar, dijon, sugar, salt, pork drippings, and coconut oil or extra virgin olive oil. Bring just to a simmer.
Pour over cabbage and toss well. Serve warm. Garnish with more green onions to make it beautiful!
For The Sweet & Tangy BBQ Sauce: (This makes about 16 ounces. You may want to double the recipe.)
While the pork is roasting, combine the vinegar, mustard, ketchup, brown sugar, garlic, salt, cayenne, and black pepper in a saucepan over medium heat.
Take it off the heat and let it sit until you're ready for it. Remove the smashed garlic cloves from the sauce. Then pour the BBQ sauce over the pulled pork, gently folding it together.
Assembly!
All that's left is to assemble the sliders…open the bun, add your pork to the bottom half, spoon some slaw on top, add more BBQ sauce if you'd like, and enjoy.
Notes
I like to assemble a tray of these before my guests arrive. Then put out the rest of the pork, slaw, and buns so people can serve themselves.
If you're saucy like me you may want to make a double batch of the BBQ sauce. It's always nice to have if someone wants to add more to their slider.
You can skip the step of making the BBQ sauce and use your favorite store-bought version instead.
Nutrition Information
Yield
12
Serving Size
1 slider with slaw
Amount Per Serving
Calories

450
Total Fat

35g
Saturated Fat

17g
Trans Fat

0g
Unsaturated Fat

21g
Cholesterol

172mg
Sodium

1014mg
Carbohydrates

25g
Fiber

3g
Sugar

19g
Protein

38g
This nutrition card uses an estimate provided by an online nutrition calculator. This estimate is not a substitute for a professional nutritionist's advice!
PS: If you're craving more BBQ recipes check out these baby back ribs...
"Secret Sauce" BBQ Baby Back Ribs
or
Instant Pot Baby Back Ribs
.