BBQ Pulled Pork Sliders transport me to the summer… on the patio, me and B, Jack Johnson, some Rosé or maybe a Peroni, warmth surrounding me like a soft blanket of love.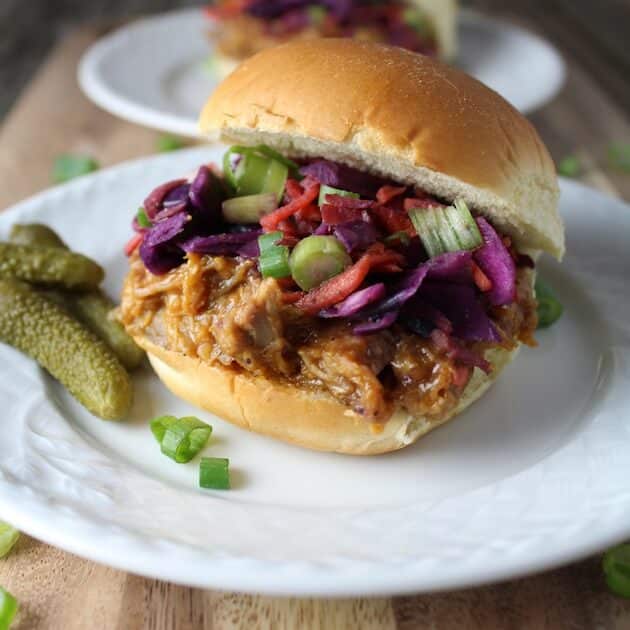 I miss you my sweet summer…not sure I can wait 5 more months for you…guess I'll have to bring summer to me…and now you!!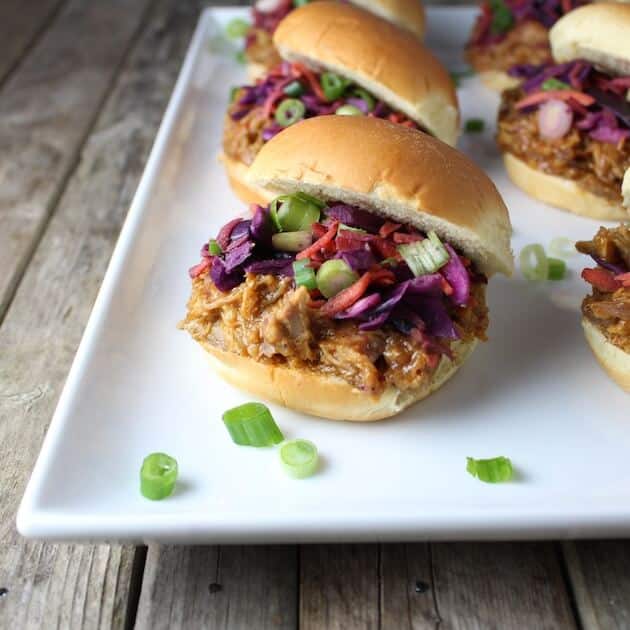 Super Bowl Sunday has ALWAYS been a huge deal at the Sander household. And probably not for the reason you think: it's always unashamedly been about the FOOD!!! Case in point: I remember the 2004 Superbowl when Janet Jackson performed the half time show… we were at a friend's house, we had all contributed to the meal, we were all in the kitchen yammering on about the amazing antipasti or the delicious soup, sampling so many delectable things, and then "it" happened.
With only one witness out of our entire crew to retell the tale, Lady Janet gave the most memorable halftime show in history! Only the one, lone, true die hard football fan was in the living room to watch it all go down. Of course, he had to report back to us in true guy form what had taken place. Think about it – no scratch that – don't think about it. Television history was being made, but we were happy to miss it while we savored yummy food and relationships with our friends.
This is pretty much true to form for my life. I can remember specific events or holidays by what I ate. You know what I mean – right? There was the Christmas we had the "7 hours to heaven" roasted leg of lamb with sun dried tomato, green onion and parmesan orzo, roasted veggies and tsaiki.
Then there was my birthday at the Cuban restaurant… Mojitos, Plantains 3 Ways, Mango Citrus Ceviche, Cubano, and Paella. Or my surprise birthday party with a whole roasted salmon, pickled veggies and grilled romaine salad. I can't help it – my memory is linked to the food I eat - it's just how I'm wired.
So the pressing question at hand…what to make for Super Bowl 50???? I could go many different ways with this but somehow fate takes me to the south.✈ Maybe it's the 2016 BBQ Bowl!!! Or there's always a Mexican Fiesta Bowl - which is consitently amazing but maybe a little predictable.
Hmmm maybe we should go with the BBQ?? Plus, it's kind of unexpected since it's the middle of winter.❄ Believe it or not there are many wonderful recipes that don't require fresh summer ingredients to make a delicious BBQ Super Bowl Meal Line UP!! Let me break it down for you…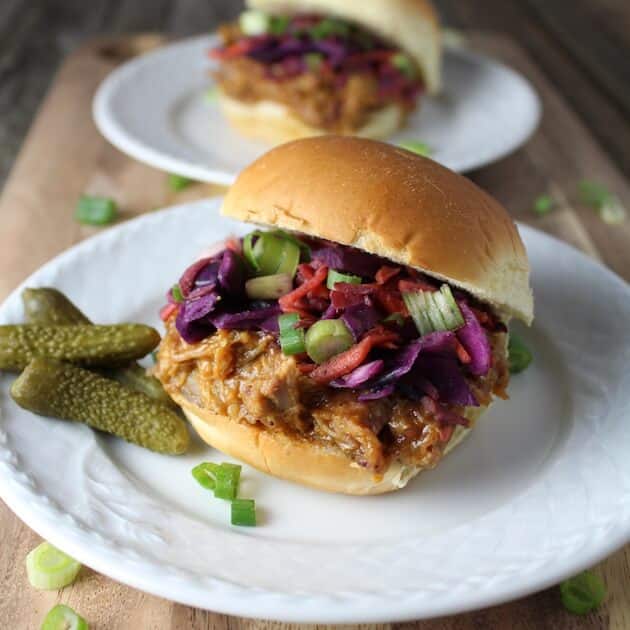 There's the BBQ Pulled Pork Sliders With Warm Tangy Cabbage Slaw!!! First off, I make my own BBQ sauce. It's amazing - the perfect balance of tangy, spicy and sweet.? It's not available in a bottle so until it is, I'll make my own – thank you very much!! Then there's the slaw. Just so you know I don't eat Cole Slaw. (Ahhemm… a recipe that primarily consists of Mayonnaise and sugar, oh and don't forget the albino cabbage, onions and sparse flecks of carrots …ahhh no thank you. I'll have some water with a side of water, thanks! I just can't – sorry if you love traditional Cole Slaw but it's just not for me).

BUT I must admit, I do love some beautiful Tangy Warm Cabbage Slaw!! It's full of vinegar, Dijon, purple cabbage, carrots, onions, celery seeds and coconut oil!! It is sooo good and paired with the BBQ Pork Sliders it's elevated to black belt, Jedi Master, Ninja level! I know that's pretty crazy great but hey – I call 'em like I see 'em… or taste 'em!!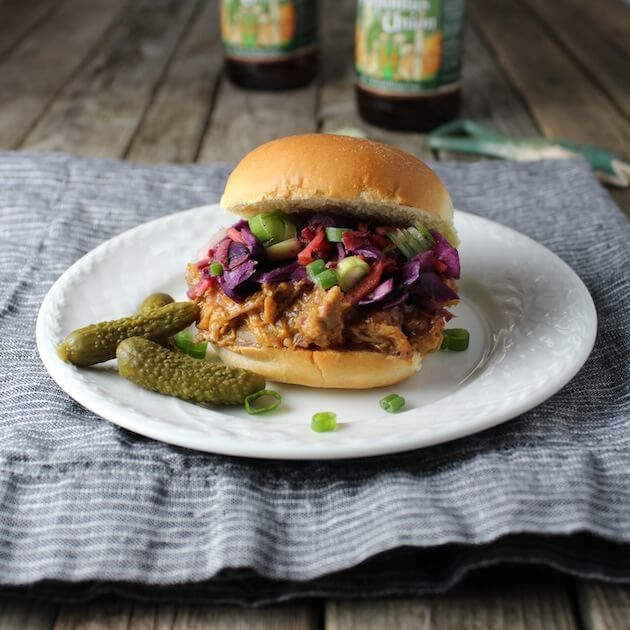 The pork is super-easy: you salt and pepper it, slap some oil on it and roast it for several hours. Then magically before you, appears an amazing hunk of meatiness that is completely indescribable (thus my lack of description!!)✨ Think of the best thing you've tasted, times 2, then think about what could possibly be better than that, and sandwich it between the first best things you've tasted. There you have it: perfectly cooked pulled pork. (swoonbowl2016)
This is just the beginning of an amazing Super Bowl food playbook… If you are looking to round out your BBQ menu I have to suggest these "Secret Sauce" BBQ Baked Beans, Smoky Deviled Bacon & Eggs, & Mac N Cheese Bites... and if you want to keep rollin' out the southern food check out our Creamy Cheesy Corn Dip and this amazing Pesto Potato Salad.
Whatever you serve with them, these BBQ Sliders and Warm Cabbage Slaw are a game-changer… I can't wait for you to try them! They are going to be a big touchdown in the menu department!!
What's on your menu for The Big Game?
I would love to hear your ideas - so please leave a comment.✏ Who knows you might be the inspiration someone else needs to kick-off their creativity this year!!
Yield: 12 servings
BBQ Pulled Pork Sliders With Tangy Warm Cabbage Slaw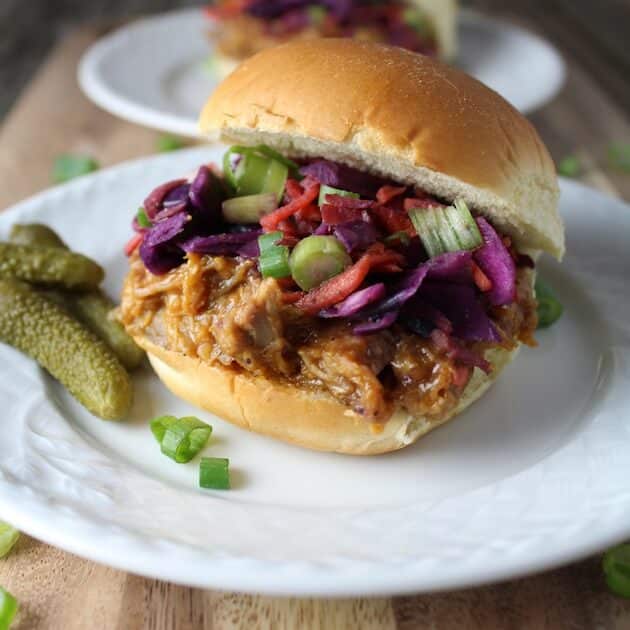 BBQ Pulled Pork Sliders With Warm Tangy Cabbage Slaw and homemade BBQ sauce. Savory, falling off the bone, slow-cooked pork with beautiful tangy slaw!

Prep Time 20 minutes

Cook Time 5 hours

Total Time 5 hours 20 minutes
Ingredients
For The Pulled Pork:
5 pound pork butt roast or shoulder roast
2 teaspoons salt
1 teaspoon freshly ground black pepper
For The Tangy Warm Cabbage Slaw:
4 cups shredded purple cabbage, (about ½ head)
1 medium onion, grated
4-5 carrots, shredded
1 ½ teaspoons celery seed
1 cup cider vinegar
3-4 green onions
2 tablespoons sugar
¼ cup Dijon mustard
salt and pepper to taste
1 tablespoon pork drippings
3 tablespoons coconut oil
For The Sweet And Tangy BBQ Sauce:
1 cup cider vinegar
1 cup yellow mustard
cup Two thirds ketchup
¾ cup brown sugar, (plus another tablespoon if you like it sweeter)
3 cloves garlic, smashed
½ teaspoon cayenne
½ teaspoon black pepper
Instructions
For The Pulled Pork:
Preheat oven to 450 F.
Pull the pork from the fridge and let it sit at room temperature for 30 minutes. Rinse and then pat dry with paper towels.
Season pork with salt, and pepper.
Rub with 1-2 tablespoons of the olive oil, and place in a roasting pan; roast for 1 hour.
Reduce the oven temp to 350 degrees F and continue to cook for 3 ½ to 4 hours, or until the meat is very tender.
Remove from oven and cool for 30 minutes.
Using 2 forks, pull the meat into small pieces. Discard any fat you find.
Reserve a table spoon of the pork drippings for the Tangy Warm Cabbage Slaw.
For The Tangy Warm Cabbage Slaw:
In a mixing bowl, toss cabbage, onion, carrots, green onions and celery seeds.
In saucepan, combine vinegar, dijon, sugar, salt, pork drippings, and coconut oil. Bring just to a simmer.
Pour over cabbage and toss well. Serve warm. Garnish with more green onions to make it beautiful!
For The Sweet & Tangy BBQ Sauce: (This makes about 16 ounces. You may want to double the recipe.)
While the pork is roasting, combine the vinegar, mustard, ketchup, brown sugar, garlic, salt, cayenne, and black pepper in a saucepan over medium heat.
Take it off the heat an let it sit until you're ready for it. Remove the smashed garlic cloves from the sauce. Then pour the BBQ sauce over the pulled pork, gently folding it together.
Assembly!
All that's left is to assemble the sliders…open the bun, add your pork to the bottom half, spoon some slaw on top and serve.
Notes
I like to assemble a tray of these before my guests arrive. Then put out the the rest of the pork, slaw and buns so people can serve themselves.

If you're saucy like me you may want to make a double batch of the BBQ sauce. It's always nice to have if someone wants to add more to their slider.
Nutrition Information
Yield
12
Serving Size
1 slider with slaw
Amount Per Serving Calories 450Total Fat 35gSaturated Fat 17gTrans Fat 0gUnsaturated Fat 21gCholesterol 172mgSodium 1014mgCarbohydrates 25gFiber 3gSugar 19gProtein 38g

This nutrition card uses an estimate provided by an online nutrition calculator. This estimate is not a substitute for a professional nutritionist's advice!

PS: if you're feeling more like baby back ribs, check out this recipe that includes an amazing sauce for baby back ribs!