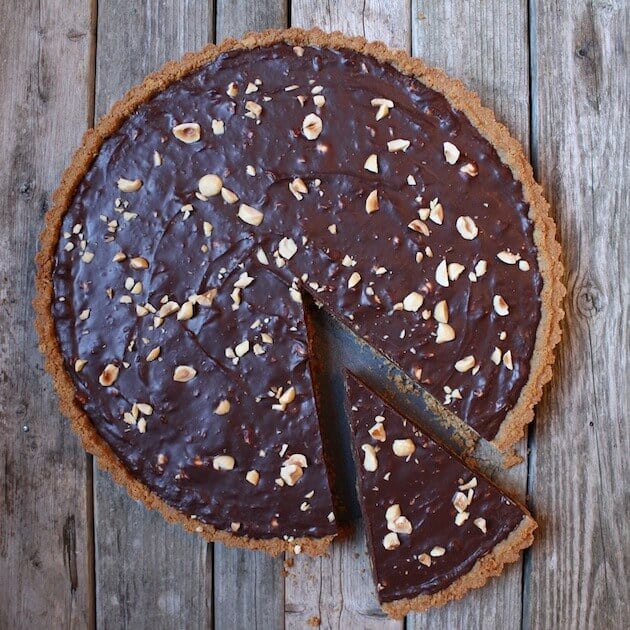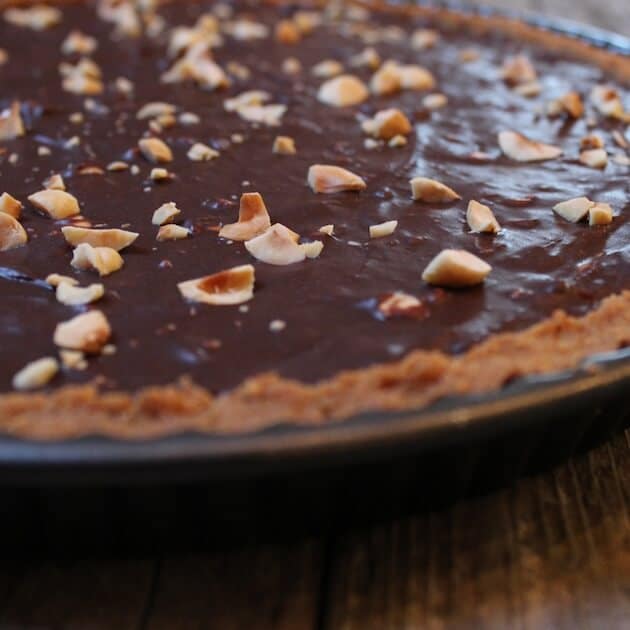 Chocolate might just be the most universally craved flavor in existence. No matter where you go, who you talk to, what the person's age is, everyone loves chocolate! Supposedly dogs even like it but that's a big no-no from what I hear.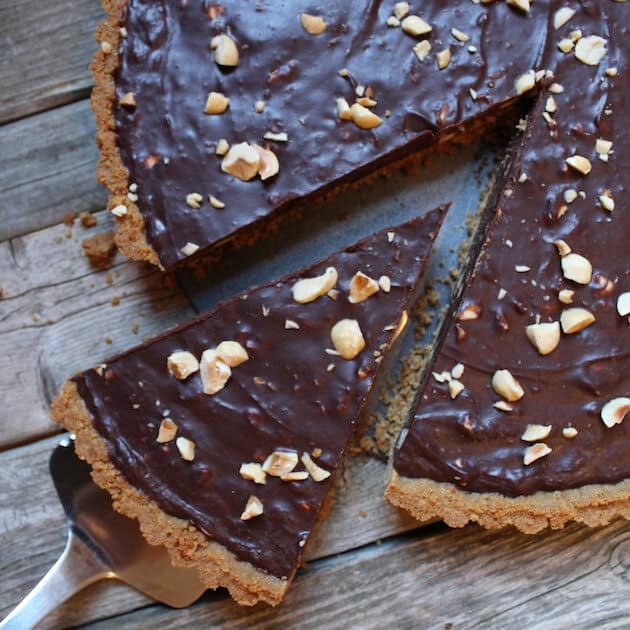 We were just visiting friends in Virginia recently... they have an 18-month old who is talking in one-word sentences but you'd better believe he knows how to say "M&M!" And he knows exactly where they're being stored so you better keep your eye on him 'cause he'll scale those kitchen cabinets quicker than Curious George climbing a banana tree. True story.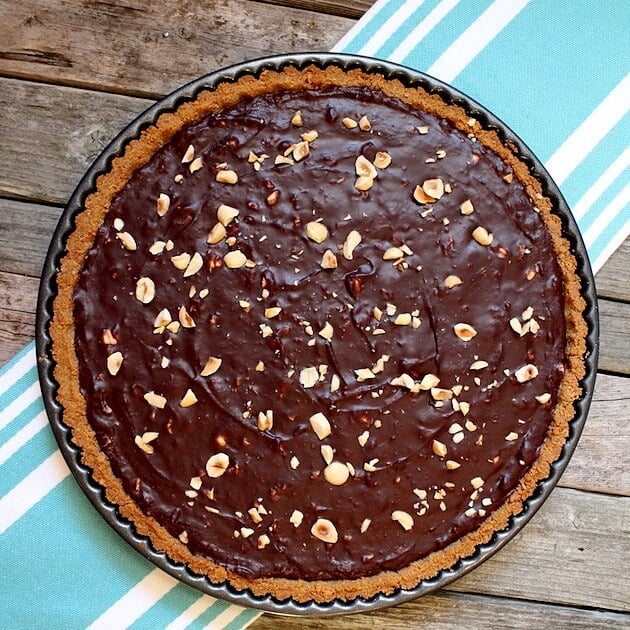 Then there's FIL (father in law) who likes to think of chocolate as a vegetable. He's been saying this for years, in fact he even has it embroidered on a pillow or two. The food guide pyramid neglects to reflect this important truth... apparently the USDA hasn't gotten the memo.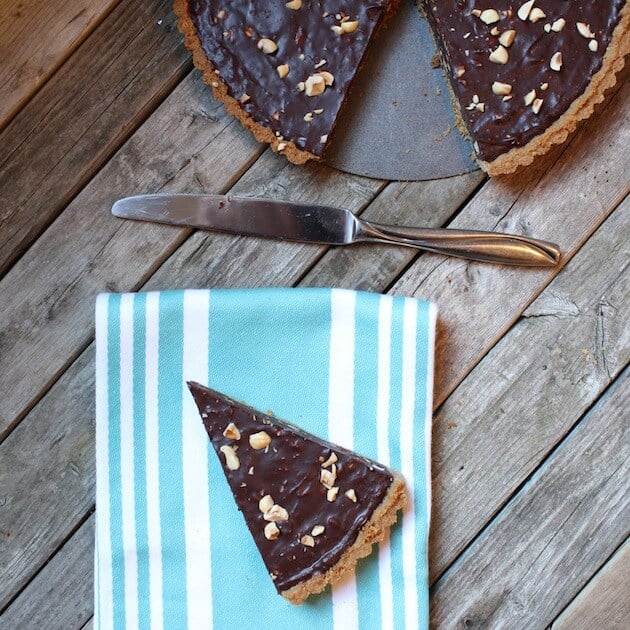 It requires no convincing - some form of chocolate is everyone's kryptonite!
Then there are those other flavors that go hand-in-glove with chocolate. I especially like chilis paired with my chocolate; almonds and mint are good too; and caramel is right up there at the top of the list. Another ridiculous chocolate pairing would most definitely be hazelnut. Ahh yes - I love me some hazelnut, so naturally the most incredible, life-changing dessert on the planet would include both of these flavors. Dadadahhh…For the first time ever...See the breath-taking! Hair-raising! Death-defying! Chocolate Hazelnut Tart!!!!✨✨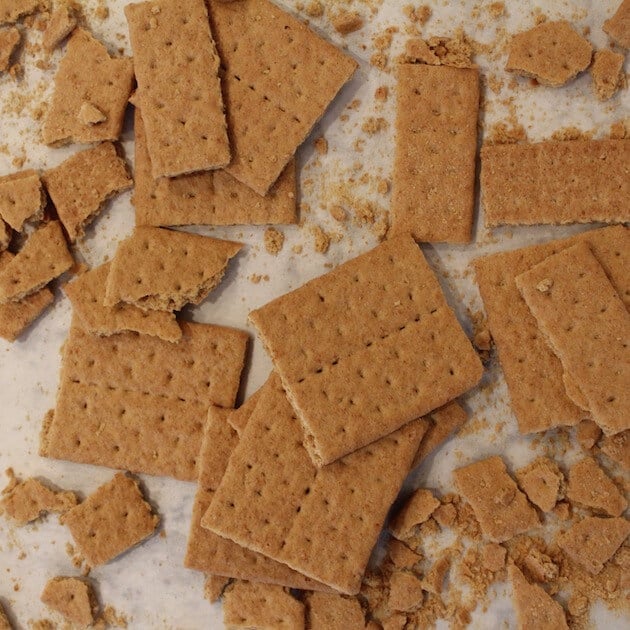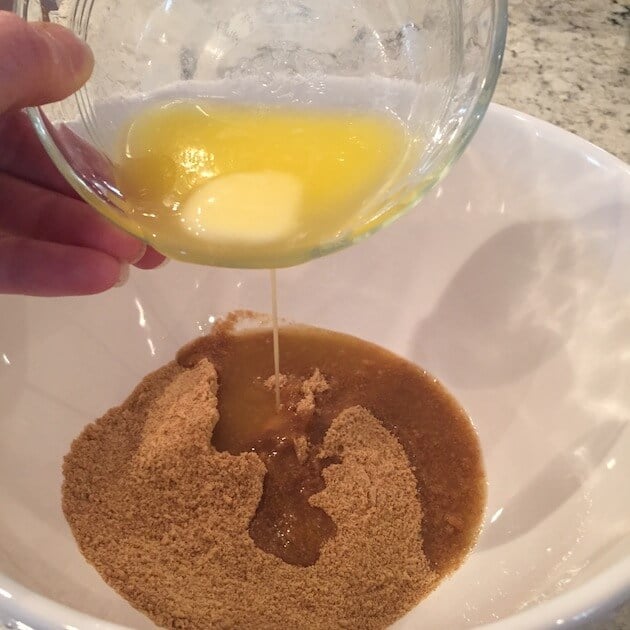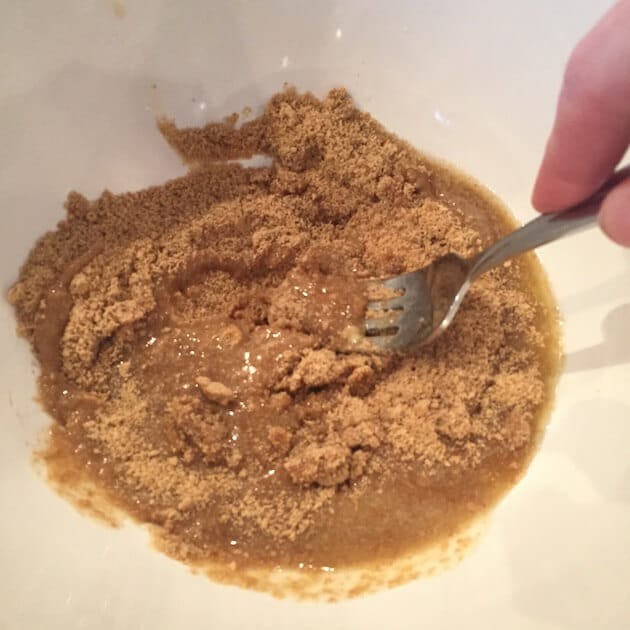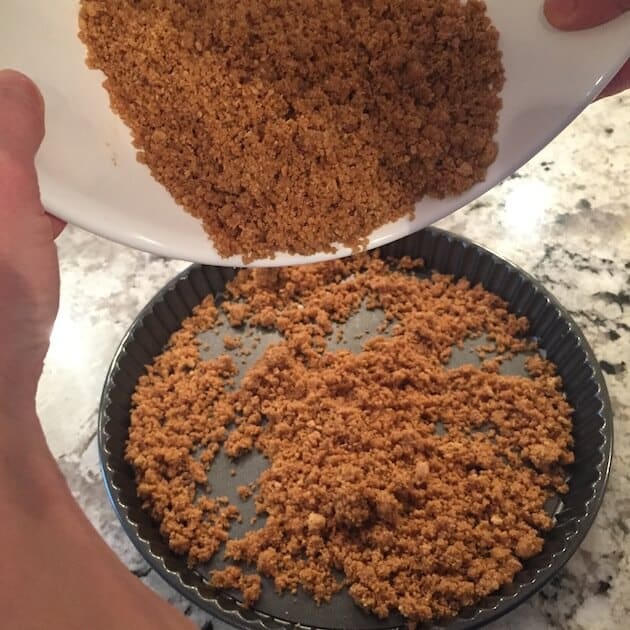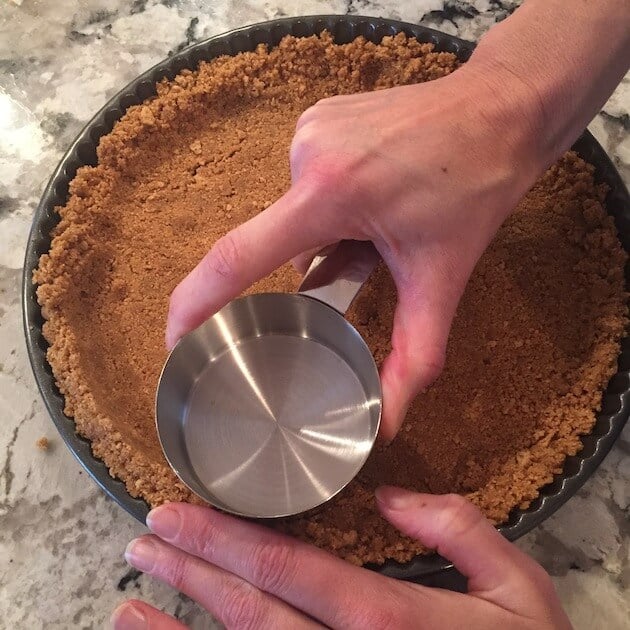 It is sweet, creamy, chocolatey, nutty and oh so divine! You make the crust out of graham cracker crumbs and butter. And apparently store-bought graham cracker crumbs are now a thing. Who knew? If you think it's worth it and could save you some time, by all means, make that happen. If you prefer to make your own, use a food processor to grind them up. You'll need 13 crackers, each about 4 ¾ by 2 ¼ inches.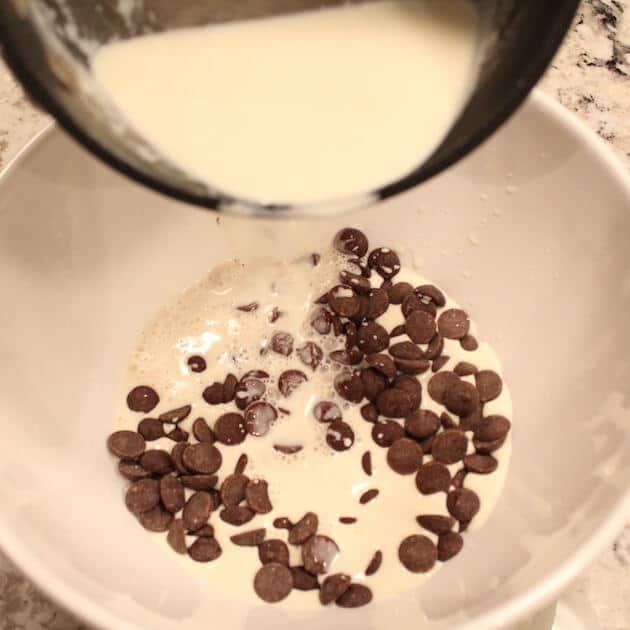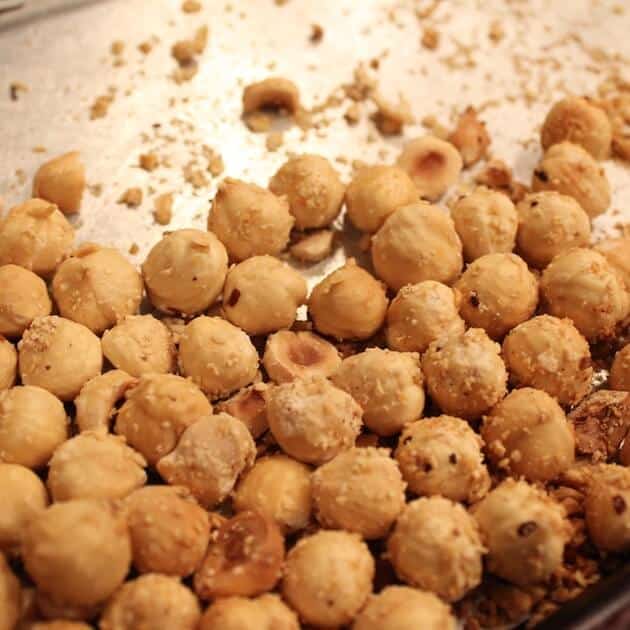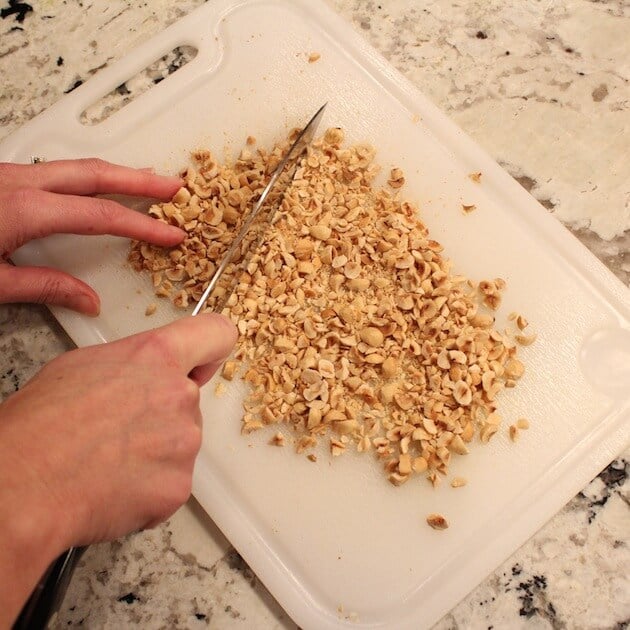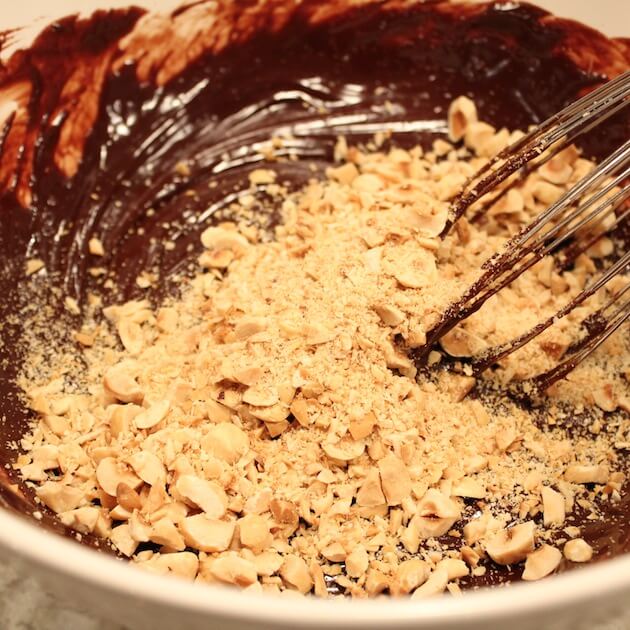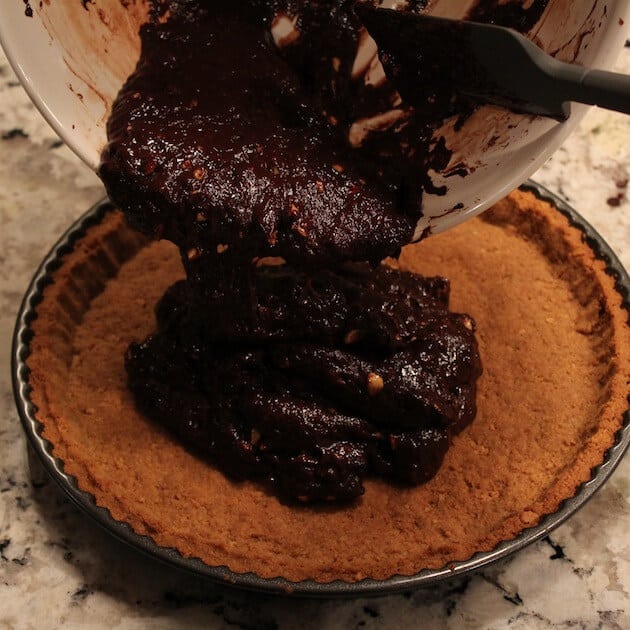 Next, you'll need to heat some heavy cream until it starts to simmer. Add in the bittersweet chocolate and stir until the chocolate becomes liquefied nectar of the gods. Stir in the Nutella and roasted hazelnuts and pour into your Graham crack crust. I like to hold back a few tablespoons of hazelnuts so I can sprinkle them on top - 'cause you eat with your eyes first! The only thing left to do is to refrigerate and then eat!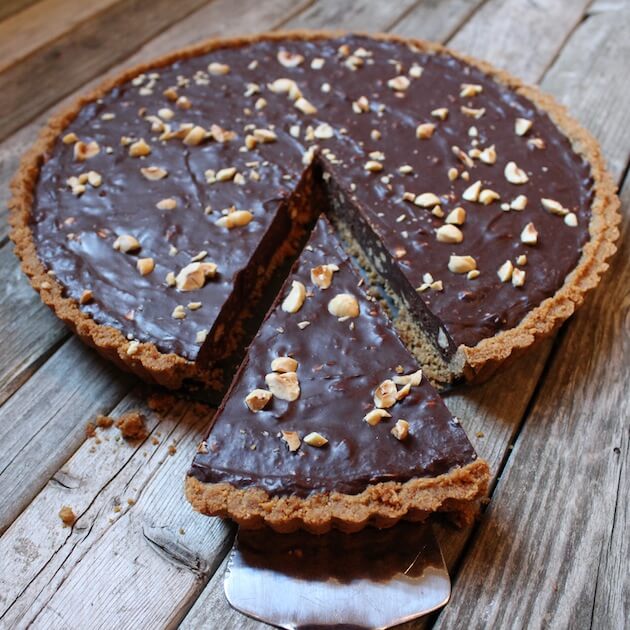 It is truly a gorgeous dessert. But it is not just some pretty face - oh no - it is unimaginably delectable! This would be a show stopper for any special occasion or holiday celebration. Plus you will reach SHS (super hero status) with everyone lucky enough to sample a bite! Run, don't walk (or fly) and get those Chocolate Hazelnut Tart ingredients!!
Yield: 10
Chocolate Hazelnut Tart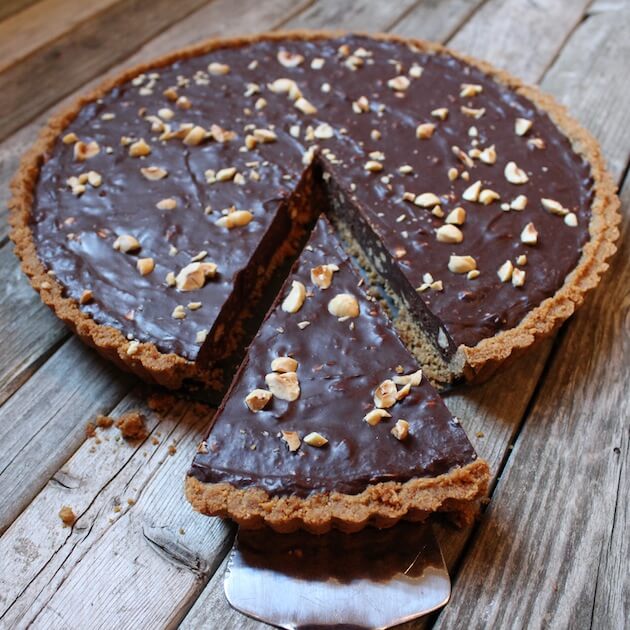 Perfect decadent dense chocolate goodness!
Ingredients
1 ½ cups graham cracker crumbs
6 tablespoons salted butter, melted, (¾ of a stick)
¼ teaspoon salt
1 cup hazelnuts plus 2 tablespoons, coarsely chopped
1 cup heavy cream
10 ½ oz fine-quality bittersweet chocolate chips, not unsweetened
½ cup chocolate-hazelnut spread such as Nutella
Special equipment: a 9-inch tart pan
Instructions
Make crust and toast nuts:
Put oven racks in upper and lower thirds of oven and preheat oven to 350°F.
Invert bottom of springform pan (so that turned-up edge is underneath for easier removal of tart) and close side of pan onto bottom.
Stir together crumbs, butter, and ⅛ teaspoon salt in a bowl, then press onto bottom of a tart pan. Bake crust in lower third of oven 7 minutes, then cool crust on a rack.
While crust bakes, toast hazelnuts in a shallow baking pan in upper third of oven, stirring once, until golden, about 6-7 minutes. Transfer to a plate and cool to room temperature.
Make filling while crust cools:
Bring cream to a boil in a 1-quart saucepan, then pour over chocolate in a heatproof bowl, whisking until chocolate is melted and smooth. Whisk in chocolate-hazelnut spread until combined, then whisk in nuts (holding back 2 tablespoons) and the remaining ⅛ teaspoon salt.
Pour filling onto cooled crust and sprinkle the remaining hazelnuts over the top. Put the tart in the freezer until just set, about 25 minutes. (Tart should not be frozen.)
Notes
Tart can be made 4 days ahead and chilled in a pan, covered.
Freezing the tart helps to chill it quickly. If you're not in a rush, simply chill the tart in the refrigerator until you're ready to serve it.
Here's another version of the tart if you're feeling adventurous: Make a gingersnap crust (2 c. gingersnaps crushed, 5 tbls. butter). Add toasted unsweetened coconut to the filling. Serve with Trader Joe's uncrystallized candied ginger. Yum!
Nutrition Information
Yield
10
Serving Size
1 slice
Amount Per Serving
Calories

400
Total Fat

40g
Saturated Fat

26g
Trans Fat

1g
Unsaturated Fat

14g
Cholesterol

50mg
Sodium

214mg
Carbohydrates

38g
Fiber

8g
Sugar

17g
Protein

9g
This nutrition card uses an estimate provided by an online nutrition calculator. This estimate is not a substitute for a professional nutritionist's advice!