Risotto is like rice that got all dressed up to go to the Ball. It's savory and creamy and cheesy…and I could just eat it with a spoon straight from the pan. I'm totally dedicated to my craft - a good cook always taste-tests their creations.

Risotto requires a special kind of short-grain rice called Arborio. Unlike other rice that is left in a pan of water to boil, risotto requires constant attention to ensure a perfect finished dish. And it may take a bit longer to cook as well.⏰ In this case, cooking longer is better. While it's slowly cooking it's acting like a sponge and soaking up all the chicken stock and white wine it can hold. All the while, releasing its starches, giving the risotto that smooth creamy texture.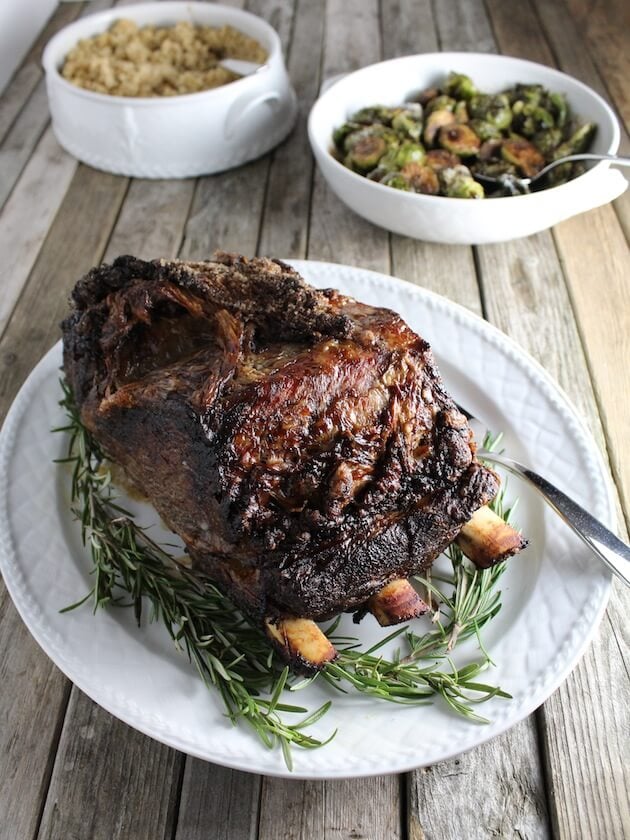 Just like any masterpiece it requires a bit of time and attention. But this is fancy rice, something you would serve for company or a holiday meal, like say for instance at Christmas or New Year's Eve. It pairs perfectly with a good steak or a Standing Rib Roast. In fact that's my recommendation for Christmas or New Year's Eve dinner this year…Creamy Parmesan Risotto, Standing Rib Roast, Balsamic Brussels Sprouts and a Chocolate Hazelnut Tart. The Risotto is a little high-maintenance, but the Rib Roast requires zero effort so they compliment each other nicely. The Brussels Sprouts are a quick cook as well, and the sweetness from the balsamic brings perfect harmony to the entire meal.

Creamy Parmesan Risotto is a wonderful substitution for those mashed potatoes you make regularly and your guests will think that you're the super hero you really are!! Now to the grocery store, to buy the ingredients…up, up and away!!
Yield: 8 servings
Creamy Parmesan Risotto
Creamy, cheesy, risotto - a wonderful substitution for mashed potatoes!!
Ingredients
2 pints chicken stock, or more
1 tablespoon olive oil
3 shallots, finely chopped
2 cloves garlic, finely chopped
½ head celery, finely chopped
14 ounces Arborio rice
Sea salt and freshly ground pepper, to taste
2 cups white wine (I use a Chardonnay)
2 ½ ounces butter
3 ½ ounces freshly grated Parmesan cheese
Instructions
Heat the chicken stock.
In a separate pan, heat the oil and slowly fry the shallots and celery for about 5 minutes. When they have softened, add the garlic and fry for another minute, being careful to not overcook the garlic.
Add the rice, season with salt and pepper, and turn up the heat. The rice will start to fry, so keep stirring.
After 5-7 minutes it will look slightly translucent. Add the wine and keep stirring - the wine will sizzle and the alcohol will evaporate.
Once the wine has cooked into the rice, add a ladle of the hot stock, and another big pinch of salt. Turn down the heat to a simmer so the rice doesn't cook too quickly on the outside. Keep adding ladles of stock, stirring and allowing each ladle of stock to be absorbed before adding the next. This will take around 15-20 minutes.
Taste the rice to see if it is cooked, and continue adding stock and cook until the rice is soft but with a slight bite.
When the rice is ready, remove from heat and add the butter and Parmesan cheese. Stir gently, and place lid on pan. Allow the rice to sit for 2-3 minutes and be sure to serve while still warm and creamy.
Nutrition Information
Yield
8
Serving Size
4 ounces
Amount Per Serving
Calories

390
Unsaturated Fat

0g