Our favorite Instant Pot Recipes, An Instant Pot Review, and everything you need to know to get started cooking with your Instant Pot!  (This post contains affiliate links  - read more here.)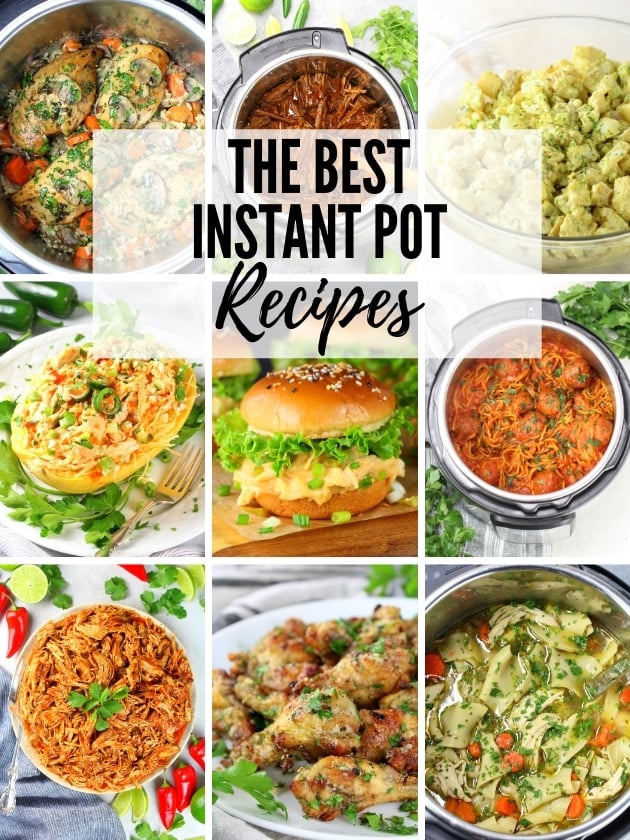 My Instant Pot Review
So last year just before Christmas I started hearing A LOT about cooking with the Instant Pot.  Santa gave me an Instant Pot Duo Plus 6 Quart, and I've been cooking with it for about 13 months now.   After lots of recipe development and experimentation, here's what I think of it:
What I love about Cooking With the Instant Pot:
Instant Pots are great for time savings.  Yes, you can cook frozen chicken instant pot style and it actually works.  A life-saver for those busy weeknights when you didn't plan ahead... because life happens.
Instant Pots are very easy to use.  Generally you add ingredients, with some form of liquid, lock it down, and set the cook time.
Instant Pots are actually multi-functional: you can pressure cook with them, but other functions work quite well to saute veggies, boil a soup, or thicken a sauce.
Don't fret the burn notice!  🙂  There's much internet swirl about the dreaded "Instant Pot Burn Notice" but you don't need to worry as long as you always pressure cook with enough liquid, and sufficiently de-glaze the bottom of the IP.  Honestly, I haven't encountered this once and I've probably tested recipes over 50 times this year.
The downsides of Instant Pot cooking: 
It's not for every recipe.  Some things just don't make sense in the IP, because they take more time to cook in the IP.  Because it can take 5-10 minutes to reach cooking pressure, it's just not efficient to cook minute rice, instant polenta, or quick oats in the IP.
Pressure cooking can take away some flavor.  I'm not going to try to act like a food scientist and explain why, but I've noticed that some recipes cooked in the Instant Pot can lack some of the flavor v. traditional cooking.  Easy solution: compensate with more seasoning before or after the food is cooked.
It takes a few extra minutes to clean the IP.  Honestly I think the tradeoff is worth it, since most Instant Pot recipes I use eliminate the need for any other cooking equipment.  And I happen to have an amazing taste-tester plus dishwasher as my partner in crime.  🙂
Bottom line: I'm a big fan of the Instant Pot!   I've focused on offering readers some recipes that take advantage of all that it has to offer.  But don't just take my word for it...
The best third party Instant Pot Reviews I've found: 
Cook's Illustrated Instant Pot Review
Consumer Reports Instant Pot Review
What Is An Instant Pot?
The Instant Pot of today is a combination pressure cooker, slow-cooker, rice cooker, and yogurt maker.  They can range in price from under $50 to over $150.
Which Instant Pot To Buy? 
If you need one today, then most department stores carry them, and of course Bed, Bath, and Beyond or your favorite discount volume retailer (like Costco or Sam's).
But if you can wait a few days, then the greatest variety and easiest option by far is Amazon.  A few of the most popular Instant Pots are:
Duo Plus 3-Quart Instant Pot (<- Good for single batch or small side dishes)
Duo Plus 8-Quart Instant Pot (<- For meals that feed a family of 4+)
Duo Plus 6-Quart Instant Pot (<- My fave!  Perfect for just the two of us)
Pioneer Woman Vintage Floral Instant Pot (<- Kitchen bling!)
How To Use An Instant Pot? 
There are actually relatively few moving parts on this device.  The lid has a sealing ring, then there's a pressure valve and steam release valve.  I found the out-of-the-box instructions to be very easy to follow regarding assembly, placement, and cleaning.
When it comes to cooking, I tend to use my IP mostly for pressure-cooking since I find that's the big time-savings... speaking of which...
Our Top Instant Pot Recipes!
Instant Pot Jalapeño Popper Chicken
Instant Pot Whole Chicken Recipe
Instant Pot Beef Thai Red Curry
Instant Pot Spaghetti Squash Buffalo Chicken (Low Carb)
Instant Pot Baby Back Ribs

Our Most Recent IP Recipes...
More Instant Pot Recipes On Pinterest!
If you're looking for more Instant Pot Inspiration, check out my Instant Pot Recipes Board on Pinterest!