Instant Pot Beef Thai Red Curry – so flavorful, creamy, hearty, and absolutely delicious! It's full of hearty tender pieces of beef, plenty of veggies and aromatics like onions, garlic, ginger, sweet peppers and snap peas, and of course that yummy curry and coconut milk flavor that makes this authentic Thai red curry recipe just scrumptious!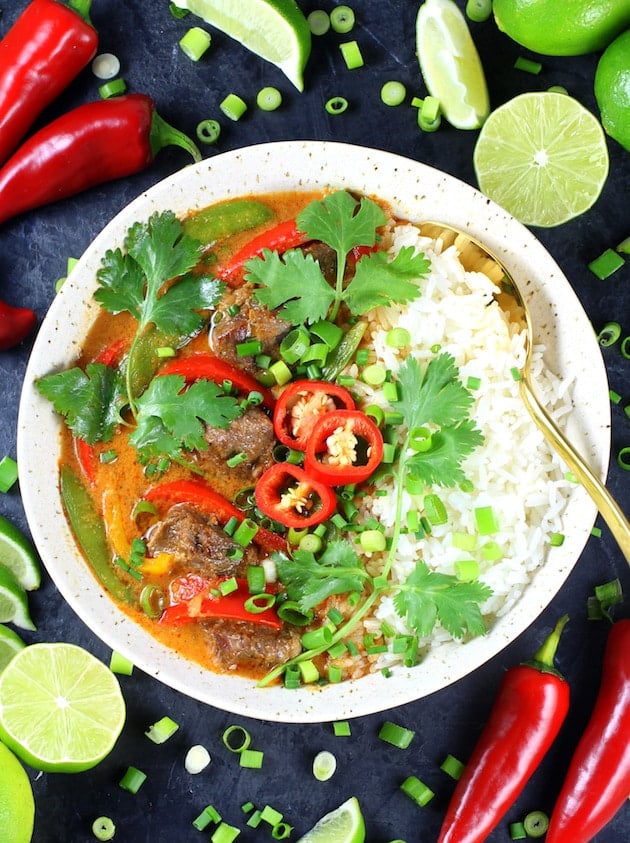 (This post contains affiliate links - read more here.)
Have you jumped on the Instant Pot train yet? If so how's it going? If not – me and my recipes are patiently waiting here for you when you're ready.
I'll admit I've had recipe triumphs and recipe fails with my IP in my quest to develop some
amazing Instant Pot recipes.
Like many of you I'm sure, I thought I would start off with the basics, for example a pot roast. Umm major recipe flop my friend. The meat was tough and almost rubbery. The carrots were over-cooked and almost mushy. And the parsnips had the strangest texture – soft and overcooked on the outside and hard and crunchy on the inside. Not my best work – just saying.
If I was choosing to make a pot roast in the Instant Pot vs. Slow Cooker – the good ole' crock pot would win hands down all day err day! Sorry to all you (instant) pot heads out there… No offense, but do send me your best IP pot roast recipe stat and I will gladly give it a shot.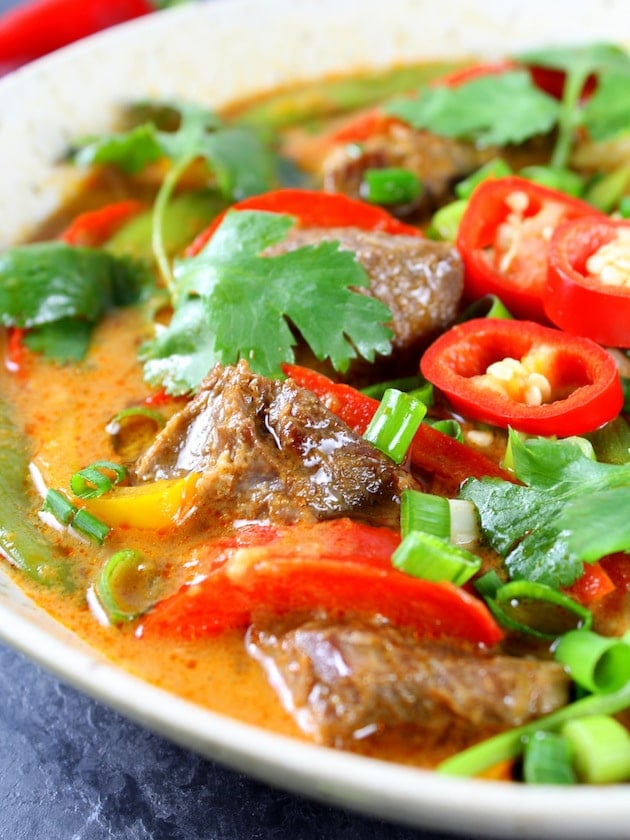 From there I determined that carrots and parsnips were meant for roasting in the oven. I love my veggies when they are cooked properly, so out of respect for all the hard work that goes into growing them, oven roasting or crock pot cooking it is.
Now the beef roast is a different story. I kept seeing so many others having great success with the pot roast in the Instant Pot so I was determined to make it work. But here's the thing - I hate wasting food and I REALLY hate eating bad food. So, when I spend $20 on a hunk of meat I want to eat it AND I want it to be delicious.
This kind of pressure doesn't allow for much trial and error. So, I did a bunch of research AKA Googled tons of recipes, read all the details, scoured the pictures, looking for any clues I could find. But honestly this wasn't all just for me – it's for you too.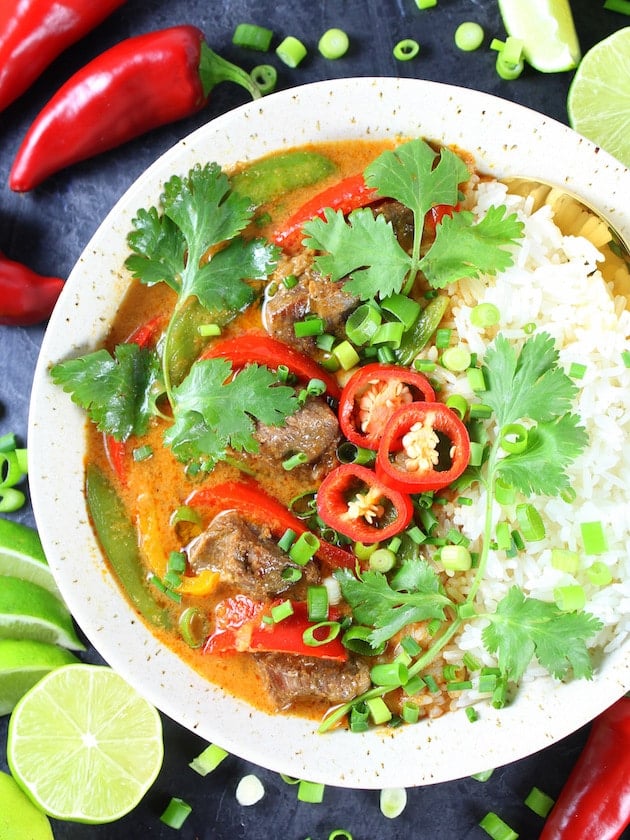 Remember when I posted my first IP recipe?? It was the IP Shredded Mexican Chicken and it's become ridiculously popular. Thank you all very much! Back then I made a promise to you (and to myself really) - "I would like to solemnly swear to only share IP recipes with you that are most efficiently, effectively and tastefully made in the instant pot." This has led to some amazing discoveries such as Instant Pot Risotto!
To be true to my word and only publish recipes that meet my standards and yours, it requires some time and effort. I'm thrilled to report I have conquered the beef roast! #winningoverherrr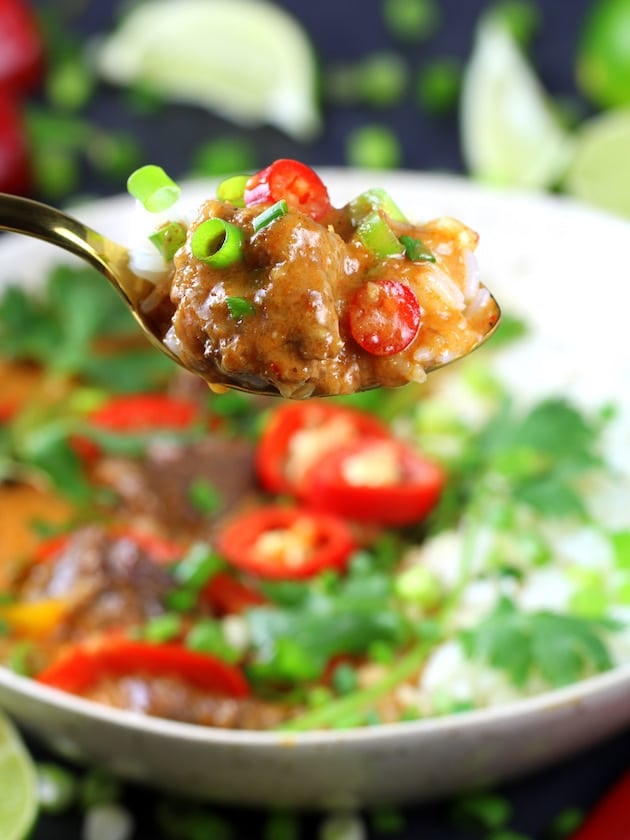 Here's what I figured out. In order to make the meat tender and delicious, and cook in the shortest amount of time possible – wait for it – it needs to be cut up into pieces! Brilliant – right!?? I'm sure you already knew that, but now I do too. I've only experimented with a beef chuck roast because, well, it is the roast most people cook, and it's the cut with the most fat marbled throughout it. I figured that would keep it a bit more tender during the pressure cooking process.
AND I'm happy to report it totally did! Tender, moist, and soo good my friend!
So, in the name of being original and creating tasty recipes… I used my new-found IP beef roast cooking method and created the most delicious one-pot meal… Instant Pot Beef Thai Red Curry!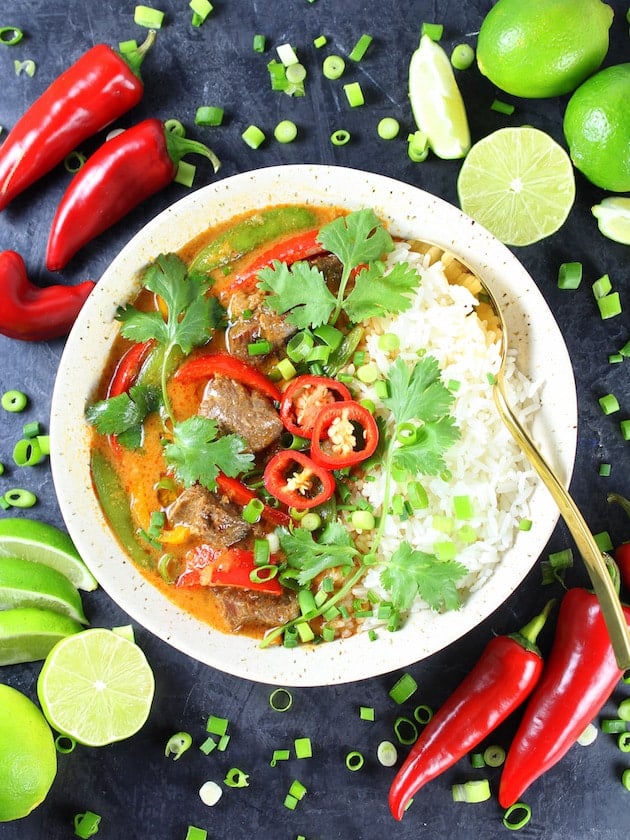 It's perfection, if I do say so myself. It's full of hearty tender pieces of beef, plenty of veggies and aromatics like onions, garlic, ginger, sweet peppers and snap peas, and of course that yummy Thai red curry and coconut milk flavor that makes this dish authentic and just scrumptious!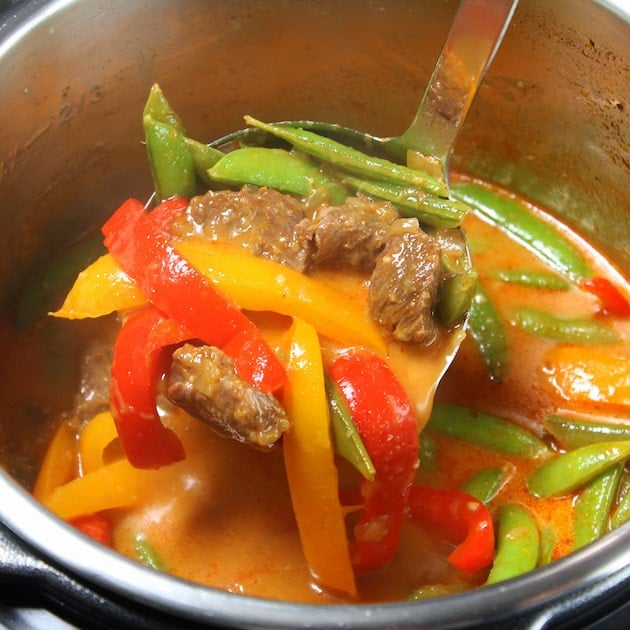 Allow me to share this sensational recipe with you…
How to make Beef Thai Red Curry in the Instant Pot:
First, add coconut oil to the inner pot and set the Saute Mode to High (I put the lid back on to "pre-heat" it, so it gets really good and hot). Next, carefully (because the oil will splatter) add half of the seasoned cubed beef chuck roast. Just a quick note – I cut my roast into 2-inch by 2-inch cubes and trim away as much fat as I can. This cuts down on the amount of fat I have to remove after it's cooked.
Brown the beef, then using a slotted spoon remove it from the pot. Add the rest of the cubed roast, saute a few minutes on each side, and again remove from the pot with a slotted spoon.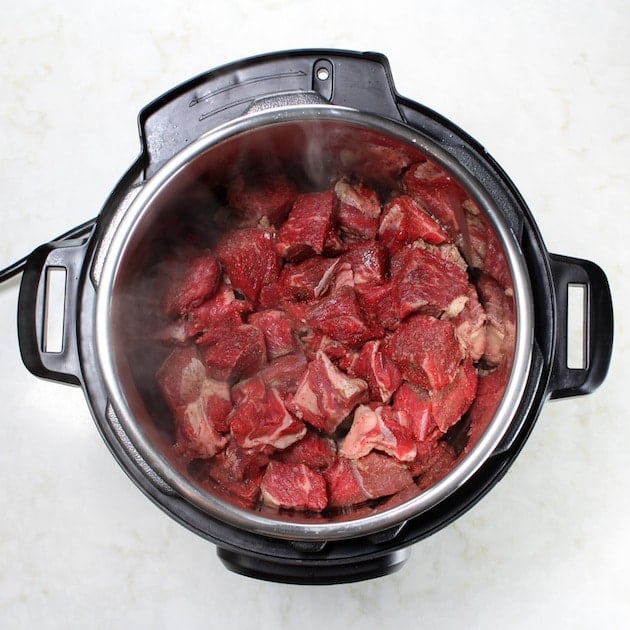 Next, add your chopped onions, minced garlic and fresh grated ginger. Cook and stir regularly for about 4 minutes. If the bottom of the inner pot starts to brown, add a few tablespoons of chicken stock.
Now add in the Thai Red Curry Paste and the lemon grass paste, then saute for about a minute.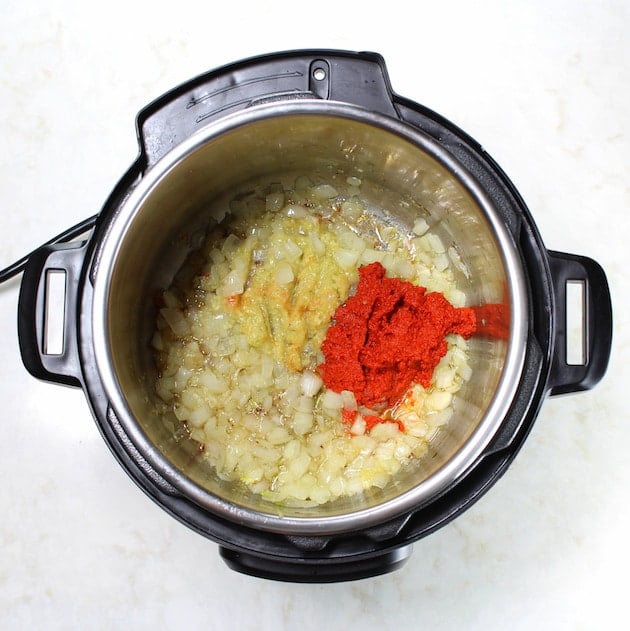 Stir in the chicken stock and the browned beef cubes. Another thing to note – I wait to add my coconut milk until after the pressure cooking, so it does not curdle. It will give the dish a smoother texture and it will look more appetizing as well.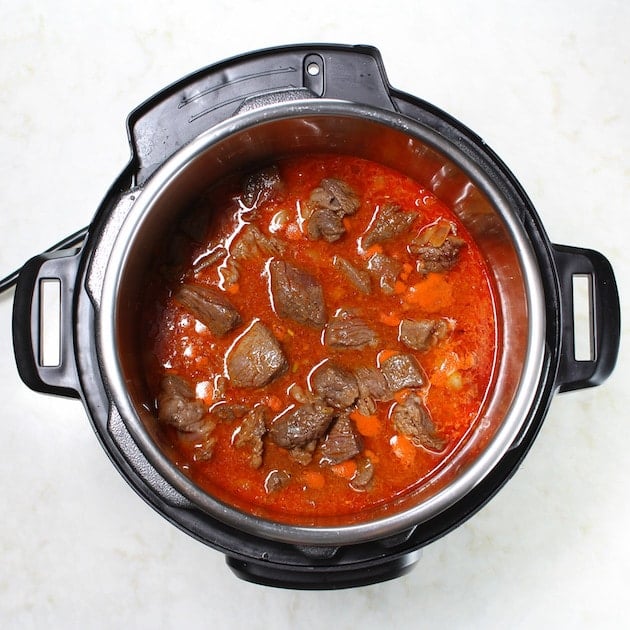 Now, turn off Saute Mode, secure and lock the Instant Pot lid in place, and turn on the Pressure Cook setting for 35 minutes. Be sure to turn the Steam/Pressure Release Valve to "Sealing."
When the 35 minutes is up, manually release the pressure by carefully turning the Steam/Pressure Release Valve to the "Venting" setting. Once the pressure is released remove the lid and turn the Instant Pot off.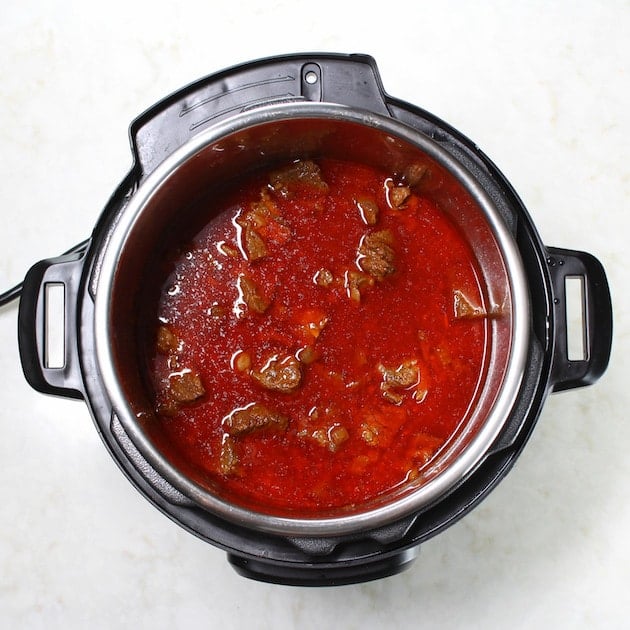 Using a slotted spoon remove the beef and set aside. Now skim the fat off the liquid. There are several ways to accomplish this, the quickest and easiest in my opinion is by using this fat separating measuring container. The fat floats to the top so you can pour all the liquid back into the IP and stop pouring when you get to the oily liquid.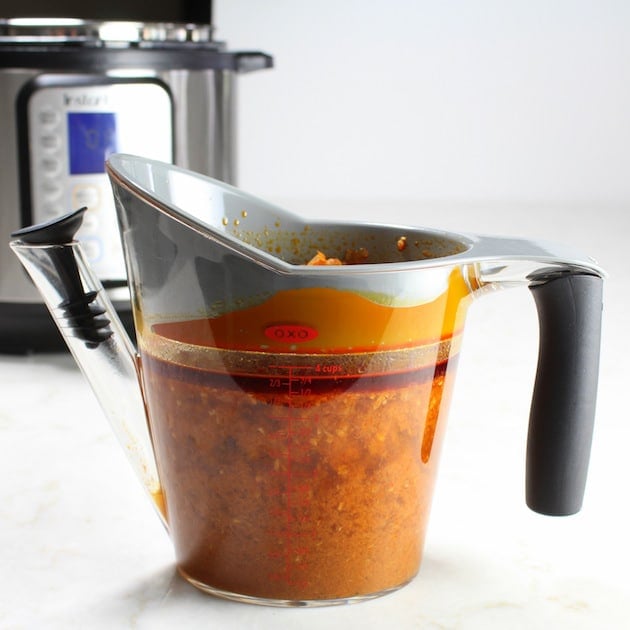 Now turn the Saute Mode to High. Allow the sauce to start to simmer, add your sliced sweet peppers and cook for 4 minutes. Next, stir in the coconut milk, lime juice, snap peas, the cooked meat, and some crushed red pepper if you desire. Cook for one more minute then turn the IP off.
Serve this deliciousness over your favorite rice, noodles or even cauliflower rice. Garnish with chopped cilantro or Thai basil (if you can find it), sliced or diced jalapenos, sliced green onions, lime wedges, and even more crushed red pepper if you like it spicy.
The meat is hearty yet oh so tender, the veggies are sweet with a little crunch, and the sauce is so creamy and delicious with the most mouth-watering Thai Red Curry flavor. Just delicious!
I can't wait for you to experience this amazing Instant Pot recipe! And if you haven't taken the plunge quite yet to purchase your IP read my review and figure out which Instant Pot is right for you. Until then, I've got you covered: check out my Thai Red Chicken Curry Soup recipe here. Something for everyone!
What to serve with this red thai curry recipe:
Noodles: Rice noodles, Rice Vermicelli noodles, Soba noodles, Somen noodles, Udon noodles, Korean sweet potato noodles, Shirataki noodles aka yam noodles (zero carb).
Veggie Noodles: Zucchini Noodles, Yellow Squash Noodles, Spaghetti Squash.
Rice: Jasmine rice, Red cargo rice, Black rice.
Veggie Rice: Cauliflower rice, Cabbage rice or Broccoli rice.
I would love to connect with you! Leave a comment and follow me on Instagram, Twitter, Facebook, & Pinterest!
Yield: 6 Servings
Instant Pot Beef Thai Red Curry Recipe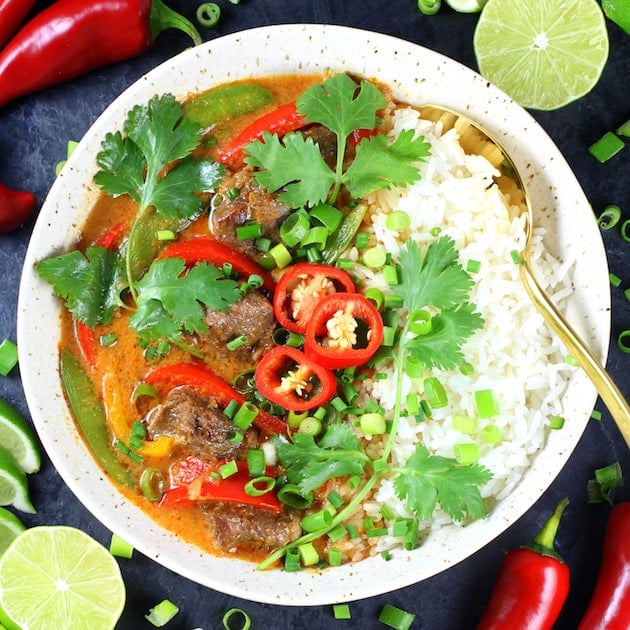 Instant Pot Beef Thai Red Curry – so flavorful, creamy, hearty, and absolutely delicious! It's full of hearty tender pieces of beef, plenty of veggies and aromatics like onions, garlic, ginger, sweet peppers and snap peas. Gluten-Free and Dairy-Free!
Pressurizing IP
10 minutes
Total Time
1 hour
5 minutes
Ingredients
For The Soup:
2 tablespoons coconut oil
4 cloves garlic, minced
4 ounces Thai red curry paste
1 two-inch piece fresh ginger, peeled and grated
1 medium yellow onion, chopped
2 sweet peppers,, stems, seeds and membranes removed, thinly sliced
7 ounces lite culinary coconut milk
2 tablespoons lemongrass paste, (found in the produce department near the herbs)
1 teaspoon salt
1 teaspoon pepper
2 tablespoons pure maple syrup or honey, (or raw sugar)
2¾ pounds beef chuck roast, fat trimmed and cut into 2 inch cubes
¼ teaspoon Crushed Red Pepper, more if you like it spicy
1 tablespoon fresh lime juice, (juice from ½ lime)
6 ounces snap peas, cut in half
Jasmine Rice, rice noodles or riced cauliflower
Optional Garnishes for Serving:
1 bunch green onions, thinly sliced
½ cup cilantro, leaves removed from stems, (or ½ cup torn Thai basil leaves)
Red or green hot peppers, thinly sliced
Lime wedges
More snap peas, cut in half
Crushed Red Pepper
Instructions
Season beef cubes with salt and pepper then set the Instant Pot on High Sauté mode. Heat coconut oil in the IP (allow to get good and hot), add half the cubed beef, and brown (be careful because the oil may splatter). Remove beef from the IP with a slotted spoon. Continue the process with the rest of the beef, removing all the beef once it's been seared.
Add minced garlic, ginger and onions then saute 4 minutes, stirring often. If the bottom of the IP starts to brown, add a few tablespoons of chicken stock.
Add the red curry paste and lemongrass paste then sauté for 1 minute, stirring constantly.
Add the chicken stock and seared beef to the IP, put the lid in place and seal, set to Pressure cook mode for 35 minutes and turn the Steam/Pressure Release Valve to the "Sealing" position. (Note that the IP usually takes 10-15 minutes to become fully pressurized before the cook time starts).
While the Instant Pot is cooking, prepare your rice or noodles on the stove top according to the package instructions.
When the IP is finished pressure cooking, carefully manually release the pressure by switching the Steam/Pressure Release Valve to the "Venting" position.
Remove the meat with a slotted spoon and set aside. Remove the fat from the remaining liquid in the IP (I pour it into a fat removing measuring cup and then back into the IP). With just the liquid in the IP turn it back to High Sauté Mode, and bring to a simmer.
Add the thinly sliced sweet peppers and simmer for 4 minutes. Add lime juice, honey/maple syrup, crushed red pepper (if using), coconut milk, snap peas and cooked meat. Simmer one more minute then turn off the Instant Pot.
Serve in bowls over noodles or rice, then garnish and enjoy.
Notes
I recommend trimming the fat off the chuck roast before cooking.  Keep this in mind when determining what size roast to buy.  In this case a 2.75 pound roast yielded 2.25 pounds after the fat was trimmed, which was enough for 6 servings.  
Nutrition Information
Yield
6
Serving Size
10 ounces
Amount Per Serving
Calories

466
Total Fat

29g
Saturated Fat

15g
Unsaturated Fat

0g
Cholesterol

117mg
Sodium

578mg
Carbohydrates

15g
Fiber

2g
Sugar

9g
Protein

35g
Looking for more Amazing Thai Recipes?
Lighter Curried Chicken Salad with Cashews