This Macaroni Salad With Dill Pickles is tangy and creamy and so delicious! The dill pickles and their juice are the main ingredients that give this pasta salad a tart and tangy flavor with some nice texture and crunch. Make it a day ahead and it will taste even better... perfect for all your cookouts, picnics, and BBQs this summer.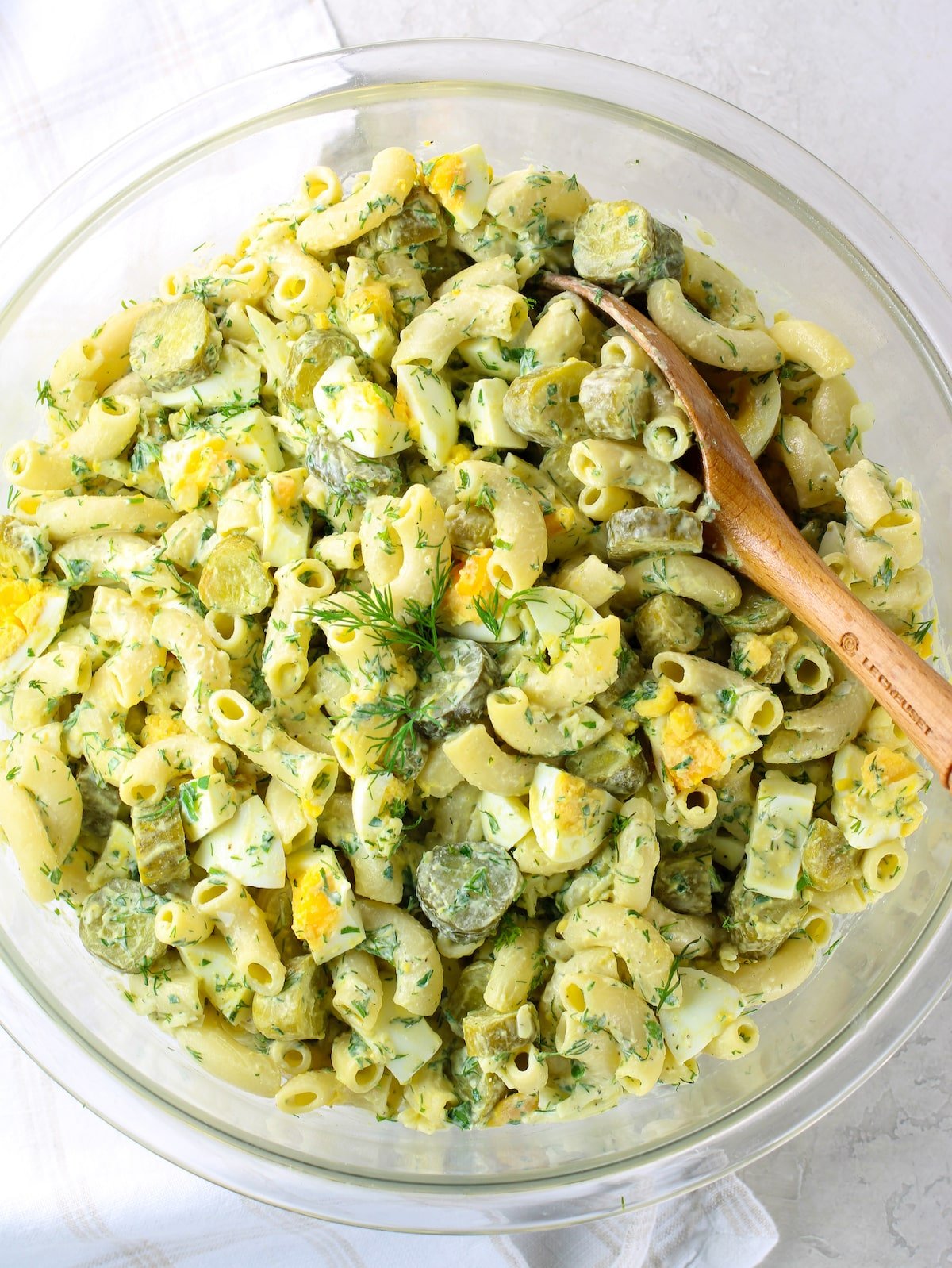 Jump to:
This post may contain affiliate links. As an Amazon Associate, I earn from qualifying purchases. Please read my disclosure policy.
Where are all my Dill pickle fans!???
Today's recipe is not only for those who adore pickles (like myself) it's also a delicious picnic or bbq side dish your family and friends will adore.
I have a girlfriend who has quite an affection for pickles. She literally drinks dill pickle juice straight from the jar. Not even kidding! She's my kind of people.
There's just something about the briny, salty, tart taste that is only captured in a jar of dill pickles. Plus, there's that crunchy texture and juiciness that makes them the perfect savory snack. Mmmmm.
Yesss – I like me some pickles!
So I decided to take my fondness for pickles and turn it into a creamy, cheesy, and delicious pasta salad recipe.
Allow me to introduce you to my new favorite pasta salad… Macaroni Salad with Dill Pickles!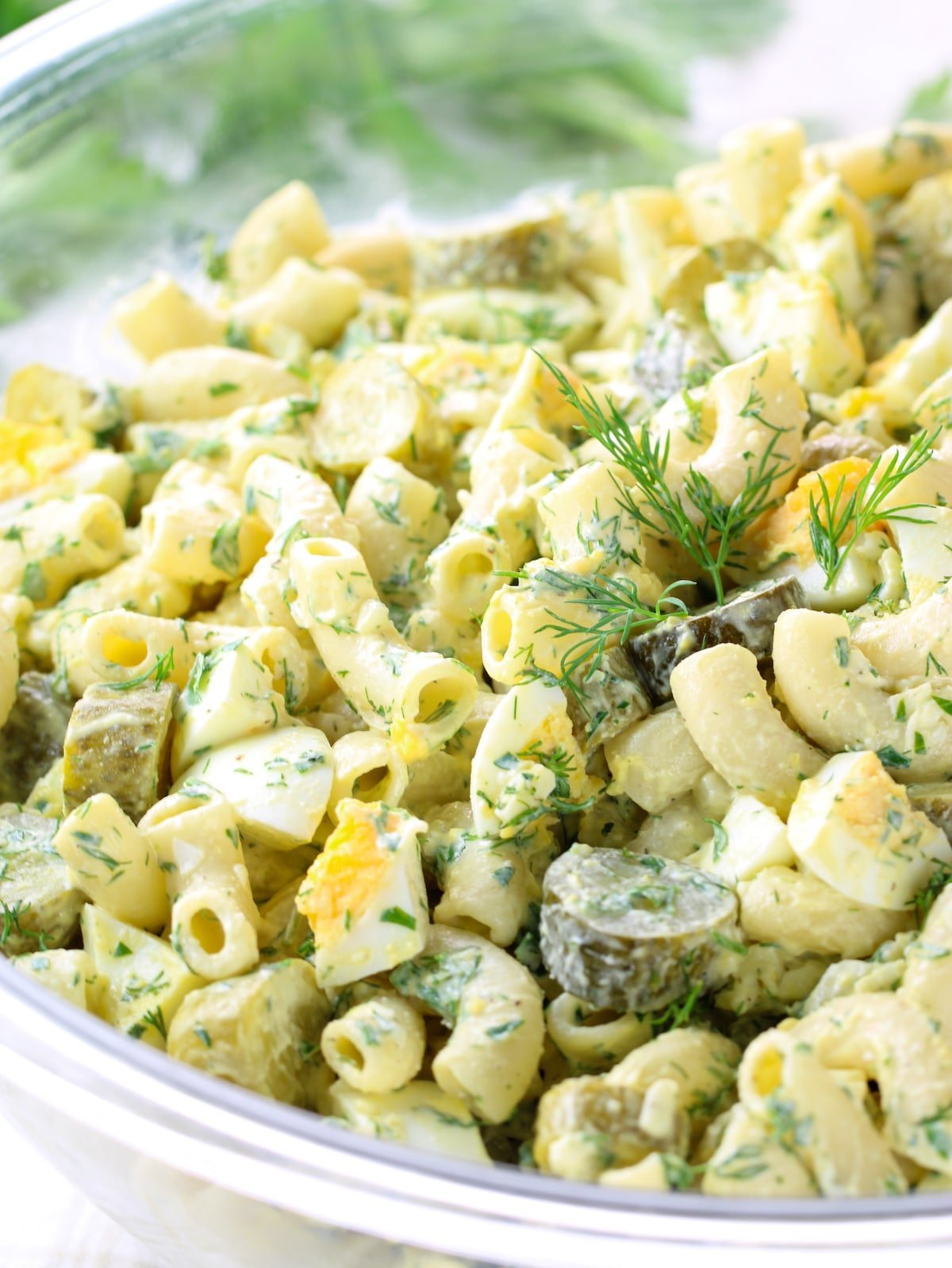 Here's what makes this pasta salad recipe so delicious:
The cheese: I used Harvarti Cheese with Dill for this recipe. It's sold in a block form in the specialty cheese area near the deli at the grocery store. It's a super creamy and soft cheese with some herbaceousness from the dill.
Which makes this the perfect cheese for this macaroni salad. Since it's so soft I usually put it in the freezer for 30 minutes - 1 hour and then shred it in the food processor. It turns out perfect every time.
The onions: I used a white onion for this recipe. They are usually a little more mild, but not sweet. Which is exactly what you want. It gives the salad a little crunch and lots of flavor without being overwhelming = winning!!!
The Macaroni noodles: I went with 10 ounces of large elbow pasta cooked to al dente for this pasta salad. Of course, I added some salt to the pasta water to infuse more flavor.
After the elbow macaroni was cooked and the noodles absorbed the water, it came out to 1 pound and 5 ounces of pasta. Since the noodles are a bit more substantial, it allowed that creamy sauce to get down into the inside of those little tubes.
The Eggs: I added 6 chopped soft-boiled eggs to this recipe. You know me, getting some protein in wherever I can balance out those carbs. And since we're on the topic allow me to share how to cook the perfect boiled egg…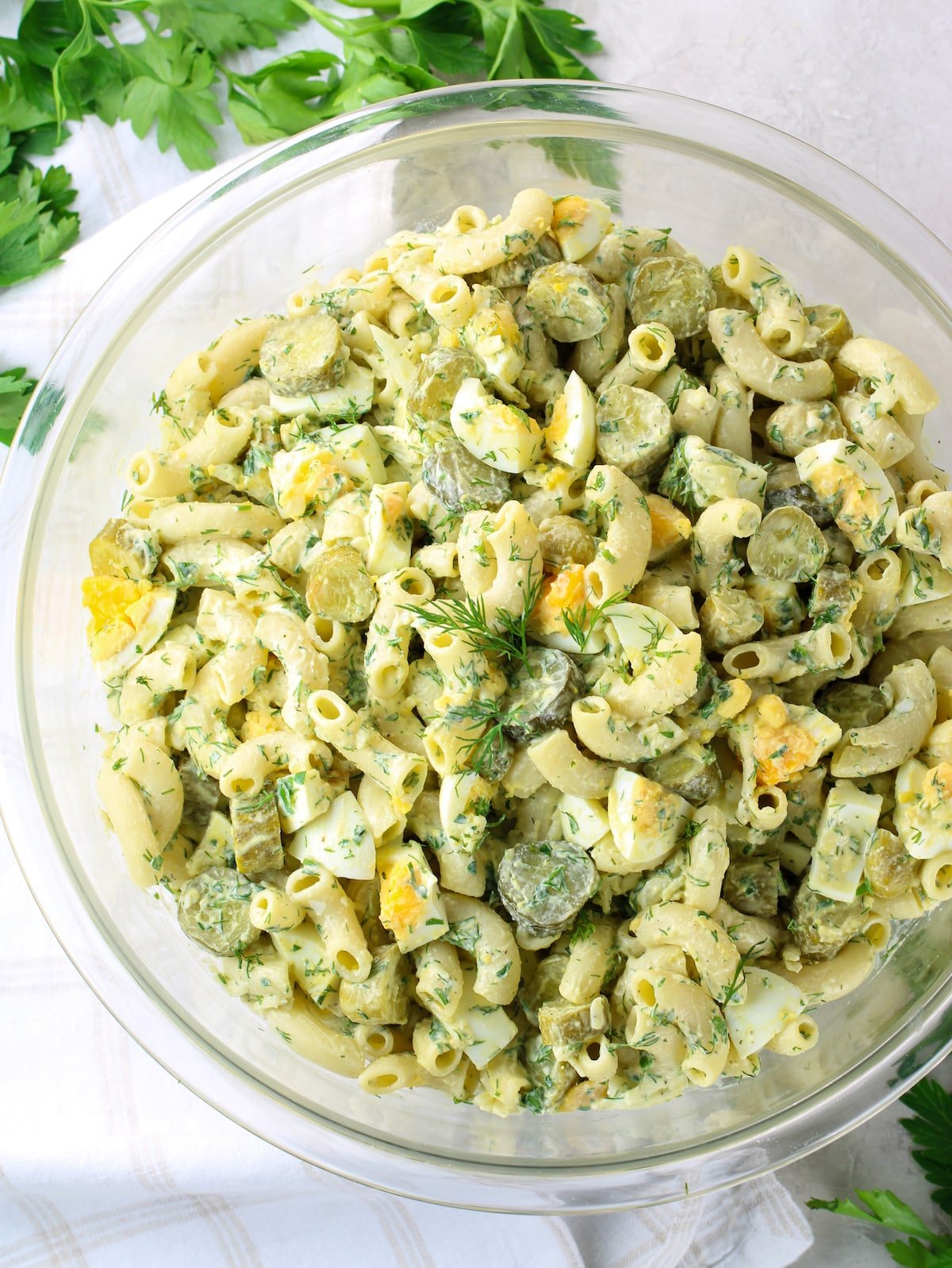 How to cook the perfect boiled egg
Add a tablespoon of olive oil or canola oil to your pot of water then bring to a boil.
Add the eggs gently into the boiling water with a large spoon (be careful to not let them crack).
Set a timer for 9 minutes for soft-boiled eggs – the yokes will be a deeper orange and less cooked. If you prefer a more cooked egg, boil them for 11 minutes.
Strain off the hot water and run cold water on the eggs. Empty out the water and add enough ice to cover the eggs, then add a little more water back into the pan.
Let them sit for about 15 minutes then crack their shells all over on the counter, and add them back into the water for a few minutes.
Finally, peel the eggs - this is where you'll notice the benefits of the olive oil - those shells will slide right off with ease! Here's why it works… eggshells are porous and the oil seeps inside the shell between the egg white and the shell/membrane, causing a slippery barrier that makes peeling them a breeze.
The Pickles: And finally let's chat about the star of this show - the pickles of course! I used petite kosher dill pickles for this mac salad. They were 2½ to 3 inches long and about 1 inch wide. I sliced them into ½ inch chunks.
You can use bigger or smaller pickles; it's truly just a preference thing. Make sure you purchase a 16-ounce jar of pickles. This will give you 8 ounces of sliced pickles and enough juice for the creamy dressing.
There you have it - these are the most important ingredients that make this pasta salad sooo delicious!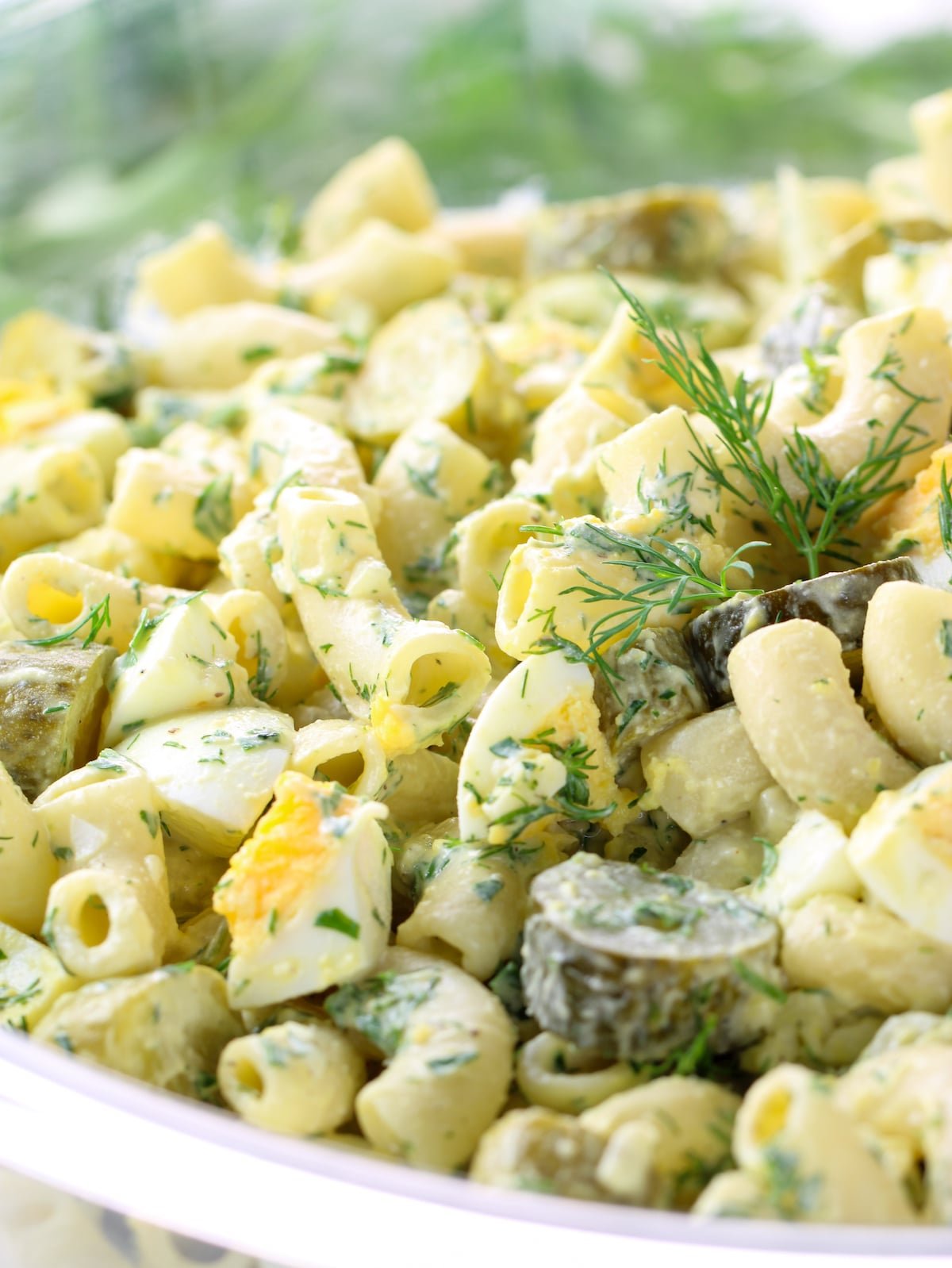 And BTW I do have other pasta salads you will probably want to try as well… one is a Greek Tortellini Pasta Salad, full of fresh veggies and herbs, tangy homemade Greek dressing, and feta cheese.
Or you might like this Italian Tortellini Pasta Salad, with cheese tortellini, Genoa salami, fresh mozzarella pearls, and veggies all tossed in a zesty homemade Italian dressing. I'm not gonna lie I just drooled a little.
And if you're like me and you love a good Tuna Pasta Salad then you're gonna want to check out my Tuna Pasta Salad with Green Beans. it's full of veggies and has the most mouthwatering creamy dressing ever!
But let's talk more about this delicious dill pickle pasta salad!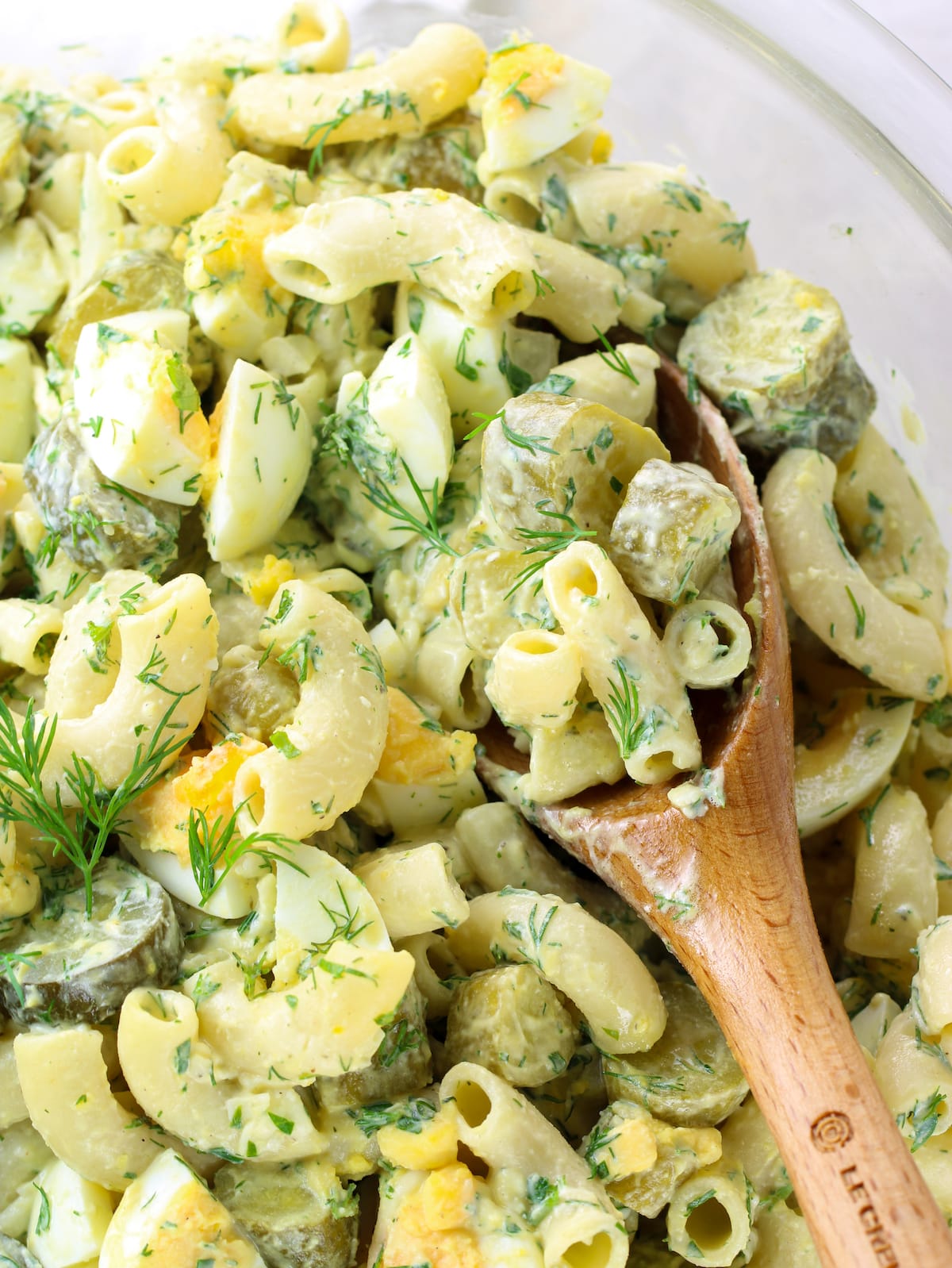 How to make Macaroni Dill Pickle Salad
This salad couldn't be any easier to throw together.
Cook your pasta to al dente following the instructions on the box. And cook the eggs to your preferred doneness. (Be sure to set some timers so they don't overcook.)
Meanwhile, mix together the dressing and set aside.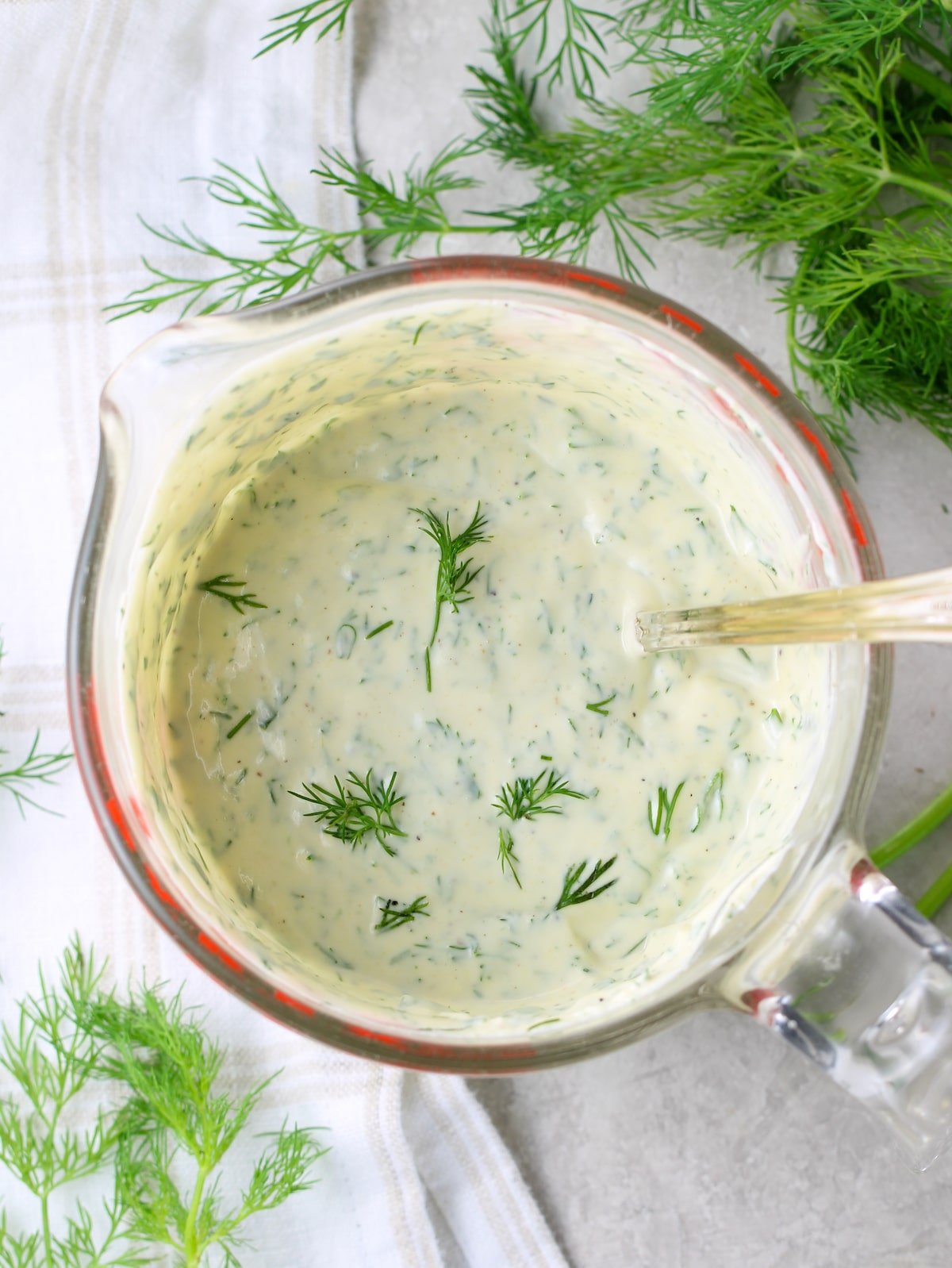 Chop up your onions, pickles, fresh dill, and parsley, shred your cheese, and chop the eggs once they have been cooled and shelled.
Add all of your ingredients except the dressing to a large mixing bowl and toss.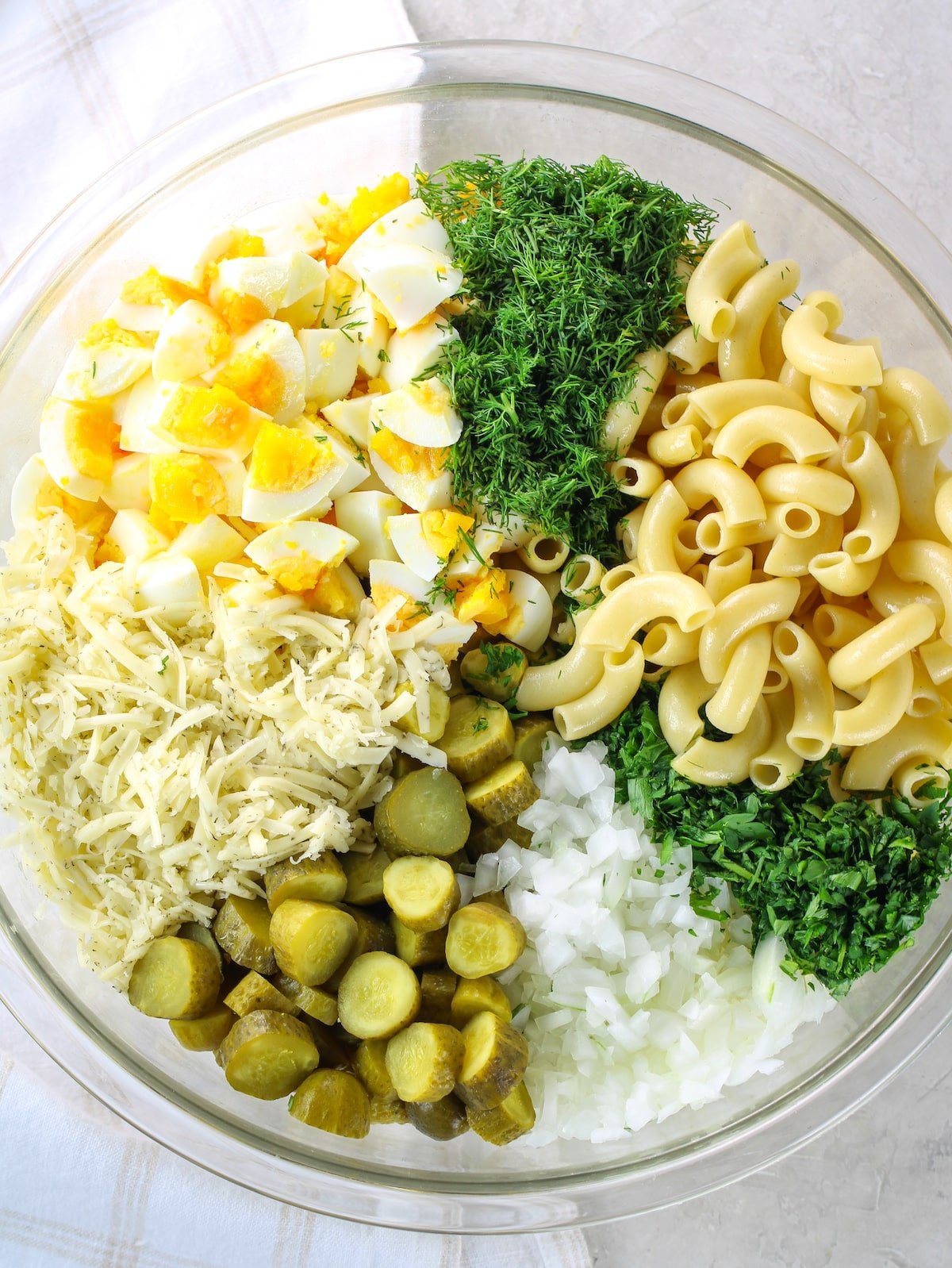 Add the dill dressing and fold it all together. Place in it the fridge and allow it to sit for at least one hour before serving, or even longer to allow the flavors to seep into the pasta.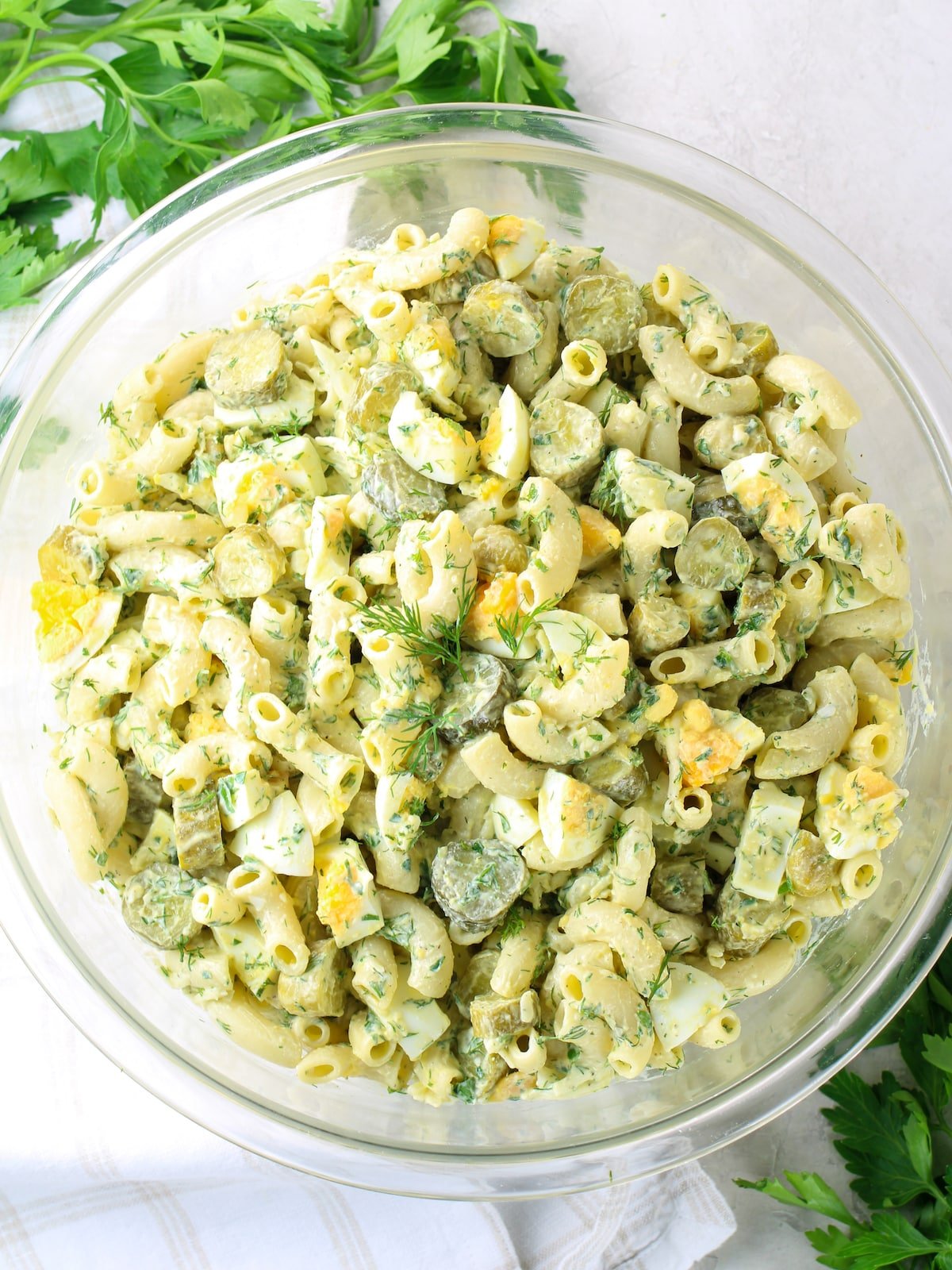 Can I make Dill Pickle Salad The Night Before?
You can absolutely make this dill pickle pasta salad the day before. In fact, that is my preference. It will allow all the herbs, spices, and pickle juice to get infused into every bite.
Plus, if you're entertaining it's a great way to make part of your meal ahead and have less to do the day of.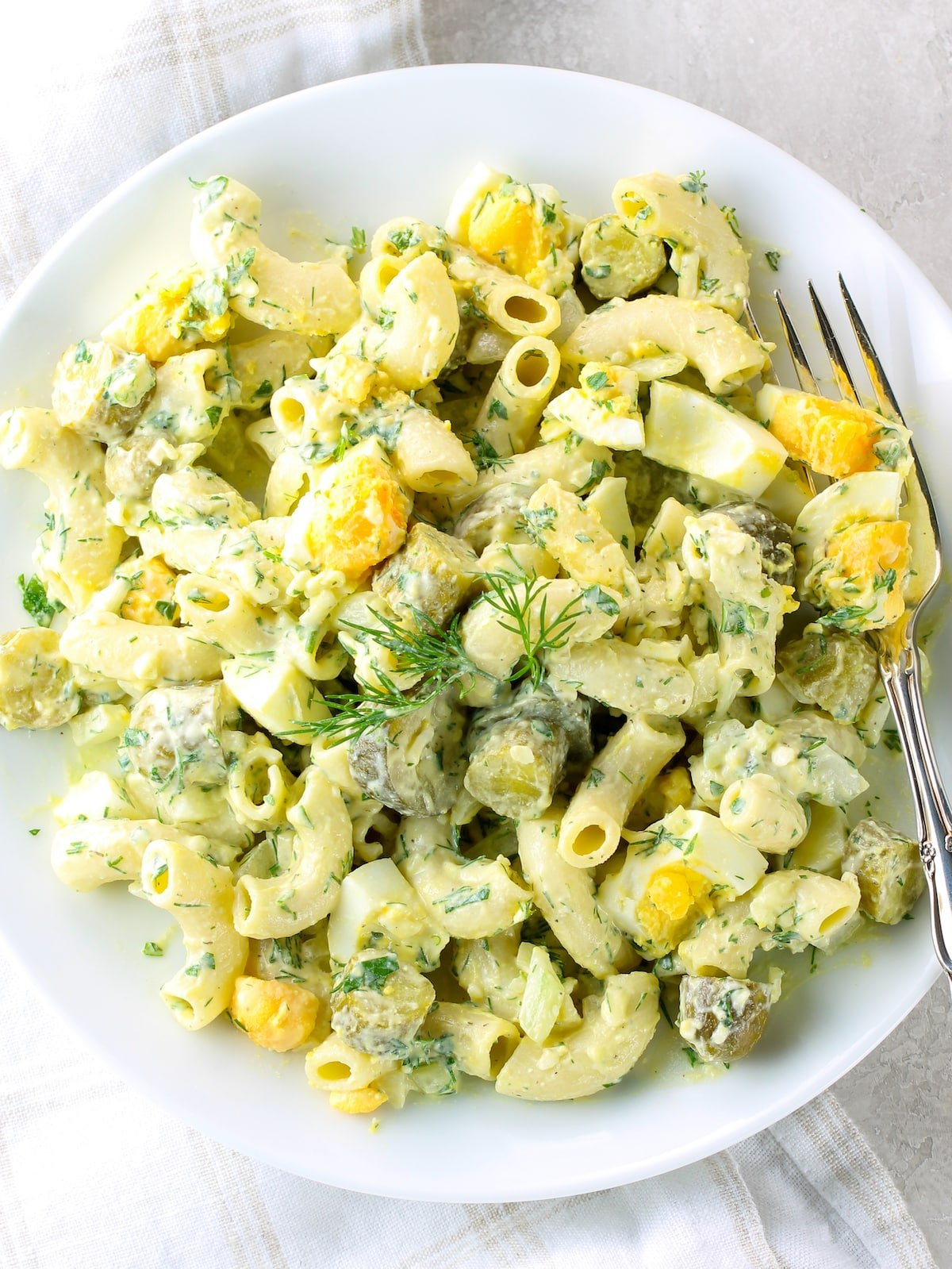 I'm excited for you to try this deliciousness! Not only is it original but it's super tasty. Bring this dish to your next cookout and you will be a Rockstar in everyone's eyes with this take on the classic macaroni salad.
Enjoy my friends!
Yield: 16 servings
Macaroni Salad With Dill Pickles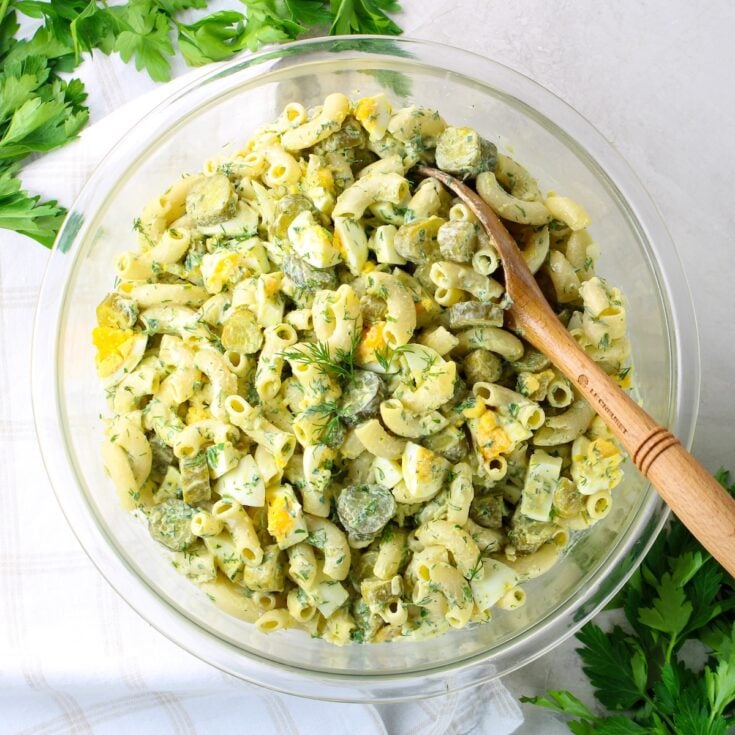 This Macaroni Salad With Dill Pickles is a super flavorful take on pasta salad!
Total Time
1 hour
20 minutes
Ingredients
For The Pasta Salad:
10 ounces large elbow pasta
8 ounces sliced baby dill pickles (a 16 ounce jar of petite or baby dill pickles)
7 ounces shredded Havarti Cheese with Dill
1 white onion, finely chopped
3 tablespoons fresh dill, chopped
2 tablespoons fresh parsley
6 hard boiled eggs, chopped
For The Creamy Dill Dressing:
½ cup mayonnaise (or Greek yogurt)
½ cup sour cream (or Greek yogurt)
½ cup dill pickle juice (from the pickle jar)
3 tablespoons chopped fresh dill
2 tablespoons fresh parsley
1 tablespoon Dijon mustard
½ teaspoon onion powder
½ teaspoon garlic powder
¼ teaspoon salt
¼ teaspoon pepper
Instructions
Boil pasta to al dente, according to package directions.
Meanwhile, boil eggs to your preferred doneness, let cool, remove shells, and chop. *See note about cooking the eggs!
Strain the pasta and set aside to cool.
Combine all dressing ingredients in a small bowl or measuring cup and mix well.
Toss all pasta salad ingredients to a large bowl. Pour the dressing over the salad and fold together until all the ingredients are coated with the sauce.
Refrigerate at least 1 hour before serving or even better make this salad a day ahead so all the flavors marry together.
Notes
There are many techniques for boiled eggs. Here's what I've found to work well!
Add a tablespoon of olive oil to your water, then bring to a boil. 
Carefully add eggs with a large spoon, then boil 9 minutes for soft-boiled, or 11 minutes for more hard boiled. 
Pour off the hot water, and run cold water on the eggs too cool them.  Then remove all water, cover the eggs with ice to stop them cooking, and add a little more water back in to the pan. 
Let them sit for about 15 minutes then crack their shells all over on the counter, and add them back into the wate for a few minutes.   Then peel.
Nutrition Information
Yield
16
Serving Size
4 ounces
Amount Per Serving
Calories

176
Total Fat

12g
Saturated Fat

5g
Trans Fat

0g
Unsaturated Fat

7g
Cholesterol

89mg
Sodium

532mg
Carbohydrates

9g
Net Carbohydrates

8g
Fiber

1g
Sugar

3g
Protein

7g
This nutrition card uses an estimate provided by an online nutrition calculator. This estimate is not a substitute for a professional nutritionist's advice!