This Mexican Street Corn Salad is the perfect side dish for your next BBQ!! It's full of fresh and delicious sweet corn, cilantro, jalapeno, and red onion. With a creamy dressing, that has a sour cream base, a little tang from the lime juice, and is full of flavor thanks to the garlic powder, cumin, and a little cayenne. It's so delicioso!!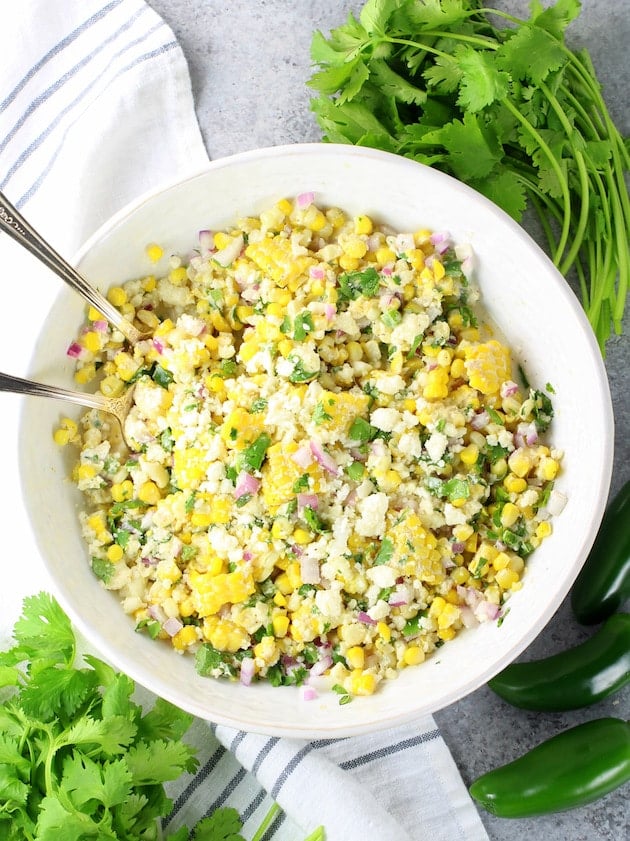 Mexican Street Corn Salad
Have you had your fill of fresh corn on the cob this summer??
I sure hope not because I have a really yummy corn salad recipe for you today. We went south of the border with this one and created a Mexican Street Corn Salad!
It's all kinds of delicious!
My favorite corn salad recipe of all time is this Jalapeño Cilantro Corn Salad. It has a tangy and sweet dressing that is almost addictive. I get asked for the recipe every time I serve it – yep it's that good.
So I thought, "why not task myself with making another winning corn salad recipe?" Annd that's when I went to work… I'm excited to let you know another amazingly tasty corn salad was born!
This salad has some really flavorful southwest ingredients like cilantro, jalapeno, red onion, and cotija cheese.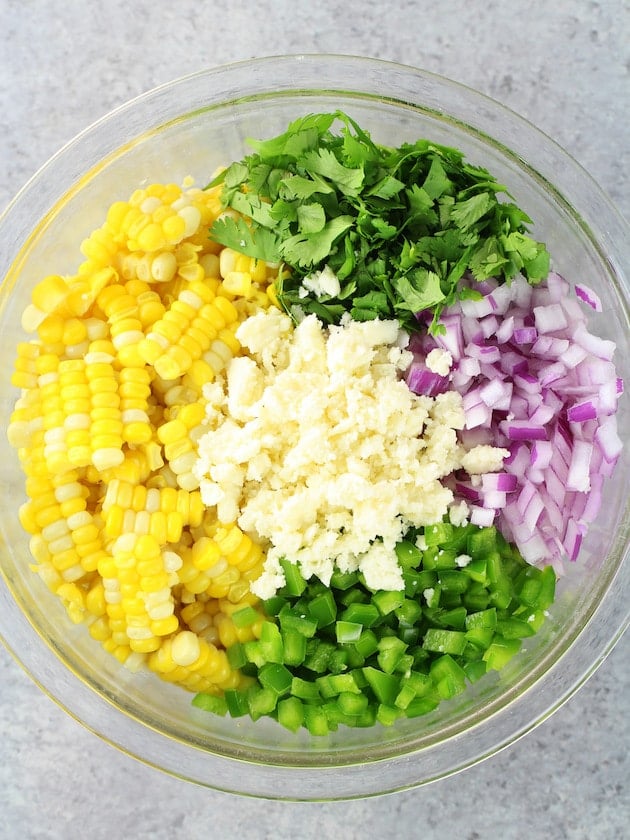 The dressing is creamy with a sour cream base, a little tangy from the lime juice, and full of flavor thanks to the garlic powder, cumin, and a little cayenne.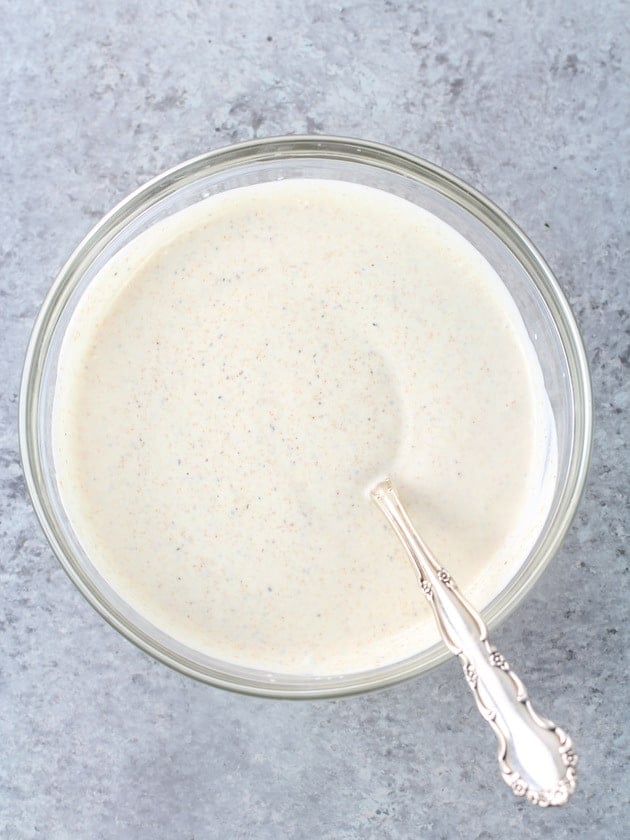 All of that combined creates one fantastico eating experience!
I know you're gonna love it as much as I do!
How to cook corn on the cob:
Do you feel like you have a foolproof method for cooking corn on the cob?
Not tough or mushy overcooked corn… You know, when those delicate silky kernels burst with that sweet golden goodness with each bite!?? Mmm, drooling!
Well, if you're not so sure, then you're not alone. Many people aren't completely sure of this either since they're asking and googling this question all the time.
Recently, while testing and researching for my Instant Pot Corn on the Cob recipe I found a video of this foolproof technique from America's Test Kitchen that doesn't even involve boiling the corn at all. Whaaaa!???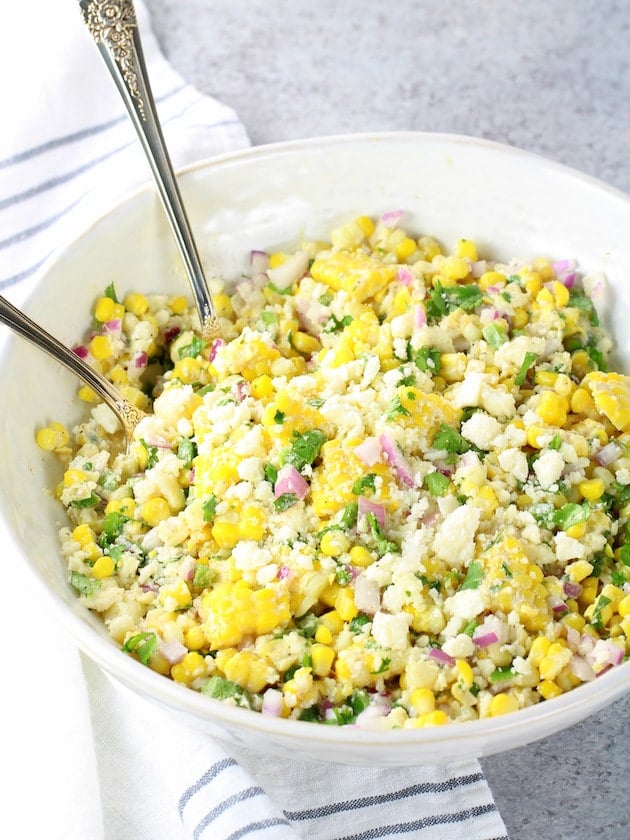 Yep, true story. Allow me to break it down for you…
Add 4 quarts of water to a large stock pot. (I like to add sugar to mine as well in case the corn has lost some of its sweetness. But never add salt to the water because it can make the corn tough.)
Bring the water to a rolling boil, turn the burner off, add the sweet corn, close the lid tight, and move it off the heat. Let it sit for 10 minutes and you'll have perfectly cooked corn.
Another bonus in doing it this way is that you can actually leave the corn in the water for up to 30 minutes to keep it warm without overcooking it. Brilliant – right!??
This is how I cooked my corn for this Mexican corn recipe and it turned out perfecto!
Finally, the mystery has been solved about cooking corn on the cob!!
And we all have another super delicious summer corn salad to add to the rotation!! Woohoo!!
Yield: 5 servings
Mexican Street Corn Salad
This Mexican Corn Salad is the perfect side dish for your next BBQ!! A timeless addition to any Mexican food menu.
Ingredients
For The Salad:
6 medium bi-color ears of fresh corn, shucked and husked
⅓ cup sugar
4 quarts water
½ cup red onion finely chopped
½ cup cilantro rough chopped
5 oz cotija cheese, crumbled
2-3 jalapeño, seeds and membranes removed, then minced
Dressing:
½ cup sour cream (Daisy brand is gluten-free)
1 lime, juiced
1 teaspoon salt
½ teaspoon pepper
1 teaspoon garlic powder
1 teaspoon onion powder
½ teaspoon cumin
¼ teaspoon cayenne (optional)
Instructions
Bring a pot of water with the sugar added to a boil. When it comes to a rolling boil, add the ears of corn and put the lid on the pan. Now turn the burner off and set the pot off the heat for 10 minutes.
Meanwhile, mix together the dressing ingredients and set aside.
Remove the corn from the pan and allow it to cool for a few minutes.
Then hold each ear of corn by the small end and cut the corn off all of the ears.
Add the corn kernels to a large bowl, then add the red onion, cilantro, jalapeño, and cheese and toss.
Pour the dressing over the salad mixture and fold it all together.
Garnish with more cheese, cilantro or jalapeños.
The corn salad can be serve slightly warm, room temperature or chilled.
Notes
If you'd like you can use grilled corn for this recipe.  
Nutrition Information
Yield
5
Serving Size
8 ounces
Amount Per Serving
Calories

281
Total Fat

12g
Saturated Fat

7g
Unsaturated Fat

0g
Cholesterol

37mg
Sodium

857mg
Carbohydrates

40g
Fiber

3g
Sugar

23g
Protein

9g