Jalapeño Cilantro Mexican Corn Salad – a simple but truly satisfying summer side dish. With fresh corn off the cob, red onion, jalapeños and cilantro, this salad is the perfect make-ahead recipe everyone will love!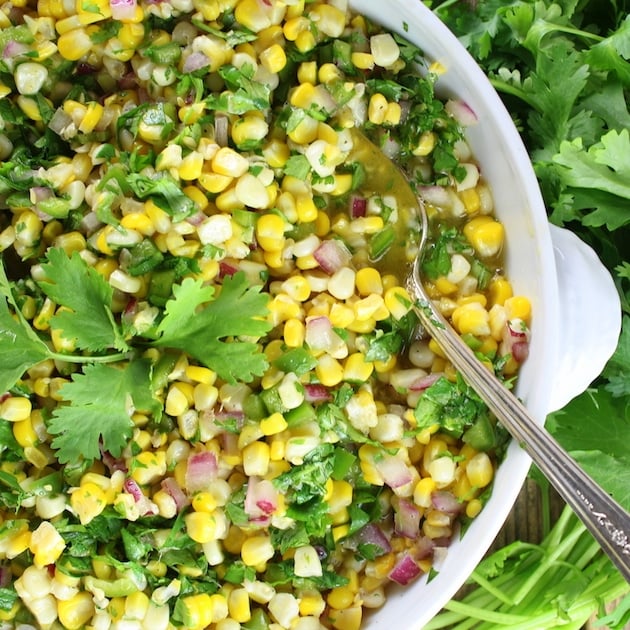 Mexican Corn Salad
This Mexican Corn Salad is one of those dishes I look forward to all year long. It is the epitome of summer. Fresh, sweet and flavorful… It's sunshine in a bowl!☀️
Since fresh corn is only available in the summer in New England, and summer lasts roughly 3 months, my window of opportunity is very narrow to enjoy this fresh and tasty dish! As soon as I see the mound of fresh corn appear in the produce department, I'm all over it. Shucking my little heart out right there in the store.
The most versatile corn salad ever!
I take this salad to cookouts and make it for BBQs. It pairs perfectly with steaks, burgers or any meat slathered in barbecue sauce… I love to serve it with Balsamic Baby Back Ribs or BBQ Pulled Pork Sliders. Everyone raves about it and asks for the recipe. It's really simple to make and looks all bright and beautiful in its bowl.✨
Initially the inspiration for this dish came from by my Boo Ina Garten. She has a wonderful corn salad recipe in The Barefoot Contessa Cookbook. I've changed it up a bit… omitting the basil (I don't like that it turns black), and adding a southwestern spin with jalapeños and cilantro.
I also added more vinegar for a punch of zesty flavor, plus honey for more sweetness… so it really turns out to be a pickled corn salad. Which is perfect for me because I absolutely love pickled anything!
… So much so that I used a pickled corn recipe from Epicurious and canned it all after I harvested corn from my garden last year. It was AH-MAZING! I had this amazing tangy-sweet, crunchy-fresh memory of summer to snack on all winter. I served it as a condiment for my Slow Cooker Beef Barbacoa Tacos and Mexican Pizzas, I used it as a corn salsa, I served it as an appetizer, and truth be told, I just ate it by the spoonful straight from the jar! Just so good.
Next time you're at the grocery store grab some fresh corn while you still can. This Jalapeño Cilantro Corn Salad is a must-make summer recipe your family will devour again and again!
I would love to connect with you! Leave a comment and follow me on Instagram, Twitter, Facebook, & Pinterest!
Yield: 8 servings
Jalapeño Cilantro Corn Salad Recipe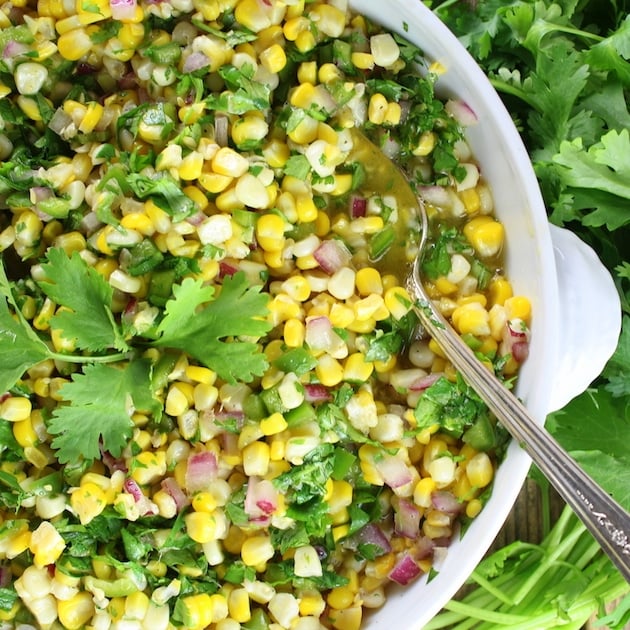 Jalapeño Cilantro Corn Salad - a simple but truly satisfying summer side dish. With fresh corn off the cob, red onion, jalapeños and cilantro, this salad is the perfect make-ahead recipe everyone will love!
Ingredients
6 ears of corn, shucked
1 cup small-diced red onion, (about ½ of a large onion)
5 tablespoons red wine vinegar
3 tablespoons extra virgin olive oil
1 teaspoon kosher salt
1 teaspoon freshly ground black pepper
1/2 cup fresh cilantro leaves rough chopped
4 Jalapeño peppers, finely diced &, seeds removed
2-3 tablespoon honey or agave nectar, (The amount of honey needed is directly related to the sweetness of the corn. Sweeter corn will require less honey.)
Instructions
In a large pot of boiling water (I add sugar to ensure sweetness), cook the corn for 5 minutes. Drain and let cool.
When the corn is cool enough to handle, cut the kernels off the cob, cutting close enough to the cob to remove the kernels but not so close that you remove the husk with it.
Toss the kernels in a large bowl with the red onions, jalapeño peppers, cilantro, vinegar, olive oil, salt and pepper. Taste and then start adding the honey or agave nectar as desired. The sweetness should balance out the vinegar.
Make a few hours a head so the flavors infuse together. Chill and serve cold or leave out and serve at room temperature.
Nutrition Information
Yield
8
Serving Size
4-5 ounces
Amount Per Serving
Calories

146
Total Fat

6g
Saturated Fat

1g
Trans Fat

0g
Unsaturated Fat

5g
Cholesterol

0mg
Sodium

268mg
Carbohydrates

23g
Fiber

2g
Sugar

11g
Protein

3g
This nutrition card uses an estimate provided by an online nutrition calculator. This estimate is not a substitute for a professional nutritionist's advice!
This corn salad pairs perfectly with BBQ pork! Check out these ideas:
BBQ Pulled Pork Sliders