Oatmeal Chocolate Chip Butterscotch Cookies
Oatmeal Chocolate Chip Butterscotch Cookies… the best cookie ever!!  Rich and thick and soft and chewy  - everything you want in a cookie and more.  With butter, brown sugar, vanilla, old-fashioned rolled oats, a generous amount of chocolate chips, and butterscotch chips… making some chewy, buttery, and delicious chocolate chip oatmeal cookies!
Chocolate Chip Butterscotch Cookies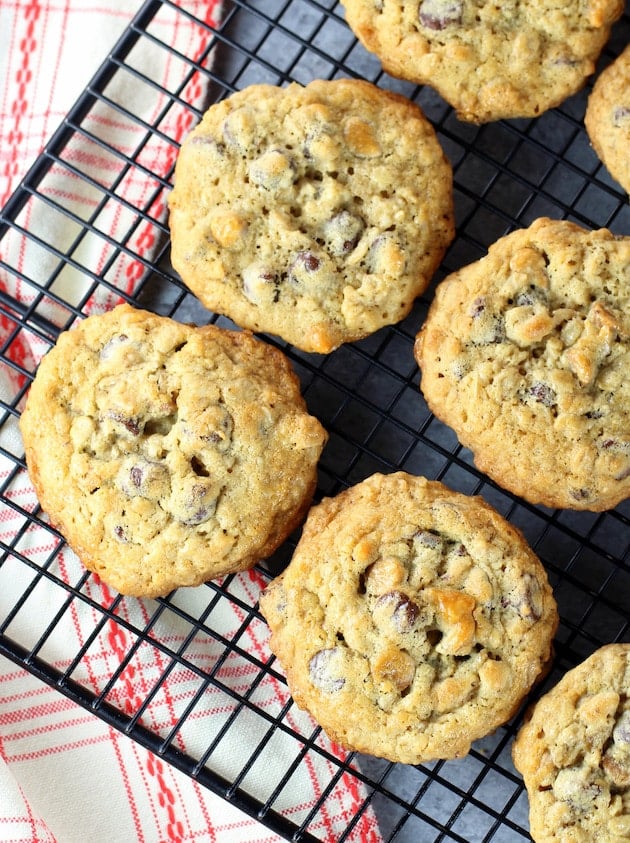 Chewy on the inside, crispy on the outside, brimming with rich semi-sweet chocolate chips and creamy butterscotch chips – see, like I said "the best cookie ever!"
I've never been a hard-core baker.  But give me a soup pot and stand back, 'cause you're gonna want soma dat!  But for real, I'm more of a bake-to-get-by kind of girl.  Or a bake-because-I-really-love-you-and-you-love-baked-goods kinda girl.
I don't really remember baking lots of Christmas cookies growing up.  It was more of my mom baking or making things and giving them away as gifts.
I remember there was always an assortment of peanut brittle, multiple flavors of hard candy, homemade fruit cake, and everyone's favorite: Pecan Tassies!!  If you haven't tried those they're almost like little bite-sized pecan pies.  And they were A LOT of work.  So those were always in high demand.
Of course, we had pie for every holiday, and always many varieties.  What can I say?  We were a pie family.  But cookies… not so much.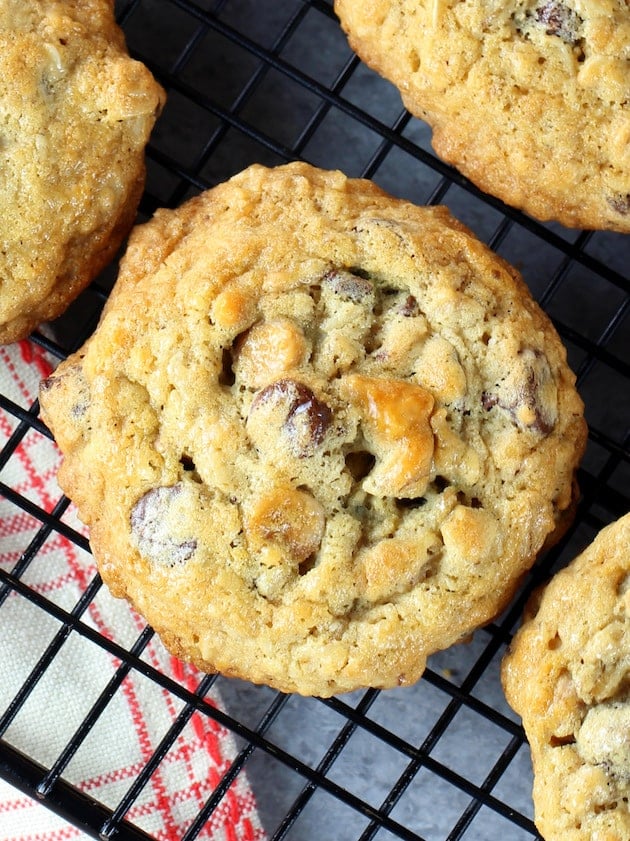 So fast forward to early in our marriage, and the holidays roll around.
Grandma's Christmas Cookies:
The hub's upbringing was very different… his Grandma Sander was a cookie-making machine.  She even had an extra freezer in the basement to store all of her cookies, since she had to start making them months in advance to get them all completed and distributed by Christmas.
Her legendary cookie baking is known far and wide throughout the family, friends, neighbors, and colleagues.  And we are not just talking about the traditional Christmas sugar cookies.  Sure there were frosted sugar cookies, but there were also pizzelles, peach puffs, thumbprints, rum balls, macaroons, Russian tea cakes, snickerdoodles, and peanut butter cookies… just to name a few!!
I have a huge amount of respect for all the dedication, hard work, and love that went into each precious almond macaroon and boozy rum ball.  Those were some of Grandma's favorites.
But after many many years of cookie crafting, life took its toll, and holiday baking wasn't possible.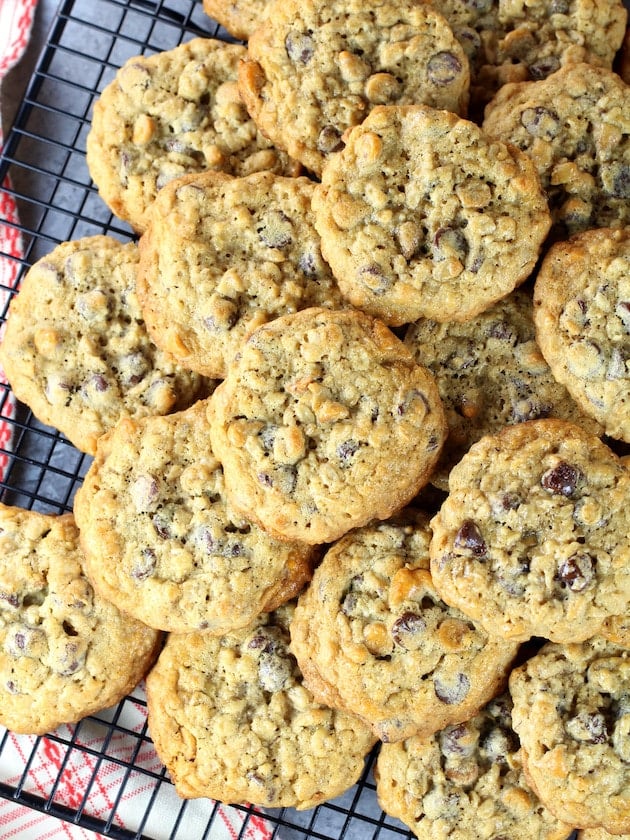 Soooo, I did what any newly inducted family member would do to impress the legendary cookie queen…  I grabbed my apron and went to work.  And since I was trying so hard to impress, I needed to make Grandma all of her favorite cookies – right!??
I should take a moment to tell you that Grandma Sander wasn't one of these mushy lovey-dovey grandparents.  I mean she was brimming with love for her kids and grandbabies but she was a "get the job done and do it right the first time" kind of person.  She was physically and mentally strong and not apologizing for it.  Don't you love that?!  I certainly do!
But back to my attempt to impress my new grandma with her love language - cookies.  And her favorite ones at that!
Let me just tell you at that point in my life, I had never seen - let alone tasted - an almond macaroon.  But that didn't stop me, oh no!  "Have flour, will bake!"
You can probably imagine what those cookies tasted like.  Ahh, let's just say it wasn't my best work.
But Grandma was so gracious and she loved that I was thinking of her.  She very kindly typed me a letter giving me feedback and some delicate instructions on what to do the next time I made those cookies.  I still have those letters today.  And those sweet memories of a precious but strong Grandma!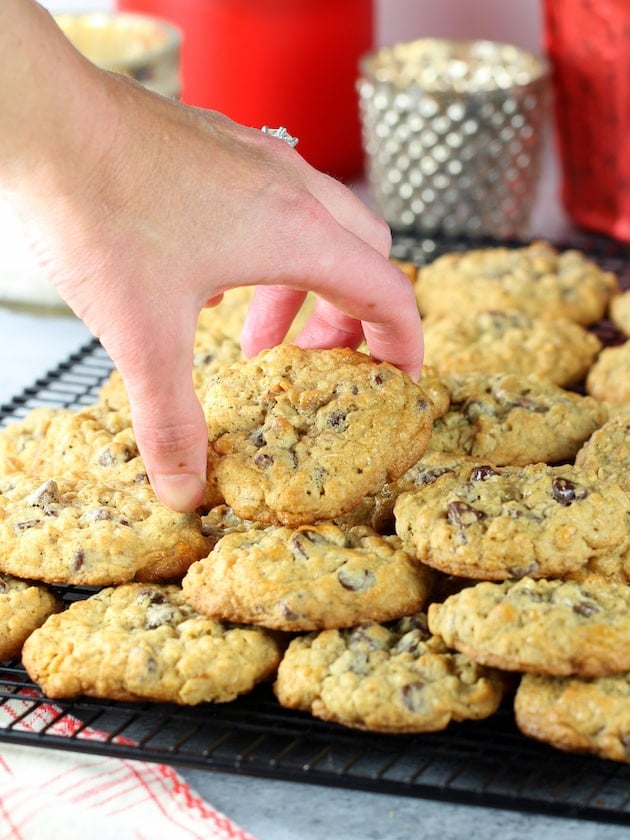 Don't worry, we're not making almond macaroons today!  No, I gave up on those and  moved on to something more my speed…
Chocolate Chip Butterscotch Cookies
... Like these Oatmeal Chocolate Chip Butterscotch Cookies!  And if I can be completely honest  - these cookies are the bomb!
Seriously, they are chewy and hearty and full of so many yummy nuggets of chocolate and butterscotch.  I totally nailed it if I do say so myself!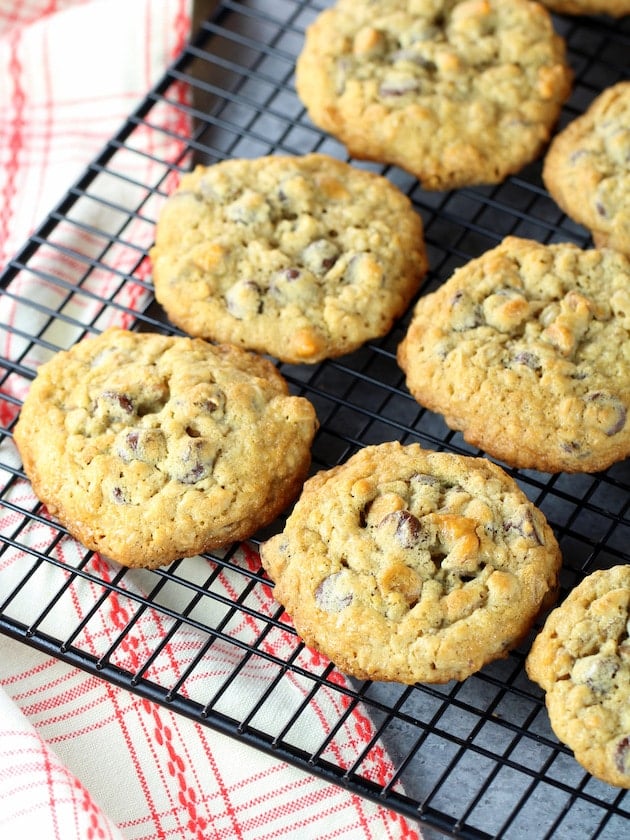 They are inspired by a recipe I found on the lid of the Quaker Oats oatmeal container over 20 years ago.  Back then, they had a chewy chocolate chip cookie recipe on there.  But that changed shortly after I took note of the recipe, and ever since there has been an oatmeal raisin cookie recipe there instead.
I made a few adjustments over the years… less sugar, adding butterscotch chips because, well, buttery sweet goodness need I say more??  If you're not a butterscotch lover like me, you can leave them out and add more semi-sweet chocolate chips… because more is more!!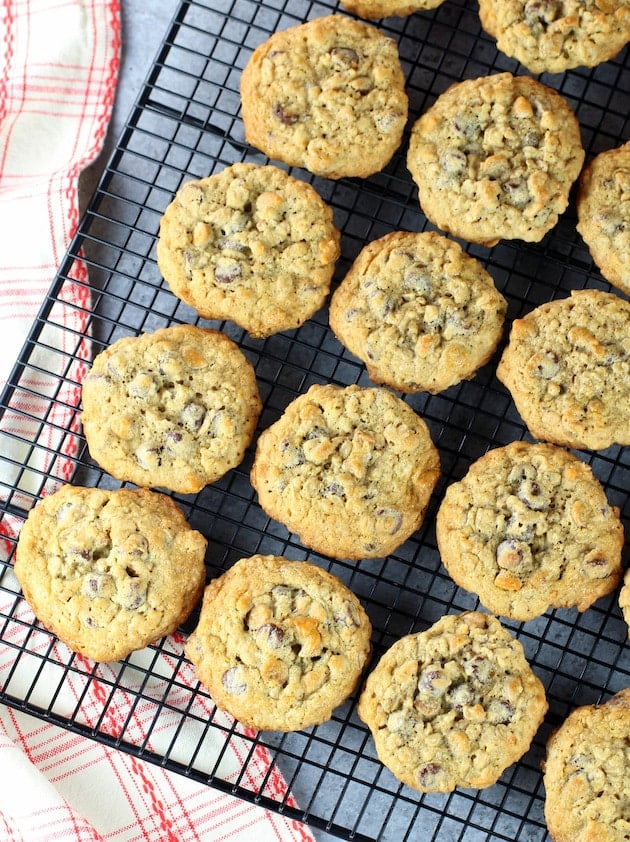 These cookies are so good my friend… chewy with crisp edges and soft centers.  Full of all things that make delicious  cookies every time.  There's butter, brown sugar, eggs and vanilla, old-fashioned rolled oats (not instant oats!), and a generous amount of chocolate chips and butterscotch chips… making one soft chewy buttery rich oatmeal cookie!
It's a good thing I have some left because if not I would have to make another batch!!  Mmmm!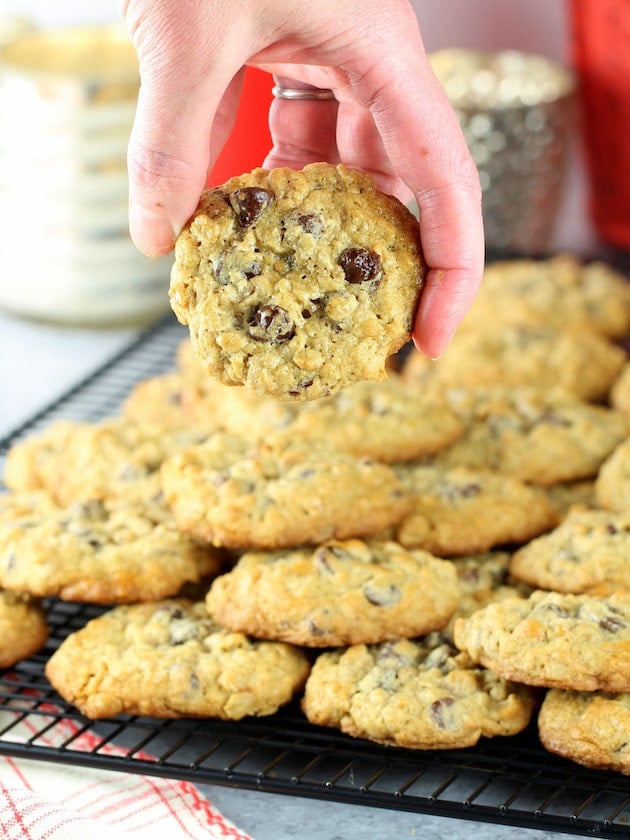 This recipe makes between 45-50 cookies so there's plenty for you to share and devour.
I know you and your family are going to agree that these cookies are your new favorite sweet treat!
Merry Christmas!
Oatmeal Chocolate Chip Butterscotch Cookie Recipe
Yield: 45 Cookies
Oatmeal Chocolate Chip Butterscotch Cookies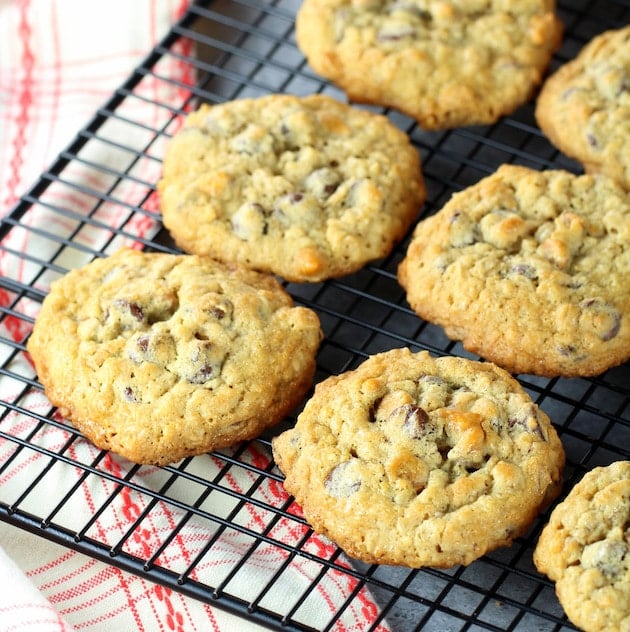 Rich and thick and soft and chewy - everything you want in a cookie and more.
Ingredients
1 cup butter, softened (2 sticks)
1¼ cups brown sugar, firmly packed
2 eggs
2 tablespoons milk
2 teaspoons vanilla
1¾ cup all purpose flour
1 teaspoon baking soda
½ teaspoon salt, optional
2 ½ cups oats, old fashioned, not instant!
12 ounces semi-sweet chocolate chips
12 ounces butterscotch chips
Instructions
Heat oven to 375F.
In a medium bowl, combine flour, baking soda, and salt and mix well.
Using a stand mixer, beat together butter and sugar until creamy.
Add eggs, milk, and vanilla and beat well.
Slowly add dry ingredients and mix well.
Drop by rounded tablespoonfuls onto parchment-lined baking sheet, and press the tops down slightly to level them out before baking. Bake 8-10 minutes.
Allow them to cool for a minute or two ,then transfer them to a wire rack to cool.
Notes
When removing from oven, I like to give the cookies a single drop onto the counter or stovetop.  You want to hold it just a couple inches above the counter and let it drop.  This helps "level out" the tops and gives them all a bit more consistent appearance.
Nutrition Information
Yield
45
Serving Size
1 Cookie
Amount Per Serving
Calories

171
Total Fat

7g
Saturated Fat

4g
Unsaturated Fat

0g
Cholesterol

19mg
Sodium

121mg
Carbohydrates

23g
Fiber

1g
Sugar

14g
Protein

1g