Cinnamon
Keto
Bulletproof Coffee Recipe
Thanks to our friends at Hamilton Beach for sponsoring this Cinnamon Bulletproof Coffee Recipe... a spicy twist on your morning coffee routine! With grass-fed butter, MCT Oil, heavy cream… and my favorite part: CINNAMON! This is a festive way to get your day going!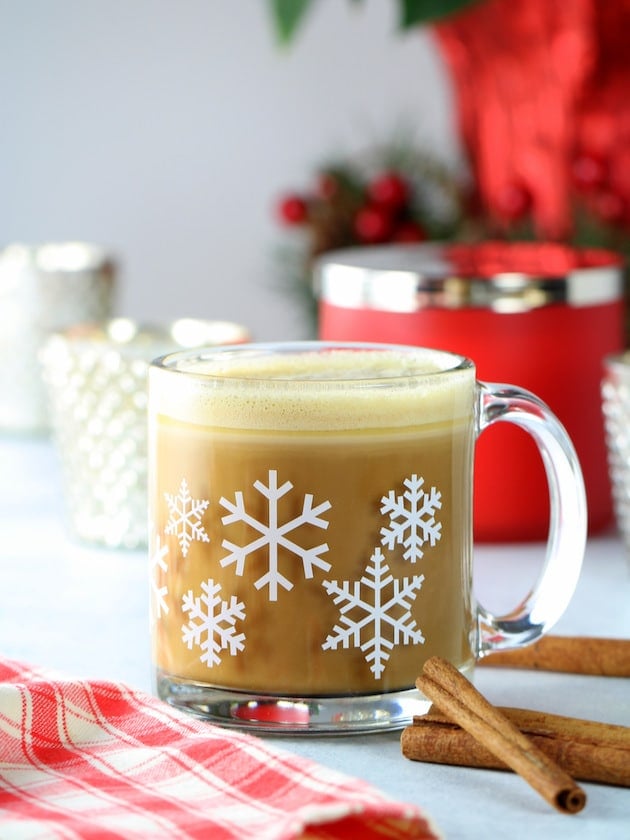 I haven't yammered on about the B man so much lately so I felt like it was due time. The guy is pretty amazing as some of you already know. And he requires very little to keep him happy.
One of those things happens to be a cup of coffee.
Yes - he does love his java, but here's an interesting tidbit for you about B: he didn't even drink coffee when I met him many many moons ago!
True story my friend. I have to take responsibility for this delicious habit of his.
Here's how it went down: he asked me out on our first date for a Friday night, then he called me the Wednesday before and said he didn't want to wait that long to see me… could we go get coffee that night? Aww so sweet!!
So, I said "yes" for the coffee shop – not knowing he didn't even drink coffee. I introduced him to the Mocha Hazelnut Latte, and the rest is history. We've been holding hands and sipping our coffee together ever since.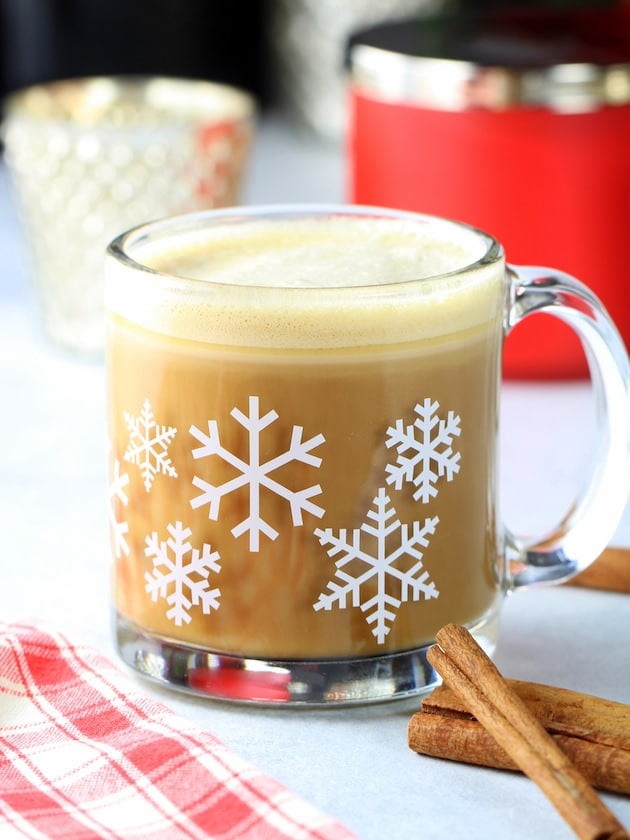 So, I guess you could say I'm to blame for his java addiction. I mean, consumption of course. Ahem. And even though I was kind of the one who started all of this, I'm more of a 1-cup-of-coffee-a-day kind of gal.
Well, one cup of caffeine-infused java that is. I brew my 1 cup of fully caffeinated coffee in the morning and I'm good to go for the day.
Now, don't get me wrong I love the taste of coffee but if I have a caffeine drink in the evening I will be counting sheep all night long.
And since the B man is all about his fully charged cup of joe we can't really share a pot too often. Well, until now… thanks to this Hamilton Beach Flexbrew Coffee Maker!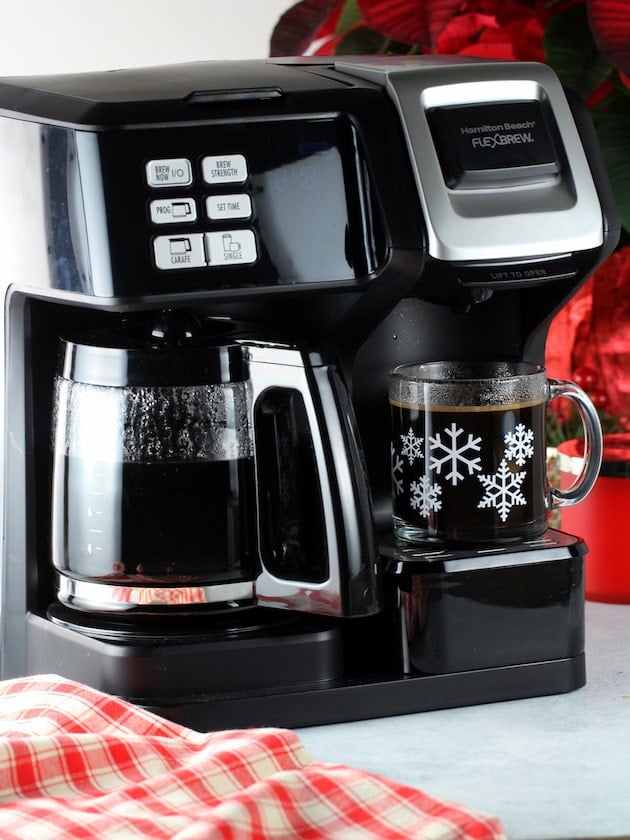 It's so fabulous! You can actually make a pot of coffee and a cup of coffee at the same time. So, B can have his pot of fully charged joe and I can have my cup of decaf at the same time! Isn't it just so sweet?
Plus, I can use Keurig* K-Cup packs, or straight up coffee grounds on the single serving brewer. You gotta love options – right!??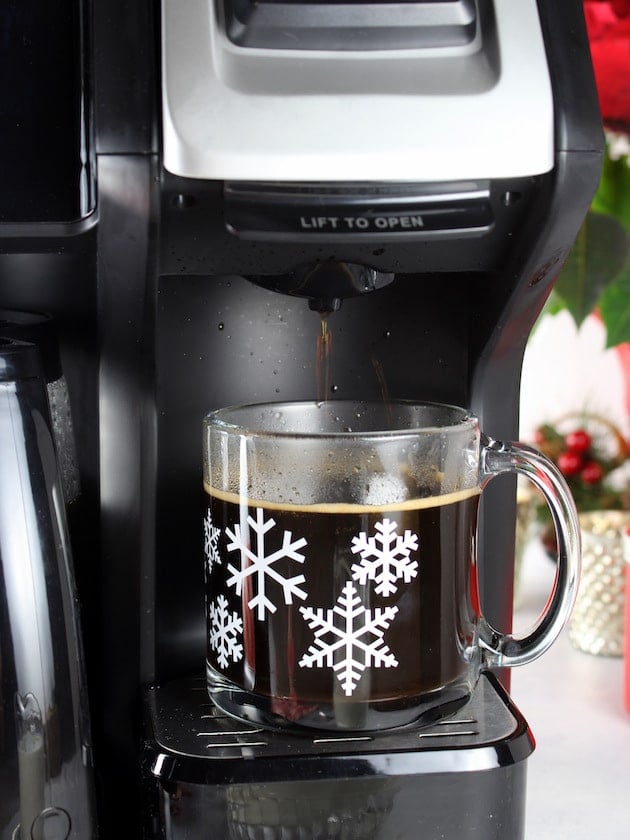 And just in case you're wondering it has a 12-Cup carafe side, a programmable timer, auto Pause and serve, and a 2-hour auto shutoff.
I can't tell you how many times we're entertaining and 5 people want caffeinated coffee but one or two people want decaf. So we brew two pots of coffee - yes, it's less than ideal. But not anymore!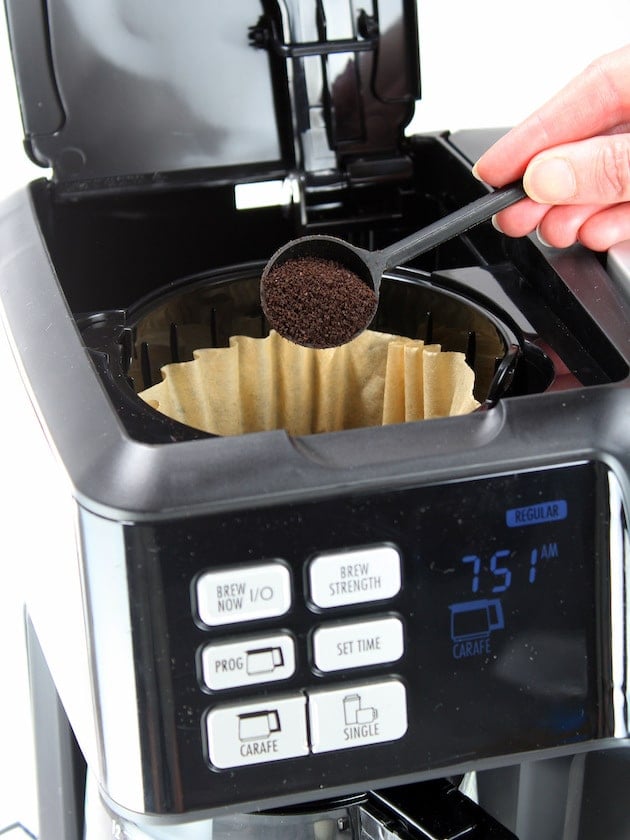 No more waiting to sip coffee at our house – now we're all enjoying our java together. And you know what they say: friends that sip their coffee together, stay friends forever. Ok, so that's only me that says that… but it's catchy - right!??
How to win your own Flexbrew coffee maker:
We're so excited about this Hamilton Beach Flexbrew Coffee Maker, we've teamed up with Hamilton Beach to give one away… Just in time for the holidays! Here's how you enter (read the contest rules & fine print here):
1️⃣ Follow Taste And See on Instagram! <- Click Here To Do It Now!
2️⃣ Follow Hamilton Beach on Instagram! <- Click Here To Do It Now!
3️⃣ Click on the Instagram Post below, then LIKE THE POST.
4️⃣ Use IG to tag friends who would love to win a coffee maker! Each friend you tag will count as a separate entry, so get going!
View this post on Instagram
The winner must be based in the continental US and will be announced on Christmas Eve! If you can't wait that long, use the discount code 10FLEXBREW to get 10% off your Flexbrew now.
And because I don't want anyone to go away empty handed, I've got a Keto Coffee Recipe for you. It's the B-man's latest coffee obsession - he likes to refer to it as "brain coffee."
B's latest coffee craze has been bulletproof or keto coffee. I've come up with a tasty cinnamon twist on his recipe that I thought I'd share with you!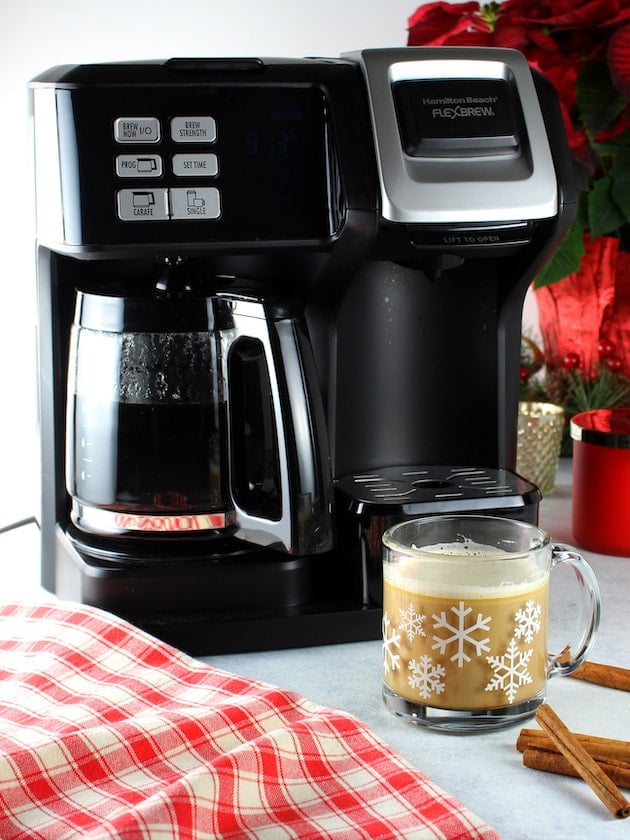 What is Keto Coffee?
Keto Coffee is for coffee lovers following a ketogenic nutrition plan, who don't want to drink black coffee. It replaces traditional creamer with healthy fat and has been reported to boost brain function & energy levels… although we're not aware of specific studies that prove this. Basically coffee and butter, plus coconut oil or MCT oil - and if you don't drink your coffee black, a little heavy cream.
Just to be clear, we don't follow a ketogenic diet. Sanderino has been testing out bulletproof coffee for the potential brain boost. And although we didn't check his IQ before he started drinking it, he feels like he notices a difference. I wonder what his boss thinks? 😊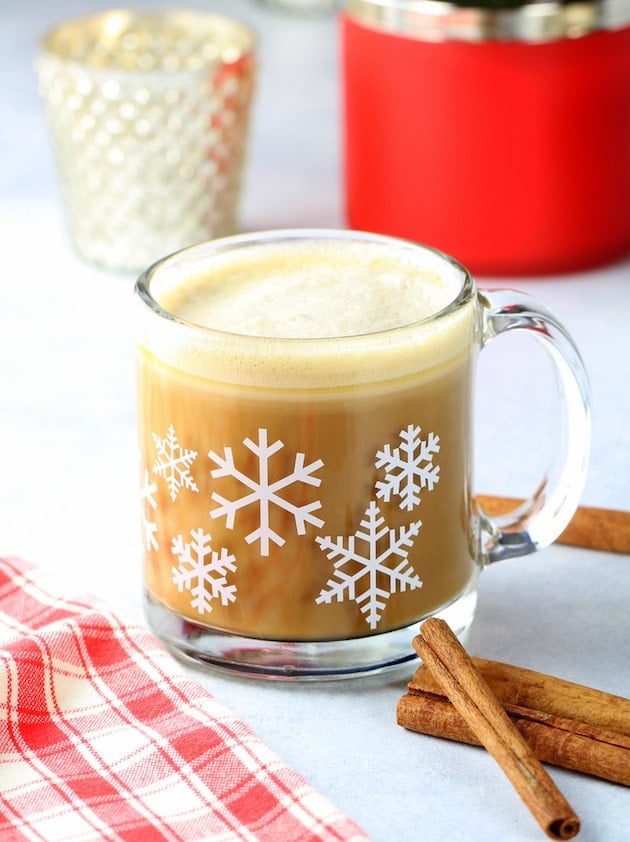 What is Bulletproof Coffee?
"Bulletproof Coffee" is actually a trademarked brand that makes a great to-go version of keto coffee (Sanderino loves to grab them when he is on the go). Bulletproof has been so successful that their name is now used as the generic term for many varieties of ketogenic coffee concoctions.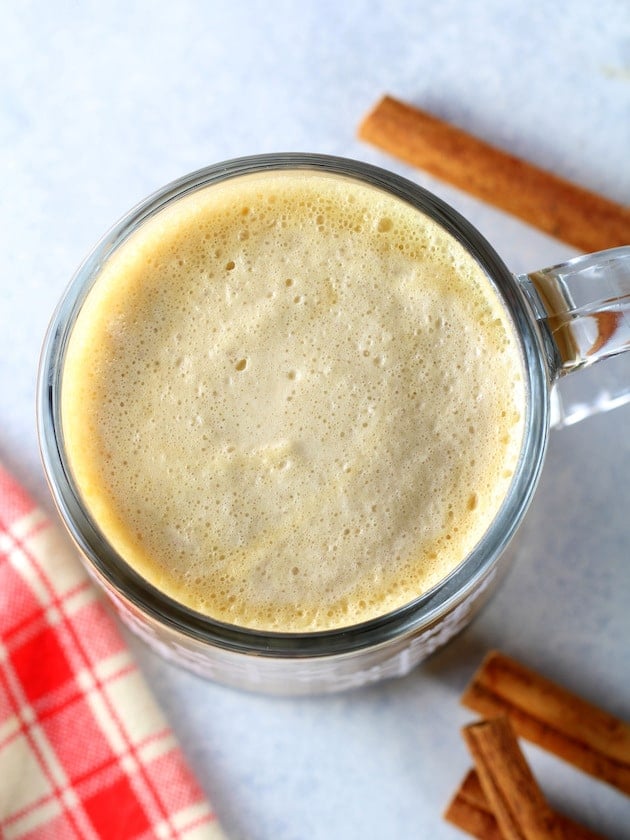 How to make bulletproof coffee:
If you just throw some butter and coffee in a cup and try to stir it by hand, you will very disappointed. You'll need either a blender or my preference is to get a hand frother… this high speed is required to emulsify the fats, and also makes the coffee nice and smooth with a little froth on top.

The cinnamon bulletproof coffee recipe:
Yield: 1 cup
Cinnamon Keto Bulletproof Coffee Recipe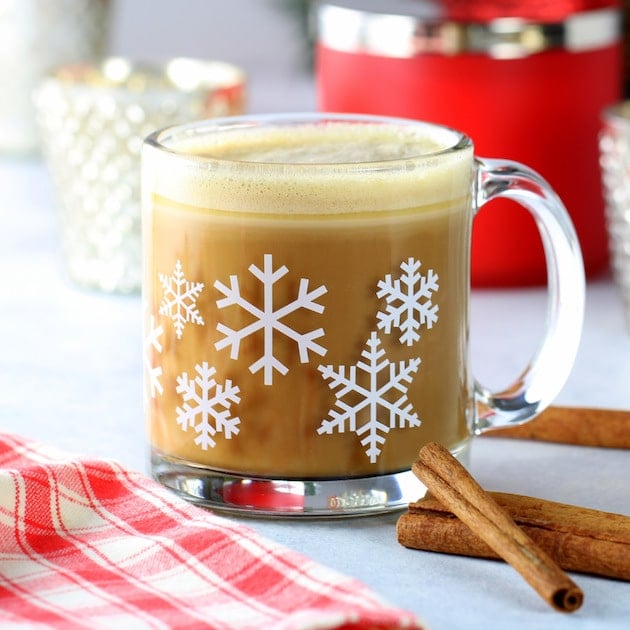 This tasty cinnamon twist on bulletproof keto coffee will add some pep to your step all morning long!
Ingredients
1 teaspoon cinnamon
8 ounces hot coffee
1 tablespoon vanilla hazelnut MCT oil (medium chain triglycerides oil)
1 tablespoon grass-fed butter
2 tablespoons heavy cream
Instructions
Before brewing coffee, mix 1 teaspoon cinnamon into coffee grounds. Then brew coffee as per your usual method and pour 8 ounces of coffee into a glass measuring cup.
Add butter and MCT oil to coffee. In a separate bowl, use hand frother to beat heavy cream for about 45 seconds. Then add to coffee, and froth for at least 15 seconds to elmusify the butter and oil.
Pour into your coffee mug and enjoy!
Notes
We prefer the vanilla hazelnut flavor of MCT oil, but if you are a purist you can buy an unflavored version! 
This recipe is far easier if you use a hand frother as described above.  They are inexpensive and much easier cleanup!  As an alternative, you can combine all ingredients above in a blender and whip until frothy. 
Keto purists will suggest that you substitute a cup of butter coffee for your breakfast.  However you may want to consider a powdered protein supplement if you do this… I use a tablespoon of Collagen protein powder which mixes easily right into the coffee!
Nutrition Information
Yield
1
Serving Size
1 cup of coffee
Amount Per Serving
Calories

214
Total Fat

25g
Saturated Fat

21g
Unsaturated Fat

0g
Cholesterol

30mg
Sodium

167mg
Carbohydrates

2g
Sugar

1g
PS: The keto community has a lot of ongoing dialogue about the benefits of their modified nutrition plan, so be sure to Google up on that and make an informed decision if you decide to pursue a full ketogenic program.
Great breakfast recipe ideas:
Healthy Kale Egg Breakfast Cups
Carrot Cake Breakfast Bowl
Chicken Sausage Breakfast Skillet With Sweet Potatoes
Zoodle Egg Nests
Huevos Rancheros Breakfast Casserole