This Pad Thai Fry Dog post is sponsored by Kayem Foods... as always all opinions, recipes, & photos are my own!
This hot dog has it all - a tangy cabbage slaw, spicy Sriracha ketchup, creamy peanut satay sauce, & crispy French fries... all layered on top of a Kayem beef hot dog! It's truly an amazing combination of flavors!
There ain't no party like a Kayem Brand Patriots watch party!!🏈 This past Sunday we hosted a Patriots watch party courtesy of our friends at Kayem Foods.🌭 It was Tom Brady's first home game back this season and I was debuting my new hot dog creation... so it was a big day for everyone.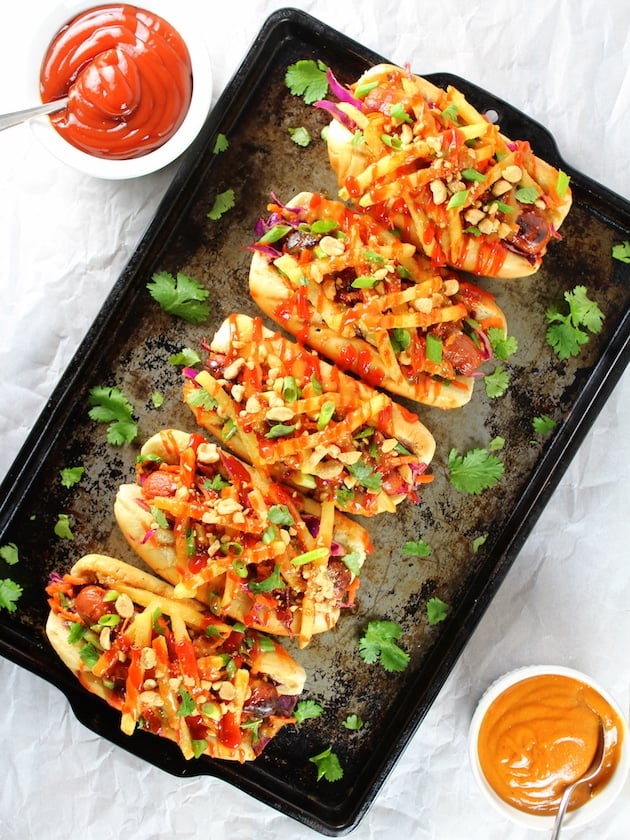 New England Patriots fans are pretty intense, and they love them some Tom Brady! So it all made for a fun-filled afternoon.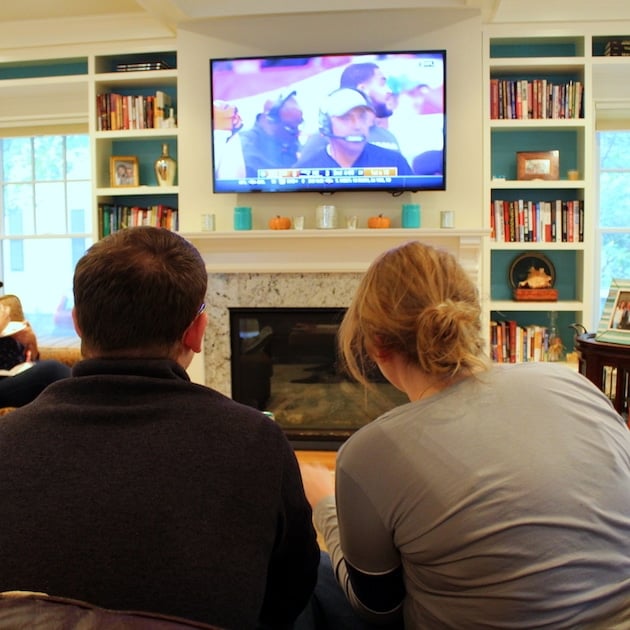 Okay, so maybe not that intense - but at least happily engaged.😄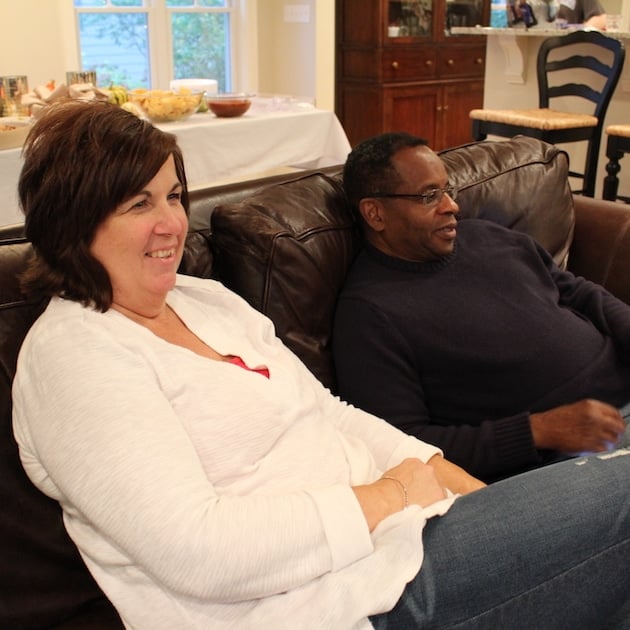 B and I were manning (and "womanning!") the grill.♨️ #girlsgrilltoo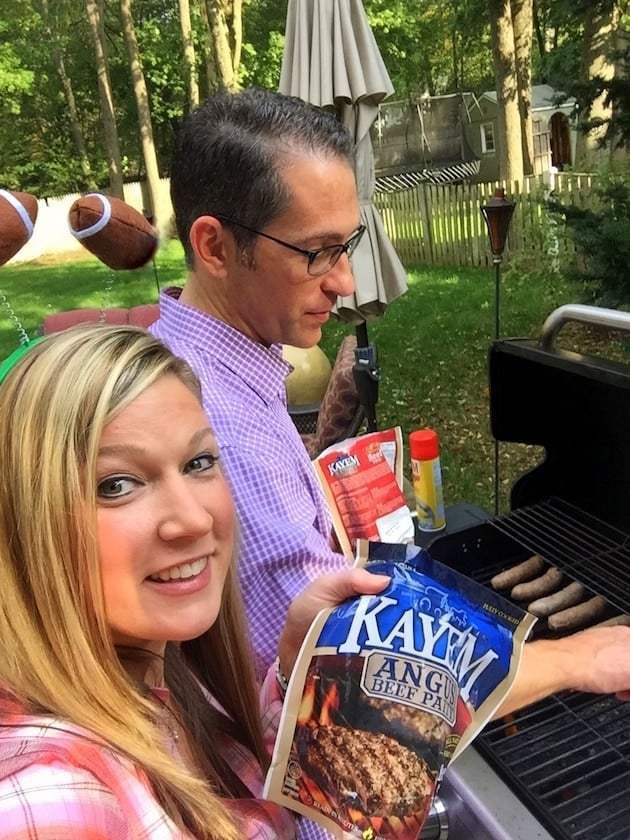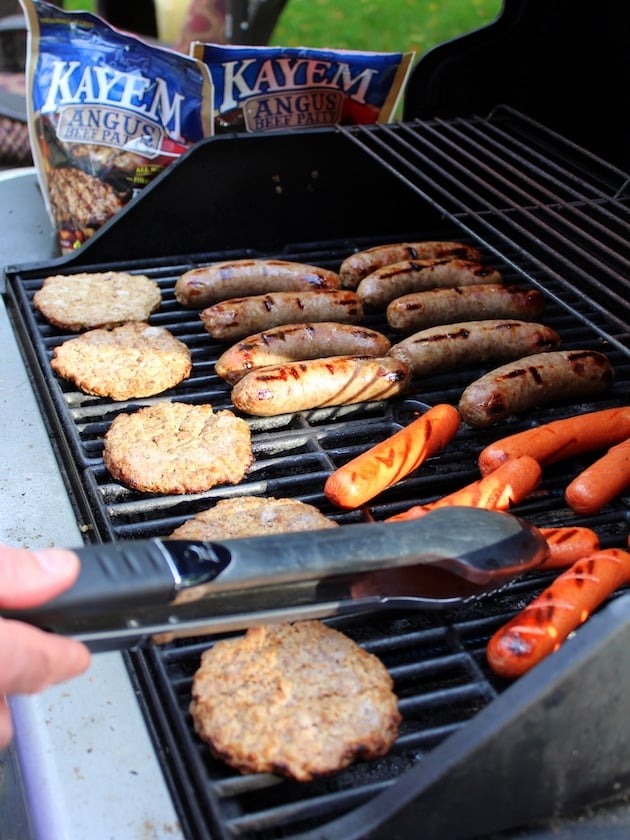 Liz was sporting her adorable Patriots gear.💕 #girlsgotgame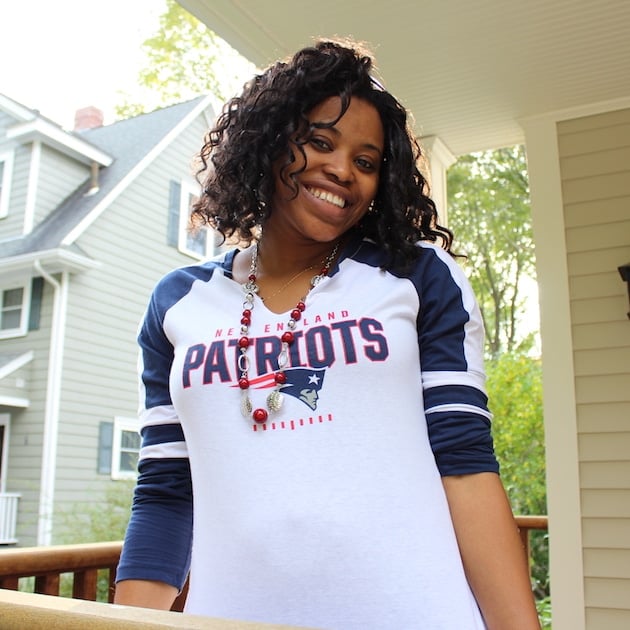 Mike and Pam took a quick mid game break for some tasty grub.😋🌭 #priorities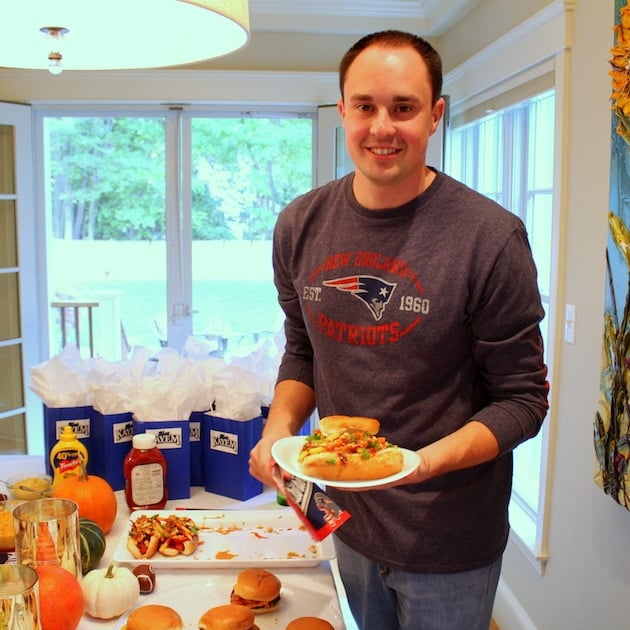 John and Julie took a half-time break to toss the ball around – of course!🏈 #showoffs #justkidding #notkidding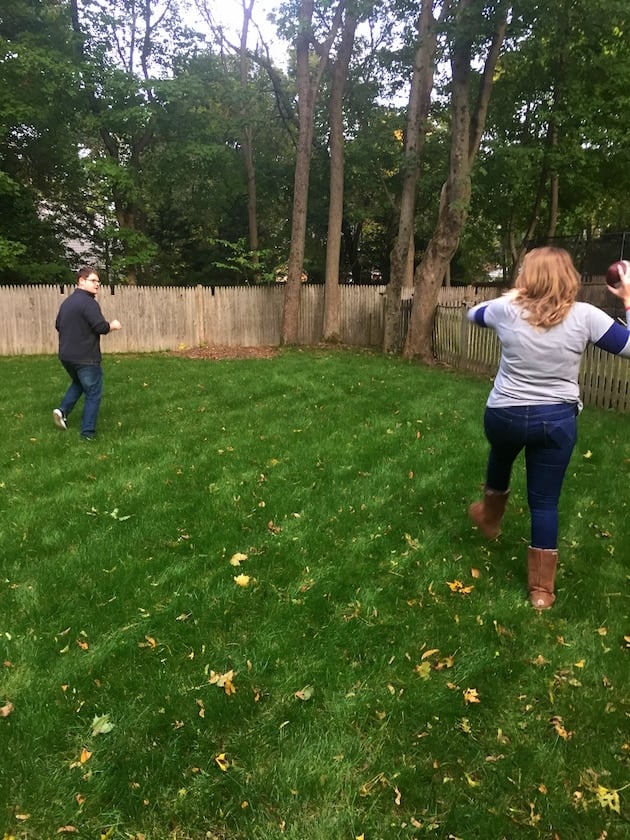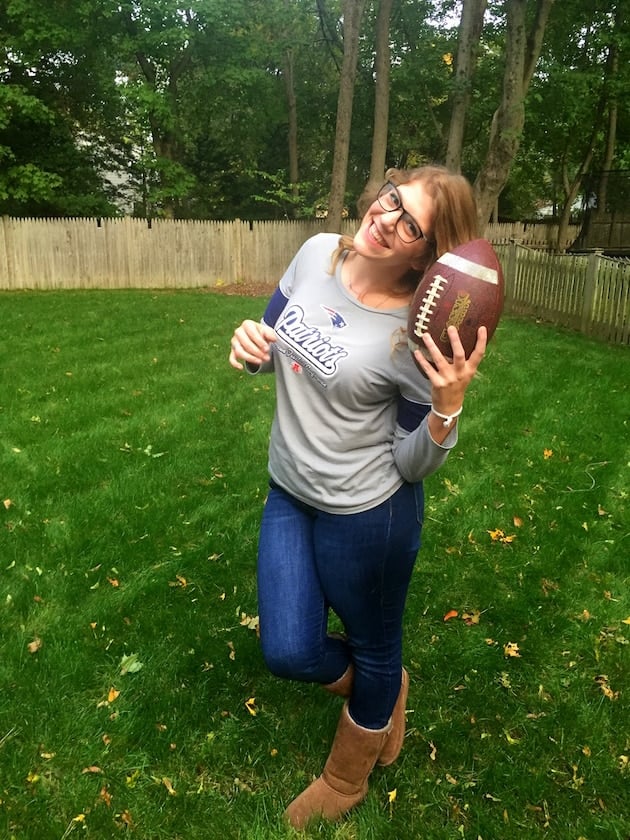 The girls made sure to take a time-out for a photo op. Check out my football headband!👇🏈 #gobig #thatshowiroll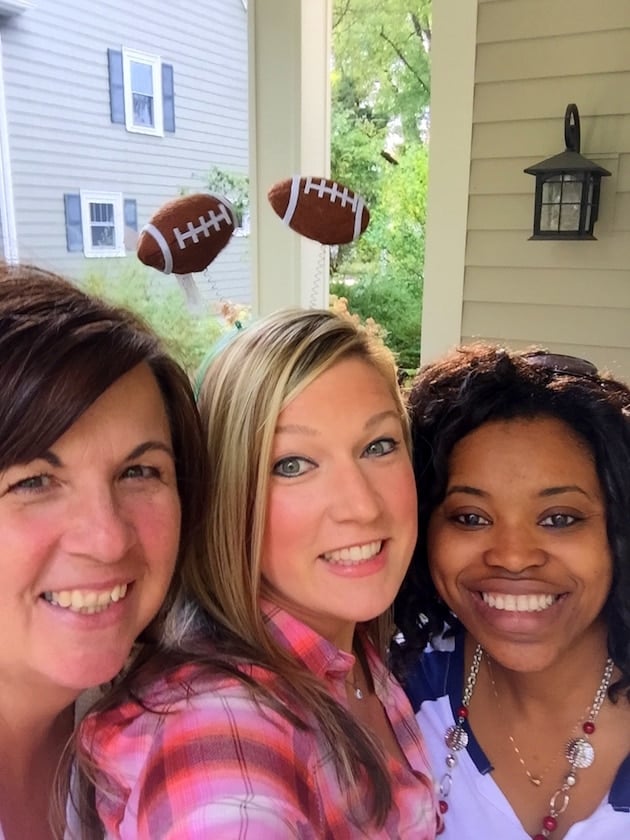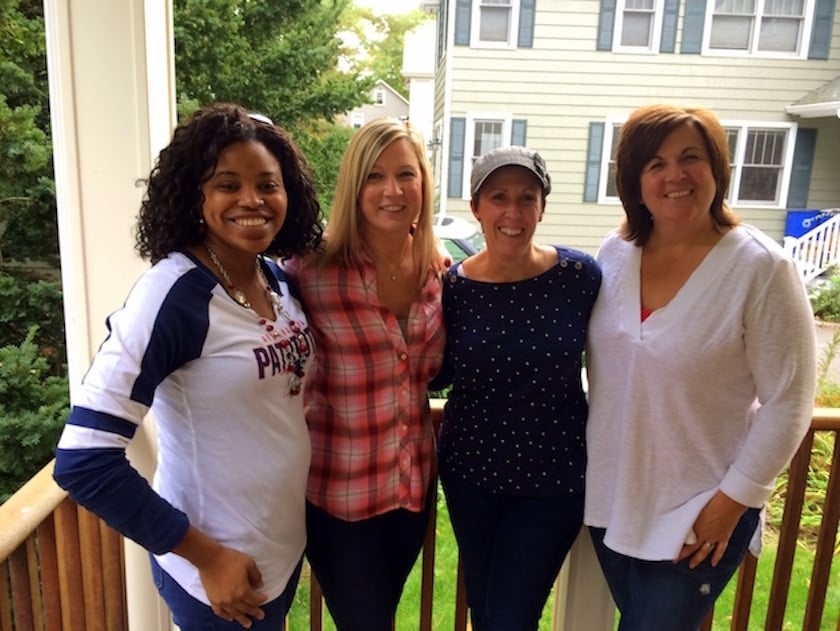 Kayem knows the way to a person's heart is... through free stuff. They gave us all some fun gift bags and my crew loved them!💙 #swagtastic
Especially Herman!😂😂 #bestreactionever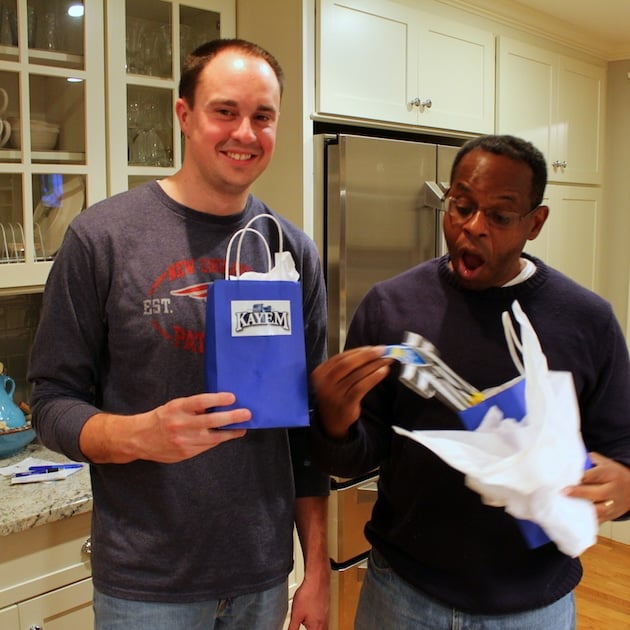 Well, the Patriots won and so did I – all of the food got rave reviews. My Pad Thai Fry Dog was a magnificent flavor experience.💫 Completely mind blowing in the best way possible!💥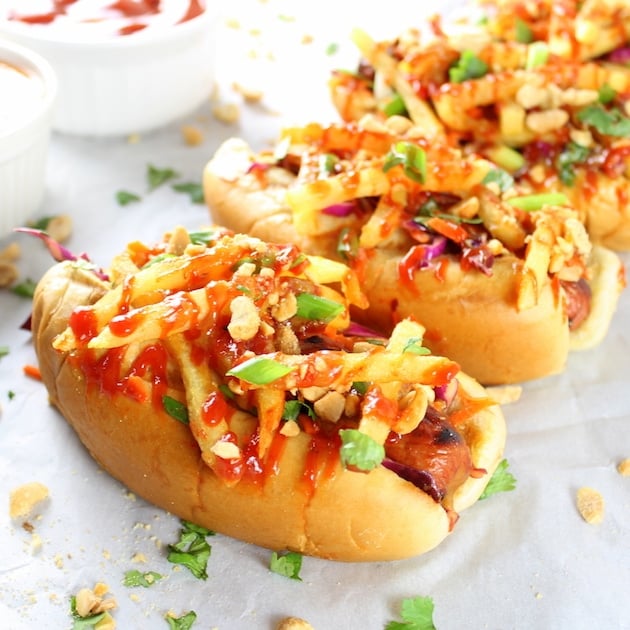 We also used some Kayem Beef Patties for our Pimento Cheese Bacon Burgers, and dreamed up some Hard Cider Apple & Onion Brats starring Kayem's Original Brats. And then of course there was the most scrumptious hot dog I've ever tasted… the Pad Thai Fry Dog!✨ #PTFD for the win! A tailgating dream! Seriously we've just taken game day food to a whole natha' level thanks to our friends at Kayem!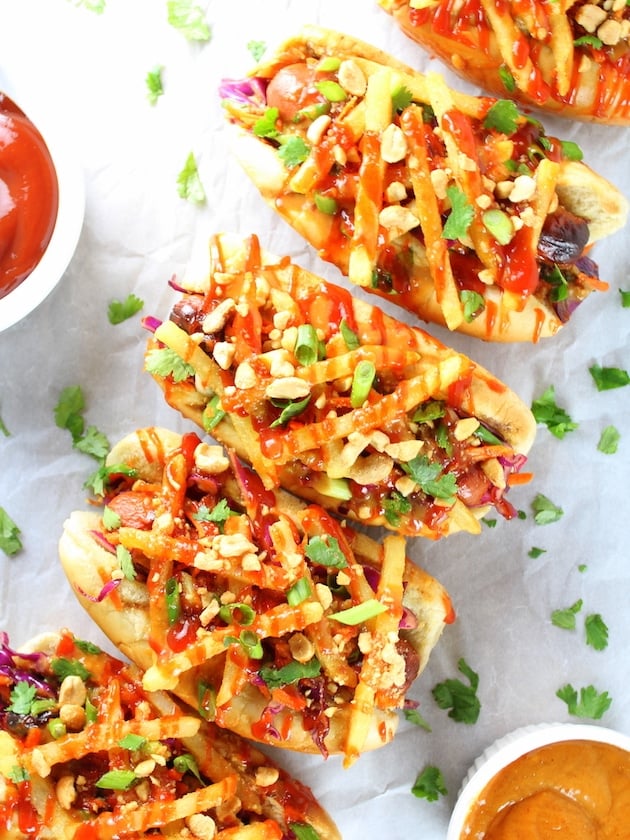 We used Kayem's Beef Franks for the PTFD. They were plump and juicy with that pop when you take a bite – everything you want in a hotdog.
We scored each dog 3-4 times on one side, and then made our tangy slaw. It gives some nice texture to the whole experience plus it has crazy great flavor. And how could it not with purple cabbage, carrots, cilantro, lime juice, olive oil, fresh ginger and garlic, fish sauce, tamari (gluten free soy), apple cider vinegar, Sriracha, and honey. It's so good I've just be eating it all by itself.🍴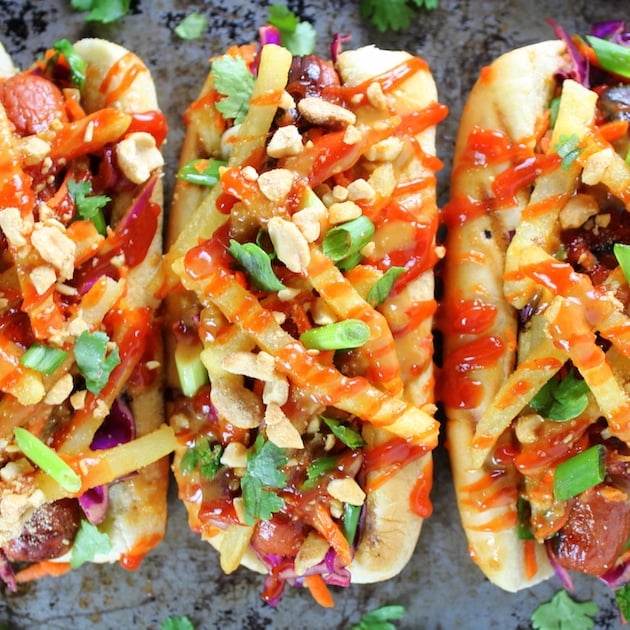 We also whipped up some Sriracha ketchup for a little sweet kick. Then went to work on our Pad Thai Sauce - can you feel the love tonight!!💙 It's full of all the usual suspects… red vinegar, Tamari (Gluten-free soy sauce), sesame oil, honey, garlic, ginger, extra virgin olive oil, Sriracha, lime and creamy peanut butter. OMG!! OTC!!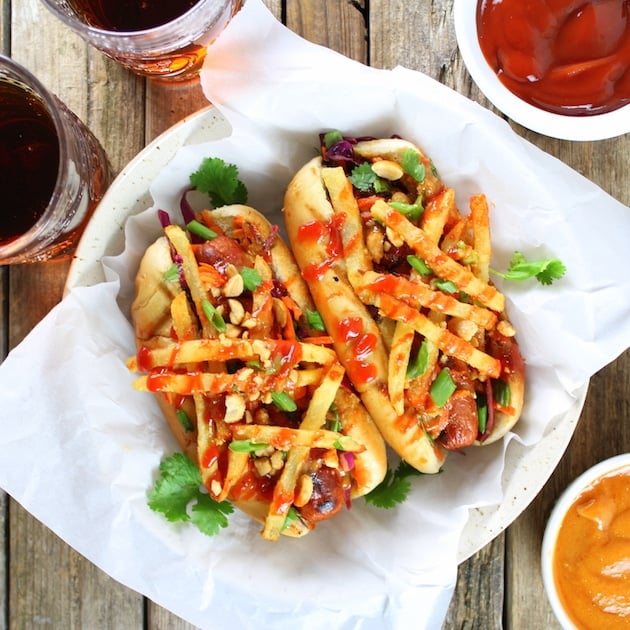 We grilled up our dogs, toasted our buns and threw some extra crispy frozen store-bought French fries in the oven. Yup we went there.✌️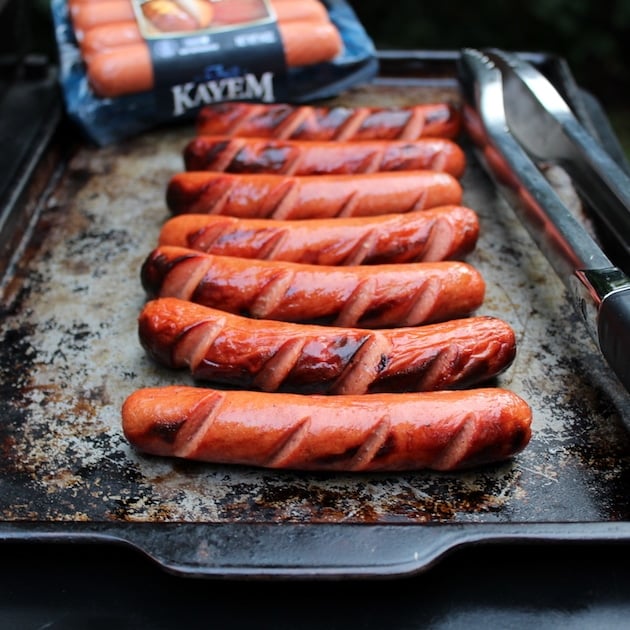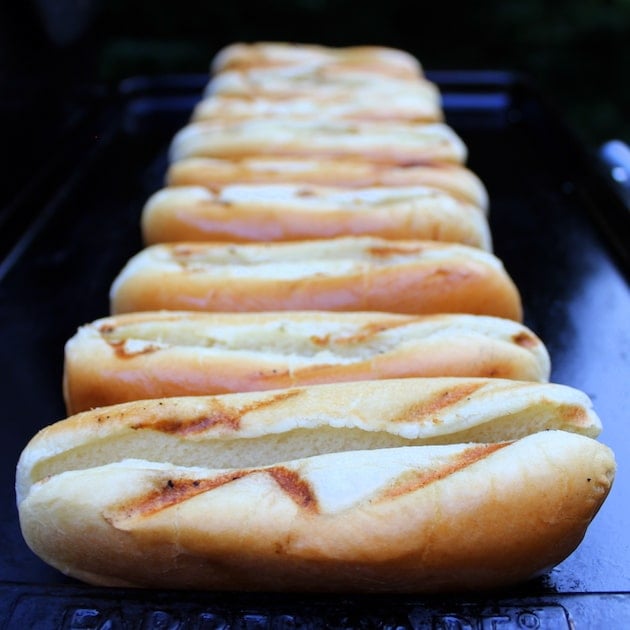 Then assembled and stuffed our faces!! Well, just after I took a few pictures of course! Can you hear the angels singing!😇 Ah ah ah… Oh wait that's Ariel. Close enough – right?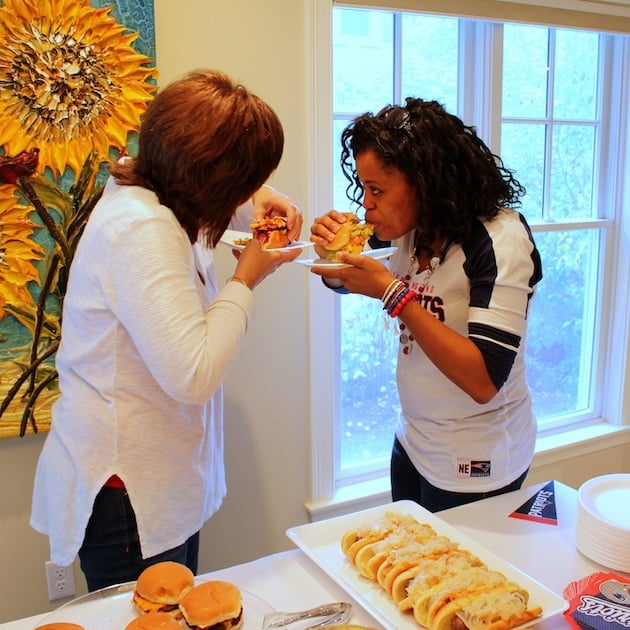 The food was incredible and the day was a blast… pretty much a sports fan's dream.💯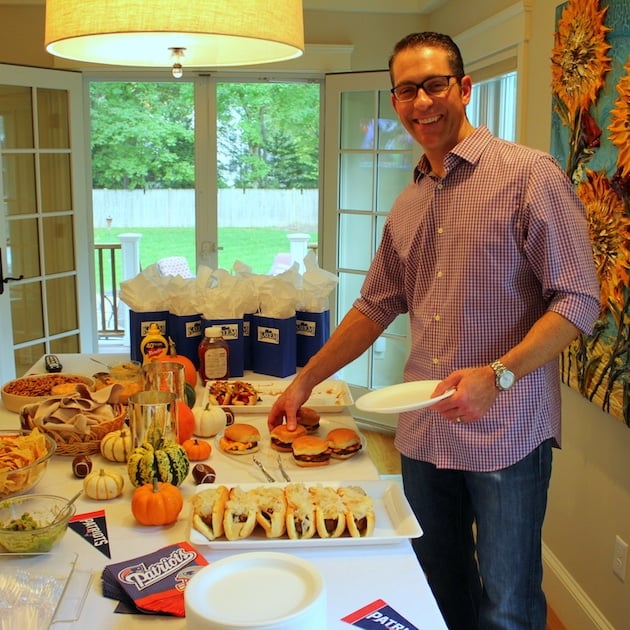 The only thing better would have been our own suite at Gillette Stadium... 'cause they've got Kayem hot dogs and brats there too!!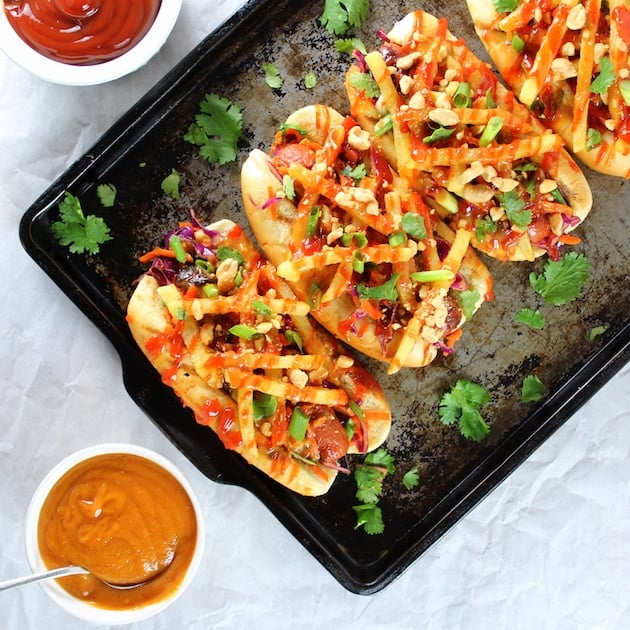 Until that happens, I recommend throwing your own game day watch partay.
Invite over some friends, fire up that grill, and whip up this sensational Pad Thai Fry Dog!💫
👉Now it's your chance to win!!👈
Kayem, the Official Frank and Sausage of the New England Patriots is giving you a unique way to win this football season!
Each week, guess which player will score the Patriot's first touchdown of the game... if you get it right you'll be entered to win an autographed Patriots football and Kayem Franks for one year! That's a lot of Pad Thai Fry Dogs so make sure you check out this Patriots Touchdown Contest today!
Yield: 8 servings
Pad Thai Fry Dog
With tangy cabbage slaw, spicy Sriracha ketchup, creamy peanut satay sauce, & crispy French fries...this dog has it all!
Ingredients
For The Dogs:
8 Kayem Beef Hot Dogs
8 hot dog buns
Extra crispy frozen store-bought fries
For the Peanut Sauce:
¼ cup red wine vinegar
2 teaspoons reduced sodium Tamari or Soy sauce
½ teaspoon sesame oil, (optional)
2 tablespoons honey
1 clove garlic, minced
½ teaspoon minced fresh ginger
2 tablespoons extra virgin olive oil
⅓ cup organic creamy peanut butter, no sugar added
1 tablespoon fresh lime juice, (about ½ a lime)
1 teaspoon rounded Sriracha sauce, (less if preferred)
For the Slaw:
½ head purple cabbage, shredded
4 carrots, shredded
4 green onions, chopped
2 cloves garlic, minced
1 teaspoon fresh ginger, grated
1 lime, juiced
¼ cup apple cider vinegar
2 tablespoons fish sauce
1 tablespoon reduced sodium Tamari or Soy sauce
1 ½ tablespoons honey
1 tablespoon Sriracha, (less if preferred)
For the Sriracha Ketchup:
1 cup of ketchup
2 tablespoons Sriracha sauce
For the Garnish:
Fresh cilantro, chopped
Green onions, chopped
Dry roasted peanuts, roughly crushed
Instructions
For The Slaw & Sauces:
For the peanut sauce, combine all ingredients in a mason jar and ensure lid is tightly sealed. Shake until all ingredients are thoroughly combined.
For the slaw, mix the lime juice, apple cider vinegar, fish sauce, Tamari sauce, honey and Sriracha together. Add the cabbage and carrots and mix well.
For the Sriracha Ketchup, combine ketchup and Sriracha sauce.
To Grill And Assemble:
Bake fries to specified package instructions.
Heat up grill to medium heat (400 degrees).
Score each hot dog 3-4 times on one side.
Grill dogs for 8 minutes, rotating every 2 minutes (this will allow hot dogs to heat thoroughly without over-cooking or drying out).
Toast the hot dog buns, cut side down on the grill for 30-45 seconds, watching them closely.
Place 1 ounce of slaw on the bun. Add the grilled hotdog and fries. Then drizzle with Sriracha ketchup and Pad Thai Sauce, garnish and enjoy!
Nutrition Information
Yield
8
Serving Size
1 hot dog
Amount Per Serving
Calories

571
Total Fat

30g
Saturated Fat

8g
Trans Fat

0g
Unsaturated Fat

18g
Cholesterol

28mg
Sodium

1886mg
Carbohydrates

62g
Fiber

6g
Sugar

24g
Protein

18g
This nutrition card uses an estimate provided by an online nutrition calculator. This estimate is not a substitute for a professional nutritionist's advice!