Smoky Harvest Tomato Soup with Mozzarella Crostini! This soup is smoky and hearty and so delicious! Full of all kinds of healthy goodness, it's high in vitamins C & K, antioxidants, and dietary fiber - and low in calories and fat!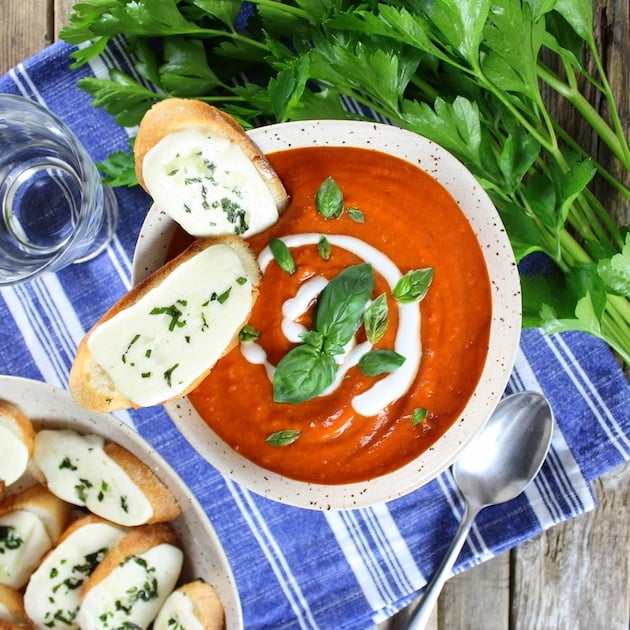 Soup season is in full swing over here at our house!🍲 I love how healthy and effortless it is to make a big pot of yumminess. Plus there are always leftovers, and as we all know soup gets even better the second day.👌
I'm always looking for new recipes, or ways to put a new twist on a classic. And since our garden exploded this year I'm also on the lookout for ways to incorporate more veggies into my recipes. This tomato basil soup was the perfect way to do both!💯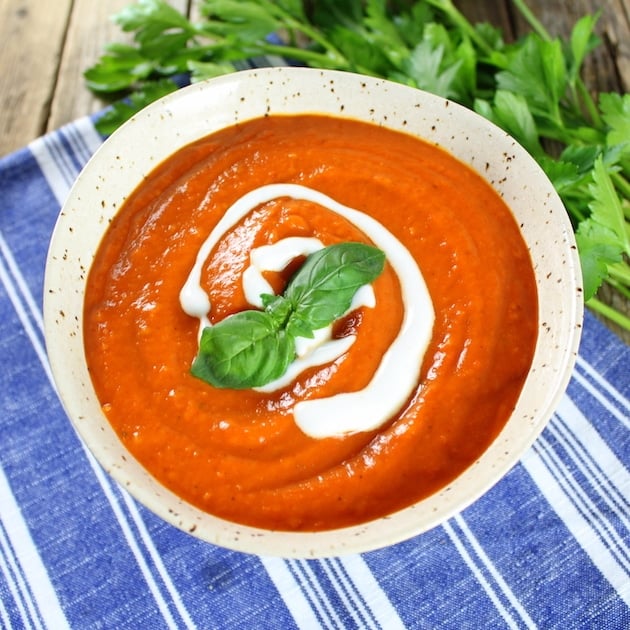 But before we move forward let's go back a few weeks… I caught an episode of Simply Ming with Chef Ming Tsai joining Chef Stephen Pyles - the "Culinary Dean" of Dallas - talking about Texan cheese.🧀 And although I'm a cheese lover, I was more interested in the soup Chef Pyles whipped up to accompany his cheese creation. Something he called Smoked Tomato Soup with Pan-Fried Mozzarella and Basil Crème Fraîche.🍅 The reason this soup caught my attention was two fold:
The first reason I was so excited about this recipe was because it incorporated a variety of unexpected veggies – almost all of which I was growing in my garden. Win - win!🙌
Chef Pyles used onion, garlic, tomatoes, a beet, a turnip and a pepper for his soup. I especially loved his inclusion of root veggies – making it slightly earthy, and full of body, with some really rich deep flavors. YUM!😋
Then there's the "smoky" part of this soup – I'm a sucker for anything smoked!! For example my Smoky Chicken Chili, Chorizo Peppers with Smoked Mozzarella, and now my latest master-stroke: Smoky Harvest Tomato Soup with Mozzarella Crostini!!🌟
It is rich and thick and so magnificent!👇👇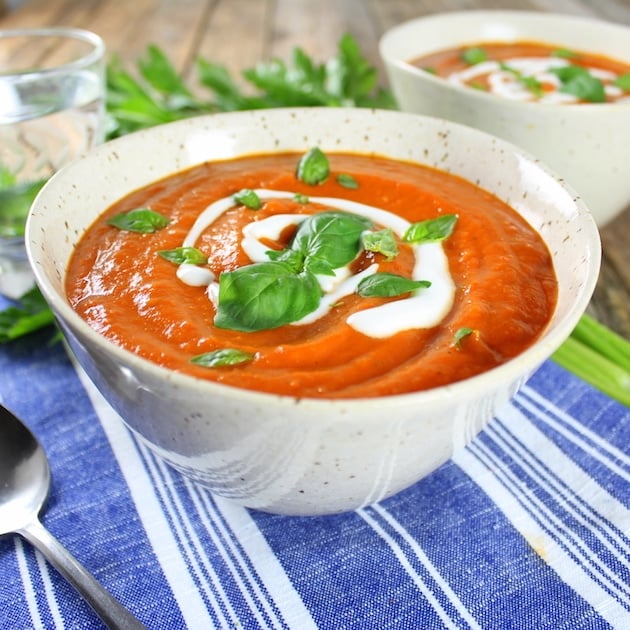 I changed up the recipe, but the concept is still similar. Chef Pyles calls for the use of a smoker to infuse the veggies with smoke while roasting them. I don't have a smoker and I'm not sure many people do, so I roasted my veggies in the oven.♨️ But because I love smoky flavors, I wanted to find a way to instill that quality in the soup.🤔
My solution? Chipotle chili peppers in adobo plus a tablespoon of smoked paprika.🌶 Brilliant I tell ya! You get some spice and smoke from the chipotle peppers and a sweet smokiness from the paprika.✨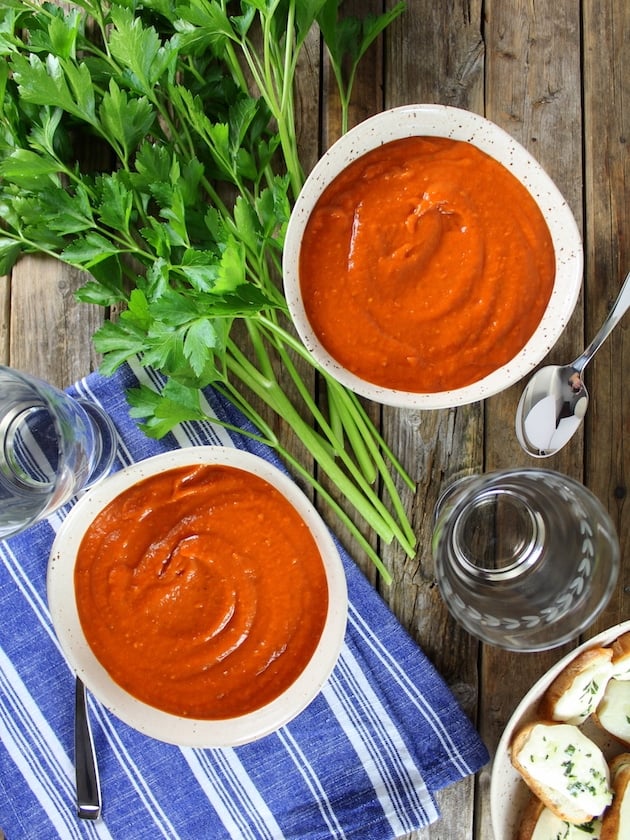 To make this tomato soup recipe you roast the veggies and add them into a large pot along with some sun-dried tomatoes, tomato paste, chipotle chili peppers in adobo, smoked paprika, and chicken stock.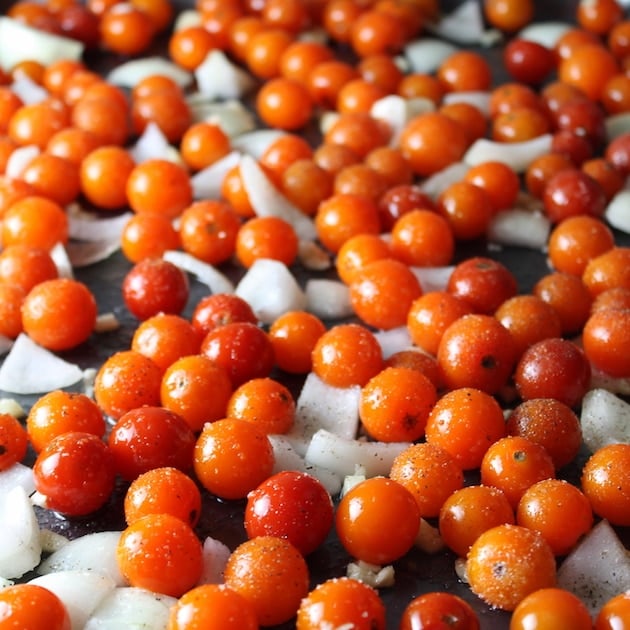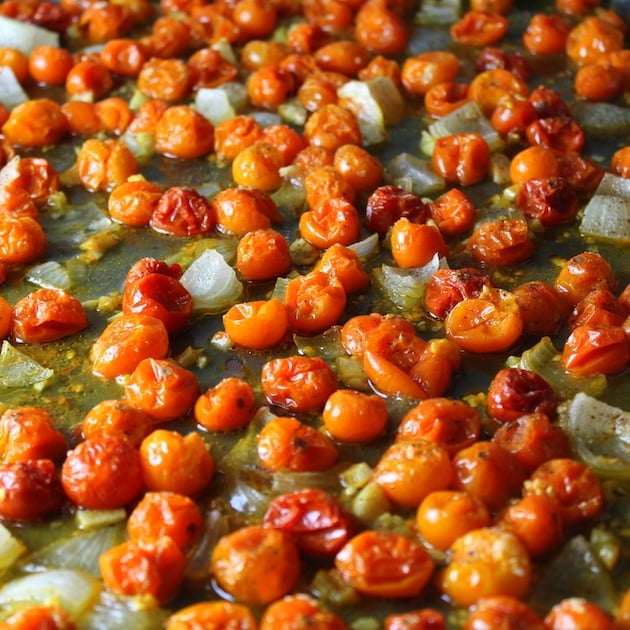 Then let it simmer for 15 minutes. Use an immersion blender, food processor, or (carefully!!!) use an upright blender to process the soup until it's finely pureed with a creamy texture.👇
It will have some hearty body to it because of all the fiber from the veggies, which makes this soup such a delicious, healthy and satisfying meal.👍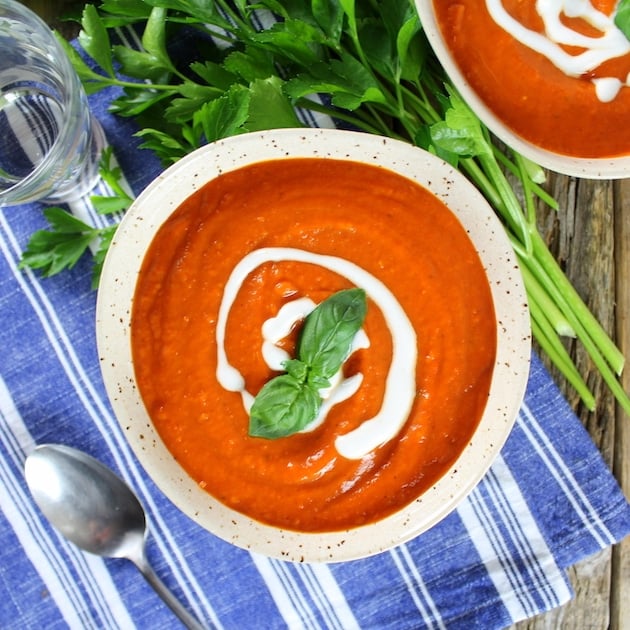 And as we all know, cheese and creamy tomato soup were basically made for each other.🍅🧀 So fresh Mozzarella Crostini just seemed like the perfect accompaniment. Crusty and cheesy, and the ideal way to scoop all that goodness into one yummy bite. Just so delicious!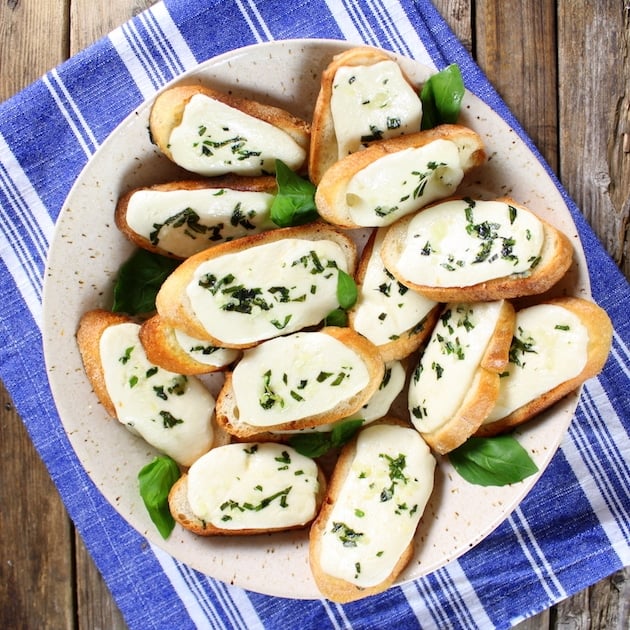 This Smoky Harvest Tomato Soup with Mozzarella Crostini is such a tasty variation on classic homemade tomato soup. One that the whole family will be delighted to eat all season long. Enjoy!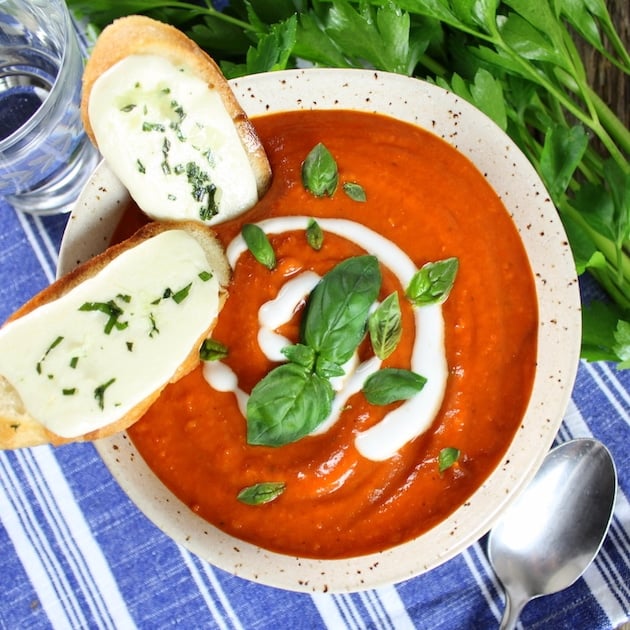 I would love to connect with you! Leave a comment and follow me on Instagram, Twitter, Facebook, & Pinterest!
Yield: 6 servings
Smoky Harvest Tomato Soup with Mozzarella Crostini Recipe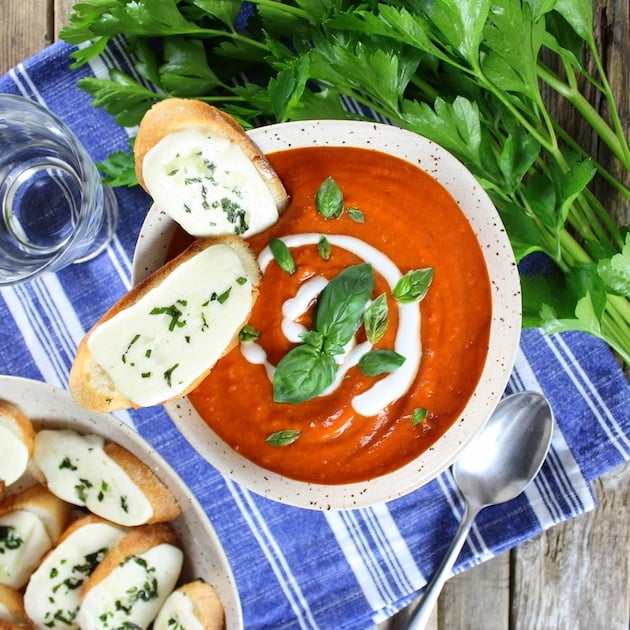 A tasty variation on classic homemade tomato soup!
Total Time
1 hour
10 minutes
Ingredients
For The Soup:
2 lbs of cherry tomatoes, (or other tomatoes)
1 small onion, peeled and rough chopped
3 large garlic cloves, smashed and rough chopped
3 tablespoons olive oil
1 red bell pepper, seeded and cut in half
1 small beet, peeled and cut in half
1 small turnip, peeled and cut into eighths
1 ½ tablespoons chipotle peppers in adobo, chopped (use less to make less spicy)
3 ounces of sun-dried tomatoes in oil, chopped
1 tablespoon smoked paprika
1 ounce tomato paste
1 teaspoon salt
1 teaspoon pepper
1 cup Greek yogurt, for garnish
Fresh basil for garnish
For The Mozzarella Crostini:
1 loaf of French bread
8 ounces fresh mozzarella
1 clove garlic
3 tablespoons olive oil
1 teaspoon finely chopped fresh basil
Instructions
For The Soup:
Place tomatoes, onion and garlic on a baking sheet and toss with 1-2 tablespoons olive oil and ½ teaspoon salt and pepper. Bake on 350 for 30 minutes.
At the same time place the turnip, beet and red pepper in a tin foil boat, and add 1 tablespoon of olive oil, ½ teaspoon salt and pepper. Roast on 350 for 45 minutes.
After cooked, remove the skin from the beet, chop the beet and peppers, and add all the veggies to a large pot on the stove. Add chicken stock, chipotle peppers, sun-dried tomatoes, smoked paprika, and tomato paste. Bring to a boil then reduce to a simmer for 15 minutes.
Use an immersion blender (or food processor) to puree all the ingredients until completely smooth.
Garnish with fresh basil and Greek yogurt.
For The Mozzarella Crostini:
Preheat the oven to 350 degrees.
Slice the bread into ¼ inch slices...about 20 slices.
Brush one side with olive oil and bake (oil side up) on a parchment-lined baking sheet for 5 minutes.
Meanwhile, slice the fresh mozzarella into thin slices (about 10), then cut in half width-wise so they fit nicely on the sliced French bread. Place one piece of cheese on each slice of bread and bake for 6 more minutes.
Mix together 2 tablespoons of olive oil and 1 minced garlic clove. Heat in the microwave for 20-30 seconds.
Add the chopped fresh basil to the oil/garlic mixture, and drizzle on the baked Mozzarella crostini. Serve warm with the Smoky Tomato Harvest Soup.
Nutrition Information
Yield
6
Serving Size
8 ounces soup and 2 crostini
Amount Per Serving
Calories

418
Total Fat

26g
Saturated Fat

8g
Unsaturated Fat

0g
Cholesterol

38mg
Sodium

926mg
Carbohydrates

31g
Fiber

6g
Sugar

19g
Protein

17g
To make this recipe you might need...
| | |
| --- | --- |
| Breville Immersion Hand Blender | Cuisinart Food Processor |
| | |
Looking for more amazing soup recipes? Try these!