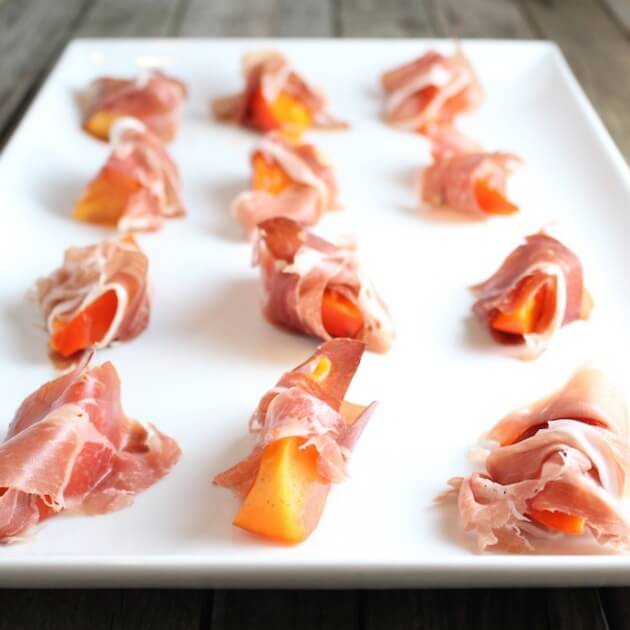 Persimmons in Prosciutto! Where have you been all my life?
I'll be honest I'm not a huge fan of all things sweet. That would be Sanderino. I'm more of a salty, spicy girl myself. Now that I say that, I realize it probably speaks to my personality as much as it does my food preferences. I definitely like to laugh and I'm not above making fun of myself or possible whoever's around (in love of course) to make someone bust a gut. I must get this from my dad. He was constantly poking fun or pulling pranks. Sometimes the jokes were funnier to him than anyone else but this never stopped him from trying. He had nicknames for everyone - like "string bean" for my girl friend from high school that was really tall and skinny... or "giggle box" for my nephew because he was so happy and ticklish and once you got him laughing he really couldn't stop. All my dad's sayings and phrases are rolling around in my head right now – although they may be a teensy bit, umm, off color... they still make me smile. I would share them with you, but this blog is rated "PG" and I don't want to give you any inappro-pro material that you may slip and use and blame me. That's not how I roll!?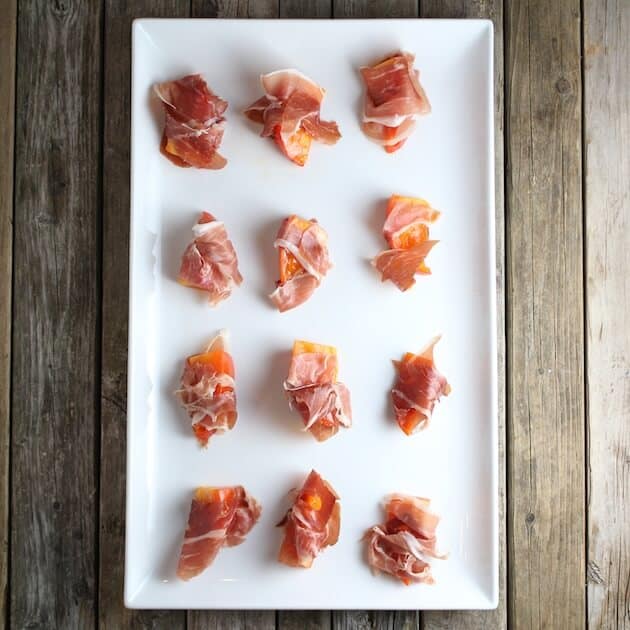 Speaking of rolling…these persimmons rolled in prosciutto are divine. I guess it's kind of like the Italian pairing of Prosciutto and cantaloupe without the melon flavor. Or bacon wrapped and dates…mmmm bacon!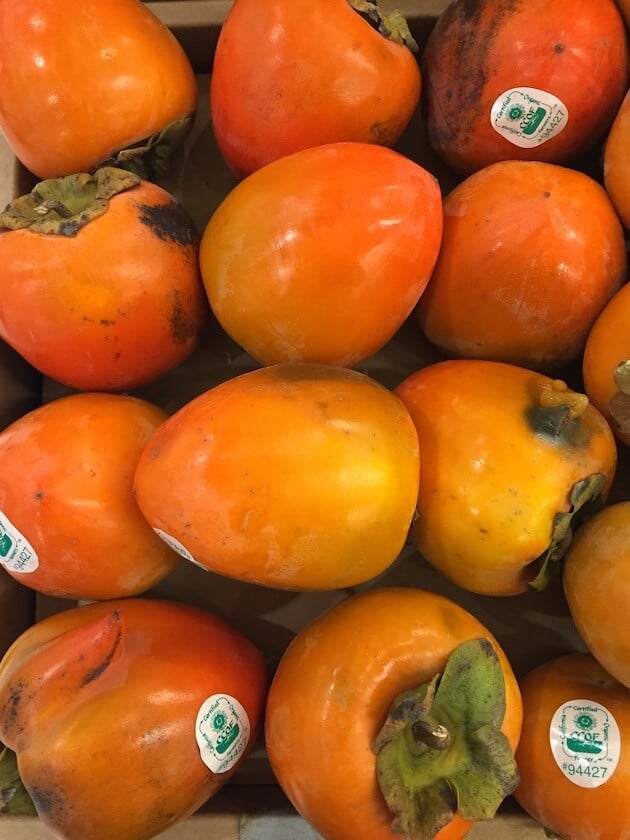 Persimmons have been around for a long time but recently seem to be making a more prominent appearance. Growing up, my parents owned some property in Missouri and I remember my mom was overly excited to find out she was the proud owner of multiple persimmon tress. I have memories of eating them and thinking "sure these are sweet, but can I just have an apple?" They were kind of chalky and left a bizarre film in my mouth. Fast forward to 2015 and here I sit popping these vivid, meaty bites into my mouth like it's my job.? Oh wait, it is my job.
I guess our taste change or develop as we do. Maybe this means there's still hope for coleslaw…probably not.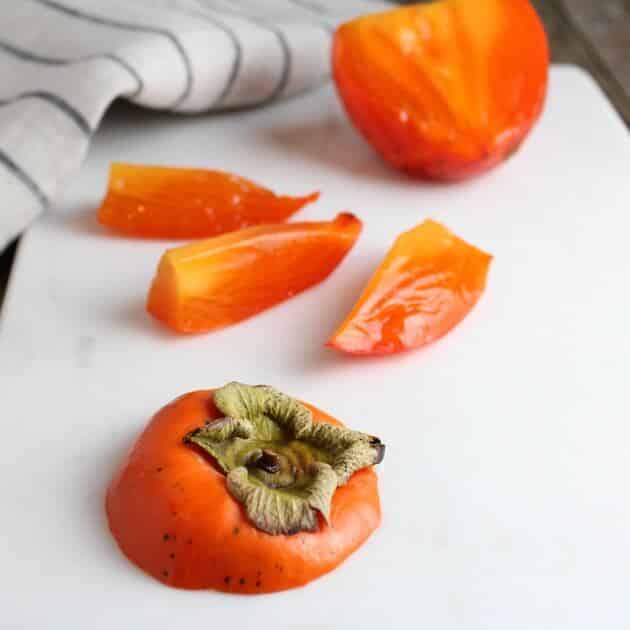 There are a couple types of persimmons and it's good to know which one you're buying, because they need to be treated differently.
The two that I've seen in grocery stores are the Hachiya and the Fuyu. Hachiya persimmons are darker, with a pointed bottom, and usually larger than the Fuyu, which are squatty and have flat bottoms. Unlike most fruit, Hachiya persimmons are best eaten once they are almost over-ripe. And they're great for baking since they are soft and juicy. Fuyus are a little more durable and are great for a sweet addition to an arugula or watercress salad. They could also star as the main ingredient in a Persimmon salad with goat cheese, pine nuts and a honey-lemon vinaigrette. Yum!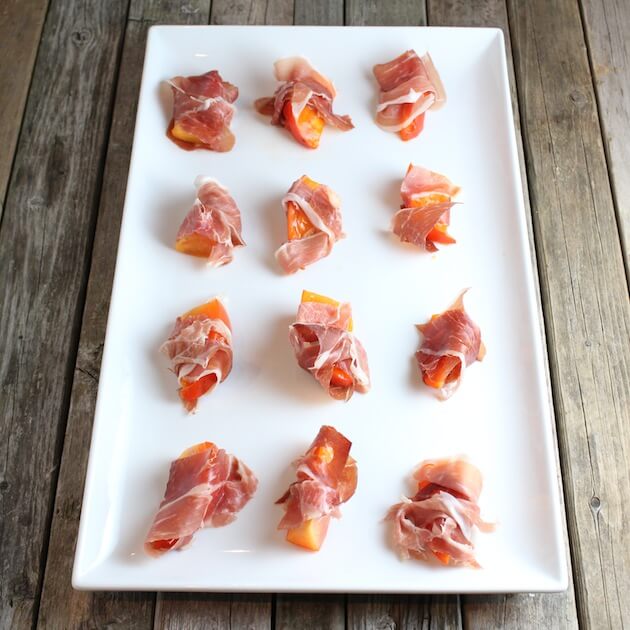 I used Hachiyas for this recipe and it was delectable. You have to give this recipe a try if not for the sheer fact that it only requires two ingredients & takes 5 minutes to prepare, then for the fact that they are crazy-great and could possibly stump your friends at your next get-together.
Yield: 15 servings
Persimmons Wrapped in Prosciutto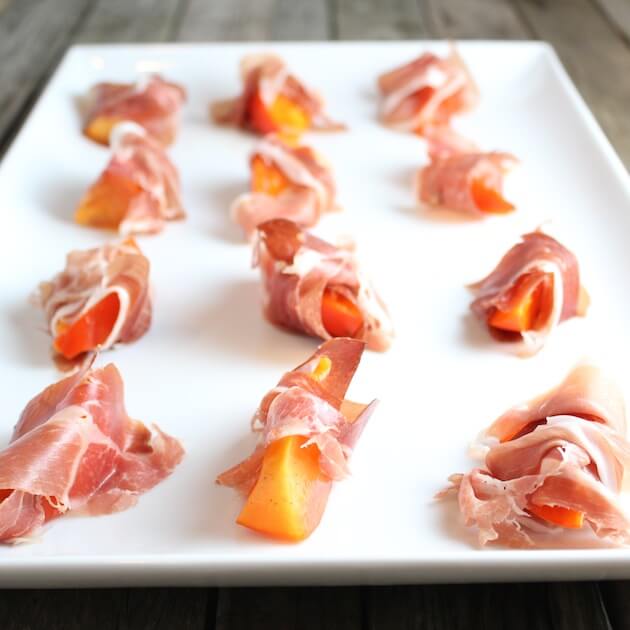 A new take on prosciutto and melon.
Ingredients
2 Hayachi persimmons
3 ounces paper thin sliced prosciutto
Instructions
Cut the persimmons into 12 wedges
Wrap prosciutto around persimmon edges and serve.
Nutrition Information
Yield
15
Serving Size
1 piece
Amount Per Serving
Calories

15
Unsaturated Fat

0g
Have you tried persimmons? Do you like them? What's you favorite way to eat them?
Add a comment below and enlighten all of us - we need to know!