How sweet it is…Strawberry Mascarpone Tart.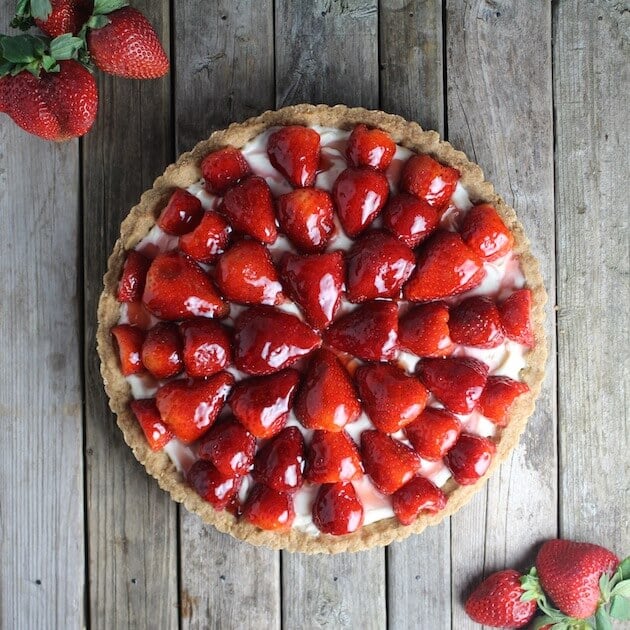 Someone recently asked me what food came to mind when I thought of spring. My first thought was, "strawberries!" I remember those Michigan springs vividly: me and my family at the strawberry patch picking strawberries for what seemed like days. The weather was beautiful - warm and sunny but not too hot – the berries were abundant, literally jumping off the plants into our flats.
The real work began once we got them home. The story goes like this: a girl, her mostly dull paring knife (I was 8) and her strawberries…de-stemming and hulling quarts and quarts and quarts of red juicy plump fruit. Except for those I ate … which was A LOT!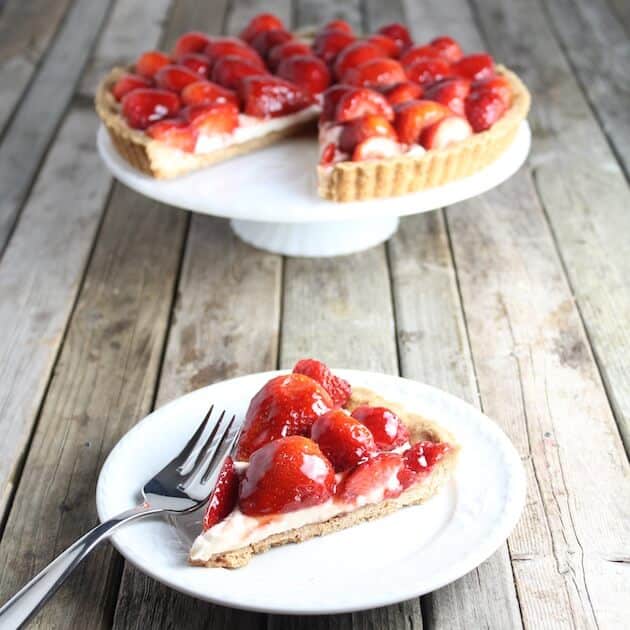 My fingers (and lips) were stained red for days and days from the bright crimson fruit. Mom would go to work making jam and freezing those berries like it was her job.
I seriously have no idea where she found the energy…4 kids, a husband, a full-time job, volunteering, canning and freezing her entire 2 acre garden, plus every piece of fruit she could get her hands on!! Super woman redefined my friend: her name is really Edith! (Real talk, where is the superhero emoji!!)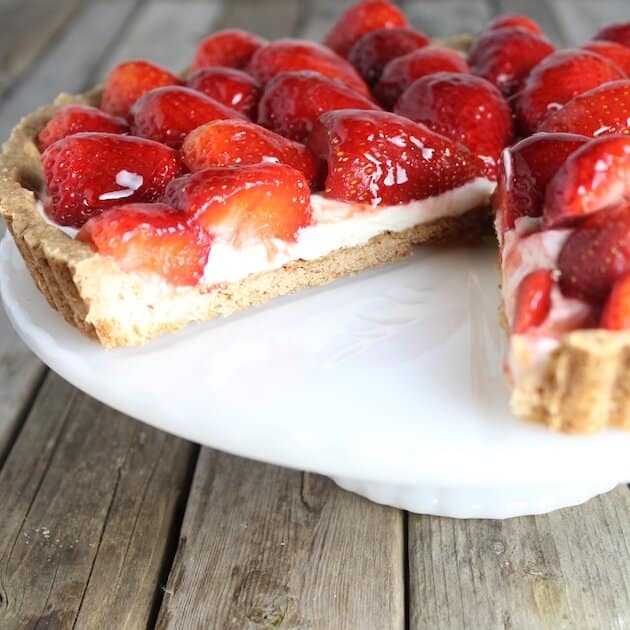 One of the most exciting parts of this strawberry pilgrimage was the dessert recipes that followed. Oh yes – Sunday dinner would showcase Strawberry Shortcake with mom's homemade flaky biscuits or her infamous Strawberry Rhubarb Pie (my all-time favorite) or maybe just some sliced strawberries over vanilla ice cream. Whatever it was… all of it was fresh, delicious and dreamy.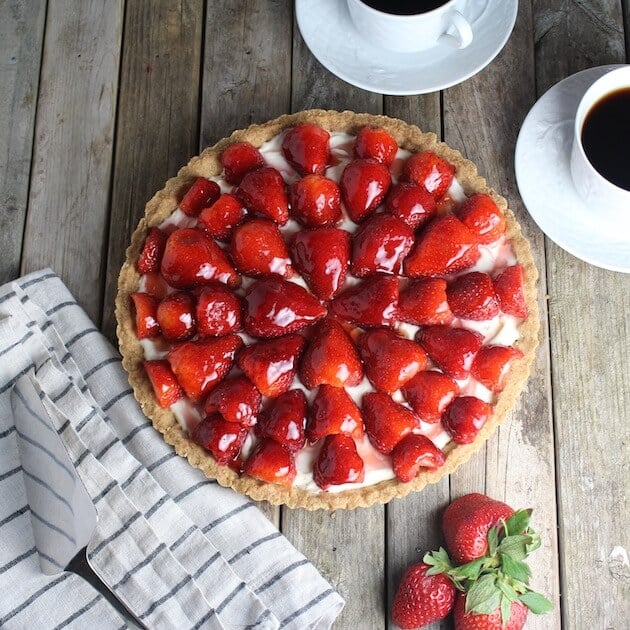 Things have changed a bit since I was 8 years old. I don't get to the strawberry patch that often, I definitely don't get to enjoy mom's baked goods any more, and there's not a whole lot of canning and freezing going on. But one thing remains the same: my love of those sweet juicy berries. One bite and I'm back home hulling berries with those rosy juices running down my arms.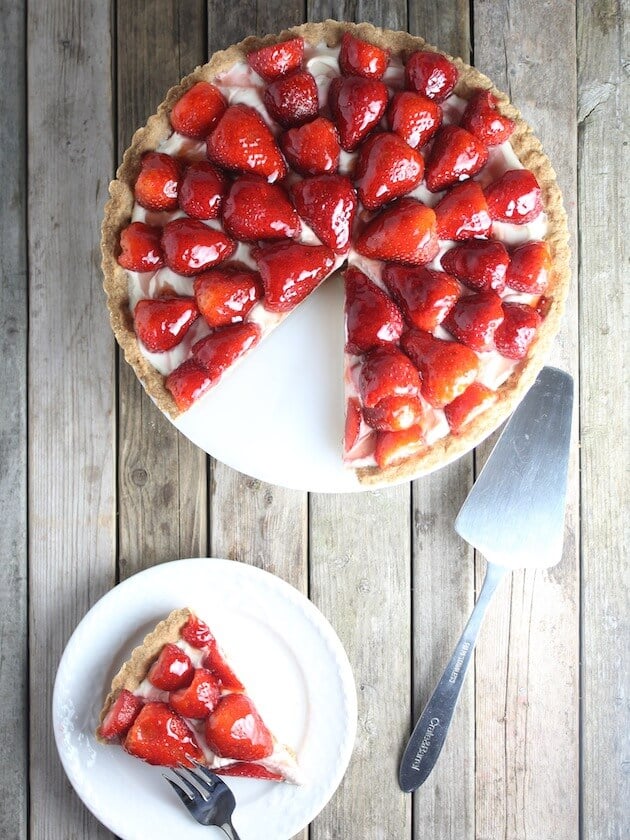 Strawberries are undeniable, always delicious. They are the perfect star ingredient for so many delectable sweet and savory dishes. One that is very close to my heart is this beautiful and luscious Strawberry Mascarpone Tart. There's just nothing like the yummy strawberries and cream flavor – it's truly the perfect match. Totally swoon-worthy!!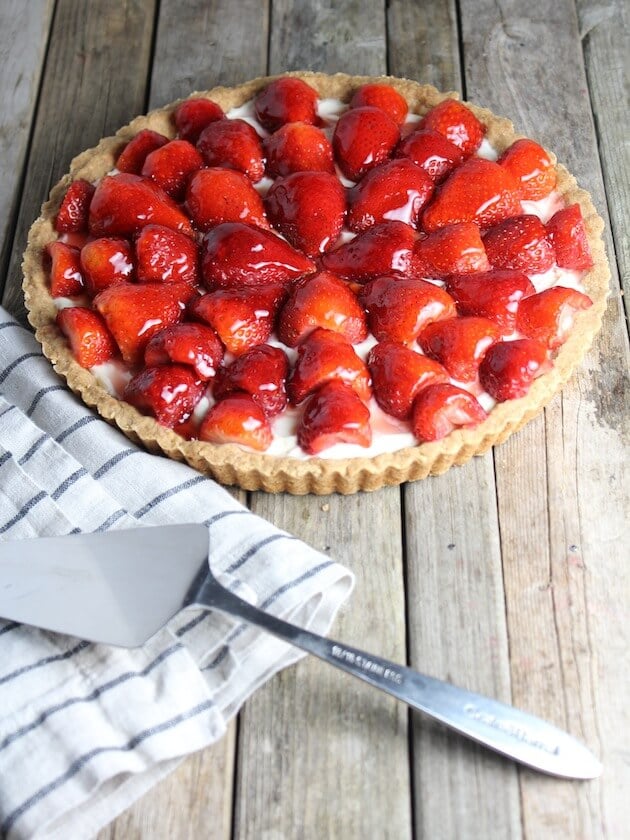 It's smooth and creamy and berry sweet.? It has a shortbread crust, which I could just eat all by itself – all buttery and good. With a generous layer of velvety mascarpone cheese mixture, then some gently placed sweet and juicy strawberries in a pretty pattern. And the addition of some strawberry jelly glaze to the berries - and tahdah… the most beautiful and delicious dessert of all time!
The Strawberry Mascarpone Tart.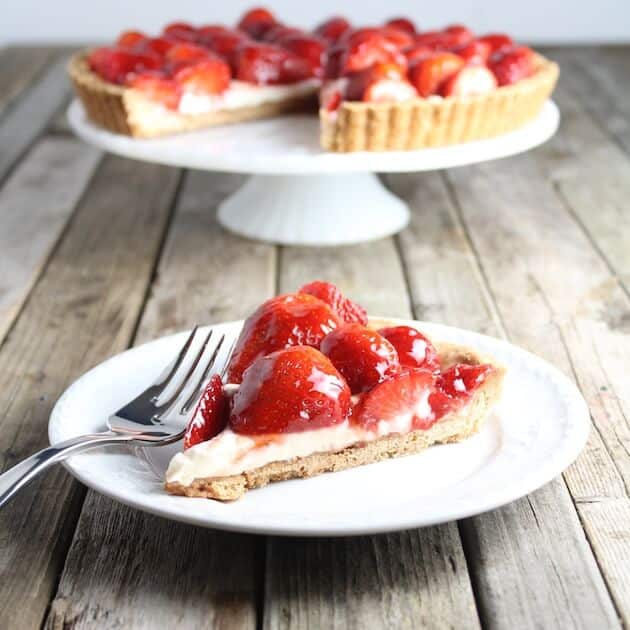 Yield: 12 servings
Strawberry Mascarpone Tart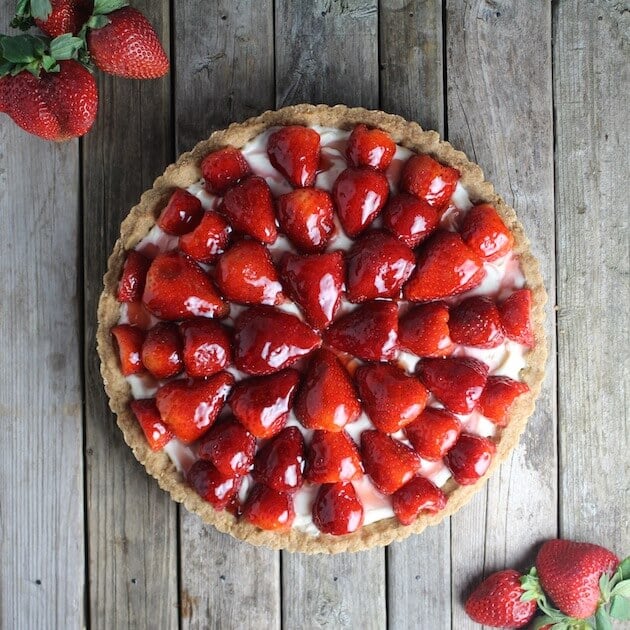 Beautiful & luscious Strawberry Mascarpone Tart. Shortbread crust w/velvety mascarpone cheese mixture, topped w/glazed strawberries. Creamy & berry sweet.
Ingredients
For The Crust:
1 ½ cups all-purpose flour
½ cup PLUS 1½ tablespoons cold unsalted butter, cut into small pieces
⅓ cup sugar
¼ teaspoon salt (rounded)
For The Filling:
12 ounces mascarpone cheese
2 tablespoons sugar
2 pounds strawberries, rinsed, dried, hulled and halved lengthwise
⅓ cup seedless strawberry jelly, no seeds and no pulp
Instructions
For The Crust:
Preheat the oven to 350 degrees with the rack in the middle.
In a food processor, blend the flour, butter, sugar, and salt until crumbs form (this may take up to 1½ minutes). Transfer the dough to a 10½ -inch round tart pan with a removable bottom.
Press the dough evenly into pan and up the sides. Use a measuring cup to press the dough firmly into the bottom and against the sides of the pan. Freeze the crust until firm, about 15 minutes.
Using a fork, prick the crust all over. Bake for 20 to 25 minutes, until lightly golden. Cool the tart completely in the tart pan.
For The Filling:
In a medium bowl, mix the mascarpone and 2 tablespoons of sugar together until smooth. Spread the mixture evenly on bottom of the baked crust.
Starting from the center, arrange strawberry halves (bottom ends touching), on the cheese mixture.
In a small saucepan, heat the jelly on medium-low until liquefied. Gently brush the strawberries with the jelly. Chill the tart in the pan for 1 hour; remove it from the pan just before serving.
Notes
Prep time: 30 minutes
Baking time for crust: 20-25 minutes
Cooling time for crust: 60 minutes
Time to chill once assembled: 60 minutes
Nutrition Information
Yield
12
Serving Size
1 slice
Amount Per Serving
Calories

331
Total Fat

20g
Saturated Fat

12g
Unsaturated Fat

0g
Cholesterol

48mg
Sodium

87mg
Carbohydrates

32g
Fiber

2g
Sugar

15g
Protein

4g