This Mocha Chip Hazelnut Biscotti is loaded with chopped hazelnuts, chocolate chips... and coffee!
This is a sponsored conversation written by me on behalf of TASTE OF HOME. The opinions and text are all mine.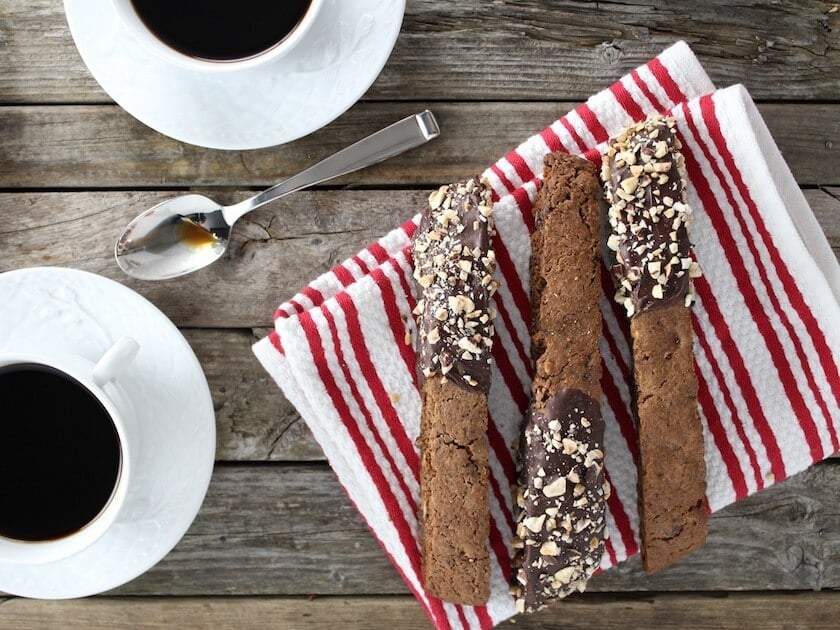 Oh how I love my morning coffee…let me count the ways. I think this fondness was programmed into me from a young age. I remember watching my parents, cradling their steaming cups as if they contained a precious elixir or heavenly nectar.☕ Then slurping down this magic potion while oohing and ahhing and making noises of sheer delight. What was in those cups????? I must partake!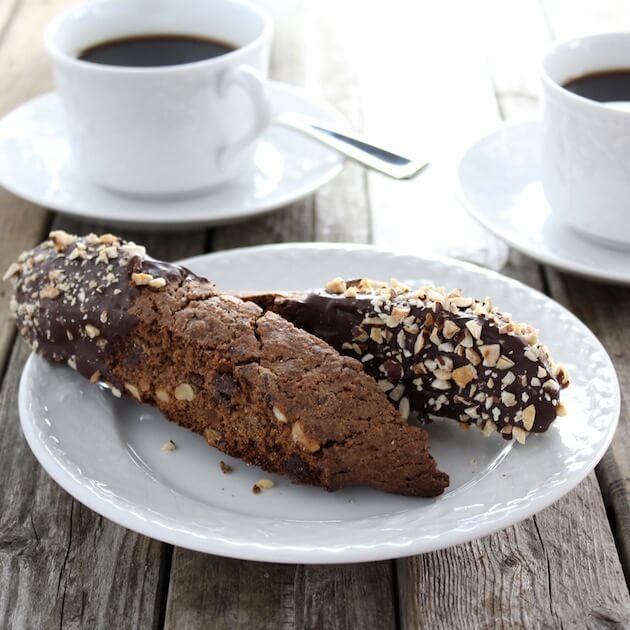 My family's coffee worship was always prominent – literally front and center. There it sat, occupying prime real estate, a shrine right in the middle of the kitchen table…the salt, the pepper and the Folgers® Coffee. It had to be visible and easily accessible at all times.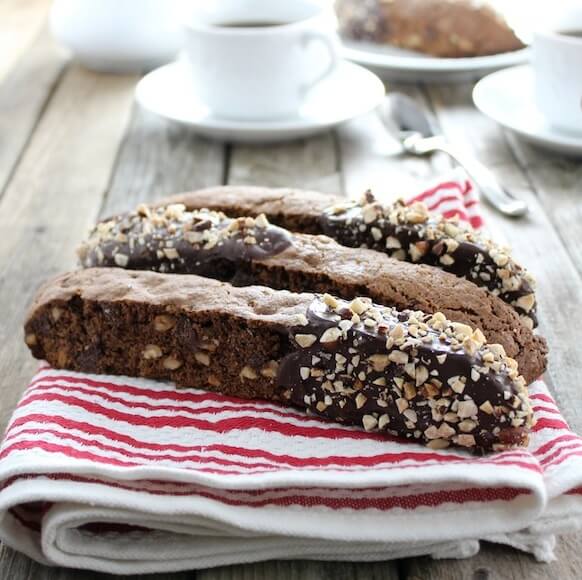 As you can see I was destined to have a deep devotion, ahem addiction, to coffee. My parents would be so proud of me!!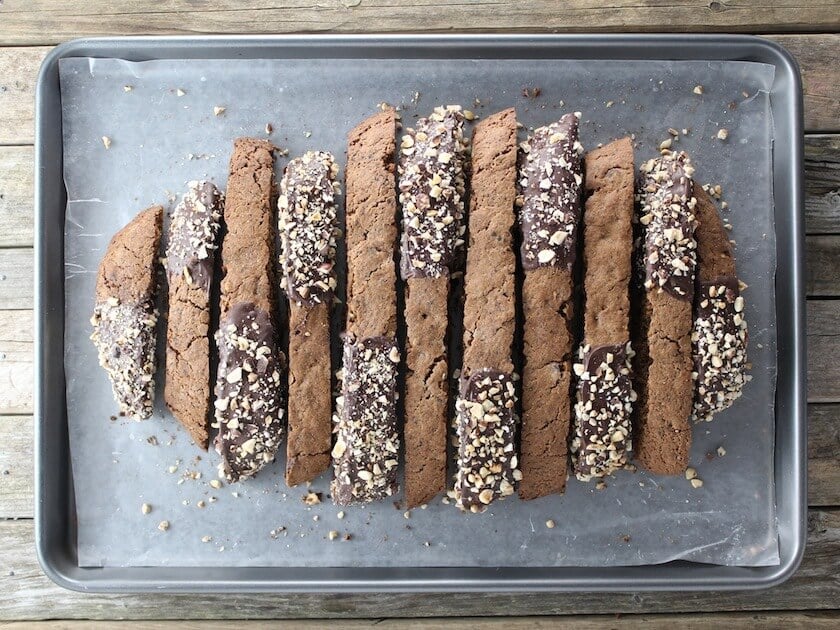 I'm not sure there's anything that celebrates or elevates a hot cup of coffee like biscotti. Those crunchy biscuits are just begging to be dunked into a hot cup of Joe. They are full of flavor, not too sweet, and have a delightful texture. In my opinion, breakfast doesn't get much better than a twice-baked cookie stick submerged in a piping hot cup of coffee!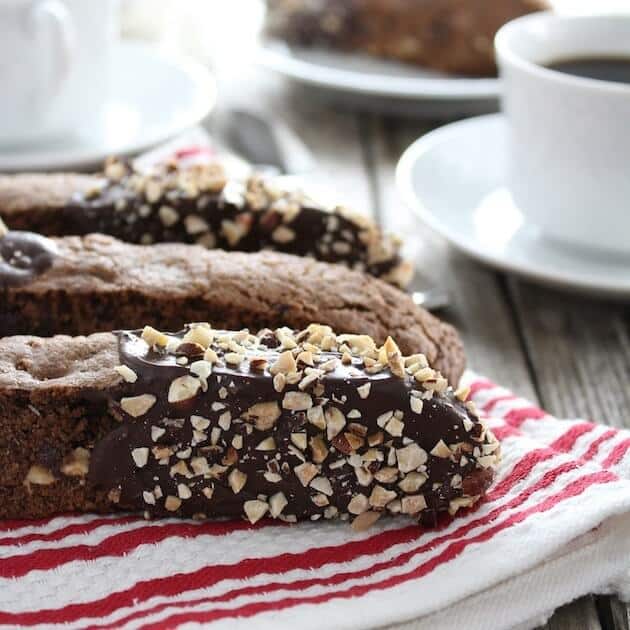 I have a yummy biscotti recipe I make often...it's full of sliced almonds, dried cranberries and coated in white chocolate. They are as tasty as they are beautiful. I've been baking those for years, so I decided it was time for a new biscotti recipe. I went to work…and Voilà! I give you…Mocha Chip Hazelnut Biscotti!✨ I basically took all of my favorite flavors and rolled them into these yummy crispy sticks of goodness.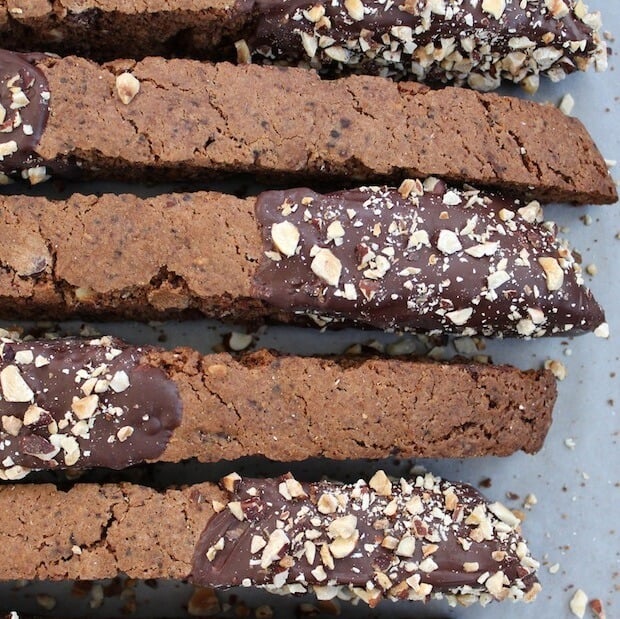 They are loaded with chopped hazelnuts, cocoa powder, and Folgers instant coffee crystals. Then dipped in some melted semi-sweet chocolate and sprinkled with chopped toasted hazelnuts. I know, decadent – right?? What could be better for breakfast than a hot cup of coffee with a coffee biscuit to dip in it!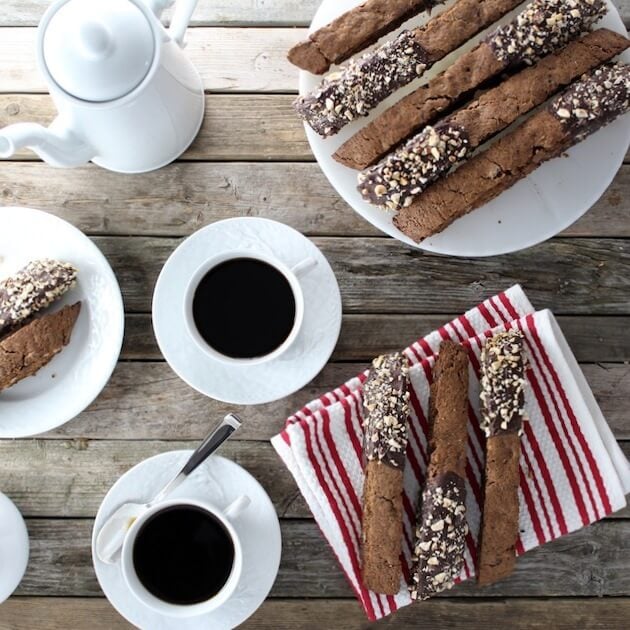 Yup, I'm thinking I may have crossed the line from devotion to addiction. It could be worse – right???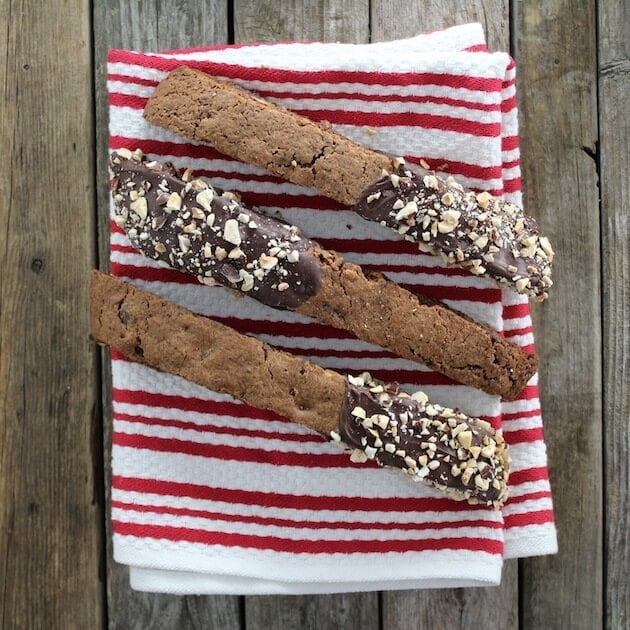 If you're looking for a yummy breakfast option to go with your morning bulletproof coffee recipe, these Mocha Chip Hazelnut Biscotti's totally fit the bill! Who knows, they just might be the best part of wakin' up!
Buon Appetito!!
Yield: 25 servings
Mocha Chip Hazelnut Biscotti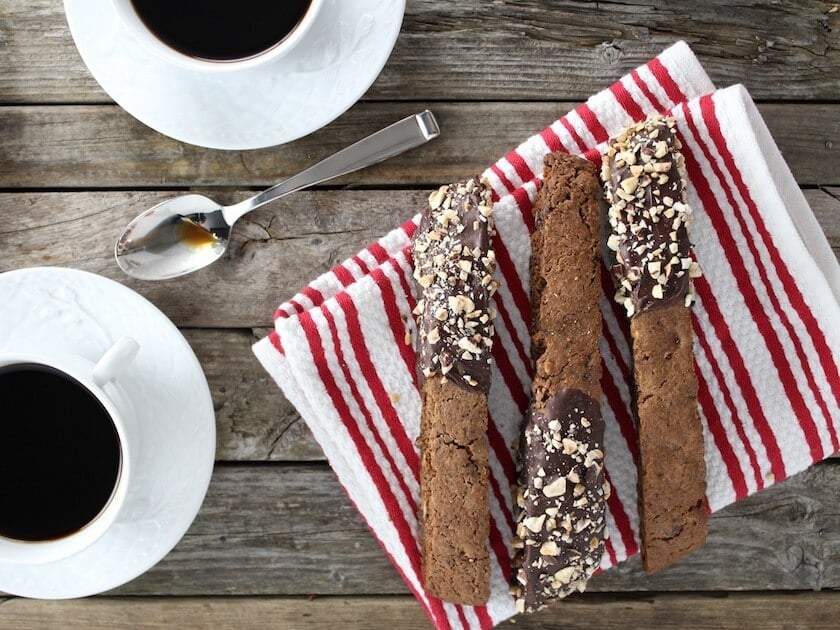 This Mocha Chip Hazelnut Biscotti is loaded with chopped hazelnuts, chocolate chips... and coffee!
Total Time
1 hour
30 minutes
Ingredients
For The Biscotti:
2 cups flour
1 ½ teaspoons baking powder
¼ cup cocoa powder
3 tablespoons Folgers instant coffee
1 cup sugar
½ cup unsalted butter at room temperature, (1 stick)
½ teaspoon salt
1 teaspoon vanilla
3 large eggs
¾ cup chopped hazelnuts
1 cup chocolate chips
For The Glaze:
12 ounces semi sweet chocolate chips
½ cup hazelnuts, chopped & toasted
Instructions
Preheat the oven to 350 degrees, and line a heavy large baking sheet with parchment paper.
Whisk the flour, baking powder, cocoa powder and instant coffee in a medium bowl to blend.
Using an electric mixer, beat the sugar, butter, salt and vanilla in a large bowl to blend. Beat in the eggs 1 at a time. Add the flour mixture and beat just until blended. Stir in the hazelnuts and chocolate chips.
Form the dough into a 12-inch long, 4-inch wide log on the prepared baking sheet. Bake until a toothpick inserted into the middle comes out clean, about 35 minutes. Cool for 15 minutes.
Place the log on a cutting board. Using a sharp serrated knife, cut on a diagonal into ½ to ¾-inch-thick slices. Arrange the biscotti, cut side down, on the baking sheet. Bake the biscotti until crisp & dry, about 15 minutes. Transfer the biscotti to a rack and cool completely.
For the glaze, stir the chocolate in a bowl set over a saucepan of simmering water until the chocolate melts. Spread a thin layer of melted chocolate onto one end of each biscotti and immediately sprinkle with the chopped toasted hazelnuts. Do this over the sink or over a second cookie sheet to avoid a mess!
Place the biscotti on the baking sheet for the chocolate to set. Refrigerate until the chocolate is firm, about 35 minutes.
Notes
The biscotti can be made ahead of time. Store them in an airtight container up to 4 days, or wrap them in foil and freeze in resealable plastic bags up to 3 weeks.
Nutrition Information
Yield
25
Serving Size
1 biscotti
Amount Per Serving
Calories

248
Total Fat

14g
Saturated Fat

6g
Trans Fat

0g
Unsaturated Fat

7g
Cholesterol

32mg
Sodium

83mg
Carbohydrates

30g
Fiber

2g
Sugar

20g
Protein

4g
This nutrition card uses an estimate provided by an online nutrition calculator. This estimate is not a substitute for a professional nutritionist's advice!
This is a sponsored conversation written by me on behalf of TASTE OF HOME. The opinions and text are all mine.